On Thursday night, several hundred people gathered at the York-Dauphin stop on the Market-Frankford Line to kick off the March in Black, organized to commemorate International Overdose Awareness Day.
"It is no secret that Philadelphia is in the grips of an opioid epidemic," read the invite for the event. "With an estimated 70,000 (1 in 22) Philadelphians currently afflicted, we must take swift and bold action to reduce the public harm, encourage responsible addiction management, and bring those struggling out of the shadows."
Over two hours, the march weaved its way along the Kensington Avenue train line, stopping for speeches at the Huntingdon and Somerset stations and pausing for a moment of silence in front of Prevention Point, the site of the city's only legal needle exchange program. The march ended with a candlelight vigil at McPherson Square. [Click here to read more about McPherson Square and the heroic librarians who administer Narcan to overdose victims in the park.]
Philly.com was there and we asked 10 Philadelphians: Why do you march?
Ashley Babiarz
Fox Chase
Why I march: "I lost my brother to an overdose. I found him dead in my apartment six years ago. That's what it took for me to get sober. I've been clean and sober since I found him deceased. But this disease is ravaging, and we have to speak up. We have to let people know that people struggling with addiction, their lives are worth just as much as anybody else."
Aaron Cruz
North Philly
Why I march: "I'm here with Mothers Mission just to … bring overdose awareness. I'm here to make it known that it's got to stop. I have friends here and there who have passed away. Not to be blunt, but I also know people who are contributing to it. This is to show them that, hey, we have to take a stance on this. We've got to change. We've got to do better. "
Carmen Pagan
North Philly
Why I march: "I live about two blocks down from El Campamento. It's good they cleaned it out, but where are these people going? They're coming out into the communities now. They have nowhere to go. A lot of them probably didn't take the assistance that was offered, if any was offered. I heard it was. All I know is that I live here and I see them out and about on the street. They only put a Band-Aid on the bigger problem. … This has been going on for years. This ain't new around here. This has been in the making for decades.
"I'm always hopeful, because I'm bringing up my kids in this. You always want that change, something positive. I'm really hoping that people become aware that this is a problem. Look at all these people out here tonight. I didn't really expect such a big turnout for this event.  You don't even hardly get this turnout when somebody's murdered in the street."
Devin Reaves
Barrington, N.J.
Why I march: "I think it's important that people who live in this community see that people all over this city, whether they're law enforcement or EMTs, really care about this issue. It's also important for people who are out here selling drugs to see that there's people who want to stand up against the poison that they sell. I wanted to lend my voice that recovery is possible. We can overcome this epidemic. I've been in recovery since Aug. 21, 2007, a little over a decade. [I got clean because] I almost died. I overdosed."
Kevin Maguire
Kensington
Why I march: "I live in the neighborhood. I know this opioid crisis is killing people. I have good friends who have been addicted. My good friend, her sister OD'ed in May. This is very intense. I'm glad people can come together to support each other, to mourn and to raise awareness of this issue that's killing people. It's unbelievable. I used to live a little bit closer [to McPherson Square] and I used to walk my dog here all the time. I walked her here when it was really bad. Then it cleaned up and now it's getting bad again. I used to come here all the time … I was suspect when they were cleaning up the tracks along Gurney Street [because I thought] what's this going to do? People are just going to come into the neighborhoods. [That happened] to some degree, but they did get people help … The city, our government in general, needs to reach out and say this is a problem and not treat it as a crime. [They need to treat it] as it is: an illness."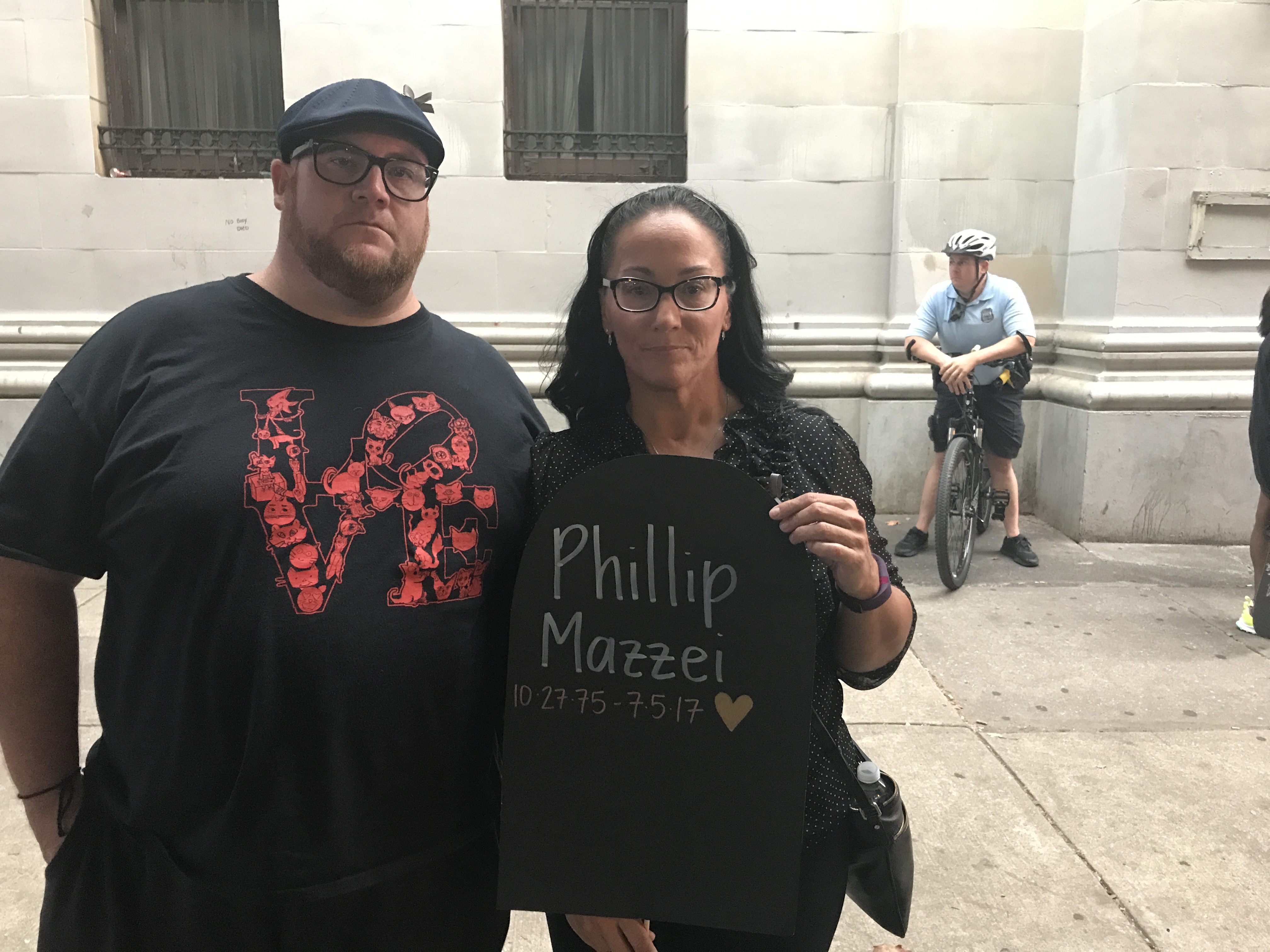 Jeff Kilpatrick and Joannie Newton
Fishtown
Why I march: "I'm a mom of two addicts. My one son has nine months. My other son is still very early in his sobriety … For about seven years, we've been going back and forth. We've done rehab. We've done sober living homes. We've done meetings. We've done therapy. We've done medication. The last time, for my youngest son, I honestly thought he was dead. I got a call. I had to rush out of school and drive over to New Jersey, and when I pulled up to my mom's house, she came running out and I thought, 'My God, is she going to tell me that my son is dead?' Thank God, he wasn't.
"It's like nothing that I've ever experienced before. I sleep outside their bedrooms with a pillow, with my ear up to the door, just to make sure that they're breathing. We've put tracers on their phones just to see where they're at. It's really hard. It's a second-to-second struggle. It never goes away.
"I decided one day that I'm going to go back to school and learn how to deal with my kids' addictions. I'm currently enrolled in a behavioral health program at Community College and I'd like to eventually get my bachelor's and my master's, because I want to help mothers who are like me."
Omar Ocasio
Northeast Philly
Why I march: "I have been in recovery since May 16. I was tired. I was tired of being tired. Now I feel great, blessed. [I came out tonight] because this epidemic is taking the city of Philadelphia by storm. I'm here to support my fellow addicts who need the help. … That's what we're here for. You can't do it by yourself. It's always harder by yourself. … I want to live. I don't want to die."
Rosalind Pichardo
Kensington
Why I march: "We're here to bring awareness to the opioid epidemic here in Kensington and to let people know there's a lot of lives being lost due to the heroin and the lethal fentanyl that's being supplied in our city. Especially here in Kensington. I've lived in Kensington my whole life. I started Operation Save Our City after the murder of my brother, Alexander Martinez. The case is unsolved. … Opiate addiction also plays a big role in some of the losses here in Philadelphia. I'm just wishing that a lot of people have the will to get clean. It's really hard with the strong stuff they have now. The willingness to get clean is very difficult. "
Wallace Kemp
Mayfair
Why I march: "I'm here because I am an activist. This calls people's attention to what is going on with this epidemic. Also, cleaning up the encampment was one thing, but those people are all still human beings. They've got to go someplace. I don't pretend to have any answers, but I know we, as activists, have to keep working on it."
Heather Brinton
Reading
Why I march: "I used to be a heroin addict myself. I used to be up and down in Kensington. I've almost lost my life a couple of times. I've been clean almost four and a half months. Four months ago, I got arrested here in Kensington. If it wasn't for that, I wouldn't be where I'm at today. I needed structure. I needed something to wake me up."