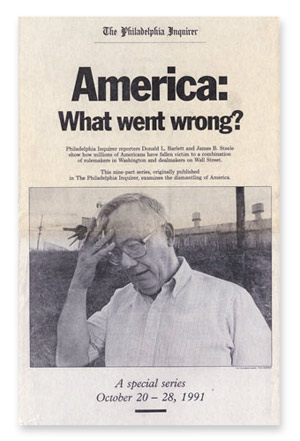 BY DONALD L. BARLETT AND JAMES B. STEELE
Two decades ago, we wrote what turned out to be, in the words of others, one of the most successful newspaper series of all time. It was called America: What Went Wrong?
Originally published in 1991 in The Philadelphia Inquirer, the newspaper where we worked for 27 years, it was republished in various forms in dozens of newspapers across the country. Simultaneously, The Inquirer mailed more than a half-million reprints of the series to residents who requested them.
Finally, the series was expanded and converted early in 1992 into an instant paperback book of the same title, which remained on The New York Times best-seller list for eight months.
Thousands of readers who had lost their jobs, pensions, health insurance and all the other supposedly guaranteed benefits made in life's social contracts responded essentially with the same message: Finally, I understand what has happened.
MORE