The betrayal of the American Dream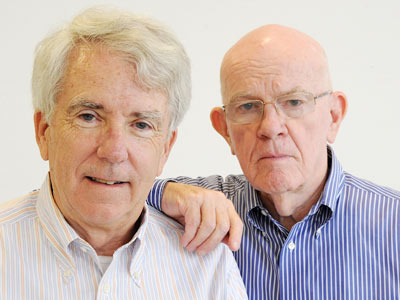 Excerpts from their new book
Excerpt Two:

On his last day on the job, Kevin Flanagan, after clearing out a few personal effects and putting them in boxes in the back of his Ford Ranger, left the building where he'd worked for seven years.

He settled into the front seat of his pickup truck on the lower level of the company garage, placed a twelve-gauge Remington shotgun to his head, and pulled the trigger. He was forty-one years old.

He was a computer programmer. He'd been a programmer his entire working life. Until, that is, his job was shipped overseas.
More reporting by Barlett and Steele
Barlett and Steele: After only one generation, the work of building and assembling Apple computers was turned over to laborers in China and other countries. Jobs that should have provided employment for Americans for decades to come were terminated.
In September 2010, with politicians of all stripes at all levels of government calling for programs to create jobs, California Gov. Arnold Schwarzenegger took an unusual step for a public official about to leave office: He visited a factory to conduct a pep rally for its workers. Never mind that he could not seek reelection or that the workers could not vote for him. The Terminator was passionate about their efforts:
America: What Went Wrong? Veterans have always faced daunting problems in finding jobs, obtaining promised benefits, and meeting other challenges. But to those problems has been added the fear of losing their homes.
Barlett and Steele: Washington is obsessed with the budget deficit; it's all that lawmakers can talk about. There's only one problem: Congress is wrought up over the wrong deficit.
Donald L. Barlett and James B. Steele make the case that one of the more egregious falsehoods being peddled by the corporate tax cutters is that companies doing business in the U.S. are taxed at an exorbitant rate. Not so, they say.
In the spring of 2012 The Inquirer published the series "Struggling for Work: Broken Dreams of a New Generation."

In "Struggling for Work" The Inquirer goes behind the unemployment rates and high college debt to describe the struggles young people are facing and detail what needs changing to help them.

To create this series, reporters interviewed more than 280 people — including millennials and their parents — and analyzed government data.
About This Project
Pulitzer Prize-winning journalists Donald L. Barlett and James B. Steele are back with a new book, The Betrayal of the American Dream.
Untold numbers of Americans have been relegated to the economic scrap heap since their landmark Inquirer series and book America: What Went Wrong? were published in the early 1990's.
In four excerpts running Sundays starting July 29, they explore the impact of policies that are crippling the middle class including the outsourcing of jobs, the loss of retirement benefits and what the country needs to do to solve its problems.
For more on the project, visit http://americawhatwentwrong.org/
and http://investigativereportingworkshop.org/
Twitter: Follow the project at @AmericaWWW.
Find the Original Inquirer series here