Happy Friday, Philly. Why don't you get outside and enjoy the sunshine as two of Philly's newest — and most anticipated — outdoor spaces debut to the public? As Philadelphia continues to wait to find out if Amazon will select the city as the location for its new headquarters, officials want to make it clear that if a new construction tax passes, Amazon will be off the hook. There's been little oversight when it comes to Pennsylvania state troopers' handling of immigration checks. That is set to change by the end of the month. With Father's Day on Sunday, I asked Eagles fans to share stories about dad and clearly I'm not only one who learned a life lesson or two from being raised in midnight green.
Reading this online? Sign up here to get this newsletter delivered to your inbox every morning.
— Ray Boyd (@RayBoydDigital, morningnewsletter@philly.com)
As the days get longer and warmer, Philadelphians have two new outdoor spaces to enjoy — the Reading Viaduct Rail Park and Farm for the City both debut this week.
The Rail Park repurposes a stretch of land in the Spring Arts District that was once only frequented by urban explorers. The former abandoned railway has a brand new vibe, perfect for relaxing outside.
If you rather roll up your sleeves a bit, Farm for the City, an interactive working farm in the heart of Thomas Paine Plaza, might be for you. The area has transformed from a concrete desert into a lush green space that will benefit a good cause.
My colleague Grace Dickinson has all the details on when and how you can fully enjoy these new Philly destinations.
Philadelphia wants to make one thing very clear for Amazon: If the company picks Philly in its headquarters search, it won't have to pay the proposed construction impact tax.
If passed, the tax would fund affordable housing in the city, but City Council added an exemption on Thursday that would save Amazon a few dollars if the company selected one of the locations the city proposed for a new site.
The head of the city's building trades unions warned City Council that the tax on construction could scare businesses away, including Amazon. The hope is that this exemption will ease any of Amazon's potential concerns.
Pennsylvania did not have specific policies for state troopers when it came to handling immigration checks, but that is about to change. The move comes two months after our investigative series with ProPublica examined how state and local officers in Pennsylvania were helping Immigration and Customs Enforcement in their deportation efforts.
By the end of June, state troopers will have a new set of requirements to follow any time immigration authorities are called to the scene of a traffic stop. Part Two of our series outlined how Pennsylvania became a "free-for-all" for officers who want to round up undocumented immigrants.
Lawyers and advocates say it is unclear whether the new policy will result in fewer immigration calls. The Philadelphia ICE office has become one of the most aggressive in the nation when it comes to arrests of immigrants without criminal convictions.
What you need to know today
Through Your Eyes | #OurPhilly
Congratulations to @positivemag1, the winner of this week's #OurPhilly poll after sharing this unique perspective of City Hall.
Tag your Instagram posts or tweets with #OurPhilly and we'll pick our favorite each day to feature in this newsletter and give you a shout out!
That's Interesting
Opinions
"I think about a second grader who found his father dead from an overdose. Or the fourth grader who needs a doctor's note excusing his absences from school — though his health is fine. He stayed home because he couldn't get his heroin-using mother out of bed." — Daniel R. Taylor, D.O., of St. Christopher's Hospital for Children writes about the children of Philadelphia who are suffering through the opioid crisis.
What we're reading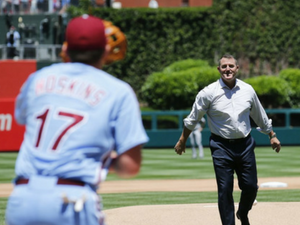 Your Daily Dose of | Phillies
Former Phillie Jim Thome was back in town Thursday – 14 years after he hit home run No. 400 at Citizens Bank Park. He was honored by the team for his upcoming Hall of Fame induction.