The weekend is almost here, but there's no Eagles football to look forward to … this week. Not to worry, we're still discussing the team this morning. Philly's Gayborhood community is preparing to say goodbye to a staple in the area, but hopes one piece of it can live on. Let's jump in.
If you like what you're reading, tell your friends it's free to sign up for this newsletter here.
— Ray Boyd (@RayBoydDigital, morningnewsletter@philly.com)
The 12th Street Gym has been a staple in Philadelphia's Gayborhood for more than three decades. Financial troubles have threatened it and its doors will close for the final time on January 31.
With the closure of the gym, comes anxiety over the future of a mural that graces its facade. It depicts Gloria Casarez, an activist who was Philadelphia's first director of LGBT affairs before she died of cancer in 2014.  
The gym's owner points to soaring real estate taxes and $500,000 that the gym would have had to pay to address fire code violations, as causes for the decision to close the doors for good.
Despite earlier intentions, Rep. Pat Meehan will not run for reelection following sexual harassment claims brought by a former staffer. Meehan informed Speaker Paul Ryan of his decision on Thursday after it was reported that Republican insiders saw his reelection window closing fast.
Meehan denied the claims of harassment brought by the aide, but did refer to her as a "soul mate" who he felt a connection to. The congressman attempted to explain his use of the term "soul mate" in the letter outlining his decision to not run.
Meehan came under fire following reports that he used taxpayer funds to settle the claim with the aide. The Delaware County Republican would not reveal how much money was paid, but he called it a "severance," not a settlement.
When Carson Wentz went down for the season, we all knew Nick Foles' play would be the key to success – or failure – for the Eagles. Jeff McLane breaks down the film and wonders whether Foles has it in him for one more win.
The run-pass option game has been critical to Foles' solid postseason. While he isn't really a threat to keep it and run, my colleague Paul Domowitch explains why the plays have still worked in the Eagles' favor.
Maybe all of the analysis doesn't really matter. NBC analyst and Super Bowl winning coach Tony Dungy explained why he believes the Birds are simply "a team of destiny."
What you need to know today
We want to see what our community looks like through your eyes. Show us the park that your family walks through every weekend with the dog, the block party in your neighborhood or the historic stretch you see every morning on your commute to work.
Tag your Instagram posts or tweets with #OurPhilly and we'll pick our favorite each day to feature in this newsletter and give you a shout out to build those followers!
That's Interesting
Opinions
"No matter what I did, I just couldn't size up what U.S. Rep. Patrick Meehan was saying Tuesday in his grand disclosure that a decades-younger former aide who accused him of sexual harassment was his "soul mate." — Columnist Maria Panaritis explains why she finds Rep. Meehan's "soul mate" comments so mind-boggling.
What we're reading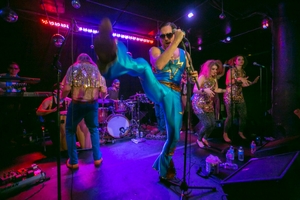 Your Daily Dose of | Shortcake
Philly's Johnny Showcase is known for his soulful R&B, but now he is transforming into kids' performer, Johnny Shortcake.