Good morning, Philly. Today, your 76ers are resting after one of the most important nights of a new era of Sixers basketball. The team defeated the Miami Heat to advance in the NBA playoffs in front of a raucous crowd in South Philadelphia. The crowd included many stars, but none more noticeable than Meek Mill. Hours before the game, the Pennsylvania Supreme Court ordered Mill released from prison — a decision celebrated by Mill's many supporters. His music became the soundtrack to the Sixers' win. A culture of secrecy has hidden abuses within the Jehovah's Witnesses for years. As David Gambacorta reports, child sex abuse claims are coming to light as victims and families can no longer remain silent. Let's begin.
Reading this online? Sign up here to get this newsletter delivered to your inbox every morning.
— Ray Boyd (@RayBoydDigital, morningnewsletter@philly.com)
Two years ago, the Sixers won 10 games. Today, they are celebrating after advancing to the second round of the playoffs by defeating Dwyane Wade and the Miami Heat in a very physical five-game series.
From start to finish, the atmosphere was an electric one. Meek Mill kicked things off by ringing the pregame bell and the Sixers delivered a win led by a strong performance from J.J. Redick and poise from their young leaders, Ben Simmons and Joel Embiid.  
Luckily for Embiid, the Sixers will sit back, relax, and wait to find out who they will take on in round two as the Boston Celtics and Milwaukee Bucks continue to battle.
Judge Genece Brinkley's decision to sentence Meek Mill to two to four years in prison on probation violations was immediately greeted with outrage.
On Tuesday, the Pennsylvania Supreme Court ordered Mill's release because of questions the Philadelphia District Attorney's Office raised about the credibility of the arresting officer in Mill's case. After his release, Mill went straight to last night's Sixers game.
Since Mill was sentenced, a number of high profile individuals visited him in prison, including Al Sharpton, Mayor Kenney, and shortly before the order, comedian Kevin Hart.
The Meek Mill saga has been a controversial one that has sparked debate across the country about the state of the criminal justice system, leading to the rise of the #FreeMeekMill hashtag on social media and on signs at rallies.
Words can't describe the horror that Martin Haugh experienced when he discovered his 4-year-old daughter being molested inside the Jehovah's Witnesses Kingdom Hall in York County. Haugh and his wife went to the elders of their congregation to report the incident, but received muted concern and threats.
Reporter David Gambacorta has taken a deep dive into the insular culture of the Jehovah's Witnesses — a culture that creates a "recipe for child abuse." Documents show that the Witnesses' leadership have long encouraged secrecy in potential legal matters.  
A growing number of court cases, criminal prosecutions, and whistle-blowers, have helped to shed light on some of the "monsters who lurk in the shadows." The child abuse claims are just one piece of the complicated puzzle.
If you have a story or tip about sexual abuse within the Jehovah's Witnesses, you can share your experience with us.
What you need to know today
Through Your Eyes | #OurPhilly
We want to see what our community looks like through your eyes. Show us the park that your family walks through every weekend with the dog, the block party in your neighborhood or the historic stretch you see every morning on your commute to work.
Tag your Instagram posts or tweets with #OurPhilly and we'll pick our favorite each day to feature in this newsletter and give you a shout out!
That's Interesting
Opinions
"Philly, all of this killing over dumb stuff has got to stop. A bump, a look, some words, and the next thing you know, someone pulls out a gun and starts shooting. That's what happened with Dominique Oglesby." — Columnist Jenice Armstrong urges anyone with information in the shooting death of Dominique Oglesby to help bring closure to the family.
What we're reading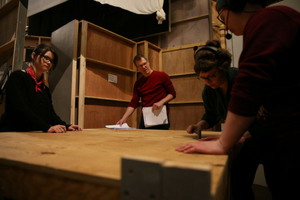 Your Daily Dose of | Hustle
Playwright Michael Hollinger is keeping busy as he has two Philly plays that he's preparing at once. Luckily, it isn't his first time doing so.