Happy Friday. Mayor Jim Kenney's budget pitch to address Philly schools took on an Eagles theme. A state representative is being urged to resign after accusations of sexual and physical assault by two women. Despite the dreary weather, the Philadelphia Flower Show kicks off tomorrow. We have everything to know about "Wonders of Water." There's a lot to get to. Let's get started.
If you like what you're reading, tell your friends it's free to sign up for this newsletter here.
— Ray Boyd (@RayBoydDigital, morningnewsletter@philly.com)
Conjuring up thoughts of the Eagles, Mayor Jim Kenney called Philadelphia students "the real underdogs," as he plans to move $980 million to city schools over five years.
On Thursday, Kenney outlined his gameplan to cover the school district's nearly $1 billion deficit, after taking back control of Philly schools from the School Reform Commission in 2017.
Kenney's playbook includes a property tax increase, an increase of the real estate transfer tax and a slowed-down reduction of the city wage tax. Here's what the changes could mean for you.
Calls for State Rep. Nick Miccarelli to resign came from Pennsylvania House leaders after he was accused of sexually or physically assaulting two women.
In a statement, house leadership called the accusations "very serious," adding that they should be investigated by law enforcement. They called the motivation for the decision "the integrity of the institution."  
The Delaware County legislator has denied the claims which include one of the accused alleging that Miccarelli brandished a gun and threatened her life while driving at an excessive speed.
Despite what it looks like outside, spring is in full bloom inside the Pennsylvania Convention Center for the 2018 Philadelphia Flower Show, which starts on Saturday.
Reporter Bethany Ao broke down the attractions you don't want to miss, including tons of tropical blooms and water features. Water is the name of the game for this year's show. 
While enjoying the flowery spectacle, people will need to eat. Reporter Michael Klein shared some of the best nearby eateries, including spots inside famed food hall Reading Terminal Market. When it comes to drinks, there will be "boozy events" at the Flower Show as well.
What you need to know today
Through Your Eyes | #OurPhilly
We want to see what our community looks like through your eyes. Show us the park that your family walks through every weekend with the dog, the block party in your neighborhood or the historic stretch you see every morning on your commute to work.
Tag your Instagram posts or tweets with #OurPhilly and we'll pick our favorite each day to feature in this newsletter and give you a shout out!
That's Interesting
Opinions
"About the only thing that could screw up a Democratic 'wave'  this coming November is bitter party in-fighting to tamp down enthusiasm among the party base. And that seems to be happening, right on schedule." — Columnist Will Bunch writes that anti-Trump resistance is being hindered by the Democratic Party establishment.
What we're reading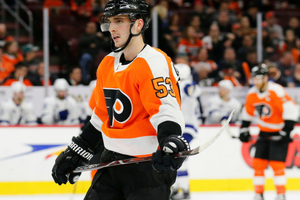 Your Daily Dose of | Alma Mater
The Flyers' Shayne Gostisbehere has invited the Marjory Stoneman Douglas High hockey team, his former school, to meet him before Sunday's game against the Florida Panthers.