For lovers of great food and memorable adventures, Anthony Bourdain left behind a legacy that lives on in the Garden Staten. New Jersey could get an official Bourdain food trail and my colleague Tom Gralish couldn't wait to check it out. Last year, a chorus of fans sang the praises of Opera Philadelphia's O17 festival. A new partnership and infusion of cash could make O18 even better. It was roughly a year ago that a debate erupted over whether or not Philadelphia should move the statue of late Philadelphia Mayor Frank Rizzo. According to the city, it's moving. But it could take a while.
Reading this online? Sign up here to get this newsletter delivered to your inbox every morning.
— Ray Boyd (@RayBoydDigital, morningnewsletter@philly.com)
Following Anthony Bourdain's death, New Jersey assemblyman Paul Moriarty introduced legislation to establish an official Anthony Bourdain Food Trail in the state. Bourdain was a celebrity chef, author, and television personality.
Tom Gralish, a Pulitzer prize winning Inquirer photographer, visited some culinary stops that held a special place in the chef's heart. Bourdain visited Hiram's Roadstand in Fort Lee many times to enjoy the deep-fried hot dogs. "I come here to feed my soul," he once said.
Bourdain left a lasting impression on chefs and adventure seekers, both throughout this region and across the world. Through this piece, we can all go on a journey with Bourdain and taste the foods that inspired him.
Opera Philadelphia's O17 festival gained national acclaim and produced many new opera fans. This year's O18 should reach a new level thanks to a partnership between Opera Philadelphia and the Kimmel Center.
After O17, Opera Philadelphia owed rental fees to the Kimmel Center — a debt that is forgiven with this deal. The Kimmel Center, acting as a copresenter for this year's festival, has given a vote of confidence to Opera Philadelphia's new vision for its festival format.
Kimmel Center president and CEO Anne Ewers believes the festival approach will "transform the opera industry." The O18 festival kicks off next month.
Tuesday marks the one-year anniversary of City Councilwoman Helen Gym's tweet calling for the removal of the statue of late Philadelphia Mayor Frank Rizzo from Paine Plaza. The tweet set off a wave of emotions. Some view the statue as a marker to racist police and city actions of the past.
On the other side of the debate, some see it as a monument to a city hero — especially in pockets of South Philly where Rizzo was born.
Mayor Kenney's administration says the statue will not be moving — yet. It will take at least two years as the city considers new locations in South Philly. That means its removal will not coincide with Kenney's reelection bid in 2019 — perhaps good timing for the mayor.
What you need to know today
Through Your Eyes | #OurPhilly
Just the right amount of cookies. Just the right amount of cream. Way to beat the heat, @goodtobethecook.
Tag your Instagram posts or tweets with #OurPhilly and we'll pick our favorite each day to feature in this newsletter and give you a shout out!
That's Interesting
Opinions
"Jeff Mancuso was known to his family, to his ex-wife, to his community, to his daughter and more importantly, to the legal system in Bucks County as a violent man. He had bitten off someone's ear, was aggressive with Kayden's teachers, had threatened his ex-wife with physical harm and had verbally and physically bullied people in the presence of his little girl.  He shouldn't have been within 10 feet of that child." — Columnist Christine Flowers writes that the legal system failed Kayden Mancuso by protecting her father's parental rights.
What we're reading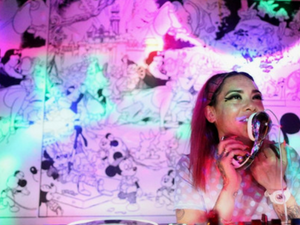 Your Daily Dose of | Beats
Regina "Gun$ Garcia" Dyhouse has become one of Philly's most popular DJ's. This weekend, the Philly DJ queen will host her farewell party as she heads west, seeking a new adventure.