Philly.com takes a look back at some of the biggest local sports stories of 2011.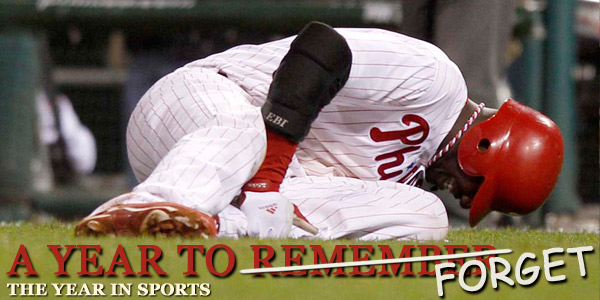 Last year's playoffs ended in disappointment as the Eagles fell to the Packers at the Linc. The 2011 season began with sky-high expectations, and for good reason: a post-lockout shopping spree brought in Nnamdi Asomugha, Steve Smith and Vince Young. But claims of a "Dream Team" turned to nightmares as the Birds continually came up small.
With their starting rotation leading the way, the Phillies stormed to a franchise record 102 wins in 2011. But despite stellar seasons from Roy Halladay, Cliff Lee and Cole Hamels, the team's hitters failed to measure up. A late-season swoon at the plate led to a playoff collapse and elimination by the eventual World Series champion Cardinals in the NLDS.
After another disappointing playoff exit, the Flyers overhauled their roster in the offseason. Veterans Mike Richards and Jeff Carter made way for a new core of young stars, led by Claude Giroux. A strong start helped build anticipation for the Winter Classic at Citizens Bank Park, but the season took a dark turn when Giroux, Brayden Schenn and Chris Pronger suffered concussions.
For the first time since the Allen Iverson era ended, the Sixers captured the city's attention in 2011. Though they lacked a true superstar, coach Doug Collins molded his team into an entertaining, cohesive squad capable of running with the NBA's best. The newfound optimism received a boost when the team was sold to a new ownership group that has emphasized fan interaction.
For decades, Penn State football prided itself on winning with integrity. But that image was shattered when former defensive coordinator Jerry Sandusky was arrested on child sex abuse charges. The resulting scandal cost coach Joe Paterno, athletic director Tim Curley and university president Graham Spanier their jobs. For the school and its thousands of alumni, the soul-searching has just begun.