We've been told that the economy has been healing. But there's still a lot of pain being felt - here and elsewhere. And it doesn't help that the start of a recovery can feel eerily like the depth of a recession. Jobs are the last segment of the economy to improve.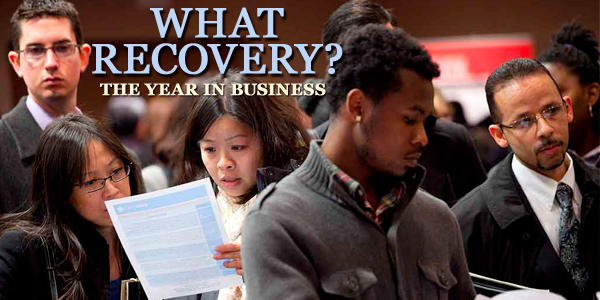 A jobless recovery
The recession was over, we were told. You couldn't tell by the wreckage left by layoffs at companies big and small, in the private and the public sector, in military and civilian circles. For every step forward, the economy seemed to regress by a step - or two.
Let's make a deal
Deals were made, some were rebuffed. Krimpets are going global, as "Nobody bakes a cake as tasty as a Tastykake" takes the Philly region into a wider world of snack cakery. NBCU joined the Philly fold, and a supermarket struggled to survive.
More Comings and Goings
Real Estate
The region was insulated from wild price swings in prices that hit other parts of the nation, but the real estate malaise that enveloped the nation was certainly felt here, too.
Casino Gambling
Pennsylvania is looking to open its 11th casino this spring, while A.C. scrambles for a way to bring back Lady Luck. And tough measures are taken for gambling while the kids are left alone in the car.
Pharma
As drug patents expire, blockbuster meds move closer to a day when competitors will vie for our dollars and a market share. Lipitor leads the way. And former executives in a pharma firm involved in illegal drug trials are sentenced to prison time.
Port and Airport
What's been billed as a kinder, gentler body scan has been introduced at the airport. All tempers might not be soothed, especially as an expansion project looks to a heftier price tag. Down at the docks, deepening of shipping lanes remains a concern.
DECLINING REFINING
Refineries are scheduled to close - and take jobs with them - if buyers can't be found. Marcellus Shale opens wide possibilities, and debate. And electric companies can make choosers out of us all.