The Philadelphia region is in the grips of another nor'easter — the fourth since March began — that is packing a powerful one-two punch. Snow and sleet began across the region Tuesday, the first day of spring, but the real show begins Wednesday.
Here's the latest of what you need to know.
Forecast
A lull in snow and sleet is expected overnight. Heavy snow should then form late in the morning Wednesday and continue into the evening, when snowfall rates of one to three inches an hour are possible.
Eastern Pennsylvania and the states of New Jersey and Delaware are under a winter storm warning until 2 a.m. Thursday. The latest projections call for accumulations of eight to 12 inches in most of South Jersey and western Chester County to 12 to 18 inches around Philadelphia and points north. Winds also are expected to be a problem, particularly at the Shore.
Former National Weather Service meteorologist Gary Szatkowski said the storm is expected to drop high water content snow, meaning it could "feel like shoveling cement."
>> READ MORE: Snow forecast a 'nightmare' for meteorologists, and perhaps the rest of us
>> READ MORE: How local meteorologists' forecasts for the upcoming storm compare
What Happened to Spring?
Anticipated snow totals have increased with each new forecast by the National Weather Service.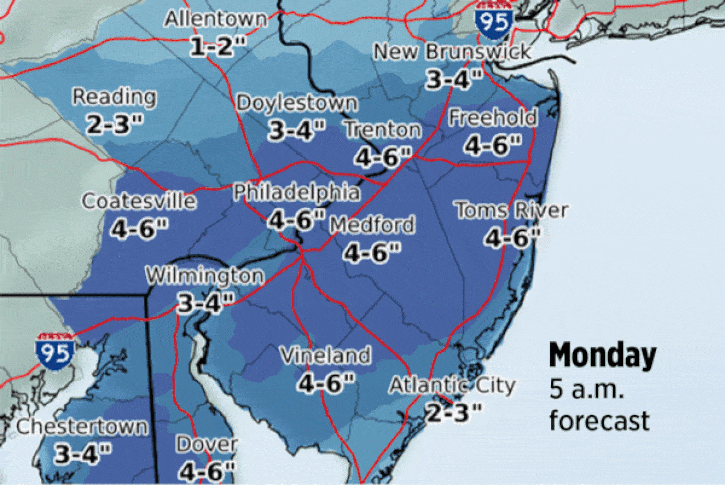 SOURCE: National Weather Service
Staff Graphic
Schools
Philadelphia public schools will be closed Wednesday. Archdiocese of Philadelphia high schools and elementary schools will also be closed.
Other districts are expected to announce closures or delays. NBC10 has a running list.
Airport
More than half of flights at Philadelphia International Airport had been canceled as of Tuesday evening. More delays and cancellations are expected Wednesday.
Part 1 of #Noreaster4 underway at PHL. Light snow falling at Noon, aircraft deicing ongoing. Numerous flight cancellations reported. Be sure to check flight status with your airline before coming to the airport wherever you're flying the next couple of days. pic.twitter.com/Z6vCbC5Wsf

— PHLAirport (@PHLAirport) March 20, 2018
American Airlines has canceled hundreds of flights and is among several airlines offering fee waivers to change travel plans for travel to and from certain cities due to the upcoming winter storm. Check with your airline for details.
Mass Transit
SEPTA advises that riders plan ahead and avoid unnecessary travel.
All Regional Rail lines on Wednesday will operate on a Saturday schedule except for:
Cynwyd Line, which will be shut down
Wilmington/Newark Line, which will run on an enhanced Saturday schedule, with service to Newark and Churchmans Crossing stations
Service on many buses and some trolley routes may be cut back or detoured (you can find a list here). Trains on the Market-Frankford and Broad Street lines will operate all night from Wednesday through Thursday morning.
PATCO is running on a snow schedule Wednesday.
NJ Transit said bus and light rail service would continue Wednesday, weather-permitting. Here is the agency's plan.
Amtrak has announced a modified schedule for Wednesday.
SERVICE ALERT: Due to impending severe weather in the Northeast region, we will be operating modified service on Wed. 3/21. Full service will be restored when weather conditions allow us to safely do so. Service and re-accommodation details are outlined below. pic.twitter.com/RncTFtry7O

— Amtrak Northeast (@AmtrakNEC) March 20, 2018
>> READ MORE: Top 5 March snowstorms in Philadelphia history
Highways
Crews have already been out treating road surfaces for the sleet and snow.
At 8 p.m. Tuesday, PennDOT implemented a prohibition on certain types of trucks, RV and trailers along the Pennsylvania Turnpike and Interstates 76, 476, and 95. Vehicle types covered by the restriction are:
• Empty straight CDL-weighted trucks
• Large Combination Vehicles (double trailers)
• Tractors hauling empty trailers
• Any trailers pulled by motorcycles, passenger vehicles, pickup trucks or SUVs
• All motorcycles
• All recreational vehicles
In the city of Philadelphia, a snow emergency begins at 9 a.m. Wednesday, meaning parking will be prohibited along designated snow emergency routes.
Utilities
Utilities are again preparing for another nor'easter after earlier ones left hundreds of thousands of homes and businesses without power.
Peco says it has mobilized tree crews and other support personnel. Customers should report outages to peco.com, the agency's mobile app, or by calling 800-841-4141.
Atlantic City Electric, which covers the Shore and much of South Jersey, said that in addition to its 152 internal linemen, it has more than 103 overhead line contractors from outside utilities and 225 tree crew personnel to handle outages caused by heavy snow and wind taking lines down.
PSE&G said it has enlisted nearly 600 mutual-aid and contract employees. John Latka, the senior vice president of electric and gas operations, said, "The landscape is fatigued, the system has been stressed, and we're expecting outages."
>> READ MORE: How to prepare for a power outage
Government
Philadelphia city government offices will be closed Wednesday. State offices in New Jersey also will be closed following an emergency declaration Tuesday evening by Gov. Murphy.
A State of Emergency has been declared by @GovMurphy State offices will be CLOSED on Wednesday, 3/21/18, due to inclement weather conditions. Non-essential personnel should NOT report to work for their normal shift. Essential employees should report on schedule. #ReadyNJ @NJSP pic.twitter.com/8KTLYsZEVv

— NJOEM (@ReadyNJ) March 20, 2018
Suburban governments have also announced closures.
Philadelphia Courts have announced that all courts and offices will also be closed Wednesday, with critical services expected to remain operational. People scheduled for jury duty on Wednesday will be rescheduled to serve at a later date.