Here we go again.
Just in time for the start of spring, the fourth nor'easter to hit Philadelphia this month threatens to drop more than a foot of snow on Philadelphia and the surrounding region before the storm is expected to taper off Wednesday evening.
According to the latest forecast from the National Weather Service, the storm "threatens heavy accumulations of wind-driven sleet and snow which may cause widespread power outages." As much as 18 inches could fall in Philadelphia and points north After repeatedly upping its projected snowfall totals, meteorologists at the National Weather Service told my colleague Tony Wood that shifting computer models have created "an absolute nightmare" for forecasters.
>> READ MORE: How to prepare for a power outage
If Philadelphia does end up with more than a foot of snow, this latest storm (which the Weather Channel has dubbed "Toby") would end up in the history books, replacing the dreaded blizzard of 1993 (the so-called "Storm of the Century") as the biggest March snowfall in the history of the city.
It would take 16.8 inches of snow for this latest storm to eke its way on to the list of the top 10 snowstorms in the history of Philadelphia, which would be an impressive feat considering how late in the season we find ourselves.
>> READ MORE: Top 10 snowstorms in Philadelphia history

Here's a list of the five biggest snowstorms to blanket Philadelphia during the month of March. All measurements after 1940 took place at the airport.
1. 12 inches: March 12, 1993
2. 11.4 inches: March 19-21, 1958
3. 10 inches: March 11-12, 1888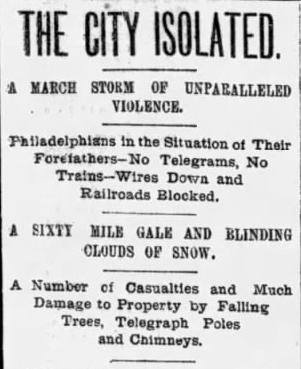 4. 8.7 inches: March 18-19, 1956
5. 8.3 inches: March 3-4, 1960