A quick look at some developments around the National League, including a check on the most hexed team in professional sports.
1. Feeling bullish
The Mets addressed their bullpen concerns and, barring a visit from Dr. James Andrews, seem to have gotten it right. The New Yorkers went out and got record-setting closer Francisco Rodriguez and setup man J.J. Putz to help stop the late-game bleeding that cost them the division title the last 2years.
2. 101 and counting
The Cubs have now gone more than a century without winning a World Series. While they again should be the class of the NL Central, baseball season for Cubs fans really won't begin until October. Their current eight-game playoff losing streak started with Steve Bartman. Ouch.
3. Brave New World
It was a tough offseason in Atlanta, which failed to sign A.J. Burnett, were spurned by Rafael Furcal and couldn't land Jake Peavy in a trade. In a division filled with terrific shortstops, the continued development of Atlanta's Yunel Escobar will be intriguing.
4. Manny returns happy
The Dodgers re-signed Manny Ramirez to a 2-year, $45million deal that took AIG off the front pages for a day. The next time Ramirez tweaks that 36-year-old left hamstring there will be so many people holding their breath in LA, it will look like a smog alert.
5. Carpenter complex
The Cardinals hope former staff ace Chris Carpenter has finally rebounded from the arm problems that cost him the last 2 years. Carpenter, who turns 34 on April 27, went 51-18 for the Redbirds from 2004-06 and has had a pretty good spring.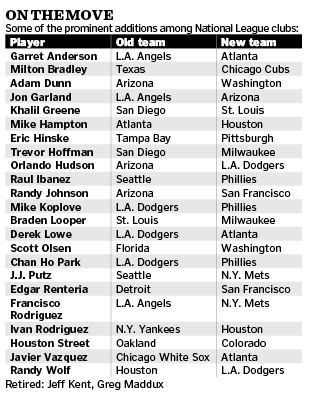 6. Pittsburgh rare
The Pirates have a good chance to erase a dubious major league record if they post their 17th consecutive losing season. The Phillies, back in the century they used to be doormats, had 16 losing seasons in a row from 1933 to '48. In fact, the Phillies had losing records in 30 of 31 seasons, save for a 78-76 fourth-place finish in 1932.
7. Holliday blues
The trade of slugger Matt Holliday to Oakland drastically diminishes the heart of a Colorado lineup that was among the most feared. The move was prompted by economics as Holliday would have been a free agent after 2009 (see AL headlines). Todd Helton, coming off back surgery, has looked good in the spring.
8. Florida sunshine
Laugh the Marlins off as contenders in the NL East at your own risk. They have a young pitching staff — as always — that is loaded with potential. Right now there's not a clear No.1, but there a few 2's and 3's.
9. Nothing's Brewing
Looks like the Brewers can go back to being the Brewers now that CC Sabathia bolted for the Yankees and Ben Sheets opted to have elbow surgery. Milwaukee did add closer Trevor Hoffman, but that's sort of like the Sixers adding a punter.
10. Watch that Unit
The only thing certain about the Giants' Randy Johnson is that the 46 candles on his birthday cake will set off the clubhouse sprinklers in September. Lit up frequently in the early going last year, Johnson went 5-3 with a 2.41 ERA and 78 strikeouts in 86 innings after last year's All-Star break. *