Shop around for new insurance quotes
Annual savings: $175
Consumer Reports ran the numbers in an article this summer and found that the average person can save about $175 by calling around for new bids on auto and life insurance policies. CR reporter Jeff Blyskal says it's one of the best ways there is to pare household expenses.
You can probably trim your car insurance bill by about $65 a year, according to CR's estimates. And thanks to a steep drop in prices since the 1990s, you stand to save $110 if you switch life insurance plans.
Apply for middle-class debt relief
Sample savings: $169.56
Thanks to an interesting partnership between the city and several banks, homeowners in Philly with less-than-perfect credit can refinance their credit-card debt and borrow money to repair their houses at reasonable fixed rates — currently about 5.5 to 6 percent.
A family of four with an annual income as high as $85,445 can qualify for the PHIL-Plus and Mini-PHIL loans, which are managed by the Greater Philadelphia Urban Affairs Coalition (GPUAC) and aimed at low- and moderate-income households.
You can borrow up to $10,000 under Mini-PHIL or up to $25,000 under PHIL-Plus, the only catch being that no more than half of either loan can be used toward debt consolidation. The other half needs to finance home repairs and improvements, including energy savers like insulation.
One recent participant used the debt-consolidation portion of a loan to pay off $1,413 in credit card debt that had been carrying an 18 percent annual interest rate. The debt now carries a 6 percent rate, saving the client $169.56 in one year.
The loans are being financed by Citizens Bank, TD Bank, PNC Bank and United Bank of Philadelphia. Interest rates vary slightly, so your precise rate will depend on which bank extends the loan.
Visit www.formyphillyhome.org for details, or call GPUAC at 215-851-1740.
Schedule a weekly soup meal
Savings this winter: $72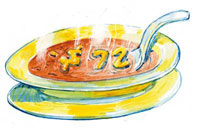 According to painstaking estimates by The Culinary Review, a family meal of Classic Easy Homemade Chicken Noodle soup costs $10.72 to prepare, while Martha Stewart's Perfect Roast Chicken costs $14.32 — without sides.
Serve chicken soup instead of a chicken dinner once a week and you'll save $3.60 a week. Do that every week for the five-month heating season and you'll save $72.
The Culinary Review also has tempting recipes for budget-minded crowd-pleasers like meatloaf and sausage with penne pasta, all with costs calculated for you, down to the spices. (For the record, a half teaspoon of cayenne pepper costs 2 cents.) It's all online at www.theculinaryreview.com.
Launder smarter
Savings this winter: $37.72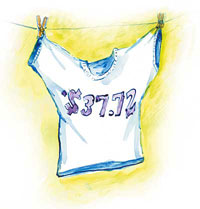 The Clorox company has been touting its new Clorox Plus Coldwater Bleach as chemistry's gift to the cash-strapped. Able to brighten whites at 17 cents less per load than hot-water bleach, it could save you $10.20 this winter if you wash three white loads a week for the duration of the five-month heating season.
Remember to clean the lint filter on your dryer after every load and you'll save another $27.52 this winter, based on estimates from the Pennsylvania Department of Environmental Protection.
A clogged filter blocks air flow and makes the dryer less energy-efficient.
Consider low-cost highlights
Savings this winter: $135
We all know that sun-kissed hair is often more a product of expensive trips to the salon than actual sun-kissing, especially in the winter. To achieve the effect at a discount, consider patronizing a teaching salon for your salon highlights.
At the Jean Madeline Aveda Institute, where cosmetology students are supervised by teachers, full highlights start at just $45 — about half the going rate at some Center City salons.
A client who gets highlights every six weeks could save about $135 by schlepping to a student salon during the winter when heating bills are crimping the budget. Jean Madeline has teaching salons in University City (267-350-8800), Queen Village (215-574-0334) and Mayfair (215-332-5133).
Earn a hibernate dividend
Savings this winter: $72.77
If you have a home computer running for most of the day, scrupulously managing its power settings could result in perhaps the easiest money you'll ever save.
The U.S. Environmental Protection Agency recommends setting computers to hibernate after idling for 30 to 60 minutes. The agency suggests setting monitors to go into sleep mode after five to 20 minutes of inactivity. For details, visit the government Web site www.energystar.gov and type "power management" into the search engine. The site has open-source software that you can download for help with power management and a calculator to estimate your savings.
We ran the numbers, and with one desktop computer running for about nine hours a day, the average Pennsylvania rate-payer could save $72.77 a year in electricity costs. New computers that have earned the EPA's Energy Star label come with their power-management parameters pre-set for savings.
Bank smarter
Potential savings this winter: $140
Banks collected about $39 billion in fees and penalties last year, which works out to $28 per household per month, according to Consumer Reports. One easy way to avoid those costs is to choose a bank with a lot of ATMs so you don't pay foreign ATM fees, CR says.
Another way is to keep a close eye on balances so you don't get hit with fees for bounced checks and "courtesy overdraft protection." The Federal Reserve Board advises consumers to record all checks, ATM withdrawals, bank fees, debit card purchases and online payments, including any regular payments you've authorized for utilities and other accounts.
Take a less-power shower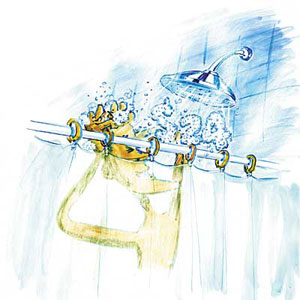 Annual savings: $24
According to calculations by bankrate.com, a high-efficiency showerhead costs as little $8 and shaves about $32 a year off your water bill.
Net savings: $24.