For some, the massacre at Sandy Hook is a sobering example of problems that plague the United States of America, regardless of political affiliation. For others—like, members of the Westboro Baptist Church, for instance—it's an opportunity to remind the country that God totally doesn't like homosexuals. Everyone's least favorite group of "activists" announced its intention to picket at Sandy Hook Elementary, citing the horrific incident as God's response to gay marriage. Enter: Anonymous.
The group of hackers responded to Westboro Baptist Church's plans by releasing personal information—like phone numbers, home addresses, and personal email accounts—of Westboro's members. Anonymous also released a YouTube video detailing its plans to systematically dismantle Westboro Baptist Church. [Salon]
UPDATE: Hackers appear to have taken over Westboro Baptist Church Twitter feeds, including that of the group's "official spokesperson," Shirley Phelps-Roper. UGNazi—a computer hacker group—claims that hacker prodigy, 15-year-old Cosmo the God is behind the takeover. Though, Cosmo the God is already in some significant hot water and isn't supposed to be on the Internet. [Gizmodo]
UPDATE: Anonymous announced on Twitter that the Westboro Baptist Church folks were supposed to stay at the Heritage Hotel in Southbury, Connecticut.


An update on the Heritage Hotel Facebook page that the members of the the Westboro Baptist Church arent' staying there. It reads:
"The Heritage Hotel would like the community to know that there are no guests staying at our property from Westboro Baptist Church. We share the same concerns with the community as many of our associates have family members who have been directly affected by this tragedy. We have opened our hotel to the first responders, media and families impacted by this horrible event. Our thoughts and prayers are with the families and the community and we will do everything we can to help those in need."
The Register Citzen—which serves Northwest, Connecticut—updated its Facebook page, saying that they have a newsroom set up at the Heritage Hotel and that the Westboro Baptist Church was never staying there.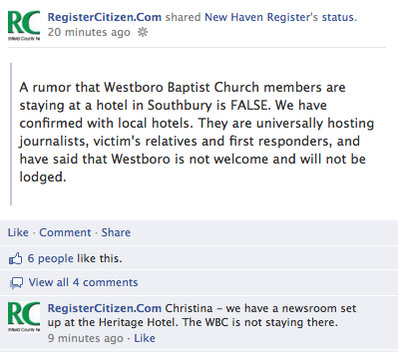 Anonymous followed up with this tweet: