A rallying cry that people heard
SHARON GEKOSKI-KIMMEL / Staff Photographer
Last in an occasional series
By Alfred Lubrano
INQUIRER STAFF WRITER
Imani Sullivan's friends threw her a housewarming party a couple of weeks ago in her new one-bedroom apartment in Feltonville. Months earlier, Sullivan had spoken in despair about the shame she felt not having enough food to feed her two young boys. She even contemplated suicide.
Yet here she was, approaching New Year's, in a place of her own, paying rent.
She had a job as a janitor cleaning offices that pays $14,600 a year, including vacation, insurance, and a 401(k) plan.
Her apartment has hardwood floors and clean, white walls. It's only two miles from her mother's apartment in North Philadelphia, where she used to live. But it feels like 1,000 miles and a lifetime away.
"I love it here so much," said Sullivan, 31. "On our first night here, my son De-Mire said, 'Everything looks fresh.'
Continue to read the story here.
More stories in the series
Disappearance of industry leaves a wake of discouraged' workers
To make a living in North Phila., many turn to dealing.
Ex-teacher writes cautionary tale for children after little girl is murdered.
A pastor's call led him from a comfortable Main Line church to serve a greater need in North Philadelphia.
Cheap diets tend to be sugary, salty, fatty — raising obesity and diabetes risks.
The anguish of families: "It makes me feel like less of a mom not to have food."
Image Galleries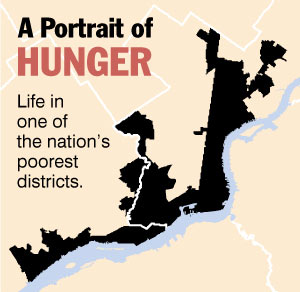 ABOUT THIS SERIES--
The grinding recession is taking its toll in neighborhoods across America as a record number of people plunge into poverty. A national poll reveals that Philadelphia's First Congressional District is the second-hungriest in the country.
In an occasional series, The Inquirer goes behind the scenes in the district to chronicle the struggles, hopes and challenges of the people who live hidden in plain sight in the heart of the country's sixth-largest city.
Find the entire series here.