The making
of Pope Francis
RICCARDO DE LUCA / Associated Press
Pope Francis greeting the faithful upon arriving for his weekly general audience in St. Peter's Square at the Vatican, on Sept. 18, 2013.
How a son of Italian immigrants to Argentina rose to become head of the Roman Catholic Church.
Like Americans who explain their origins by starting with their grandparents crossing the Atlantic, Francis — the first pope from the New World — likes to tell how his Piedmontese forebears landed in Argentina in 1929.
Giovanni and Rosa Bergoglio sailed from Genoa to Buenos Aires on the Giulio Cesare to join his elder brothers, who had done well with their paving firm in the city of Paraná. The couple took with them their only son, Mario, a 20-year-old bank clerk, who would have been astonished to think of himself as the father of a future pope.
The figure who always looms largest in Francis' telling is Mario's mother, the pope's grandmother, Rosa Margarita Vassallo. She was a humble-born, well-read, devout and compassionate woman with finely honed political instincts. List those qualities, and you realize how much of Rosa her grandson has inherited.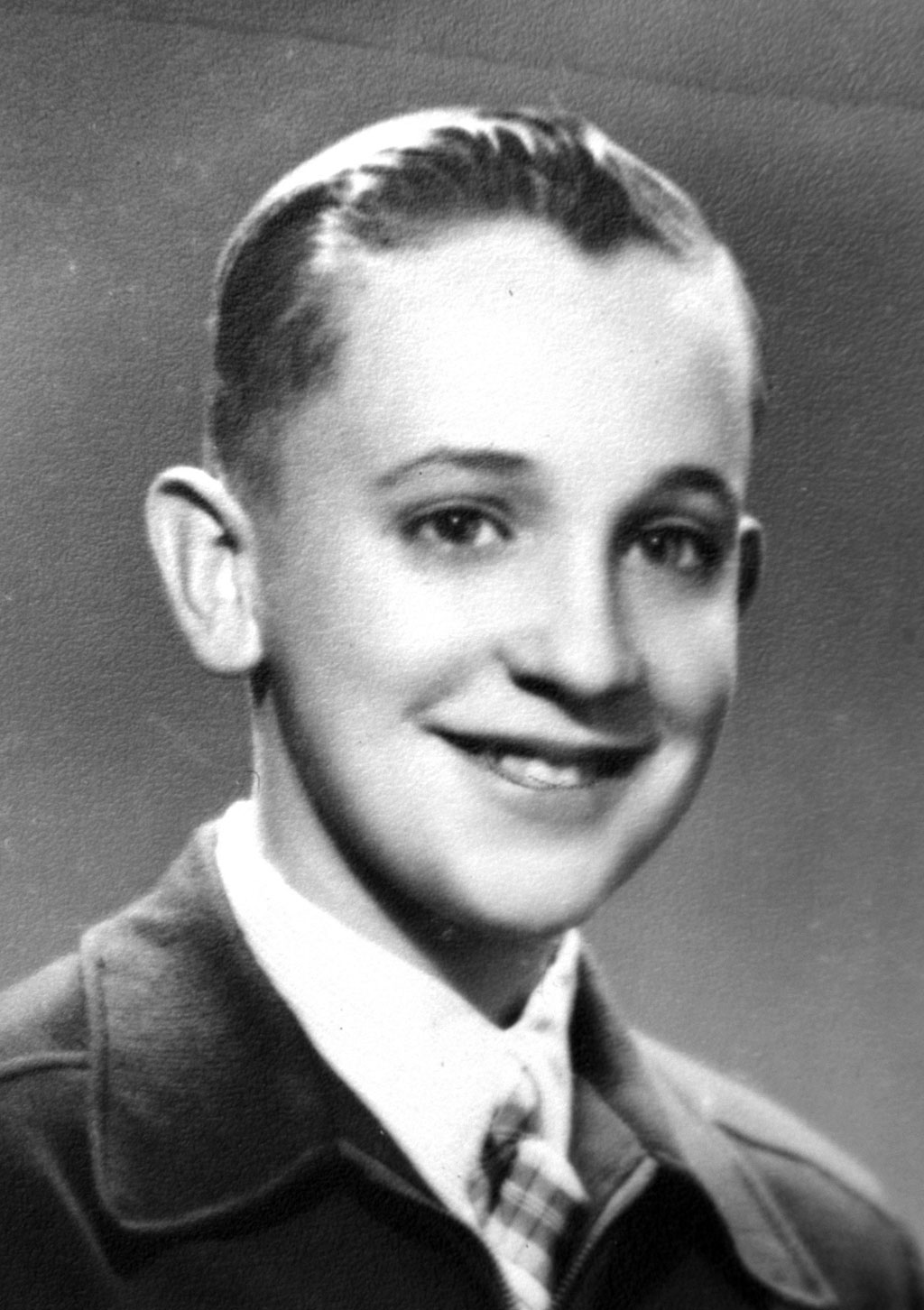 Bergoglio Family Photo
Jorge Mario Bergoglio, the future Pope Francis, at age 11.
She was of peasant stock, and as smart as a whip. Sent to Turin at an early age to get a good education, she spoke French and was well-read. Mario — she had five more children, but they were stillborn — took after his mother: He, too, worked hard and did well at school.
Rosa, then in her 40s, was a speaker and organizer of events to promote the social teaching of the popes. She more than once clashed with Fascists who saw Catholic Action — a huge network of active lay people across Italy — as a rival to their cadres. One time, when they would not let her speak in a church, she gave the speech in the street on a soapbox. As cardinal, her grandson would do the same many years later in Buenos Aires, speaking through a megaphone in Constituci-n Square.
After marrying in Turin, the Bergoglios moved to the town of Asti when Giovanni came back from the war in 1918. They were due to set sail in October 1927 on the Principessa Mafalda, but were forced at the last minute to change their tickets and did not leave until a year later. It was a lucky escape; the Mafalda went down off Brazil, taking more than 300 passengers to their deaths.
The future pope's grandparents finally made it in February 1929, spending two years in Paraná before the depression caused the paving business to founder and the brothers to separate. Giovanni, Rosa, and Mario made their way to Buenos Aires.
"They were out on the street, with nothing," the pope later recalled. "My grandfather bought a warehouse with 2,000 pesos which he borrowed, and my father, who was an accountant, sold goods out of a basket."
Mario met Regina S'vori — the daughter of Genovese immigrants — through their parish, and they married in 1935. A year later, their eldest son, Jorge Mario, was born, on Dec. 17, 1936. He was baptized a week later, on Christmas Day.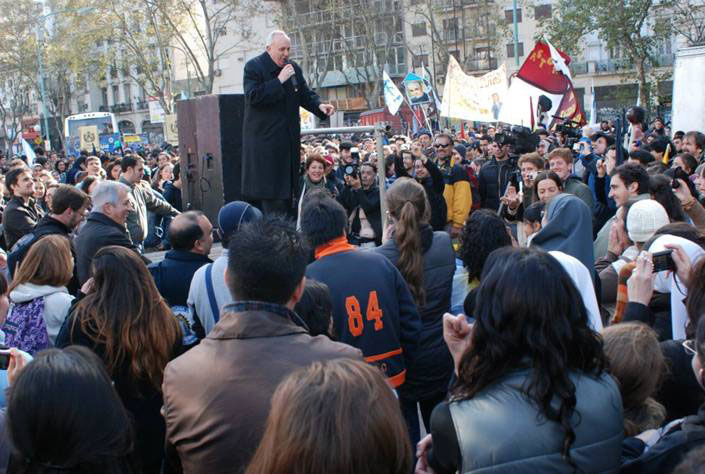 ENRIQUE CANGAS
As a cardinal, Jorge Mario Bergoglio made it a habit to preach in Buenos Aires' Constitución square. He also formed a close bond with Paraguayans and Bolivians in the Buenos Aires slums.
Growing up with the stories of his family's trials and fresh starts, Jorge would always have a special concern for vulnerable migrants. As cardinal, he had a close bond with Paraguayans and Bolivians in the slums of Buenos Aires, and he has made making room for the stranger a cornerstone of his teaching as pope, insisting that anti-immigrant countries that tighten or close their borders simply turn nearby oceans and deserts into cemeteries for those who die trying to get there.
To emphasize his deep concern for the plight of desperate migrants, Francis made his first official papal trip outside Rome to the Italian island of Lampedusa, where thousands die trying to cross the Mediterranean from North Africa — "in boats which were vehicles of hope and became vehicles of death."
The tragedy, he said, "has constantly come back to me like a painful thorn in my heart."
On the eve of his visit to the United States, faced with the continuing tide of refugees fleeing the war in Syria, he asked every church community in Europe to take in refugees — and cleared space in the Vatican to receive two such families.
Jorge, the eldest of five, spent a happy childhood in the barrio of Flores, then on the outskirts of Buenos Aires (today pretty much in the center of the city), where houses were cheap and the streets unpaved. Flores was his home for his first 20 years, in the 1940s and the 1950s; it was where he lived, attended primary school, and worshipped.
By the time Jorge was born, his father was getting bookkeeping work, and could buy a house. Around the corner were Giovanni and Rosa, who looked after him during the day. "My strongest childhood memory is that life shared between my parents' house and my grandparents' house," Francis later recalled.
Bergoglo Family photo
Jorge Bergoglio, (left) the future Pope Francis, and his brother Oscar in Buenos Aires. Jorge, his parents' first child, was born Dec. 17, 1936.
Rosa would read Piedmontese poetry to him (which he can recite to this day) and introduced him to the classics of Italian literature; she talked of Catholic Action, and the struggle for just wages in Turin. Her piety deeply marked him.
Rosa remained the love of the future pope's life. Many years later, long after the deaths of his grandfather and father, Francis would visit her in the Buenos Aires nursing home where she was cared for by Italian nuns. "He adored her. She was his weakness," the nuns remembered. They recall the night she died, when Francis, then a Jesuit priest, held her body until her final breath.
Francis is emphatic about the importance of grandparents. "Profit from the lives, the stories and the wisdom of your elders, of your grandparents," he told young people in Paraguay in July. "'Waste' lots of time listening to all the good things they have to teach you. They are the guardians of that spiritual legacy of faith and values that define a people and light its path."
The Bergoglios were not well-off. They had no car and took no vacations — to this day, the pope never goes away in the summer — and clothes were recycled. But there were food, education, and strong Italian family solidarity. Jorge was close to his brothers, Oscar and Alberto, and sisters, Marta and Mar'a Elena (the only one still alive), and would be a devoted uncle to their children.
Life revolved around the parish, the Basilica of St. Joseph, and the family priest, Salesian father Enrico Pozzoli, was a regular at table. Another fixed point was San Lorenzo football club stadium, where Mario took his sons. For a time, while their mother Regina was ill, the boys were sent to a boarding school, which Jorge loved.
Jorge was a conventional child — tall, lanky, bookish, gentle — who liked to kick a ball and hang out with friends and to dance milongas, fast-paced tangos. In high school he qualified to be a food chemist and also worked in a laboratory, but his best subjects were the humanities.
As an adolescent, three things marked him: his fierce intelligence, his strong religious faith, and his concern for others. But he didn't feel the tug of a vocation until he was almost 17. It came in the confessional, one spring day in 1953, and left him convinced that he would eventually be a priest. "It was like being thrown from a horse," he later wrote.
He kept the experience to himself and for the next three years struggled with another calling — to politics. He loved to frequent political clubs and devoured the books lent him by his left-wing Paraguayan boss at the laboratory, the other great female influence on his childhood. Marxism never convinced him, but he would always sympathize with the struggle of political movements for greater social justice.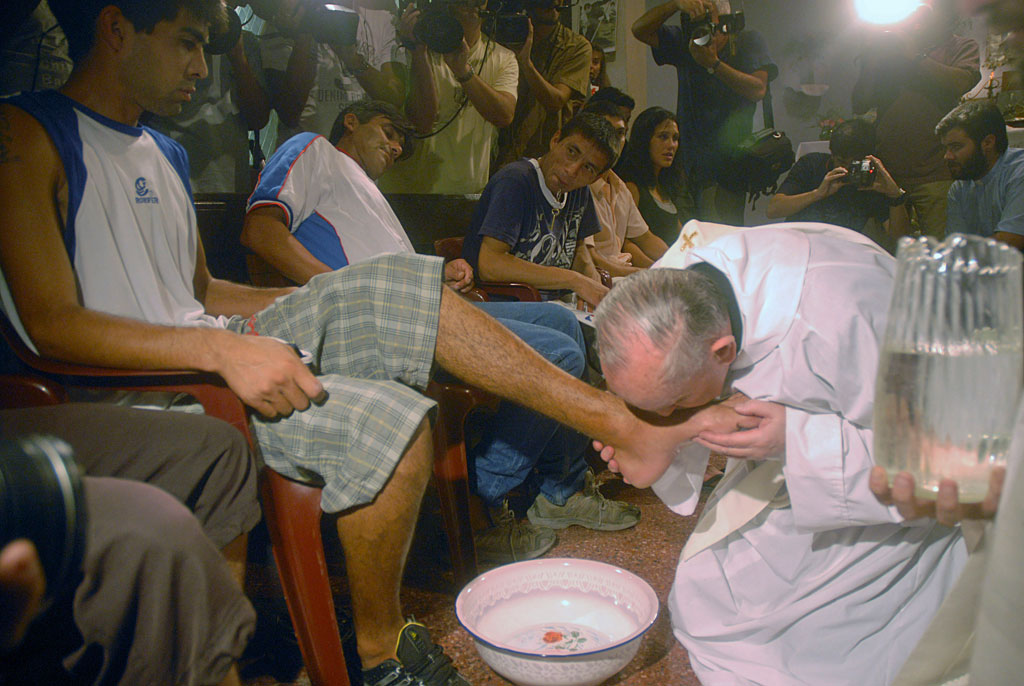 Associated Press / File photo
Cardinal Jorge Mario Bergoglio kissing Cristian Marcelo Reynoso's foot during a Mass with youth trying to overcome drug addiction in Buenos Aires, Argentina, in 2008.
The vocation to the priesthood eventually won out. His mother, Regina, whom he had told he was studying to be a doctor, was shocked to discover theology books in his room. "I didn't lie to you, Mom," he told her. "I'm going to be a doctor of the soul." Regina was appalled, and refused to support his decision for many years. But his father and grandparents backed him.
At 20, a year after entering the seminary in Buenos Aires in March 1956, he nearly died from a devastating pleurisy, painful inflamed lung membranes, that led to the surgical removal of three pulmonary cysts and part of his right lung. To this day, Pope Francis speaks softly, gets breathless, and suffers often from chest conditions.
"I didn't lie to you, Mom. I'm going to be a doctor of the soul."
Jorge Bergoglio, as a student
After recovering he joined the Jesuits, a missionary religious order renowned for its intellectual rigor and long formation — the detailed process of becoming a Jesuit priest. In March 1958, Jorge began his 14 years of training, initially in Cordoba and Santiago, in neighboring Chile, but mostly in the place that was to be his home for most of his life until the mid-1980s: the huge Jesuit formation house, or college, an hour outside Buenos Aires, known as the Colegio Máximo.
Jorge Bergoglio's long period of study and formation as a Jesuit coincided with great turbulence in both the church and in politics, shaped above all by the Second Vatican Council and the Cuban Revolution. He identified with a group of theologians and thinkers who stood outside the sharp divisions of the era between left and right, conservative and progressive.
Those in the "La Plata school," as it is sometimes called, were nationalists who looked to the tradition of Peronism, a uniquely Argentine blend of Catholic social teaching and pro-worker, populist ideas that rejected both liberalism and communism as alien. To this day, Pope Francis has a fierce sense of the importance of the values of the patria, or homeland. When Argentina celebrated the bicentenary of its independence in 2010, then-Cardinal Bergoglio wrote that while a country's borders and much else can change, "the patria either preserves its foundational being or it dies."
With this nationalism went a strong notion that Jesus Christ evangelizes in and through the culture of a people — and that people become free when they are able to resist what is imposed on that culture from the outside. In Manila in January 2015, for example, Francis spoke powerfully of the need for the developing world to resist the "ideological colonization" of gay marriage and abortion.
In the 1970s he was critical of Latin American theologians who looked to (foreign, Marxist-influenced) social sciences as a means of "liberating" the poor. Although initially supportive of the national and popular Cuban Revolution in 1959, Bergoglio's group was horrified when Fidel Castro declared the revolution to be Marxist, and fell into the Soviet orbit.
For Bergoglio and the La Plata school, the task of the church was to build up the culture of the people, so that they could become protagonists in their own liberation. This meant looking to the cultural traditions of ordinary people, valuing, for example, popular forms of devotion that the more intellectual Jesuits looked down upon as superstitious. It was in some ways a conservative outlook, yet in other ways radical, because it was rooted in ordinary people and was suspicious of elites of both right and left who tried to speak in the people's name.
In all the turbulence, the Jesuits were hit hard by a sudden drop in vocations and an exodus of many priests. In the midst of deep divisions over the direction of the Jesuits in Argentina, Bergoglio in 1973 was chosen to lead its 450 men at the age of just 36. His deep spirituality and leadership skills had made a deep impression. He was considered the right man for the delicate task of uniting the Jesuits and carrying through reforms that would hold to what was essential while making necessary changes. That would be his mandate, too, as pope, decades later.
He was too young for the responsibility, as he would later admit, and made many mistakes. He was too authoritarian in his leadership, and suffered from a weakness typical of charismatic leaders — of creating a cult of personality. He was the most brilliant and successful leader the Argentine Jesuits had ever had. By the end of his six-year term (1973-79), the Colegio Máximo had filled up with dozens of new vocations attracted by his compelling vision of radical service and deep spirituality, one that stayed clear of ideology while focusing the Jesuit men on the concrete needs and values of the people they were serving. He did all this during a period of horrific guerrilla violence followed by a brutal military dictatorship.
Sympathizing with neither the leftists nor the army, Bergoglio managed to steer the Jesuits through the turbulent 1970s without losing any of his men. One Jesuit said later: "He was our storm pilot." Famous for being inscrutable — his Jesuit nickname was La Gioconda, the Italian name for the Mona Lisa — Bergoglio always played his cards close to his chest. (It is a characteristic of his leadership as pope: Few in Rome know what Francis is thinking, or what he will do next.) He managed to help dozens of people fleeing military repression, hiding them in the Colegio and helping them escape the country — all under the noses of the army and the Jesuit military chaplains. These stories would come out only later, after he was made pope, dispelling the myth that grew up around him in the 1980s — and repeated later by his enemies — that he had "collaborated" with the military regime.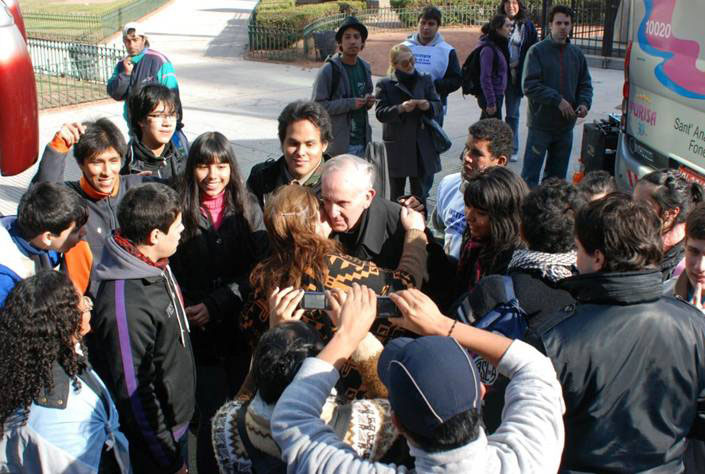 ENRIQUE CANGAS
Cardinal Bogoglio in Buenos Aires.
In 1980, he was appointed to a six-year term as rector, or head, of the Colegio Máximo. There he created an extraordinary regime: austere, disciplined, but highly motivated, with dedicated young Jesuits whose energetic pastoral work with the poor transformed the town of San Miguel, where the Colegio is situated. In practice, he remained the leader of the Jesuits, adored by a whole new generation who looked to him. No one disputes his brilliance as a leader — "a mixture of Machiavelli and a desert saint," as one Jesuit once said. But his overwhelming influence divided opinion among the older Jesuits, who were concerned by his hold over the young.
They successfully lobbied the new Jesuit general in Rome to have him and his followers removed from positions of influence. After the end of his term as rector, in 1986, Bergoglio and those closest to him were sent abroad, but he came back after six months in Germany for reasons that have never really been clarified.
After years of turbulence, Bergoglio was sent into a kind of internal exile, in the mountain city of Cordoba, where he spent the years 1990 and 1991 hearing confessions and ministering to elderly, sick Jesuits. Deprived of authority, and watching the province he loved split into factions, he suffered intensely. He was often sick and depressed, but mostly it was a time of deep prayer and contemplation that bore fruit in some of his most powerful writings. The Cordoba exile was a radical purgation that left Bergoglio humbler, gentler, and more compassionate.
It also brought an end to his time with the Jesuits, although he technically remained a member of the order.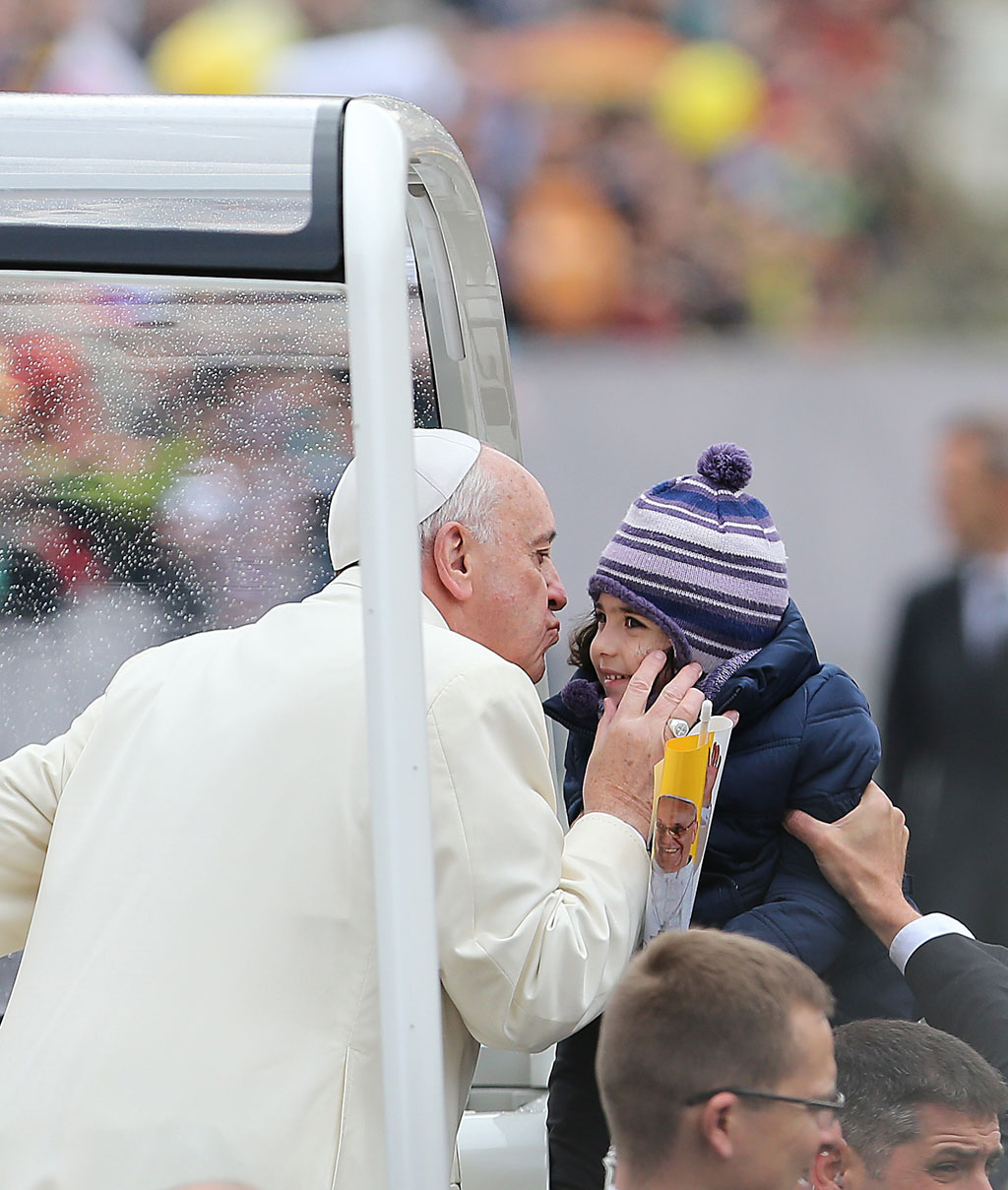 DAVID MAIALETTI / Staff Photographer
Pope Francis gives a kiss to a child as he arrives for the Papal Audience in St. Peter's Square on March 26, 2014.
In 1992, for the second but not the last time, Bergoglio appeared out of nowhere to take up a position of major responsibility. Very few in the archdiocese of Buenos Aires had heard of him when he was made an auxiliary bishop, serving under the city's new cardinal, Antonio Quarracino. He was back in the area of the city where he had grown up, one that included many of the city's shantytowns and sanctuaries.
Bishop Bergoglio deeply impressed his clergy by his directness, humility, and compassion. He established habits, many carried over from his days as a Jesuit, that he keeps up to this day: rising at 4:30 a.m. to spend two hours in prayer, maintaining his own schedule, and making his own calls, taking a 40-minute siesta in the afternoon, and retiring early at night, at about 10 p.m. Between those hours, he has always worked intensely, never taking time off or even vacations. (As pope, he has refused the summer break at the papal summer palace of Castel Gandolfo, instead opening it to the public.)
Just as he does now as pope, as bishop he traveled on foot or on public transport, always there for his priests. Refusing all requests for interviews, he was barely visible on the public stage, even after Cardinal Quarracino made him vicar-general, one of the most senior positions in the archdiocese.
In June 1997 he was made "coadjutor archbishop," meaning that he would automatically become archbishop of Buenos Aires upon Quarracino's death. Quarracino died in March the following year.
Yet again, nobody quite knew who this Bergoglio was; journalists described him as austere and well-liked, but allergic to interviews. Even in 2001, when he was made a cardinal by Pope John Paul II, he stayed mostly in the shadows, giving only brief answers in his first interview.
But over the next two years, Buenos Aires grew to love its cardinal, who emerged as a national figure above all during the economic and political collapse of 2002, when Argentina defaulted on its debt, the government fell, and overnight half of the country was made unemployed.
Cardinal Bergoglio mobilized the city to help the jobless, homeless and destitute, turning the church's parishes and projects into shelters and feeding stations. It was here that he was able to implement his vision of a "Samaritan church" that later as pope he described as a "battlefield hospital," one focused on the needs and suffering of people. Drawing on decades of prayer and spiritual guidance, Cardinal Bergoglio was convinced that when people experience the mercy of God — in the form of unconditional forgiveness, total acceptance, or acts of compassion — they encounter the true face of God, and have their hearts and minds opened. For Cardinal Bergoglio, as for Pope Francis now, exercising mercy and charity is the same as evangelization.
Bergoglio emerged in those years as the champion of ordinary Argentines, holding to account Argentina's politicians on their behalf. Journalists eagerly looked forward to the annual patriotic service of the blessing of the nation and its leaders to hear the cardinal excoriate the political class for its detachment and its lack of attention to ordinary people — just as he would later do as pope when addressing the European Parliament or the U.S. Congress. Eventually, a new government led by the insecure and anticlerical President Néstor Kirchner would veto those cathedral celebrations, which only made Bergoglio look even stronger.
This was Bergoglio exercising religious freedom, a liberty he regards as key to the flourishing of all societies: for the church to critique and hold to account the state and economic leaders on behalf of the voiceless, according to the values and standards of the culture. He did not see it as the task of bishops to bring down governments, but to connect them with the concerns and values of the people. Build politics, he told Bolivian leaders in July 2015, "on the real needs and on the lived experience of your brothers and sisters."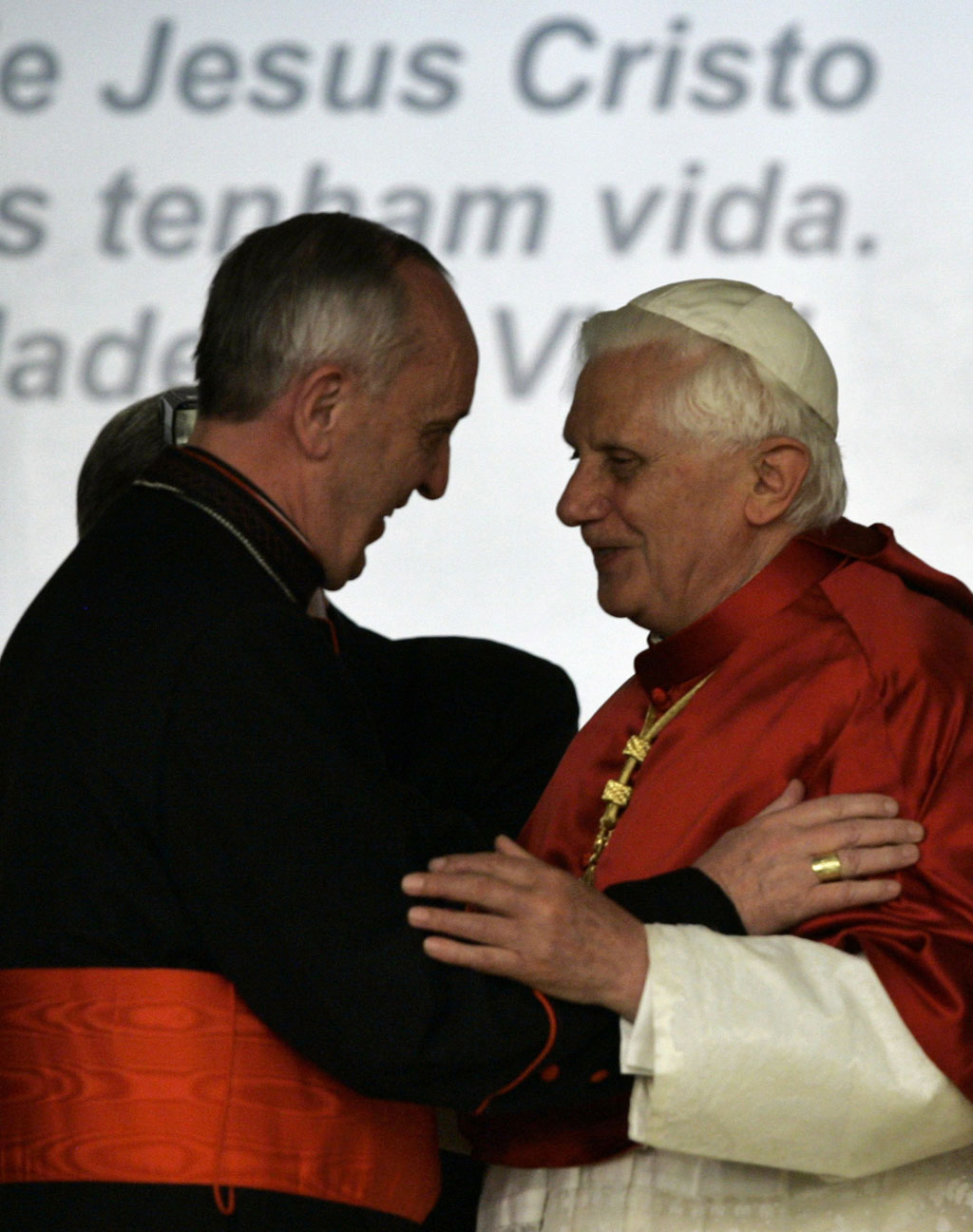 Ricardo Mazalan / AP
Jorge Mario Bergoglio (left) embracing Benedict XVI, whom he would succeed as pope six years later.
At the 2005 conclave to elect the successor to Pope John Paul II, Cardinal Bergoglio found himself in the Sistine Chapel for the first time in his life. He was in for another surprise, attracting votes as the alternative to Cardinal Joseph Ratzinger, who would become Pope Benedict XVI. He was shocked at the prospect, for which he felt spiritually unprepared, and begged the other cardinals to desist. But the fact that something like a fifth of them had voted for him was a sign that his reputation, despite his best efforts at avoiding attention, had been quietly spreading.
The other key moment in his journey to the papacy came two years later, when the bishops from Latin America came together for a historic assembly, the first of its kind in 15 years. The 2007 meeting in Aparecida, Brazil, marked the coming of age of the Latin American church, and above all of the La Plata school, whose ideas underpin the document that emerged from it.
Cardinal Bergoglio was the driving force of Aparecida, elected unanimously to take charge of the process that led to the document. His performance and homilies led many Latin American cardinals to regard him from that time as a future pope.
Yet for the next five years, Cardinal Bergoglio remained focused on his diocese, trying to leave it as little as possible ("I don't like to leave my spouse for too long," he would say) and going to Rome only when he had to. These were years in which he began to display extraordinary courage: organizing destitute workers, challenging corrupt police chiefs and politicians, confronting drug merchants and freeing trafficked migrants. He refused all invitations to dinner parties and functions in the wealthy part of Buenos Aires, preferring to spend his weekends in the shantytowns. He became deeply concerned by the destruction left by unrestrained market capitalism, and the power of global corporations: fracking for natural gas in Patagonia and paper-making at a mill in Uruguay that contaminated the town of Gualeguaychú also became concerns at this time.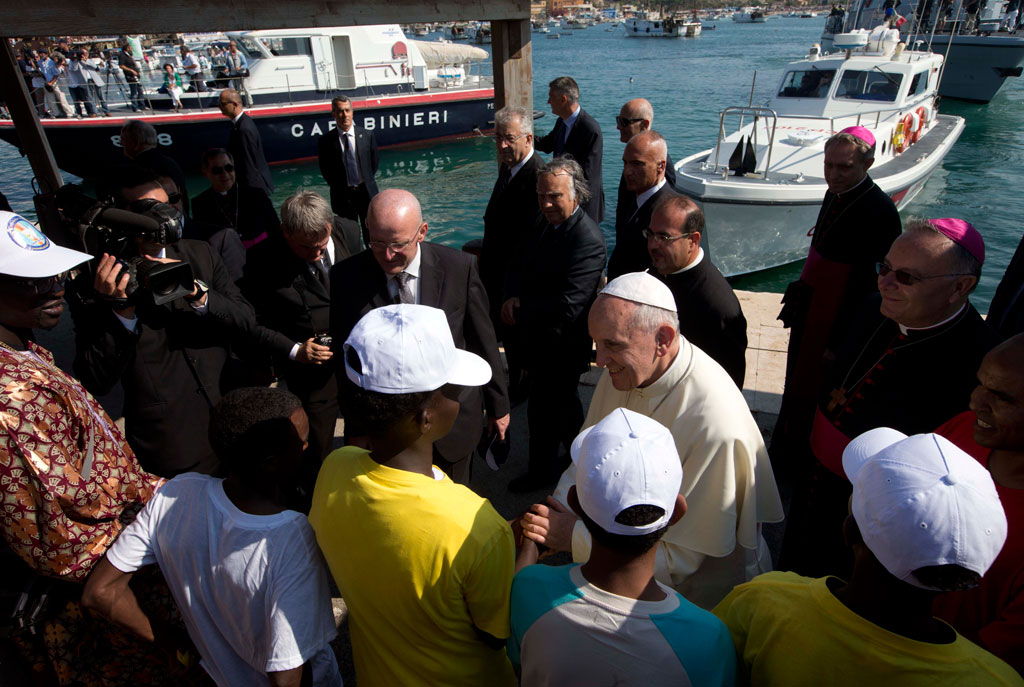 Pope Francis welcomes migrants on the south Italian island of Lampedusa, near where thousands die trying to cross the Mediterranean from North Africa.
ALESSANDRA TARANTINO / AP pool
They were also years in which he developed deep friendships with leaders of other faiths and denominations and experienced something of a conversion to charismatic forms of prayer, gathering to meet each month with five evangelical pastors. Yet most of this activity was not widely known. Although he allowed himself to be interviewed for a 2010 book-length profile of him, El Jesuita, Bergoglio hardly ever spoke to the media. When he was elected pope in 2013, there was very little for the world's media to work from.
In 2011, he made preparations for his retirement — he would turn 75 the following year — on the assumption he would be replaced as archbishop in 2012. But there were other plans.
In February 2013, after Pope Benedict's epoch-making announcement that he would retire, Cardinal Bergoglio made his way to Rome to take part in the conclave. Little-known in the European media, and assumed to be too old, he was barely considered a candidate in the weeks before the election. But the cardinals who knew him well believed that he was the man of the hour, and pointed to him as an austere reformer with the political savvy to reform the dysfunctions of the Vatican and energize the world's Church.
On the eve of the conclave, the Argentine Jesuit stood to address his fellow cardinals in a brief but powerful speech that convinced many of them that God had already chosen the next pope. It contained his key ideas: the importance of the Church focusing on the "peripheries" — the places of exclusion and suffering — as well as its duty to evangelize.
As happened so often before, when he emerged on the balcony of St Peter's on the night of March 13, 2013, joking that his brother cardinals had had to go to the ends of the earth to find a new pope, few in the media or the crowds below knew who he was.
They would soon find out.
DAVID MAIALETTI / Staff Photographer
The author
Austen Ivereigh is a British author, journalist, and commentator on religious and political affairs who holds a doctorate from Oxford University. His latest book, The Great Reformer: Francis and the Making of a Radical Pope, has been widely acclaimed, a work that draws upon his deep knowledge of the Roman Catholic Church, Argentina, and the Peronist movement — the subject of his dissertation — as well as his own brief time as a novice with the Society of Jesus, the order of priests Pope Francis joined in 1958. Ivereigh's work appears regularly in the Jesuit magazine America and in many other periodicals. He is also the author of How to Defend the Faith Without Raising Your Voice. He lives in Oxfordshire with his wife, Linda, and dogs.
See more at thegreatreformer.com