The Undocumented
Since the election of Donald Trump as president, anxiety has risen within the community of those living in the United States without settled immigration status. Here are some of the human stories behind the policies and the fears.
Cristina, 49, an undocumented immigrant from Mexico, has been looking at options to allow her minor children, 10 and 13, to stay in the United States if she is deported. (TOM GRALISH / Staff Photographer)
Lea en español / Read in Spanish
Luis Viga was eating tortas at a Mexican restaurant in Bristol Borough one day in March when his lunch partner got the call.
"Let's go. We have to go," the man told the puzzled Viga.
Immigration and Customs Enforcement agents had just been spotted raiding an apartment complex nearby.
The men paid for their meals and drove 10 minutes to the Levittown house of the man whose warehouse Viga had drywalled. For the next eight hours, they hunkered down.
Viga, 30, is an undocumented construction worker from Mexico. So is his client. What was supposed to be another day mounting and taping drywall for Viga suddenly became a tense waiting game, confirming the rumors of ICE arrests and biding time, not knowing for sure when the coast would be clear to drive home.
Amid President Trump's calls for tougher tactics against undocumented immigrants and recent reports of immigration raids in Pennsylvania, Viga and 50,000 other undocumented immigrants in Philadelphia have grown more cautious in going about their day-to-day lives.
Philadelphia saw the biggest percentage increase in the nation of arrests of immigrants with no criminal conviction other than being in the United States illegally: 356 between Jan. 20 and March 13, six times as many as last year during the same period.
More than a dozen undocumented immigrants interviewed by The Inquirer and Daily News noted a higher sense of anxiety within the undocumented community in the Philadelphia area since Trump won the presidency last year.
Undocumented parents grapple with the possibility of being separated from their U.S.-born children, who are American citizens. Their children struggle to understand their place in this country. Young people who crossed the border as children and are living in Philadelphia under the protection of Deferred Action for Childhood Arrivals (DACA) are unsure what will become of the Obama-era policy that allows them to work and study here.
Many are taking public transportation for fear of being pulled over in cars, detained, and possibly deported. Others have stopped going out at night, avoiding unnecessary encounters with authorities. A few families have reportedly left the country.
Yet, many highlighted what they consider a silver lining in the growing frenzy: More undocumented immigrants have engaged in community organizing, increasingly interested in educating themselves about their rights here.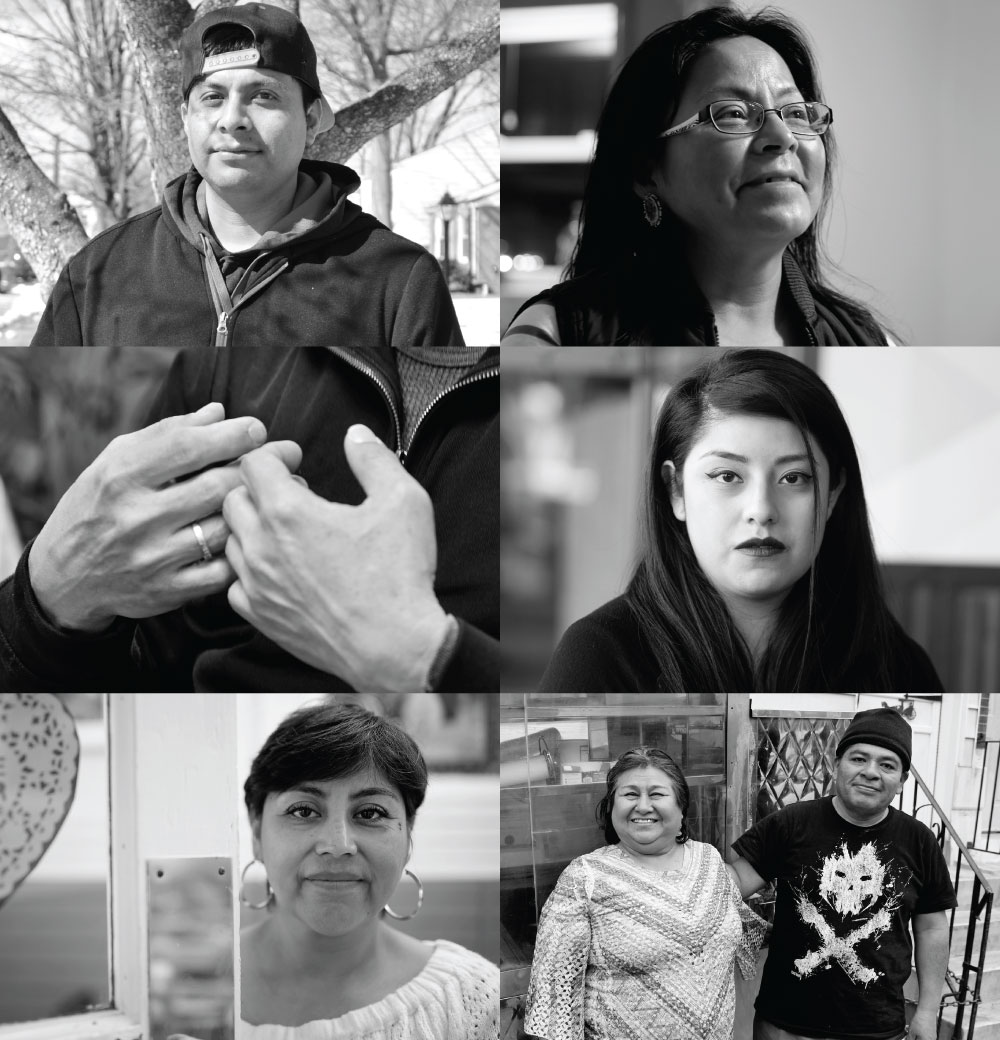 "A lot of people have stopped driving," said Viga, who spoke in Spanish, like most of those interviewed from Mexico and Central America. "They just keep their cars parked while still paying insurance."
Fleeing poverty in the state of Guerrero, he crossed the U.S.-Mexico border in 2005 at age 19. He settled in North Philadelphia, where a brother-in-law lived. He labored 14-hour days at construction sites, eventually becoming self-employed and running his own projects.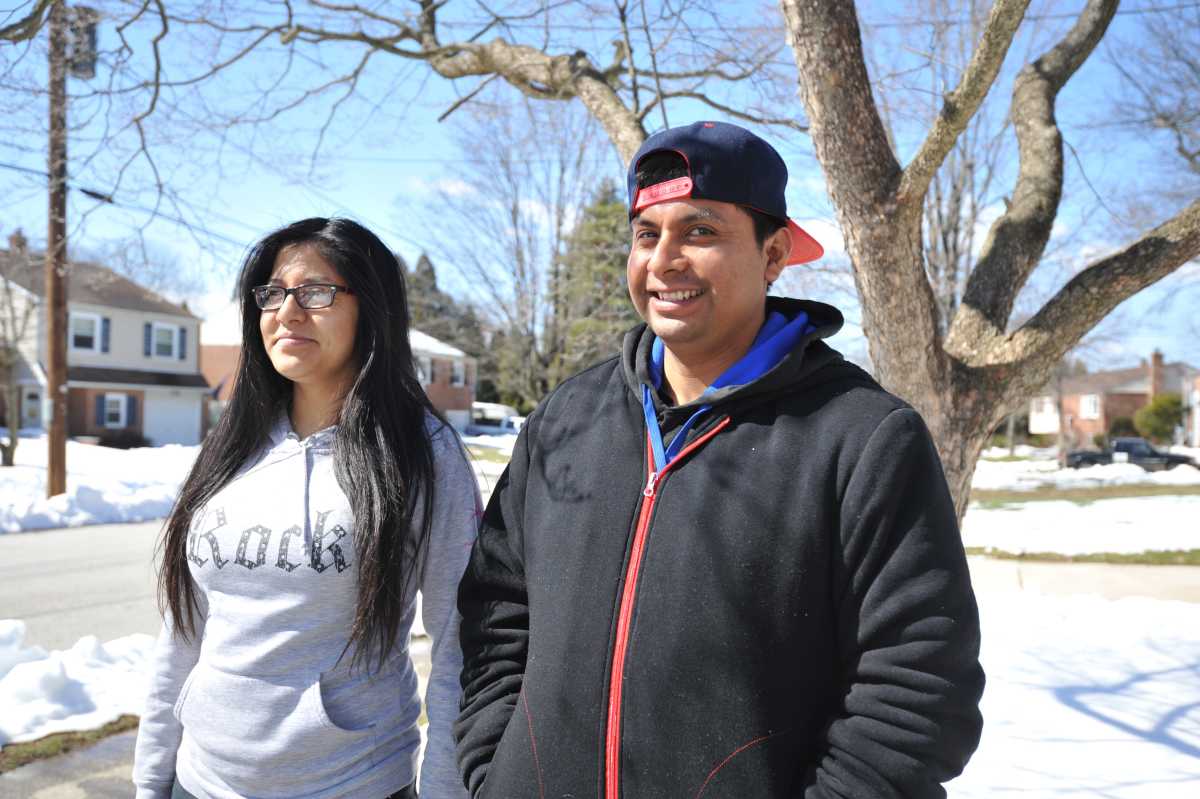 LUIS FERRE SADURNI/ Staff
Luis Viga, 30, an undocumented immigrant from Mexico, with friend Eva. "The best thing to do is organize ourselves," he said.
Although Viga said to use his full name - he said he isn't overly worried about being deported, because he is single and has no children - he has become more heedful.
He recently joined three Facebook messenger groups of undocumented immigrants that warn about possible checkpoints in the area and corroborate rumors of immigration raids. Hundreds of people belong to the underground networks, he said, and have helped knock down false rumors of raids that could have spread panic in the community.
"The best thing to do is to organize ourselves," he said. "Inform ourselves to be prepared to fight anything that is coming our way."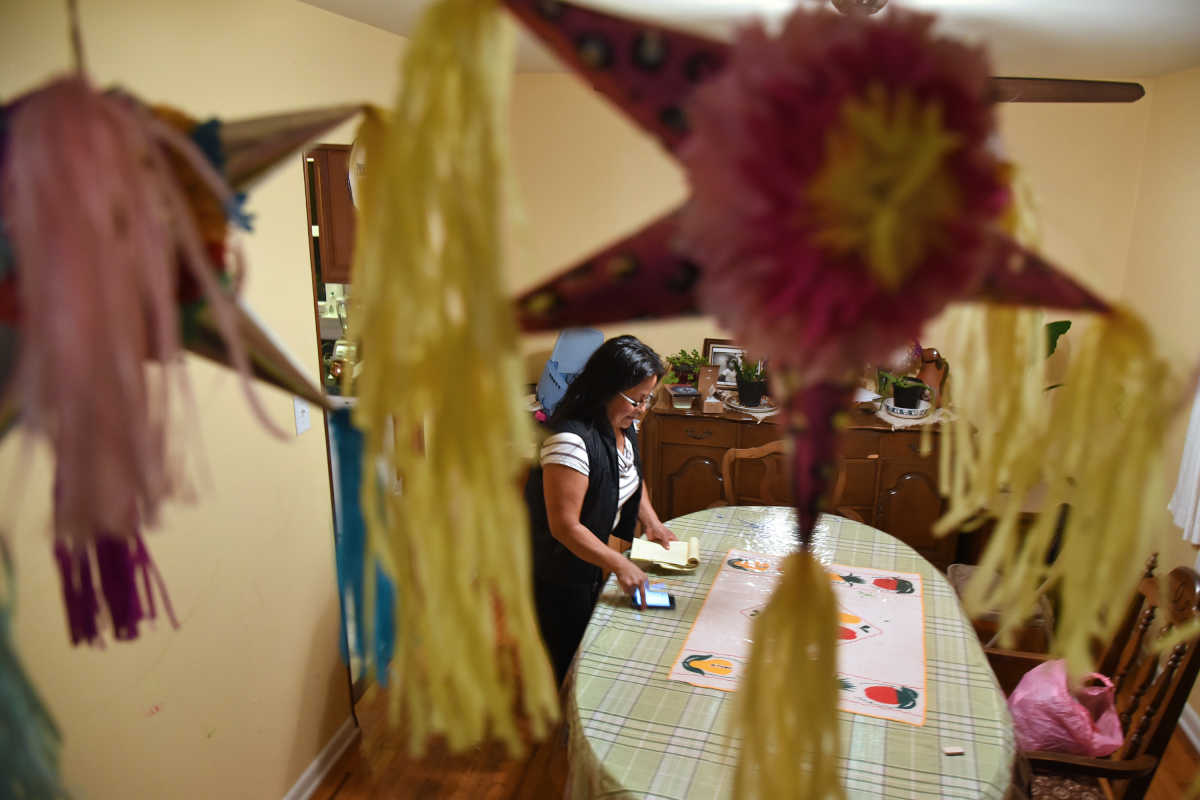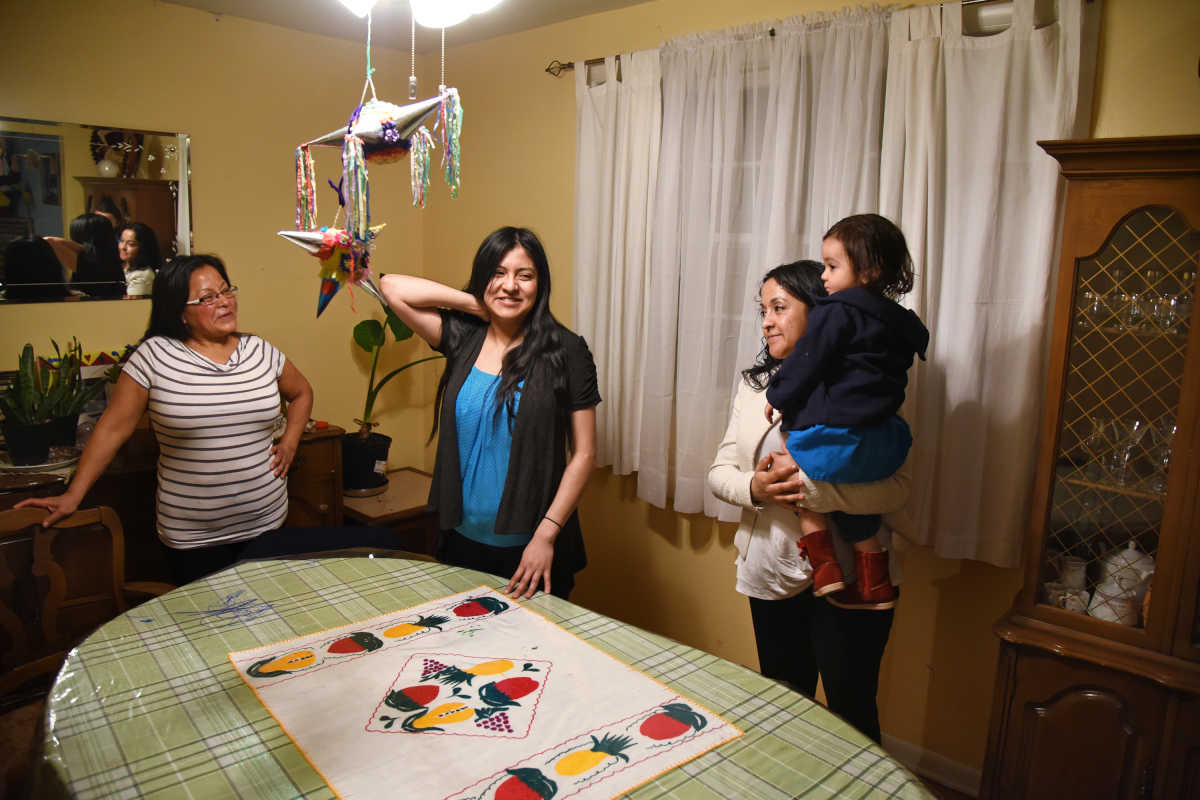 TOM GRALISH / Staff Photographer
Carmen Guerrero (left) with daughters Amaya Pavon (right) and Eva. Pavon holds daughter Valentina, 2. Guerrero makes the hanging piñatas to help her de-stress.
In late April 2016, when it was almost certain President Trump would clinch the Republican nomination, 8-year-old Francisco Pavon arrived home from school crying.
Carmen Guerrero, his undocumented grandmother from Mexico, tried to console him.
"He's going to build a great wall and remove all us Mexicans," Guerrero recalls the boy telling her after kids at school told him he would be deported.
But, unlike his mother and grandmother, Francisco and his 2-year-old baby sister, Valentina, were born in Pennsylvania and hold U.S. citizenship. English, football, and the Philadelphia suburbs are what he's known all his life, but he also recognizes his Mexican heritage: Spanish, Grandma's cooking, the handmade piñatas that decorate her house.
"He has that fear that one day he won't find Mom, that he won't find Grandma," Guerrero said. Francisco is receiving emotional support from a psychologist.
Guerrero, 49, knows a thing or two about trauma – she was once defined by it.
Her life was upended when she was kidnapped on Christmas Eve 18 years ago in Mexico.
Her kidnappers released her two days later, but fear for her family's safety forced her to take a leap of faith. Guerrero crossed the U.S.-Mexico border several months later, leaving behind her three daughters and a food-distribution business.
"Imagine being in a new world that wasn't mine. I had to remake myself," said Guerrero, who first settled in Norristown with help of a friend's sister.
Undocumented and not knowing a word of English, Guerrero worked long hours as a hotel housekeeper. She saved enough money to pay the smuggling fees for her daughters to also cross the border - $1,500 a head.
An unassuming neighborhood in King of Prussia became the family's new refuge, despite the ever-present threat of deportation. Her daughters, Amaya, Mariana, and Eva, got to attend nearby colleges. Guerrero became a grandmother when Amaya, 29, had Francisco and Valentina – the only U.S. citizens in the family.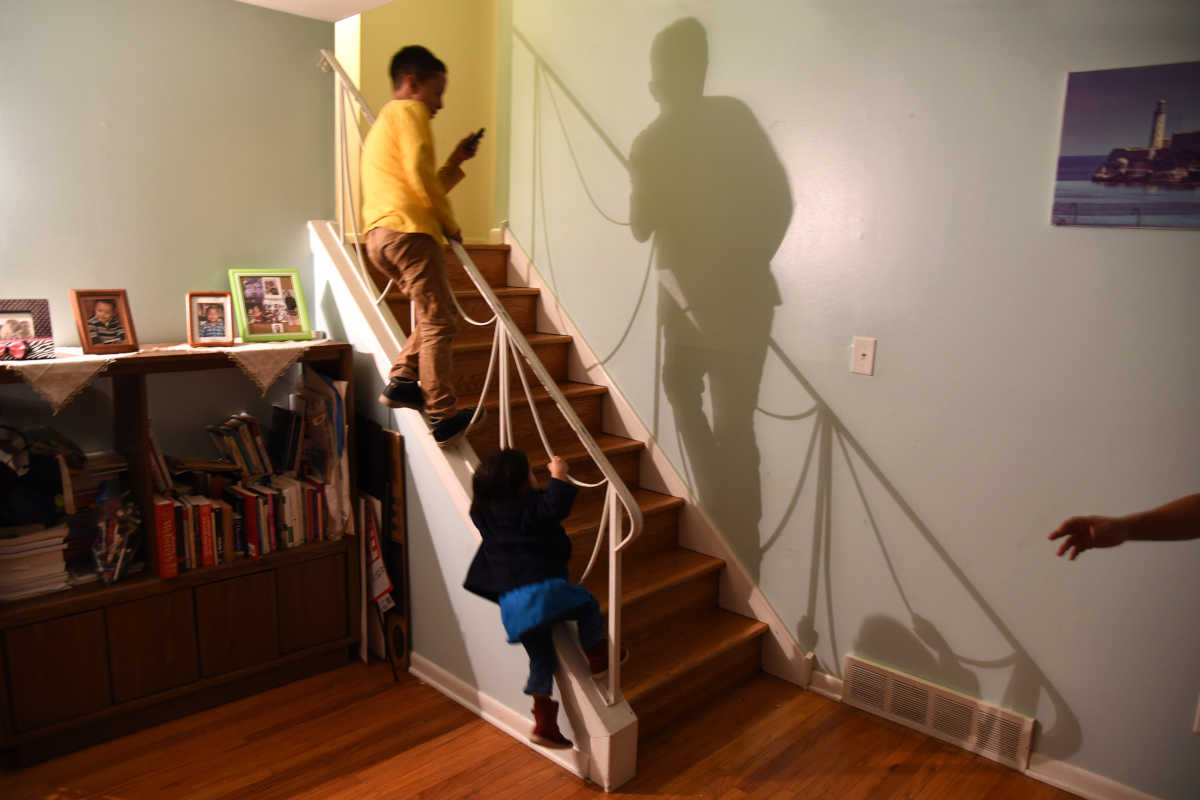 TOM GRALISH / Staff Photographer
In the living room of Carmen Guerrero, a Mexican undocumented immigrant, her grandchildren Valentina Pavon, 2, and Francisco Pavon, 8, play near the stairs. The home has become a sanctuary for immigrants.
Guerrero's home also became a sanctuary for the dozens of Philadelphia-area undocumented immigrants who meet there once a week, calling themselves Coalición Fortaleza Latina. While their children play video games and horse around in the living room, the adults sit in a circle of folding chairs in the room next door and plan for the worst.
Depending on the day, they take English classes, receive legal advice from pro bono immigration lawyers, learn what to do in case they're detained, and discuss what will become of their children if they're deported.
"We should have the courage to organize ourselves and tell the world that we didn't come here to fight or cause harm," Guerrero said. "We want to live in the liberty every human being deserves."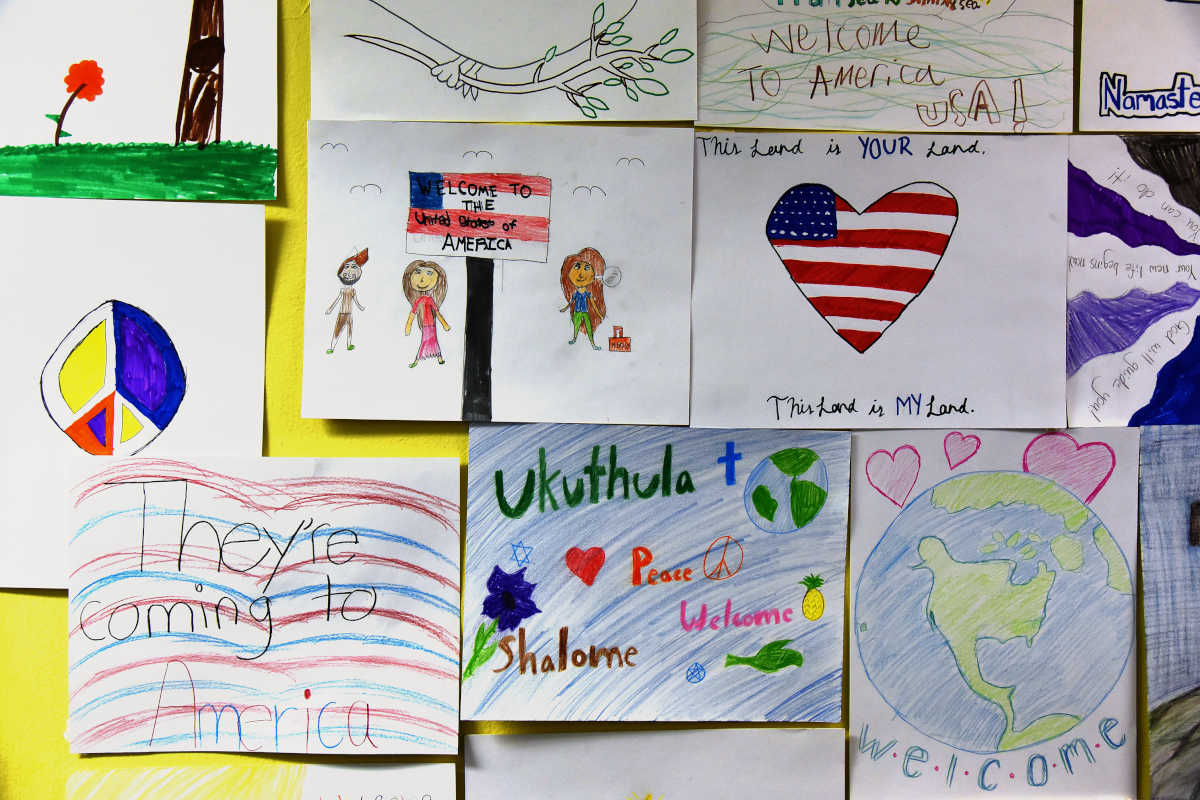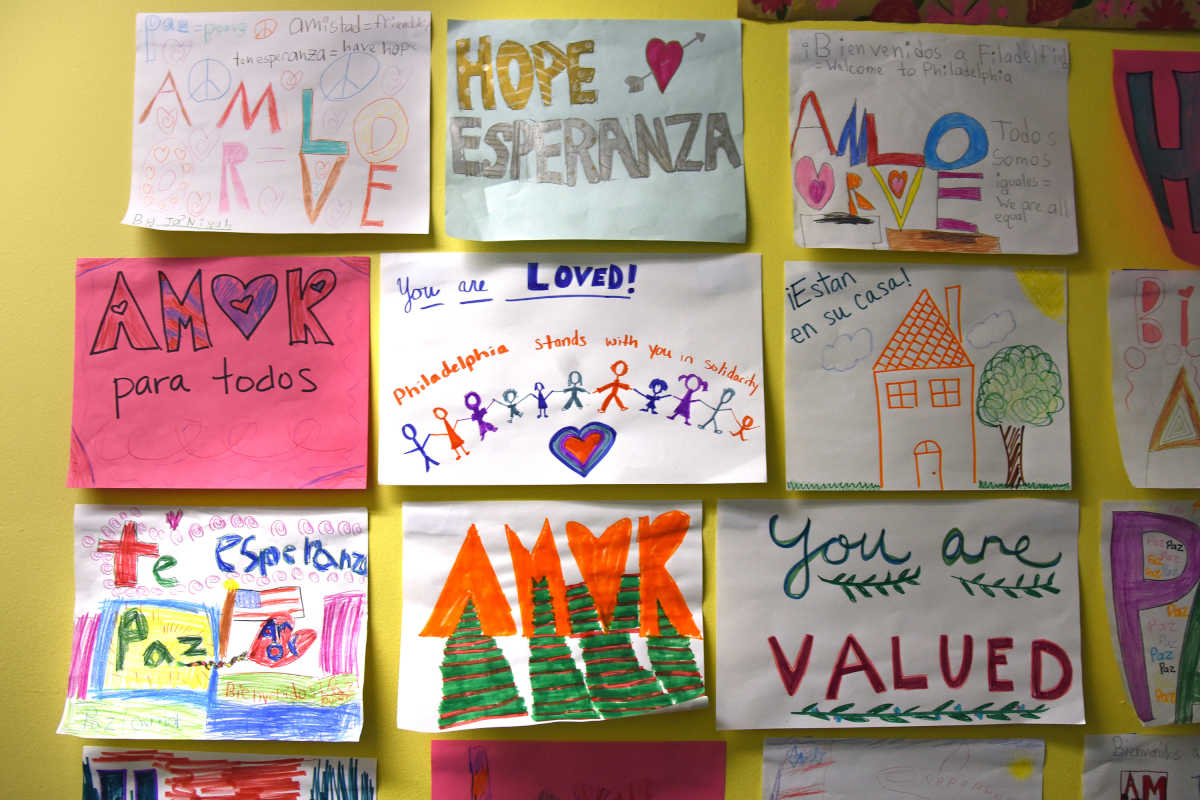 TOM GRALISH / Staff Photographer
Welcoming posters made by children at the a community center at a church in South Philadelphia.
Many immigrants without papers choose to identify themselves publicly as undocumented, hoping that doing so will encourage others to also raise their voices. For some, it's a statement of defiance and fearlessness. Others bet that the exposure might provide them with more protection and support were something to happen to them.
Yet a great many are more hesitant to come out of the shadows, fearing they'll be easier targets for immigration authorities.
Agung, who spoke on the condition his last name not be used, was a regular volunteer at a Center City hospital and a senior center in Upper Darby. He had also organized his South Philadelphia block of mostly Indonesian immigrants to collect trash and keep the surrounding streets clean.
The neighborhood is a little messier lately - the 51-year-old undocumented immigrant from Indonesia has cut down on his community work since Trump was sworn into office.
"This situation discourages people to contribute good to society," said Agung in his broken English.
He fears that registering each time he volunteers at the hospital and senior center will put him at risk. His undocumented neighbors no longer want to spend time on the streets collecting trash.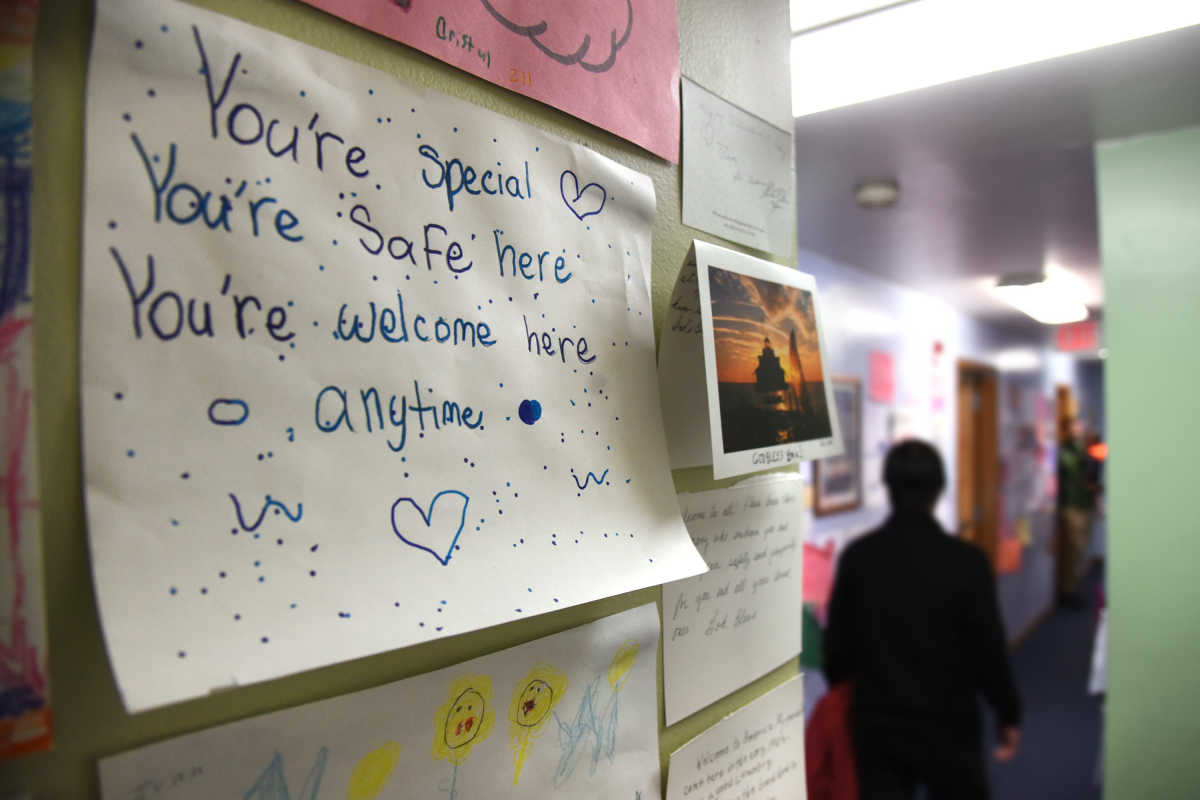 TOM GRALISH / Staff Photographer
Another poster at the community center. Agung was a Catholic missionary in Indonesia.
Agung was a Catholic missionary and social worker in Indonesia, but fled political turmoil there at age 32 and came to Philadelphia on a tourist visa in 1999. He overstayed his visa and unsuccessfully applied for political asylum. Unable to afford college tuition here, he couldn't obtain a student visa either.
Undocumented, Agung made a living in Philadelphia working at numerous dry cleaners and immersing himself in all sorts of volunteer work.
"Now my focus is on work, on being safe, not being caught by ICE," said Agung, who says he fell in love with America because of the freedom, culture, and Marlboro cigarettes. "The focus is not how to make beautiful community."
He still volunteers at his local church, advocating for community identification cards that would give undocumented immigrants "a sense of identity" and access to participating libraries and banks.
"I feel I'm not a human being without volunteering," said Agung, who spent four years in a seminary in Indonesia.
Agung is also an active member of the New Sanctuary Movement, a grassroots organization that advocates for the undocumented community in Philadelphia and trains to disrupt deportations.
"I have no one to go back to in Liberia," said a woman who requested complete anonymity in order to speak freely.
The undocumented 40-year-old, a mother who lives in Northeast Philadelphia, escaped the carnage of her West African country's civil war in 1991, a conflict that killed over 600,000. Separated from her parents and 14 years old at the time, she moved in with an uncle in Akron, Ohio, and overstayed her visa.
While working at a Pizza Hut, she completed two years of school at the University of Akron, but had to drop out because she could no longer afford tuition.
She married into an abusive relationship in 2007 - "Every time he would get drunk, he would threaten to call immigration on me" – and had a daughter here. She now lives with the 13-year-old and is scared about being separated from her child.
"More people are using the public transport and sharing a ride, instead of driving. People aren't going out at night."
Undocumented 40-year-old mother
Last year, she obtained Temporary Protective Status – a humanitarian-relief status the Obama administration offered immigrants from countries affected by the Ebola outbreak, including Liberia. But it will expire in May, and she doubts it will be renewed under Trump's administration.
"Everybody is on pins and needles," she said. "More people are using the public transport and sharing a ride instead of driving. People aren't going out at night."
Her daughter has been crying constantly, fearing she might have to leave her birth country. The woman has consulted with a lawyer, and is exploring the possibility of claiming asylum in Canada.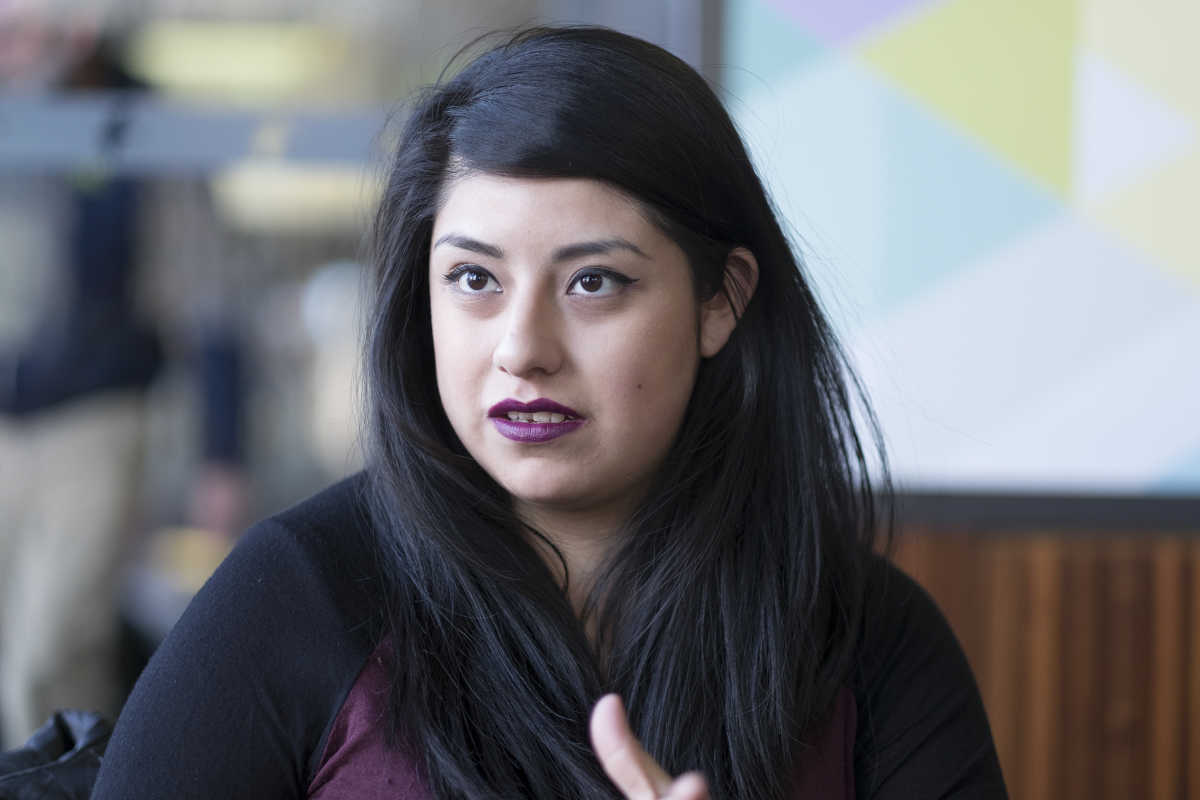 ED HILLE / Staff Photographer
Edith Ramirez is one of 5,000 DACA recipients in Philadelphia. She worries for her parents' safety.
Often, it is children who worry most for their undocumented parents' safety.
Edith Ramirez, 22, is one of 5,000 DACA recipients in Philadelphia who meet the eligibility to receive the renewable two-year period of deferred action from deportation and a work permit. Enacted in 2012, DACA bestows this protection upon some immigrants who entered the U.S. before their 16th birthday.
Ramirez said that although DACA's future is uncertain under the Trump administration, she feels more protected than her undocumented father, who works in construction, and mother, who has worked in factories, cared for children, and cleaned houses.
DACA recipients are often called "Dreamers," but Ramirez finds the term divisive.
"The term 'Dreamer' defines a person who has studied here, that is a good student, that goes to college, that doesn't have a criminal record," Ramirez said. "It's what the government wants to define as a 'model immigrant.' But there are many in the community who don't meet these requirements, and it creates a conflict within the community between those that 'should be here' and those that 'shouldn't.'"
Ramirez was 13 in 2008 when she crossed the U.S.-Mexico border with her mother and two siblings to reunite with her father, who was in Philadelphia. It took them seven attempts to cross – she remembers being detained twice by Border Patrol agents. That was the first time she had seen a gun.
Ramirez graduated from Kensington High School, where only one teacher knew that she was undocumented. At 17, she says, she was raped, but wouldn't report the assault to the police, out of fear of being detained. She didn't even tell her parents.
Then in March 2012, several months before DACA was enacted, Ramirez stepped forward during an immigration protest in Center City, proclaiming for the first time that she was undocumented.
With protection offered by DACA, Ramirez is now studying nursing at Community College of Philadelphia, while juggling part-time jobs at a cellphone shop and as a bartender in Center City.
"If you're open about your migratory status, if you go public, you find a community that supports you," Ramirez said in a coffee shop near Independence Hall. "If something were to happen to you, they're there to support you. I'm not scared, I'm concerned. Not for me, but because of what could happen to those I love."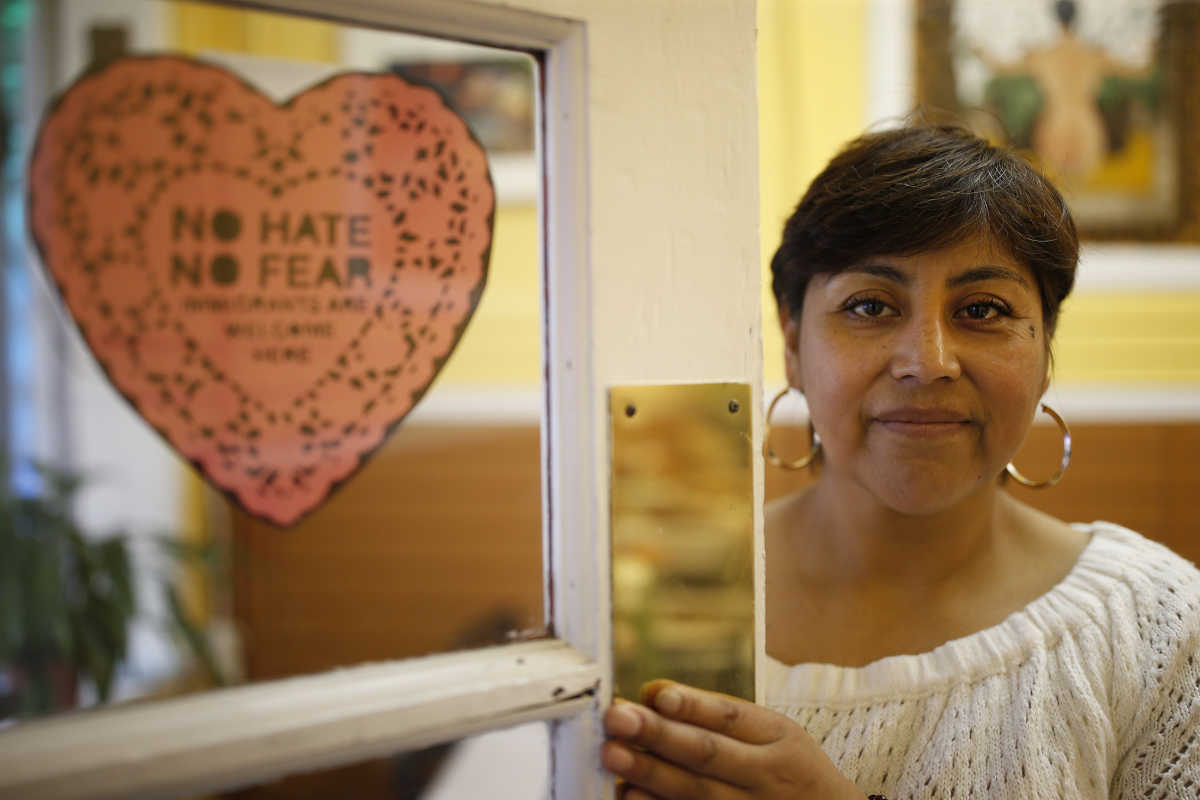 DAVID MAIALETTI / Staff Photographer
Cristina Martinez, owner of the acclaimed restaurant South Philly Barbacoa, is dealing with the possibility of being deported.
Cristina Martinez is perhaps the most renowned undocumented chef in the country.
Her barbacoa-style, hearth-smoked tacos clinched her a spot on Bon Appétit's top 10 list of "America's Best New Restaurants" in 2016, and you'll find her Friday through Sunday at her restaurant South Philly Barbacoa.
But Martinez, 47, said that since the elections, she has lost some of her regular undocumented customers. They fear her restaurants might be easy targets of immigration raids.
"People are afraid of taking out their kids," she said, while sitting at an empty table on a Tuesday afternoon at El Compadre, which was her son's tortas place until he died in January. "Older ladies aren't leaving their homes. Workers don't stop by anymore, and they don't think the restaurant is safe."
"Look. There's no one," Martinez said, scanning the empty South Philly joint and stretching her neck to see what the chef was up to in the kitchen. "Before, you'd have people coming in now."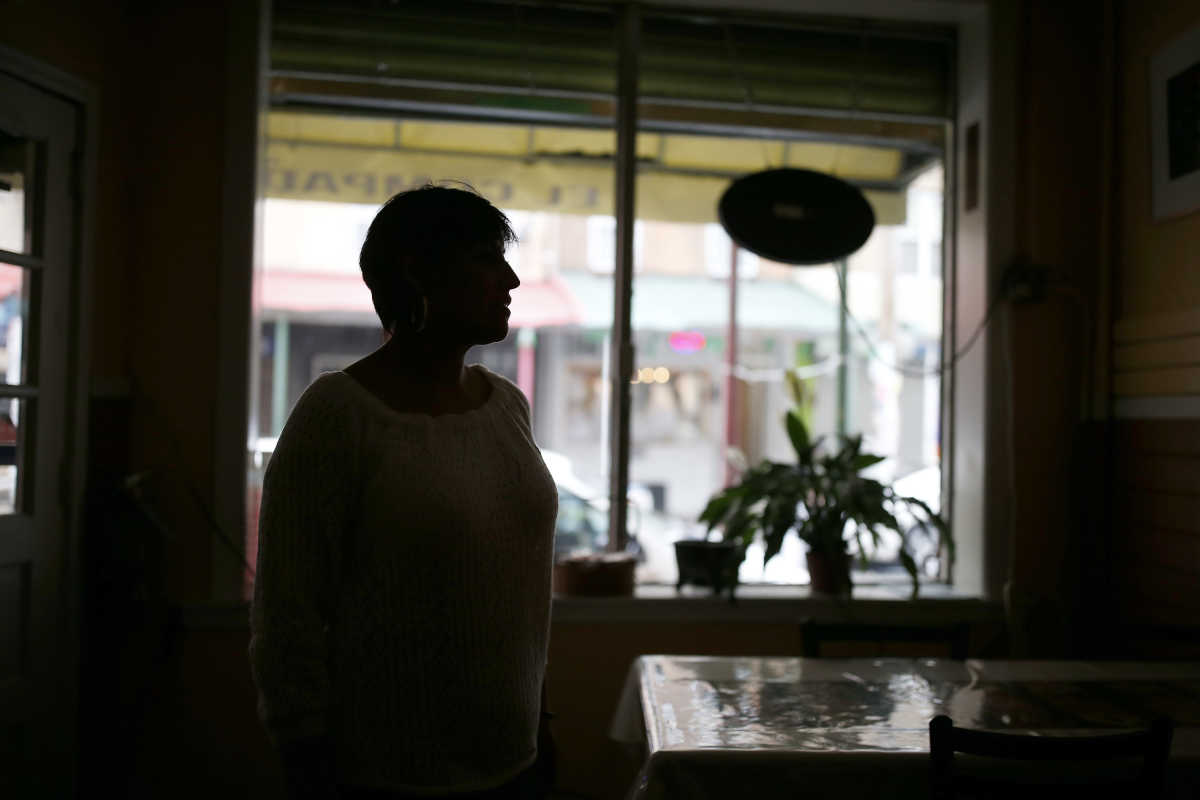 DAVID MAIALETTI / Staff Photographer
Martinez, at El Compadre, a sandwich shop that was owned by her son until he died in January.
And despite her success, Martinez, too, is grappling with the possibility of being deported.
She was a 39-year-old cook in Mexico when she decided to cross the border in 2009 after a divorce. It was a tenuous crossing. Five times, Border Patrol officers stopped her before she made it through. Her fingerprints are on file.
With the goal of paying for her daughter's college education in Mexico, Martinez landed a job as a dishwasher and dessert maker at one of Marc Vetri's restaurants in Philadelphia. In the kitchen, she met Benjamin Miller, whom she wed in 2012.
Although she's married to an American, Martinez failed to obtain a green card because she had been detained at the border years before.
"Unfortunately, we're people that immigrated without studies, but with the desire to work and take care of our families," she said.
After quitting her Vetri job, Martinez sold quesadillas to workers on the street and then opened a makeshift taco restaurant in her house before saving enough for her own food truck. Eventually, the couple bought a storefront and the critically acclaimed South Philly Barbacoa was born.
"This isn't a game anymore. Our president is hitting rock bottom. What can we expect he'll do to us?" said Martinez.
On a recent night, Martinez and her husband were crying together, imagining the worst of outcomes.
Miller grabbed her hand and reassured her. "If you're forced to return to Mexico, I'm going with you," he said. "I won't let you walk alone."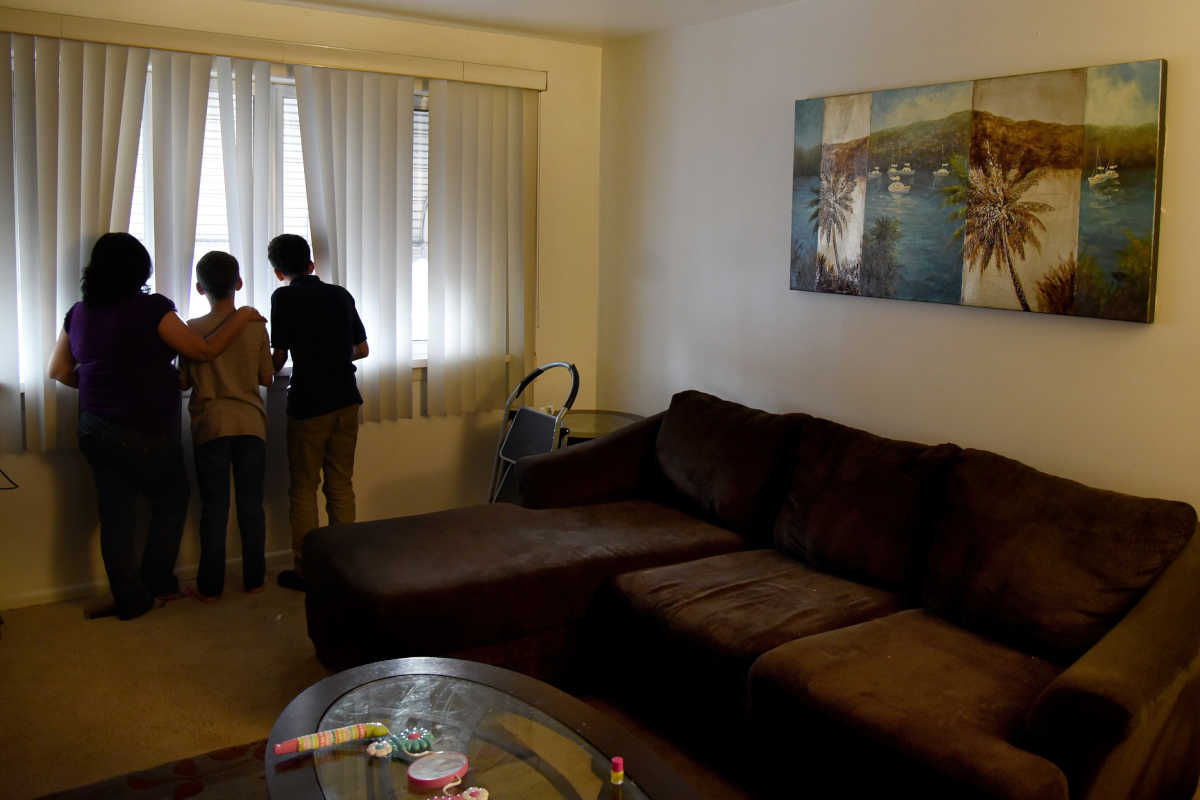 TOM GRALISH / Staff Photographer
Cristina at home in Northeast Philadelphia with her sons. who are U.S. citizens. "We can't just stay indoors," she said.
Many undocumented families are already planning for being uprooted.
Cristina, who is undocumented and spoke on the condition her last name not be used, has begun filling out the necessary paperwork to get her younger children Mexican passports. If she and her husband are deported, she'd like to have the option of moving her children to Mexico with them. But she's also looking at options that would allow her kids to stay in the country where they were born and reared.
She brought her family to Philadelphia in 2000. The 49-year-old from Guadalajara is a mother of four: two of her children crossed the border with her and are DACA recipients in their 20s; the other two are 10 and 13, U.S. citizens born in Philadelphia.
"Well, if I'm deported, so be it. If my husband and I are deported, I've thought of a situation in which I would leave them with their older siblings, who are still allowed to be here," she said in her dimly lit, two-story home in a working-class neighborhood in Northeast Philadelphia.
"Well, if I'm deported, so be it. If my husband and I are deported, I've thought of a situation in which I would leave them with their older siblings who are still allowed to be here."
Cristina
Her younger boys wore matching school uniforms and played wizarding games on their laptops. Their father prepared dinner in the kitchen. Cristina's U.S.-born, 4-year-old granddaughter sat on her lap, playing with an iPhone too big for her hands and mimicking whatever her grandmother said.
Cristina estimates that back in Mexico the family earned $300 a month, not enough to afford disposable diapers. Here, she estimates they earn $700 a week between her husband's job in construction and her job as a cook at a restaurant.
"I know there's fear, but we need to work, too," she said. "We can't just stay indoors."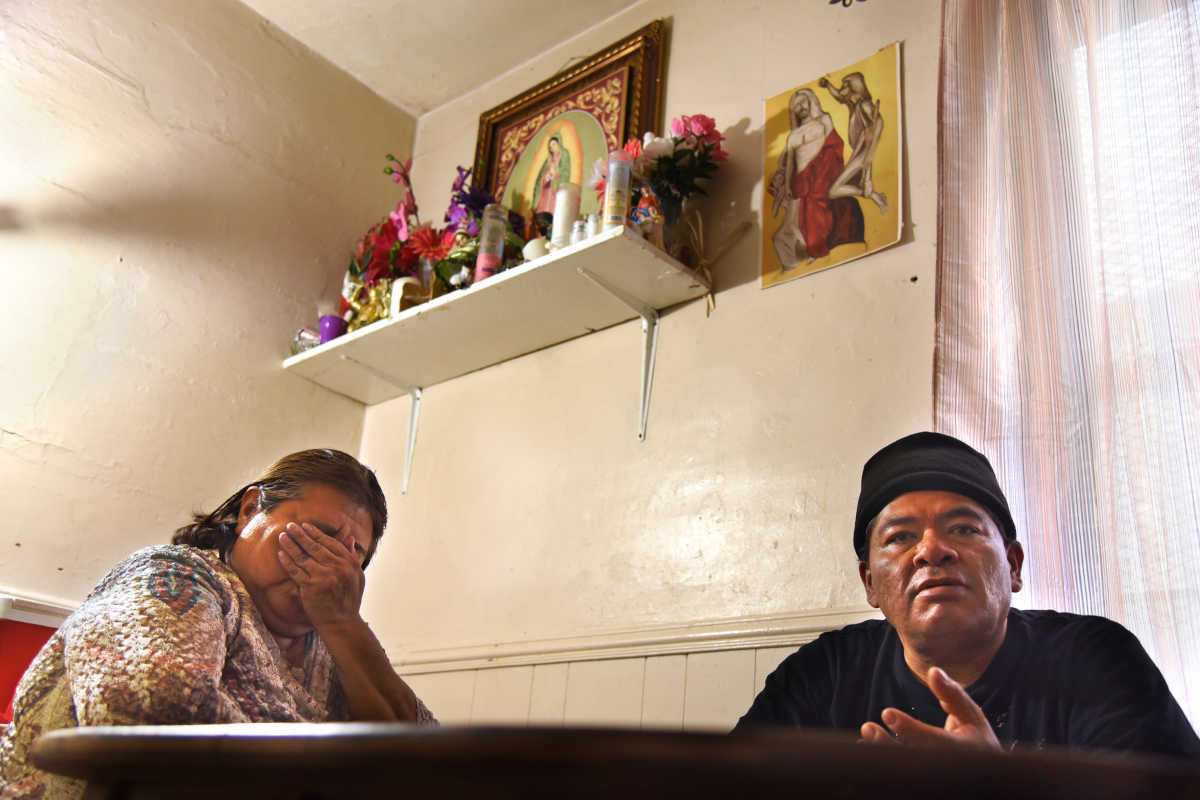 TOM GRALISH / Staff Photographer
"I'm not afraid," Herrera said. Added Flores: "We work, pay taxes, and we're not criminals."
After living undocumented in the U.S. for almost three decades, Teresa Herrera and Gerardo Flores finally got permanent residency in 2016. Despite their relief, it might have been six years too late.
One night in 2010, their son, Cuauhtémoc Flores, did not return from work in Center City.
The son, in his early 20s at the time, was arrested by Philadelphia police. He had lent money to a coworker and hadn't been paid back. His parents believe the coworker told police that the young man had threatened to hurt him.
DACA still didn't exist and Philadelphia was not a "sanctuary city" at the time, so ICE took the son into custody and months later deported him to Mexico. Cuauhtémoc Flores had been in the United States since he was 2; he was sent to live with a grandmother and in a country he barely knew.
"That was my suffering," said Teresa Herrera, 60, whose son now works at a port in Guajaca. "He was going to arrive in a land he didn't know of, because he had studied here from kindergarten to high school. He didn't even know the customs. … He only knew his grandma via telephone."
Later that year, their modest North Philadelphia home was raided twice while they were away – their house upended, their dog pepper-sprayed. Flores said officers were making sure their son hadn't returned after being deported.
The couple and their baby illegally crossed the U.S.-Mexico border in 1988 because they "couldn't make ends meet" in their hometown just south of Puebla, said Gerardo Flores.
The family lived in New York City for 18 years – Flores was working in the kitchen of an Italian restaurant four blocks away from the World Trade Center during the Sept. 11 attacks – and moved to Philadelphia in 2006 in search of better wages.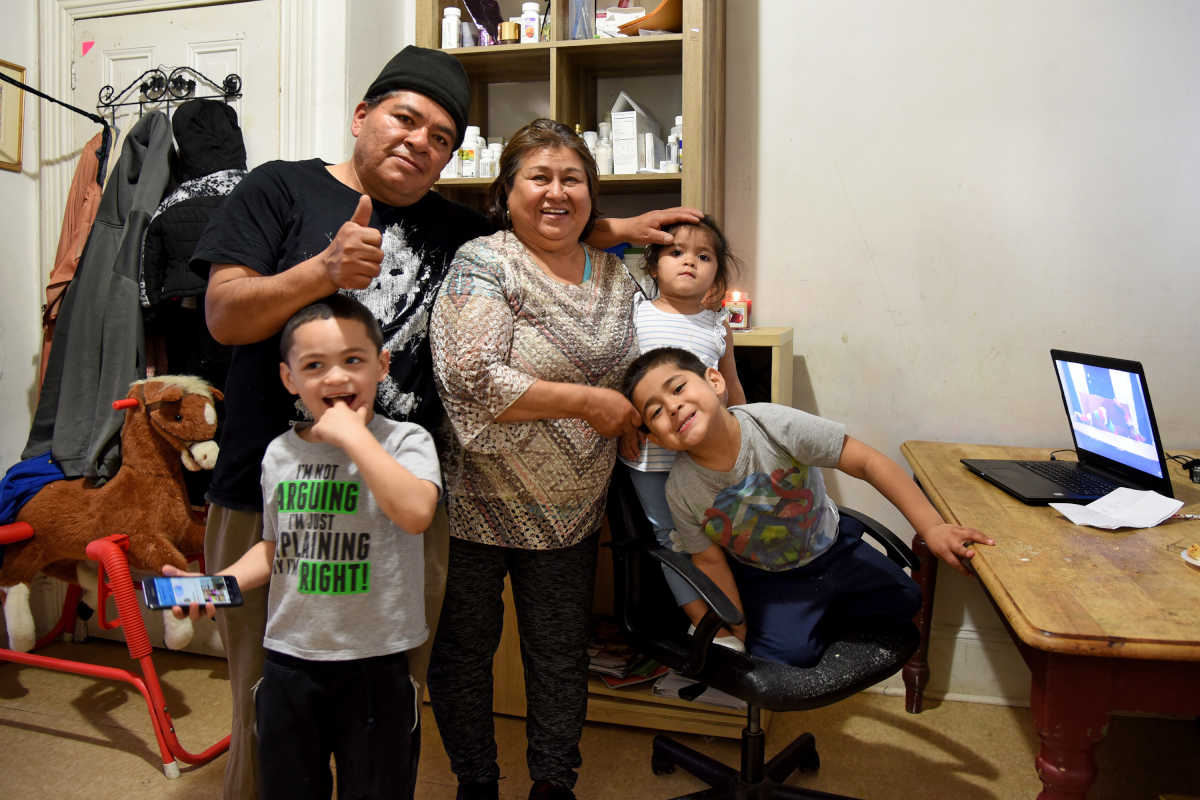 TOM GRALISH / Staff Photographer
Geraldo Flores and Teresa Herrera with their grandchildren at their home. Their son was deported to Mexico.
Because Herrera's brother is a U.S. citizen, they were able to file for permanent residency in 2001 under a Clinton-era law. It took a 15-year wait, but they finally got their papers last year.
"No, I'm not afraid," Herrera said. "I'm just concerned for everyone who is suffering, just like I suffered, the separation of families."
They never saw better pay in Philadelphia, but the married couple have made a living off a Mexican food truck on Allegheny Avenue. After their son was deported, they became activists in the movement that advocated for Philadelphia to become a sanctuary city.
"We came to work," said Gerardo Flores, 54. "We never took benefits while we were undocumented, there are no handouts. We work, pay taxes, and we're not criminals."