ED HILLE / Staff Photographer
Trump country waits for harvest
Luke Brubaker, 76,and his son Mike on the family's dairy farm in Mount Joy, Lancaster County.
Lancaster County went for the president, but Republican farmers remain apprehensive
Saturday, May 27, 2017
For decades, Lancaster County has been reliably conservative and Republican. It maintained that streak last fall, giving President Trump more votes in November than GOP candidates Mitt Romney or John McCain during their runs.
But that doesn't mean there is consensus on what the president should be doing – or if he's accomplishing it.
Last month, the Inquirer and Daily News met with five farmers across the county – a hog farmer, a chicken farmer, and three dairy farmers. Each is a registered Republican in the state's agricultural powerhouse. (Lancaster is among the top counties 10 nationally in poultry, eggs and bovine milk production.)
Some are cautiously optimistic, particularly about issues such as deregulation. Others more apprehensive, if not anxious, about the impact on free trade and immigrant labor.
All are waiting to see if the 45th president can deliver on his pledges or if they'll be hollow promises.
Luke Brubaker's father bought 40 to 50 acres of land in Mount Joy during the Great Depression and milked eight cows there. Today, Brubaker and his two sons run Brubaker Farms, with more than 900 acres and over 1,000 cows, on the land 75 miles west of Philadelphia.
Brubaker, 76, admits he "wasn't excited about either candidate" last fall, but saw Trump as the better option for the struggling agriculture industry. As chairman of the state's Milk Marketing Board, he and 13 other farmers met with the president last month at a White House roundtable discussion.
Milk prices have been plummeting nationwide, forcing some farmers to sell their livestock to make ends meet. Brubaker relies on immigrant labor on his farm – "essential workers," he calls them – and is worried the president's incendiary language regarding a border wall could strain the country's relationship with Mexico, the largest buyer of U.S. dairy exports.
"That scares me. Let's not burn any bridges," Brubaker says. "Once you burn a bridge, it's going to be hard to cross it."
Steve Graybeal and his daughter Lisa represent the latest generation to run their family-owned farm, Graywood Farms. Its bunker silos and massive red cow barns have been operating along the northern banks of the Susquehanna River since 1942.
It wasn't until the late 1990s that the Graybeals began to hire immigrant workers, mostly from Mexico and El Salvador. They have tried hiring local labor, but found those workers weren't as reliable and, after investing in job training, none lasted more than a year. Without the immigrant workers, the Graybeals said, they would "fundamentally stop" production on their dairy farm.
"They're up here not because they want to commit crimes. They're up here because they want to work. And we can't find local people to work."
Steve Graybeal, 71, a farmer and Republican committeeman in Lancaster County
"Trump doesn't understand the need for them. They are not taking away American jobs," said Steve Graybeal, 71, a Republican committeeman in Lancaster County. "They're not paid cheaply. They're paying their taxes. They're up here not because they want to commit crimes. They're up here because they want to work. And we can't find local people to work."
Neither Graybeal nor his 46-year-old daughter, the chairwoman of the Lancaster County Agriculture Council, would say if they voted for Trump last November. Lisa Graybeal acknowledges she's still in a "wait-and-see" mode about the new president.
"It's hard to speculate," she says, "what is going to come down the road here."
Like his grandfather and father before him, Josiah Rohrer, 27, went into hog farming after high school.
Together with his father, Kevin Rohrer, they now run the family's 140-acre operation in Manheim, a 30-minute drive southeast from Harrisburg. And as the sole employees, they tend to more than 6,000 pigs and fields of corn, celery, soybean and wheat.
The Rohrers only employ a handful of seasonal workers, so for Kevin Rohrer, 60, the presidential election was more about two issues: health care and regulations. He and his son have talked about expanding but worry about the bureaucracy it entails.
Lancaster County's proximity to northernmost part of the Chesapeake Bay, the largest estuary in the US, has made it a target of environmental regulations. The Environmental Protection Agency during the Obama administration issued a series of regulations to control the water's nitrogen and phosphorous levels, which had increased to excessive levels due to human activity – including agriculture.
Kevin Rohrer pulls out a thick white binder packed with all the regulations they must meet. That's why he voted for Trump last fall, and why he was heartened when the president signed an executive order that called for a review of agriculture regulations.
"Since I've been farming, regulations, especially in the past 10 to 15 years, have really gotten out of control," he says.
The original limestone house and barn built in 1816 in Lititz stand intact. Each building overlooks the 80-acre Flintrock Farms, where owner Dan Heller boards about 40 horses and sells almost 2 million chickens a year.
Heller, 40, says he voted for Trump, while pointing out he didn't agree on all the issues with either major candidate. But the prospect of change now has him on edge.
The Environmental Quality Incentives Program (EQIP), for example, has provided many farmers such as Heller with financial and technical assistance to implement environment-friendly farm practices. And he's uncertain how Trump's proposed 21 percent budget cut to the US Department of Agriculture could impact him, fellow farmers and even the environment.
"We have to make sure we don't throw out the baby with the bath water, so to speak," Heller says.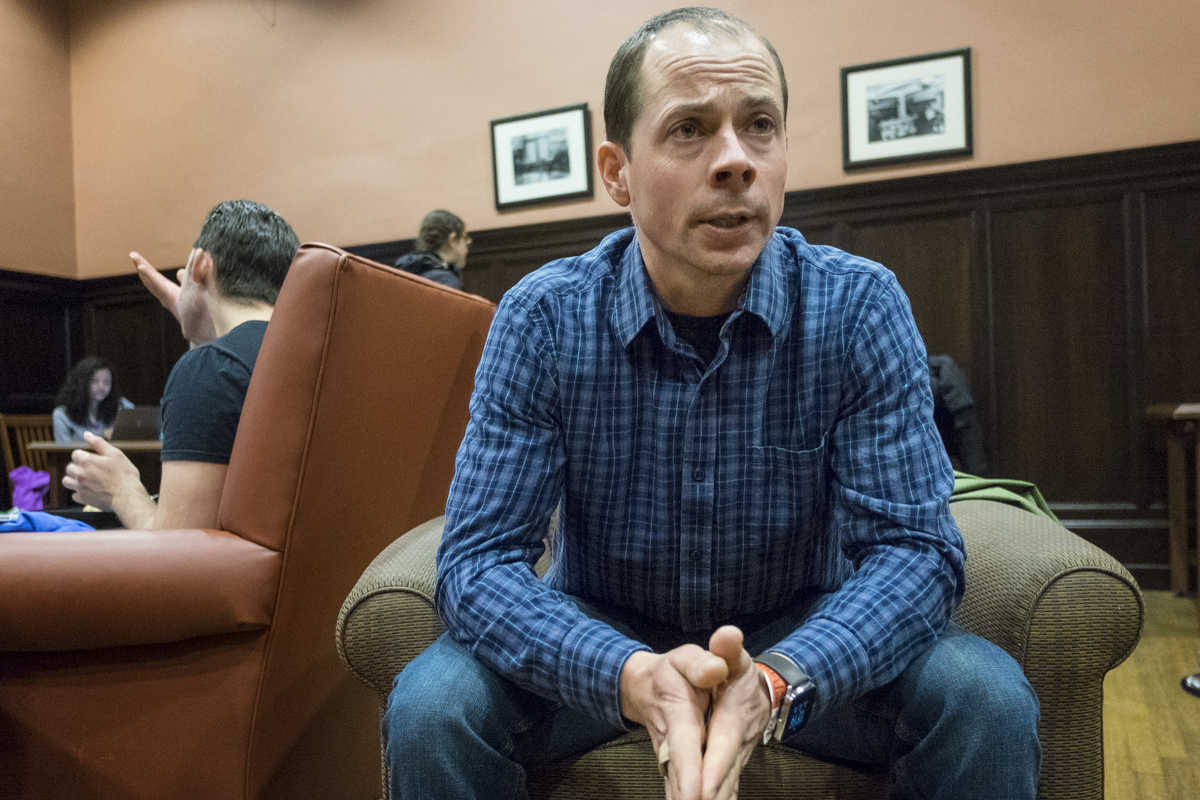 ED HILLE / Staff Photographer
Andy Bollinger, 40, a dairy farmer from Lititz, Pa., voted for a third-party candidate because he "didn't care for the rhetoric on either side." Bollinger, who employs 15 mostly part-time workers, worries about the Trump administration's trade policies.
Andy Bollinger wants to be optimistic – "but I'm not sure I am," he says.
Bollinger, 40, runs a 600-acre dairy farm in Lititz with 400 cows that has been in his family since his great-grandfather bought it in 1940. He employs 15 mostly part-time workers.
He generally votes Republican, but Bollinger says he voted for a third-party candidate in November because he "didn't care for the rhetoric on either side."
Bollinger says it is hard to figure out where the Trump administration stands on many issues because of how many times the president has "backtracked" on things he's said.
After threatening to terminate the North America Free Trade Agreement (NAFTA), Trump announced in late April that he would consider renegotiating the trade agreement.
"I don't fully understand how Trump's take on trade is going to affect us or not," said Bollinger, who believes an alteration of NAFTA could indirectly lower the prices of the milk he sells.