Timeline: A look back at Philly's mayors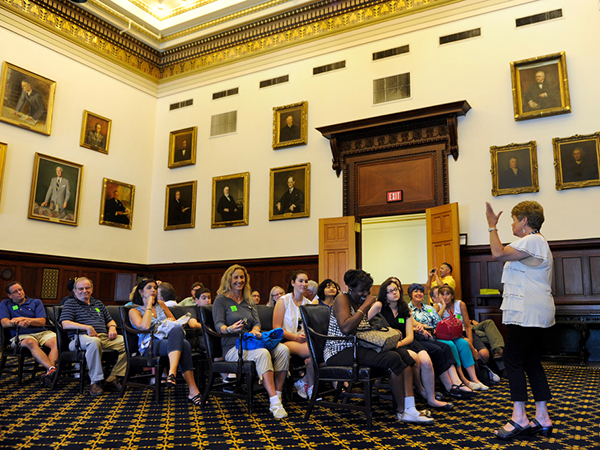 Timeline: A look back at Philly's mayors
Below is the full list, in chronological order, of Philadelphia's 98 mayors since its colonial beginning. The men (there have been no women elected to the office) are accompanied by historical events from Philadelphia's rich past.
Click on the images to enlarge them. Hover over the timeline to see the mayor's name and term.
Tap on the images to enlarge them. Tap on the timeline to see the mayor's name and term.

1691:
Humphrey Morrey was appointed by William Penn, Proprietor of the Colony of Pennsylvania, to be the first mayor of Philadelphia.
Humphrey Morrey
1691-1701


Getty Images
1701: City charter was granted and Edward Shippen (pictured) was named Mayor for a one-year term. Starting in 1702, the Common Council of Philadelphia elected a mayor from among their members.
Nathan Stanbury
1706-1707
Jonathon Dickinson
1712-1713
Jonathon Dickinson
1717-1719
William Fishbourn
1719-1722
Clement Plumsted
1723-1724
Thomas Lawrence
1727-1729
Thomas Griffitts
1729-1731
Thomas Griffitts
1733-1734
Thomas Lawrence
1734-1735

1737-1738:
The last of Thomas Griffitts' three one-year terms.
Clement Plumsted
1736-1737
Thomas Griffitts
1737-1738
Clement Plumsted
1741-1742
Benjamin Shoemaker
1743-1744
William Attwood
1746-1748
Charles Willing
1748-1749
Thomas Lawrence
1749-1750
William Plumsted
1750-1751
Robert Strettell
1751-1752


Getty Images
1753: The Liberty Bell was made in London and sent to Independence Hall (then called the Pennsylvania State House).
Benjamin Shoemaker
1752-1753
Thomas Lawrence
1753-1754
William Plumsted
1754-1756
Thomas Lawrence
1758-1759
Benjamin Shoemaker
1760-1761
Thomas Lawrence
1764-1765
Samuel Shoemaker
1769-1771

1776:
The Declaration of Independence is adopted, which abolishes the city government and places the Provincial Assembly of Pennsylvania in control of city functions. The state governed until a new city charter was granted in 1789.
Provincial Assembly of Pennsylvania
1776-1789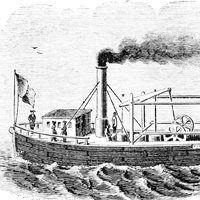 Public domain
1786: First skiff steamboat navigated on the Delaware River by John Fitch.

1793:
Yellow fever epidemic hit Philadelphia in July. Philadelphia was then the most cosmopolitan city in the US: 5,000 out of 45,000 died.
Matthew Clarkson
1792-1796
Michael Keppele
1811-1812
James Nelson Barker
1819-1820

1826:
Council had the right to elect any citizen of Philadelphia as mayor, not just a member of Council.
George Mifflin Dallas
1828-1829
Benjamin Wood Richards
1829

1829:
Eastern State Penitentiary opened as part of a controversial movement to change the behavior of inmates through "confinement in solitude with labor."
Benjamin Wood Richards
1830-1832

1839:
Citizens are permitted to vote directly for Mayor and John Swift became the first Mayor elected by the people in Philadelphia.
John Morin Scott
1841-1844

1854:
The city and county of Philadelphia is consolidated into one political and geographical unit. Robert Thomas Conrad was the first mayor of Consolidated City of Philadelphia.
Term length extended from one to two years.
Robert Thomas Conrad
1854-1856

1861:
Term length extended to three years.
Alexander Henry
1858-1866
Morton McMichael
1866-1869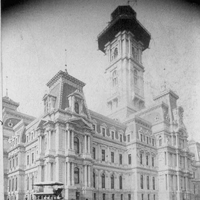 Library of Congress
1871: City Hall construction began and took over 30 years to complete.
William Strumberg Stockley
1872-1881
Samuel George King
1881-1884

1885:
The Act of 1885 prohibited any mayor from succeeding himself. This wasn't lifted until the 1940s.
William Burns Smith
1884-1887
Edwin Henry Fitler
1887-1891

1887:
Term length reached its current length of four years.
Edwin Sydney Stuart
1891-1895
Charles Franklin Warwick
1895-1899
Samuel Howell Ashbridge
1899-1903
John Edger Reyburn
1907-1911
Rudolph Blankenburg
1911-1916
Thomas B. Smith
1916-1920
Joseph Hampton Moore
1920-1924
W. Freeland Kendrick
1924-1928
Harry Arista Mackey
1928-1932
Joseph Hampton Moore
1932-1936
Samuel Davis Wilson
1936-1939
Robert Eneas Lamberton
1940-1941

1951:
A mayor may not serve more than 2 consecutive terms.
Joseph Sill Clark Jr.
1952-1956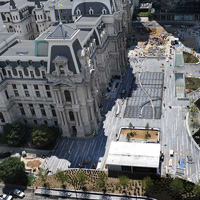 Staff Photog.
1962:
Dilworth leaves office, but he is still remembered because his name was given to the plaza at City Hall rebuilt last year for $55 million.
Richardson Dilworth
1956-1962

1964:
Riots broke out on Columbia Avenue, now Cecil B. Moore Avenue, in North Philadelphia. More than 330 people were hurt, including 100 police officers.
James Hugh Joseph Tate
1962-1972
Frank Lazarro Rizzo
1972-1980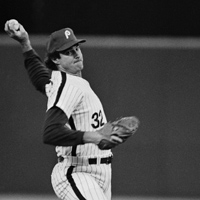 AP
1980:
The Phillies won the World Series. (Meanwhile, the Sixers lost the 1979-1980 NBA Finals, the Flyers lost the 1979-1980 Stanley Cup Finals, and the Eagles lost Super Bowl XV.)
William Joseph Green III
1980-1984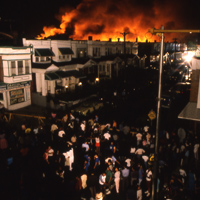 Daily News
1985: MOVE bombing in West Philadelphia.
Willie Wilson Goode
1984-1992
Edward Gene Rendell
1992-2000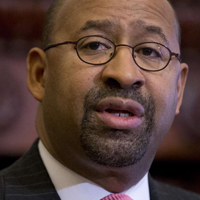 AP Photo
Present: Michael Nutter, current Mayor of Philadelphia.
Michael Nutter
2008-Present
SOURCE: City of Philadelphia; Independence Hall Association in Philadelphia; Harvard University Library Contagion Historical Views of Diseases and Epidemics; Britannica; Reading Terminal Market; IMBD; Philadelphia Museum of Art; The Dr. Magnus Hirschfeld Fund
OLIVIA HALL / Philly.com