Interactive: Issues facing the Mayor
Interactive: Issues facing the Mayor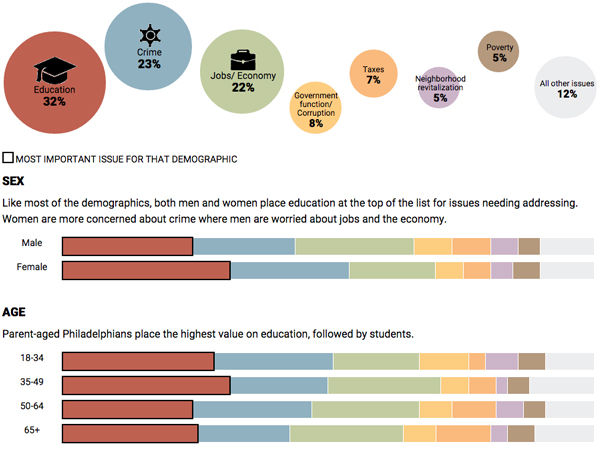 What do you think is the most important issue facing the city and new Mayor?
Here you can see what issue is most important to each demographic. Education is highest on the list for everyone except Hispanics, who view crime in Philadelphia as the biggest problem. Percentages exceed 100% because respondents could choose more than one issue.
Hover over the circles and bars.
Crime
23%

Jobs/ Economy
22%

Education
32%
Government function/ Corruption
8%
Neighborhood revitalization
5%
Tap on the bars.
Most important issue for that demographic
Sex
Like most of the demographics, both men and women place education at the top of the list for issues needing addressing. Women are more concerned about crime where men are worried about jobs and the economy.
Age
Parent-aged Philadelphians place the highest value on education, followed by students.
Race
Hispanics are the only demographic who view crime as the biggest problem in Philadelphia, followed by jobs and then education, with little interest in taxes.
Income Class
The concern for education in Philadelphia rises with income level, increasing by 10% with each jump in class. Upper class citizens have particular interest in taxes while the middle class has the lowest concern for poverty.
SOURCE: The Pew Charitable Trusts
OLIVIA HALL / Philly.com