The Pennsylvania Supreme Court is set to release a new congressional district map on Monday, after weeks of political and legal fighting following its ruling that the map adopted in 2011 was an unconstitutional partisan gerrymander.
But whatever the map looks like, don't expect it to end the battle.
>> READ MORE: Pa. gerrymandering case: State Supreme Court releases new congressional map for 2018 elections
Republican lawmakers have vowed to resist the court's order, saying they will seek a federal challenge to whatever map is selected.
"This issue has grown bigger than the map," Drew Crompton, chief of staff to Senate President Pro Tempore Joe Scarnati (R., Jefferson) and top attorney for Senate Republicans said last week. "I don't know what the court's going to do, I really don't. But it's not like we're planning a lawsuit only if certain things happen — we don't know what's going to happen. We're working on every sort of gyration."
Senate Majority Leader Jake Corman (R., Centre) said Republicans would likely seek an injunction in federal court.
It would continue a nasty fight that has only intensified in the weeks since state high court last month ruled the congressional map unconstitutional and ordered a new one drawn in time for the primary election in May. Republicans immediately attacked the justices as partisan and accused the court of overstepping its bounds.
Scarnati and House Speaker Mike Turzai (R., Allegheny) have made several attempts to block the court's ruling, including a request that the U.S. Supreme Court intervene, which Justice Samuel A. Alito Jr. denied. They also attacked a state Supreme Court justice as biased in an attempt to get him disqualified; the justice declined to recuse himself, saying he had not crossed any lines. Scarnati has refused to comply with court orders to share data intended to help the justices draw a map, and a rank-and-file Republican lawmaker is seeking cosponsors to sign onto an attempt to impeach the court's Democratic justices.
As those fights raged, the deadline loomed: The state Supreme Court had given the Republican-controlled legislature less than three weeks to draw a new map and send it to Wolf, a Democrat. Pennsylvania's congressional map is normally enacted as legislation, going through the normal process of passing through the legislature and being signed by the governor. When it became clear the legislature had run out of time, Scarnati and Turzai drew their own map and sent it directly to Wolf.
Wolf rejected that map last week, joining a growing consensus that the map was still a partisan gerrymander.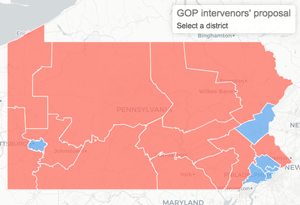 Interactive: Compare proposed fixes for Pa.'s gerrymandered congressional map
Pennsylvania's most recent map of congressional districts was declared an unconstitutional partisan gerrymander by the state Supreme Court, sparking a nasty political and legal fight and setting off a scramble to draw a new map for the 2018 midterm elections.
Click here
to compare competing proposals from groups involved in the case.
With that avenue blocked, participants in the case scrambled to draw their own map proposals.
When it overturned the map, the Pennsylvania justices said they would adopt its own map by Monday. It appointed a special adviser, well-known redistricting expert and Stanford University law professor Nathaniel Persily, to help it do so, and said participants in the case could submit maps and comments for consideration. Scarnati and Turzai stood by their map submission, while other participants submitted their own proposals.
In the days since, the groups have continued to fight. Sunday night, Scarnati and Turzai wrote to the state Supreme Court that it should accept their map, calling it "the best overall plan" and saying it creates the largest number of competitive districts. They also told the court that some of the maps should be rejected outright and accused Lt. Gov. Mike Stack and Senate Democrats, in their proposals, of attempting to gerrymander in their own favor, saying those maps were "deliberately drawn to pack Republican voters into a limited number of uncompetitive districts and to cement a 10-8 Democratic majority."
It's unclear what time the Pennsylvania Supreme Court will release its map.