Political advertisers and candidates dropped more than $4.6 million at a single Philadelphia television station between April 2013 and June 2014.
An analysis by the Sunlight Foundation looked at 14 months worth of contracts at CBS affiliate KYW-TV. The findings provide a glimpse at the relentlessness with which voters in key markets are bombarded with political messages — and intriguing details about how office seekers, political parties and other interest groups target them.
The KYW-TV contracts show that Democratic candidates outspent Republicans by more than 350 percent, perhaps not surprising in a county where Democrats have a nearly 8-to-1 advantage in voter registration. The analysis is made possible by Political Ad Sleuth, a tool the Sunlight Foundation maintains to make ad files at the Federal Communications Commission readily searchable.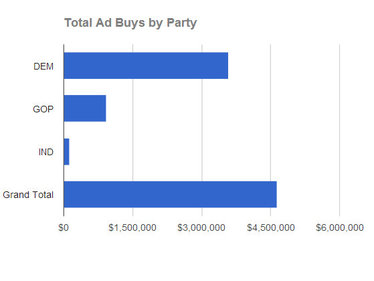 The majority of the ad buys came in October and May, ahead of two big regional elections: KYW's signal stretches into southern New Jersey, which held its gubernatorial election in November. Pennsylvania held its primary elections this year on May 20. The Sunlight analysis also shows that, in politics, the air wars tend to start early.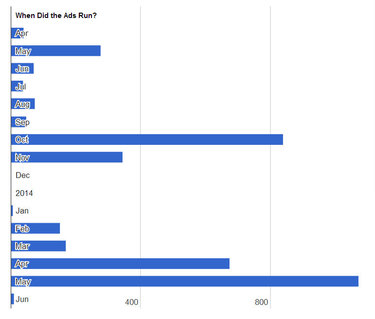 In contrast to ad-buying patterns at a North Carolina station Sunlight recently analyzed, the spending at KYW came primarily from candidates themselves: this year, from hopefuls running for governor in Pennsylvania and last year, from New Jersey Gov. Chris Christie. Outside spending groups didn't make it into the top ten political advertisers on KYW. The top outside spending group, the American Petroleum Institute, spent just $79,000 on KYW over this time period. Ad Hawk, a Sunlight mobile app that aggregates campaign videos, shows that API advertises heavily on issues of interest to the industry such as fracking, energy taxes and the Keystone XL pipeline. The trade association has run at least two ads targeting senators in KYW's viewing area: Sen. Pat Toomey, R-Pa., and Delaware's Democratic Sens. Tom Carper and Chris Coons.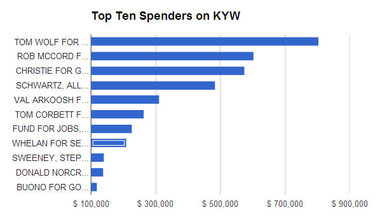 What programming each candidate or organization bought against is also telling about the type of voters they were trying to court. (Spoiler alert: not unlike most of the world, the political class does not think highly of those who watch "Two and a Half Men.")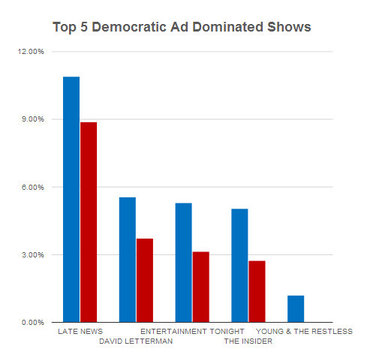 While candidates of both parties favored news shows, Democratic candidates targeted the 11 p.m. evening news while Republican candidates targeted news aired earlier in the day. Democrats also dominated celebrity gossip shows — "Entertainment Tonight" and "The Insider" — while Republicans hit the game show "Let's Make a Deal." Overall, Republican, Democrat and independent spending groups targeted news junkies, with the top five targets for advertising being various news shows.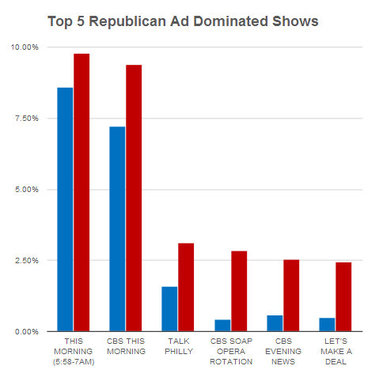 Political buyers also knew which shows to avoid. In very last place for political advertising was the reboot of "Hawaii 5-0", with only one ad purchased during the entire year we examined. That purchase came from U.S. Rep. Allyson Schwartz whose gubernatorial campaign aired a 30-second ad during the police procedural on May 16 at 7:58 p.m. Four days later, Schwartz lost her Democratic primary battle to Tom Wolf.
Sunlight's analysis of the KYW ad buys is part of a larger project to provide a detailed map of Philadelphia's media landscape leading up to this November's elections, when voters in the region will be deciding a hotly contested Pennsylvania governor's race and several competitive congressional races in Pennsylvania and New Jersey. The effort is headed by the Internet Archive. Partners include Philadelphia's Committee of Seventy, the University of Pennsylvania's Linguistics Data Consortium and the University of Delaware's School of Public Policy and Administration.
To see interactive versions of graphics with this story click here.

The Sunlight Foundation is a nonprofit, nonpartisan organization that uses the power of the Internet to catalyze greater government openness and transparency, and provides new tools and resources for media and citizens, alike. A list of Sunlight's funders can be found here.