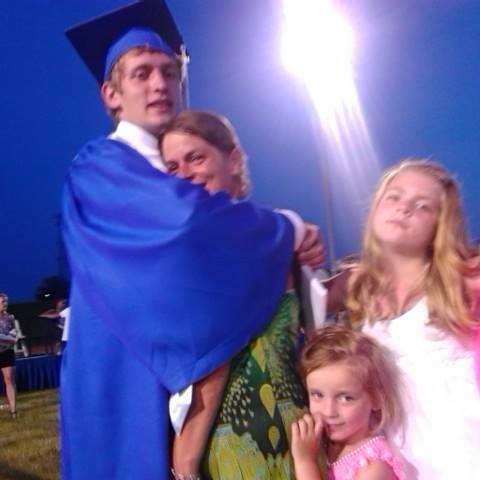 When Melissa Fratanduono-Meo thinks of her son, Tom, she feels his arms wrapped tightly around her and sees him as a boy running around the playground. In quiet moments, she still hears his voice. It brings her comfort.
Meo was a sweet, selfless child. When he was younger, his mother loved cuddling on the couch with him and watching comedy movies. Even as he got older, Meo remained affectionate. He would go out of his way to carve out time for his family, getting breakfast with his mom and goofing around with his younger sisters.
He looked out for the girls, said Fratanduono-Meo, a single mother. Nine years older than his sister Gabriella,  Meo would always be able to get through to her. If she was going through a tough time, she would confide in her older brother, his mother said.
After graduating from Bensalem High School, Meo attended East Stroudsburg University for a year, then took time off to figure out what he wanted to do for the rest of his life. He grew to enjoy working construction.
In the months before he died, Meo was working two jobs: one doing construction work and another at the Liberty gas station in Doylestown.
When Meo wasn't at work or at home, he was either with his girlfriend, Loralynn Ingreso, or with his best friend, Mark Sturgis. He and Sturgis were so close, his mother said, that they would finish each other's thoughts. Their personalities balanced each other: Sturgis, larger in size but shier, and Meo, the small ex-wrestler who was more outgoing.
I'm no videographer or iMovie expert, but I wanted to share something again, this time kind of focusing on some moments from our relationship. I chose Sleepwalk by Santo and Johnny because it's connected to the first time Tom and I spent time together. I also felt like no lyrics of any song could fully describe my feelings for Tom. I can't stress enough just how blessed I am to have shared so many memories with Tom. He taught me to be more generous, patient, kind, expressive, and confident in myself. Time spent with him was an escape from the stress of school, work, and anything else that weighed heavy on my heart. He made any negative feelings melt away because all he made me do was smile and feel happy. Forever in my heart, I love you so much Tom! ❤

Posted by Loralynn Ingreso on Saturday, July 15, 2017
Always respectful, Meo loved to listen to people and learn about their lives, Fratanduono-Meo said.
"He never judged people," she said, "and he was so curious." He loved asking questions.
During his last shift at the gas station, Meo asked his coworkers: What makes you happy?
Many of them said money or material things, Fratanduono-Meo said, but her son's answer?
His family and friends.
Now that he is gone, "I feel like everything has been shaken," his mother said. "My confidence, my safety.  I question everything sometimes."