A slew of proposals were submitted to the Pennsylvania Supreme Court on Thursday as the clock ran out for the state legislature to draw a new map of congressional districts and have it approved by Gov. Wolf.
Now it's up to the high court to adopt its own reconfigured map by Monday — or sooner — and write the next, but probably not last, chapter in the historic gerrymandering case. Republican lawmakers, who had proposed a map that Wolf vetoed Tuesday, have vowed to fight any new map the court chooses.
The House Democratic caucus was the first to file a proposal Thursday for how the 18 district boundaries should be redrawn to more fairly represent the state's voters. Senate Democrats followed later in the day, as did Democratic Lt. Gov. Mike Stack and a group of Republican voters and local officials.
The voters who brought the legal challenge to what had been the district map submitted two map proposals Thursday night. The governor was expected to file his version of the district map before midnight.
The flurry of activity started with last month's Supreme Court ruling overturning the previous map as an unconstitutional partisan gerrymander. The justices had given lawmakers until last Friday to give Wolf a new, fairer map to approve, or threatened to impose their own — a tactic that top Republican lawmakers have contended was illegal.
But after Wolf on Tuesday rejected the map they proposed, there was little movement to negotiate a map that could pass through the General Assembly. Neither the House nor the Senate was called into session Thursday.
Republicans said they would not be submitting a new plan, standing by the one submitted by Senate President Pro Tempore Joe Scarnati (R., Jefferson) and House Speaker Mike Turzai (R., Allegheny) and rejected by Wolf.
Steve Miskin, a spokesman for House Republicans, blamed the Democratic-dominated court for imposing a difficult schedule.
"The majority in the Pennsylvania Supreme Court made it impossible to pass legislation to get this done; their timeline was unrealistic," he said.
Bill Patton, spokesman for House Democrats and House Minority Leader Frank Dermody (D., Allegheny), noted that "there has been no plan from the General Assembly as a whole."
Miskin said that when Wolf rejected the GOP proposal, he did not attempt to work out an agreement on how to change it: "He clearly has no interest in doing that with the map," the spokesman said.
Immediately after House Democrats submitted their map, Miskin had criticized it as "showing that urban, elitist disdain for rural Pennsylvania," pointing to a "claw" district around Pittsburgh and the proposed Sixth District, which would cover all of Chester County, the northwestern edge of Delaware County, and reach into Berks County to connect to Reading.
The map submitted by House Democrats would also reconfigure the controversial Seventh District —now represented by Rep. Pat Meehan, a Republican, and snaking in and out of five counties — to cover most of Montgomery County, likely creating a strong Democratic seat. In the 2016 presidential election, Hillary Clinton received 58.9 percent of votes in Montgomery County and President Trump received 37.4 percent.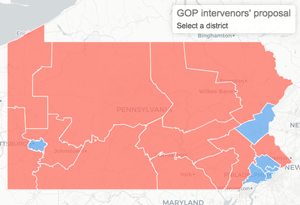 Interactive: Compare proposed fixes for Pa.'s gerrymandered congressional map
Pennsylvania's most recent map of congressional districts was declared an unconstitutional partisan gerrymander by the state Supreme Court, sparking a nasty political and legal fight and setting off a scramble to draw a new map for the 2018 midterm elections.
Click here
 to compare competing proposals from groups involved in the case.
The Supreme Court ordered the map proposals be submitted with information on the number of counties and municipalities that are split into multiple congressional districts. (One criticism of the most recent map was that it divided 28 counties and 68 municipalities.)
The Republican lawmakers' proposal splits 15 counties and 17 towns. House Democrats' map divides 17 counties and 18 municipalities, while Senate Democrats' map divides 15 counties and 17 municipalities.
At a news conference Thursday in Harrisburg, Senate Majority Leader Jake Corman (R., Centre) said Wolf declined his request to petition the court for an extension and give the legislature time to hold public hearings and draw a new map.
"We're heading towards chaos," Corman said, accusing the Supreme Court of usurping the power of the executive and legislative branches.
Without a map from the legislature approved by Wolf, the Supreme Court has said, it will adopt its own map by Monday. The court has hired Stanford University professor Nathaniel Persily, a redistricting expert who has helped draw congressional maps in multiple states.
Republicans said they will challenge any map the court adopts — possibly by seeking an injunction in federal court and arguing that the justices have overstepped their bounds.
"We don't know what's going to happen," said Drew Crompton, the top attorney for Senate Republicans. "We're working on every sort of gyration."
Others submitting proposals to the court Thursday included Stack and the Republican "intervenors," a group of GOP voters and local officials.
Lawrence J. Tabas, the attorney representing the Republican local officials, said they submitted a map in addition to the lawmakers' because "our positions are not always identical" and the intervenors had not been involved in map-making in 2011 or this time.
"They submitted one good-looking map," Tabas said of the Republican lawmakers' proposal, "We submitted one, too. They're different."
Staff writers Andrew Seidman and Jonathan Tamari contributed to this article.