EGG HARBOR TOWNSHIP, N.J. — The sunset at the long end of Morris Beach spreads its red rays over Great Egg Harbor Bay, setting the table for the lights of the B.L. England power plant and cooling tower to twinkle in the sky and reflect off the water, the mosquitoes to buzz their arrival, and the nightly music from the Tuckahoe Inn to drift over from across the bay, as if it were coming from the neighbor's back porch.
But don't let the little details throw you. Morris Beach is a slice of Jersey Shore heaven, with a storm-logged, rum-running, skimpy Speedo'ed, pig-roasting, hard-partying, pretty historic backstory. For decades, it was, Where's the next shindig, whose place?
Its nightly charm, somewhat subdued, continues to the present.
Founded in 1938 by Philadelphia undertaker Jennie Morris as a bucolic shore haven for professional black families mostly from Philadelphia — pastors, doctors, dentists, lawyers — the 23-house development that ends at Job's Point is still a throwback to another time, though only about a half-dozen of the houses are still owned by relatives of the original African American families of Morris Beach.
But, oh, how those who claim a link to the sociable decades of its past still find solace in the simple charms of a Morris Beach summer. Like any favored Shore spot, it has worn well, the rewards doubling down for those uninterested in someplace new. Loyalty, as ever, being a core Jersey Shore value.
"I love this place," says Peter Shelton, 81, a few decades past the days when he cavorted around Morris Beach in a skimpy leopard-skin swimsuit during a typical neighborhoodwide pig-roast party, smiling through endless games of Canasta.
"It's just — this place."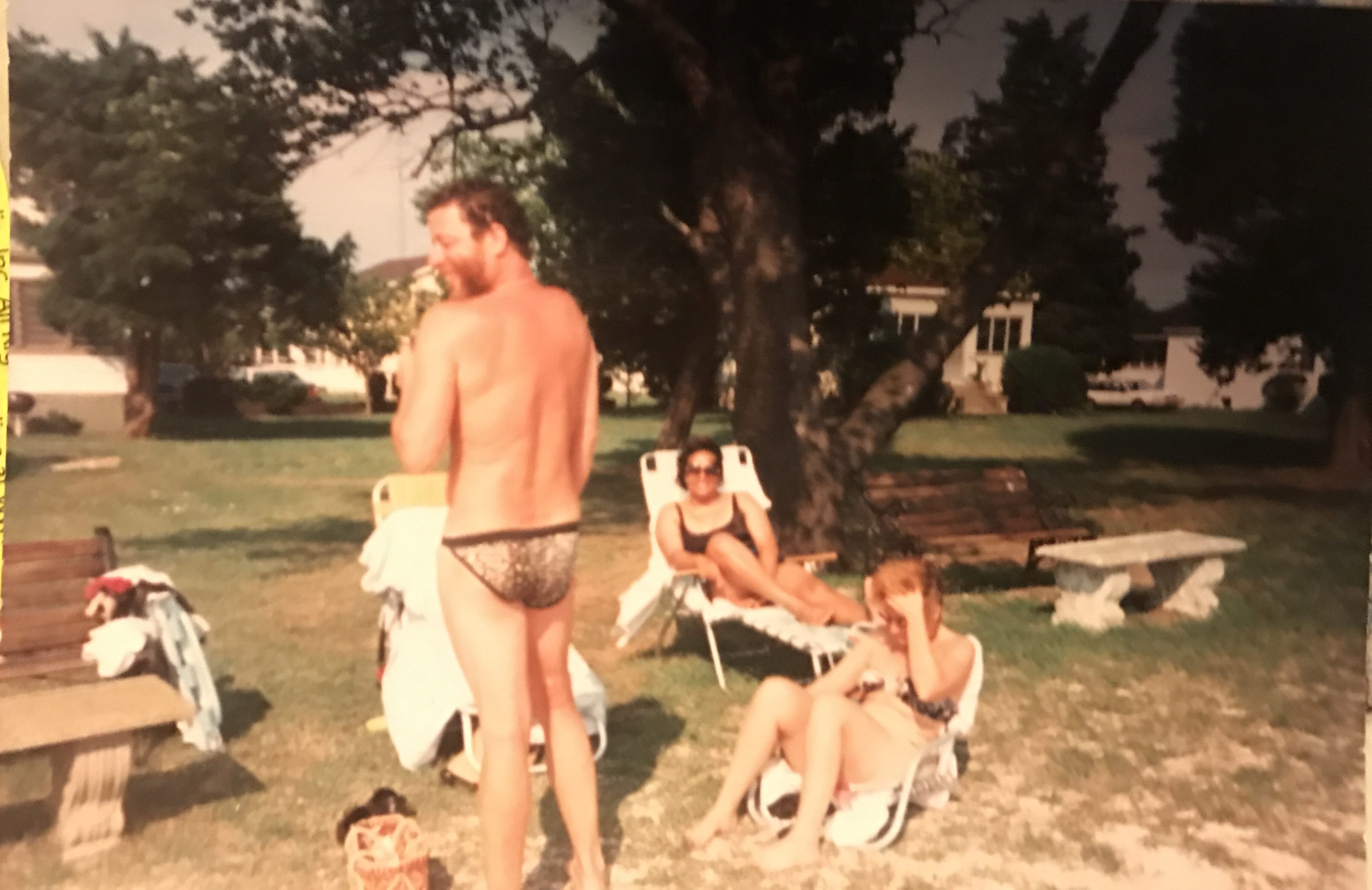 Now, he sits on his back porch, looks out to the water, past his eclectic yard of fountains, trees, and carvings, a tableau that awaits his weekly arrival on Thursdays from Philadelphia, where he retired as a teacher from Bartram High.
Even the power plant seems essential to the whole experience — and not in a bad way. The beating heart of any New Jersey summer is quickened by odd beauty and quirk. Generic, New Jersey is not.
"I think the power plant is gorgeous at night," said Shelton, who along with his cousin inherited his bungalow from an aunt and uncle. "I call it the Christmas Tree. When the bay is calm, the reflection in the water is beautiful. Industrial design can be attractive."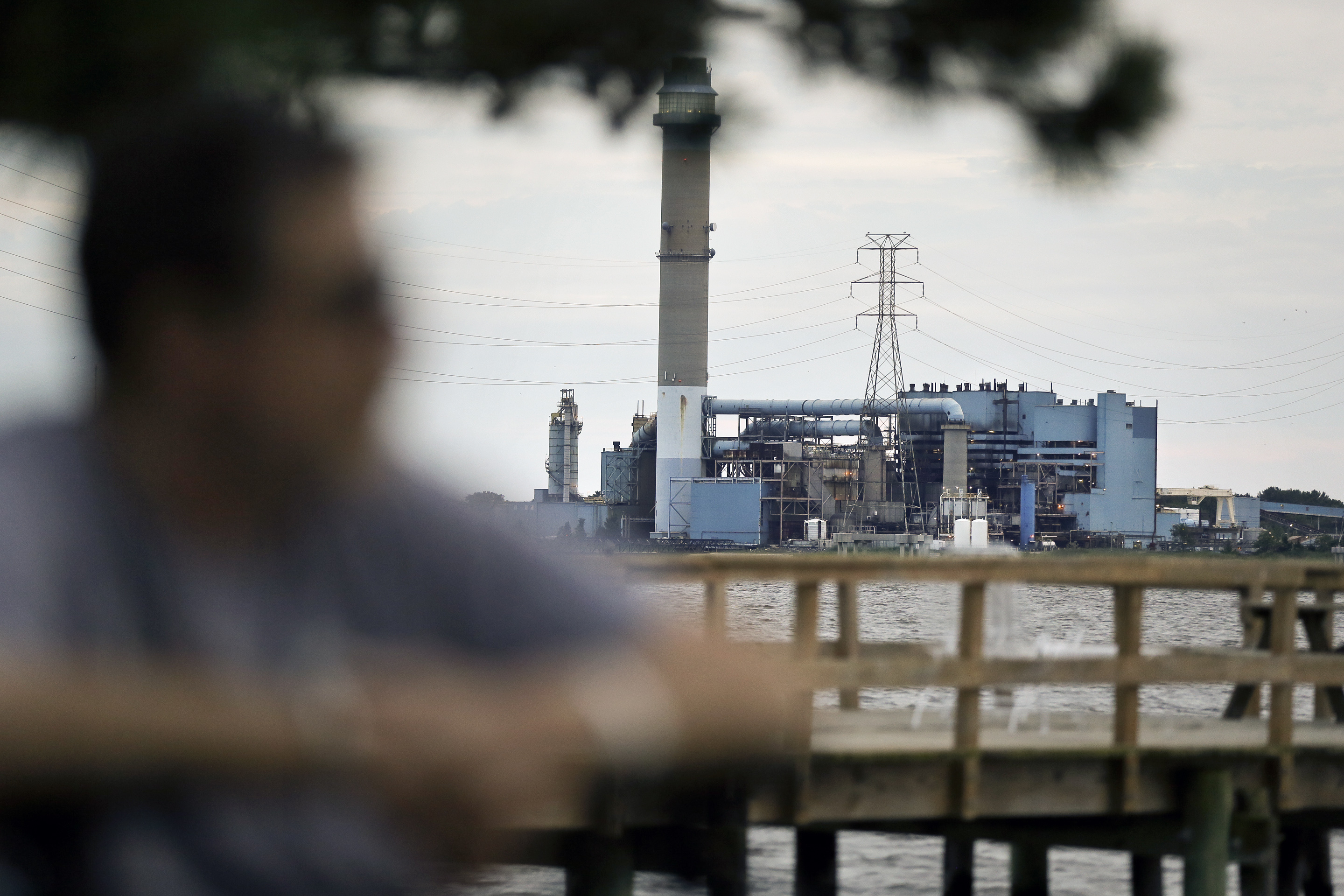 "It's our own monument," says neighbor Eric Anderson, 54, a pastor from Maryland, who escapes the madness of the Beltway in D.C. to come to Morris Beach all summer with two sons, Ethan, 11, and Aidan, 10. (Prevailing winds tend to send the soot toward Ocean City.)
Anderson's father, Jesse, who died in April, and grandfather were both pastors at the historic St. Thomas African Episcopal Church in Overbrook. His uncle and godfather, John C. Anderson, a pioneering African American and gay-rights advocate on Philadelphia City Council from 1979 to his death in 1983, was also a Morris Beach regular.
He recalls his grandfather sequestered upstairs writing sermons on a Saturday night, heading out early Sunday back to Philadelphia, to give the sermon, and roaring back in a cloud of dust along the narrowing road into Morris Beach, the one lined with egrets in a grassy marsh.
"We'd be cracking up," said Anderson, sitting on his porch, which looks toward Patcong Creek. "He'd be upstairs writing his sermon."
As a kid, Morris Beach was Anderson's adventure story. He fished and crabbed all day, passed out his catch among neighbors, swatted away insects. He set up a makeshift golf course in the land leading to Job's Point. Now overgrown, at one point, owners were planning a house with a tennis court. "I was like the Little Rascals," he said. "I'd pretend I was in a boat." His sons now do much of the same.
The adults, he recalled, made the most of their time. "When I was growing up, this was party central," he said. "They used to party hard."
Morris Beach took a hit during Hurricane Sandy. One house with a forgotten record collection had been in disrepair. It was torn down after the storm. Anderson tore down his father's flooded house behind his own and replaced it with a screened-in gazebo.
For these prominent African American families, shut out of other communities, Morris Beach was never a compromise, more an opportunity, as Jennie Morris subdivided the land at the end of about two miles down narrowing Jeffers Landing Road, and sought out a lively community of like-minded buyers. It clicked for decades.
Quieter now, Morris Beach once drew an exclusive social scene. "I met some of the most prominent black people of the era," said Shelton, "judges, political writers, and musicians. They would visit here."
Morris Beach, of course, has changed, is changing.
"It's changing color," Shelton says of the neighborhood — though also, at that moment, the sky to the west. "Eventually, this will probably end up being all white."
Over the years, Morris Beach lost much of the old social cohesion and became just neighborly. It bothers Shelton in some ways, but not in others. It's true of many such enclaves of its era. Shelton's new neighbors share in the affection for their obscure getaway, with its nightly display of idiosyncratic beauty.
The Morris Beach Property Owners Association still meets in the gazebo twice a summer. The beach itself runs along a stretch of land that is, in fact, a public street: Waterway Avenue. The pier, a truncated version of the pier that once extended out to meet rum runners, is owned by the association.
Anyone can come and spend the day at Morris Beach, but most either don't know it's there, Shelton says, or are locals who view it as the African American beach. Anderson says the gawkers circle in, perhaps looking for a For Sale sign. Over the years, there has been the occasional racially hostile drive-through. Mostly, the enclave's happily overlooked.
After Sandy, veteran Philadelphia lawyer Nolan Atkinson Jr. rebuilt his house, located in the community's low-lying middle. It's now raised up from flood levels, as are several Morris Beach homes. He drives his Fiat from Philadelphia on Friday nights. His wife, Elizabeth, puts out food for hummingbirds.
Atkinson, Mayor Kenney's chief diversity officer, has been coming to Morris Beach since 1955, when his father rented a house for a couple of weeks.
"I've liked it," he said. "It's a place to get away from Philadelphia. Saturday's my day here, and I'm back in Philadelphia."
His ties to the place have only deepened over the years.
"It was more of a community earlier," he said. "But as I've gotten older, it's more important for me for it to be a place for my family to come.
"When I first started coming here, it was substantially African American," he said. "It's now changed racially, so it's a very thoroughly integrated community, which makes it a different place, just in nature. But everything changes. Nothing stays the same. Not over a 50-, 60-year period."
---
About this Series:
Shore is about everyday people and their meaningful times spent down the Shore. Find each installment — and be sure to leave a comment — at Philly.com/ShoreSeries.