Hurricane Sandy: A year later
Hurricane Sandy: A year later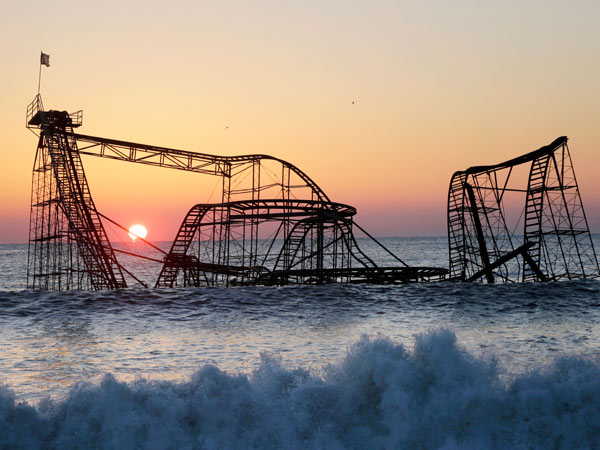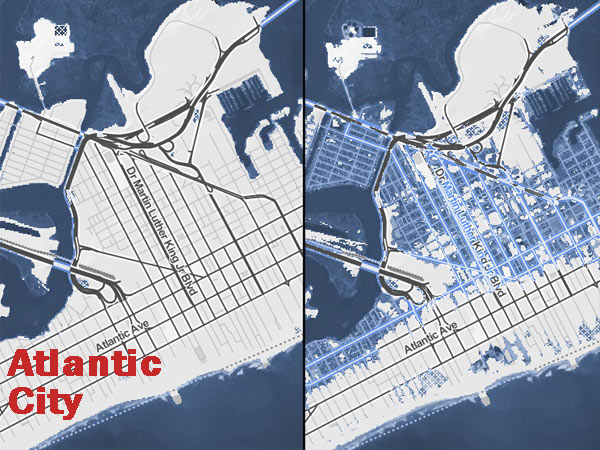 Atlantic City today, shown at left, shows no flooding at high tide. But a four-foot rise in sea level, which some scientists say is already inevitable, would mean water in the streets for many sections of the city, indicated by blue shading at right.
Click here to see comparisons for more Shore towns.
(ClimateCentral.org)

Millions of dollars were awarded to so-called Long Term Recovery Groups at the Shore to facilitate housing recovery. Much of it remains unspent.
TRENTON - Gov. Christie is over it. He doesn't care anymore. But for the record: It was not a "hug."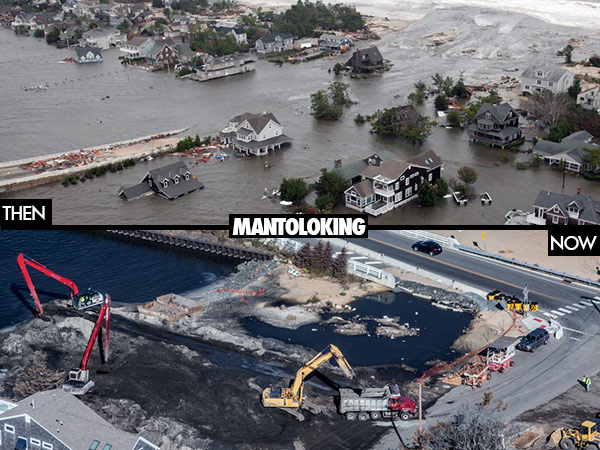 Cranes move and crawl along the base of the Herbert Street Bridge from the mainland to Mantoloking, earlier this month. The bridge was washed out after Sandy, hampering efforts to get emergency crews and help to the scene.
Click here for more then-and-now photos.
(Colin Kerrigan / Philly.com; AP Photo/U.S. Air Force, Master Sgt. Mark C. Olsen, File)
Mantoloking lost nearly 60 homes during Sandy, which divided the town in two. One of the wealthiest towns per capita in America, it's not surrendering itself to the sea, however.
From our partners at NJ Spotlight: Sandy Recovery Reporter Scott Gurian has spent the last year traveling the Garden State, interviewing residents and business owners trying to get their lives back on track after the storm. Recently, he checked back in with many of them to see how they were doing. Check out the map tool.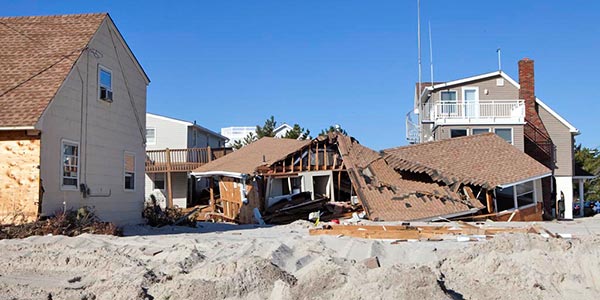 A home battered and broken by Hurricane Sandy sits on the beach in the Holgate section of Long Beach Island. Check out our gallery of images from up and down the Jersey Shore, after Sandy crashed through the region.
Click here for more photos.
(Hillary Petrozziello/Philly.com)
The making of a superstorm

The catastrophic collision between a hurricane and an unseasonably early winter storm was so unusual it needed a new name: superstorm. But you may remember it as Sandy.