A Main Street makeover
ED HILLE / Staff Photographer
The owners of a restaurant also run a tamale stand across the street on Saturdays.
Immigrants have revitalized East Camden's shopping stretch with restaurants, stores and offices, making it one of the city's liveliest areas.
Lidia Hernandez took chairs down off tables and unrolled mats on the floor of her East Camden restaurant, Lupita's, preparing for the lunch customers, who start coming as early as 11 a.m.
Down the block on Federal Street, Monica Herrera talked with a client in her accounting office, tax forms strewed on the table. Across the street, Grisel Nunez organized the day's deliveries in her flower shop, Nyla's, behind a window decorated with poinsettias and wreaths.
Along Federal from 21st to 27th Streets, shop owners pulled up metal grates, hosed off sidewalks, piped music out from speakers, and set Christmas trees in front of storefronts.
This stretch of East Camden has become one of the city's most vibrant neighborhoods, thanks in part to a growing Hispanic population that helps its own.
"Once they start to succeed, they pass it on to the ones who come after," said Zoraida Gonzalez-Torres, a resident of East Camden for 26 years and a longtime city activist. "You come to this country and they will find you a place to live, and they will find you a place to work. You don't see that in every community, and it's the reason no other community in Camden looks like this."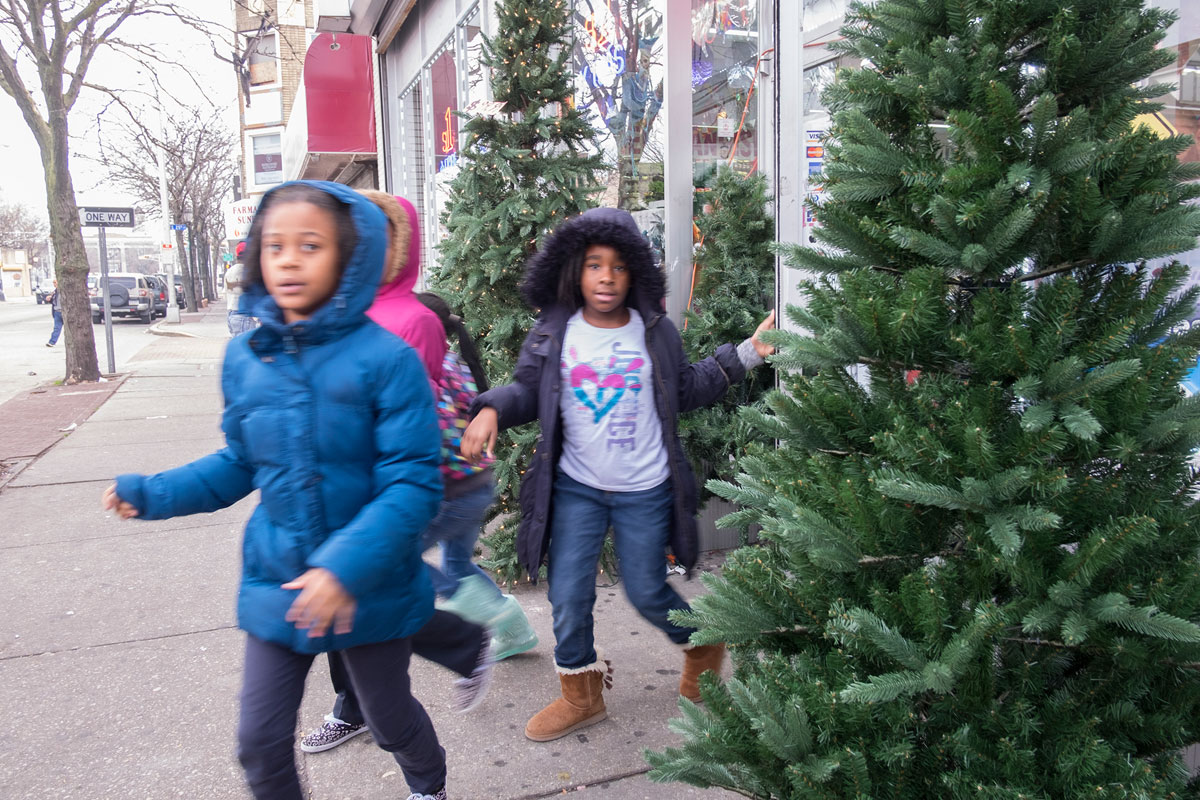 ED HILLE / Staff Photographer
Children leave the Dollar Value store at 2416 Federal St.
Though much of Camden is marked by desolate sidewalks and boarded-up buildings, these blocks on Federal are home to a dozen restaurants, five corner stores, five barbershops and hair salons, two coin laundries, clothing shores, a bakery, and a nail salon. Unlike many downtown establishments, some restaurants stay open past 8 p.m.
Many of the businesses that have opened over the last 15 years employ new immigrants and cater to customers who might not have transportation to stores in Cherry Hill or Pennsauken.
Big corporations that are lured to Camden can apply for multimillion-dollar state tax incentives that make it cheap to operate in the city. The stores on Federal have blossomed without such help, and despite language barriers and an inability — or reluctance — by shop owners to apply for loans.
"What you're seeing is a lifestyle that has built around this commercial corridor," said Ray Lamboy, head of Camden's nonprofit Latin American Economic Development Association (LAEDA). "From baby bottles to cowboy boots, you can get everything on Federal Street."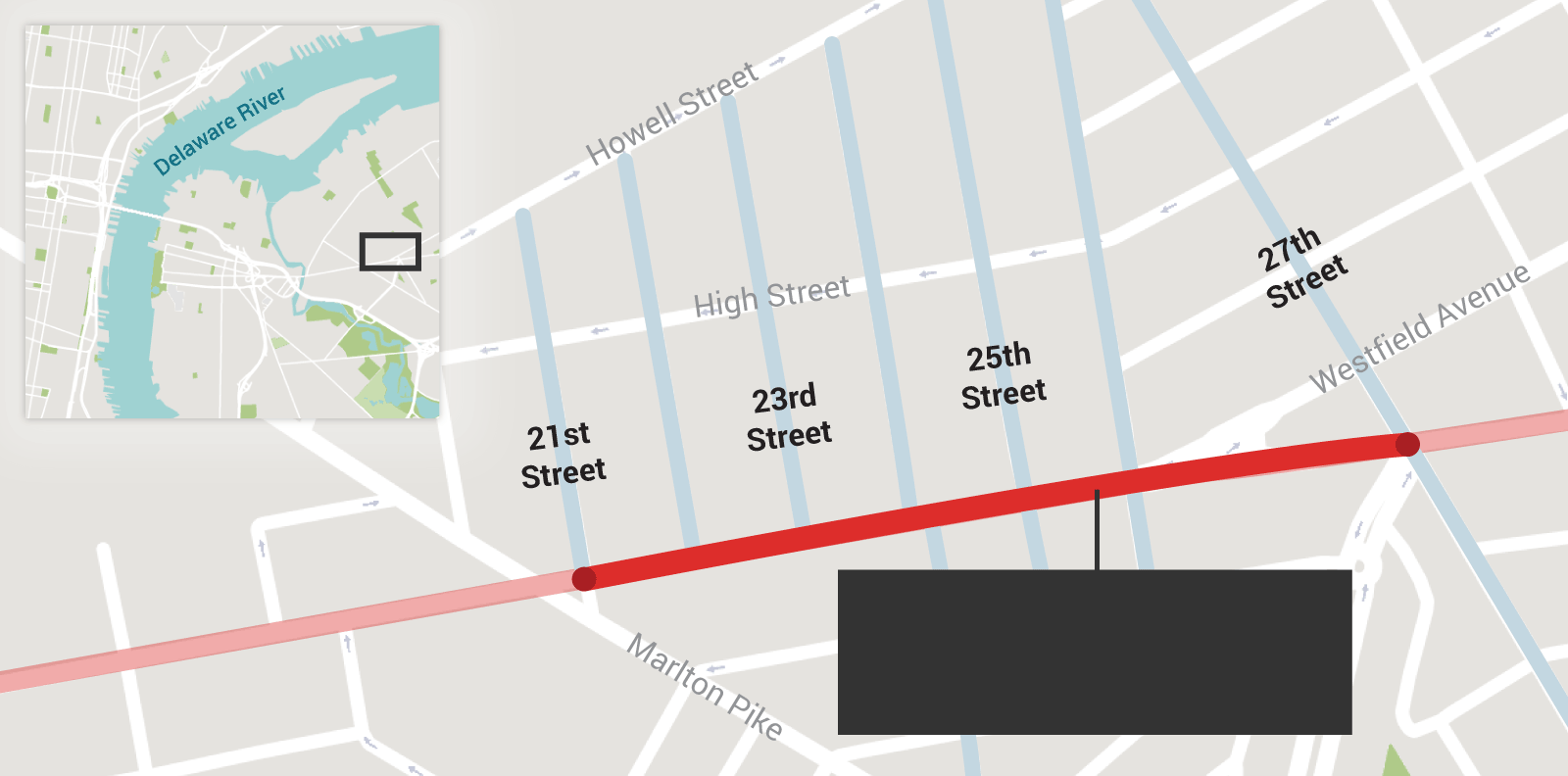 Between 21st and 27th Streets
Federal Street
Between 21st and 27th Streets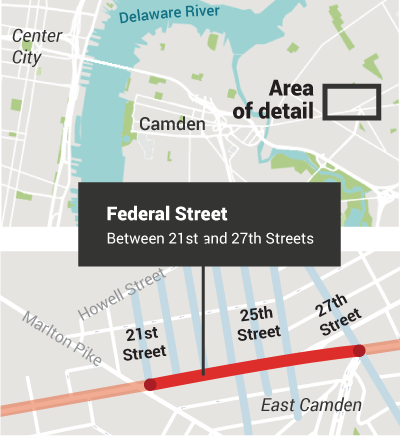 Some Camden natives say Federal Street today is a version of what it was like in the 1950s. Then, it was a bustling Main Street America, where families shopped for clothing and furniture, ate at a diner, and watched Christmas parades. Factory jobs were plentiful, and the neighborhood was populated mostly by white factory workers, said City Council President Frank Moran, who grew up nearby.
"This was the shopping mecca of East Camden," he said. "And it's thriving now for the same reasons it was thriving then. People who are working here are shopping here, and many are also living here."
As industries abandoned the city in the decades after World War II, small businesses and jobs followed. More than 30,000 people left town, and by the 1980s, Federal Street, like much of Camden, was mostly abandoned storefronts.
But as Camden's population has shrunk, the number of Hispanic residents living in the city has jumped — up 49 percent since 2000. They now make up almost half of Camden's population of 77,000.
ED HILLE / Staff Photographer
Federal Street, looking from the 2100 block toward the 2700 block.
A little more than 10,000 Camden residents are foreign-born, according to 2013 census figures, about two-thirds of whom come from Mexico or the Dominican Republic. Many come to East Camden, due in large part to St. Joseph Pro-Cathedral Parish, an anchor for the city's immigrant community. In the late 1990s, Federal Street began bouncing back.
Lidia Hernandez and her husband, Fidencio, came to Camden from Mexico in 2001. Hernandez worked in a nail salon, talking with customers to learn English, while her husband worked as a cook. By 2007, they had enough money saved to open Lupita's and hire four Camden residents who live nearby.
Business has been steady, and three years ago the Hernandezes put down $80,000 on a three-story building down the block. The first floor will house a slightly larger restaurant, and upstairs are three apartments they rent out.
Hernandez is anxious to move Lupita's, but finalizing permits and inspections has taken longer than expected. She spent the summer negotiating with City Hall over getting a larger sign, and as of late December the move-in date was still unclear.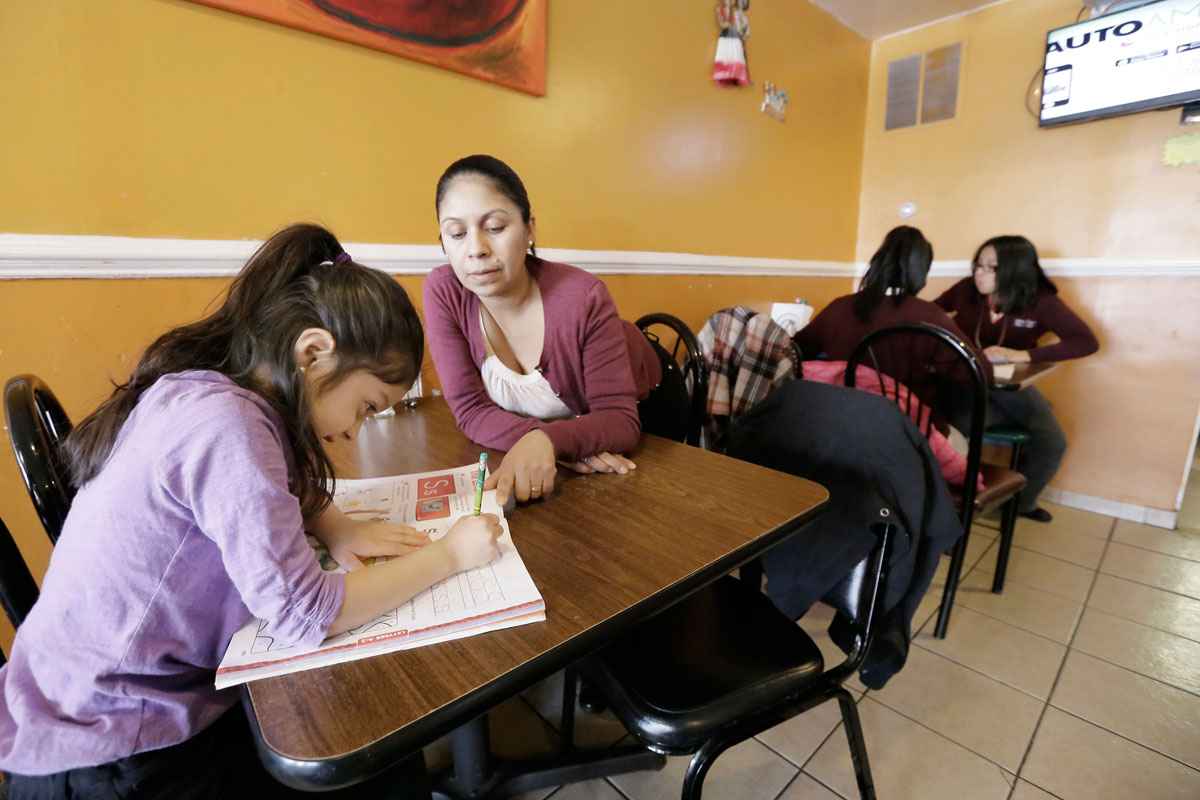 ELIZABETH ROBERTSON / Staff Photographer
Sophia Hernandez gets instruction from her mother, Lidia, as Emily and Jakelyn begin their homework in the family's Lupita's restaurant.
Their 4-year-old and 11-year-old daughters attend one of the city's charter schools, and their 6-year-old daughter started kindergarten at a Catholic school this fall.
"My goal is for my kids to grow up, go to college, be good citizens for the country," said Hernandez, who is hoping to apply for residency. "We always say to them, You've got to go to college. No matter what it costs, no matter what."
When the Hernandezes first opened Lupita's, they often heard gunshots at night. Neighboring businesses were robbed, and a friend was shot and killed. Citywide crime reached an all-time high in 2012 after state budget cuts that forced officer layoffs. Two years ago, after the dissolution of the city police department and launch of the Camden County Metro force, officers started patrolling on foot and parking cruisers nearby, Hernandez said, and the streets grew quiet.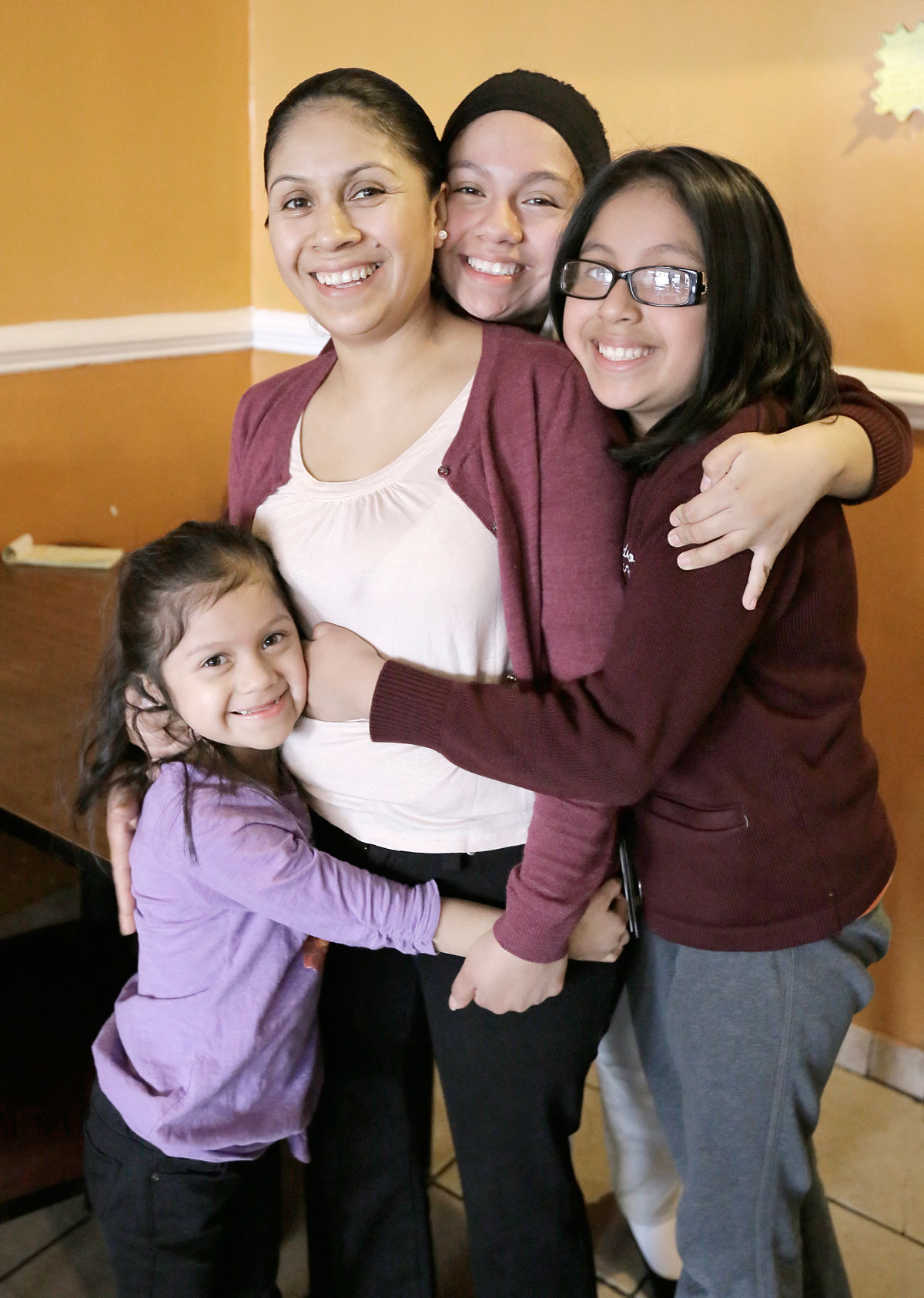 ELIZABETH ROBERTSON / Staff Photographer
From left: Sophia, Lidia, Emily, and Jakelyn Hernandez in the family's Lupita's restaurant.
Camden County Police Chief Scott Thomson credited the neighborhood's residents, not police, with improving the area.
"The people working here have invested in our community in a real way," he said. "They have made it safer, they have made it busy, and they are bringing their families. This is a model for what the rest of the city could look like."
Much of the crime in East Camden was once based on the assumption that immigrant victims wouldn't call 911, Thomson said. He has pledged never to target undocumented residents.
"It's completely counterintuitive to what we're trying to do here," Thomson said. "There are other parts of the city where the population is declining, but here it's rising. ... What's happening on Federal Street is no different from what happened in the 1930s with the Italians in South Camden, the Polish in Whitman Park, or the Germans in North Camden."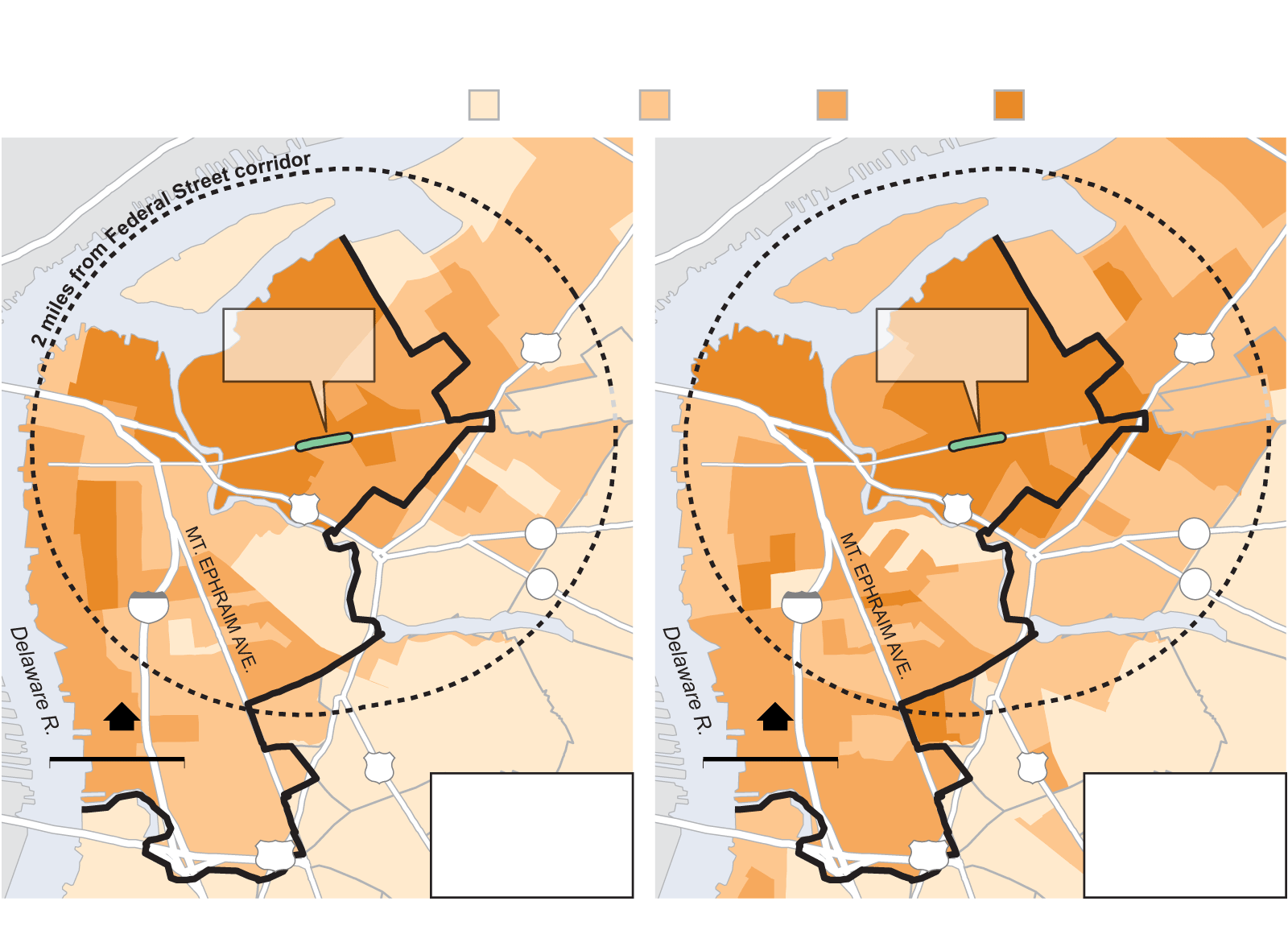 East Camden's Thriving
Commercial Corridor
Federal Street in Camden between 21st and 27th Streets is home to more than 10 restaurants, five corner stores, three barbershops, two laundromats, clothing stores, a bakery, an ice cream parlor, and a nail salon, spurred by a sharp rise in the number of Hispanic residents nearby.
Percentage of residents who are Hispanic
Federal Street
commercial
corridor
Federal Street
commercial
corridor
Hispanic residents
within 2 miles
Hispanic residents
within 2 miles
SOURCE: U.S. Census Bureau, 2000 decennial census and 2010-14 American Community Survey
LAEDA, which provides education and training for minority business owners, has for decades been helping people such as Hernandez and Monica Herrera, 44, who came to New Jersey from Guatemala with a tourist visa in July 1998. She planned to stay six months, but political conditions at home worsened, so she got a job at a Cherry Hill diner, started a housecleaning business, and moved her two children here.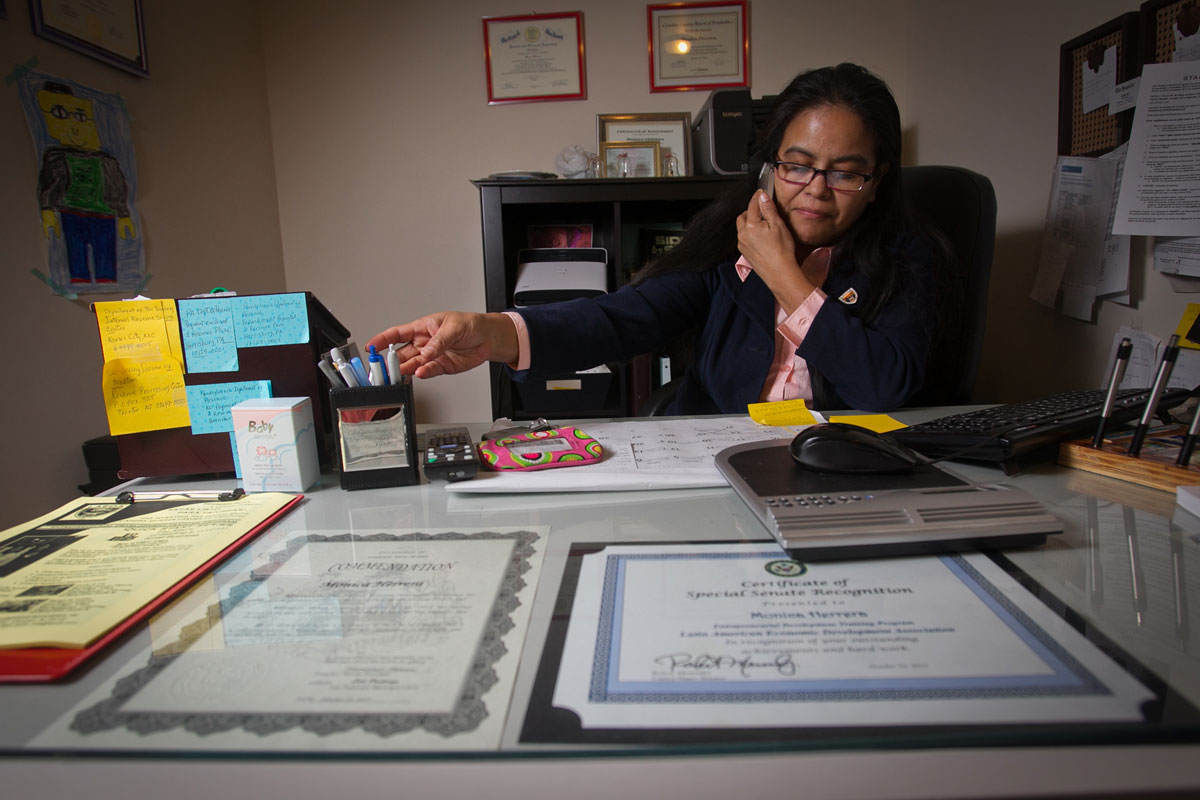 ALEJANDRO A. ALVAREZ / Staff Photographer
Monica Herrera, tax preparer, at her office A.C.C. Services in Camden.
In 2005, the accountant who did her family's taxes made a mistake that led to a costly fine. With help from LAEDA, Herrera took a course at H&R Block, then another at Camden County College. In 2011 she became a certified tax preparer, and over two years built a client base of Spanish-speaking customers, starting with her own family and using word of mouth.
Herrera met Hernandez through LAEDA and St. Joseph's parish. When Herrera decided she needed an office to run her accounting business, she rented one of the apartments upstairs from the future Lupita's location. Most of Herrera's clients live in Camden. Behind a nondescript door with no sign or bell, Herrera did taxes for about 80 people last year.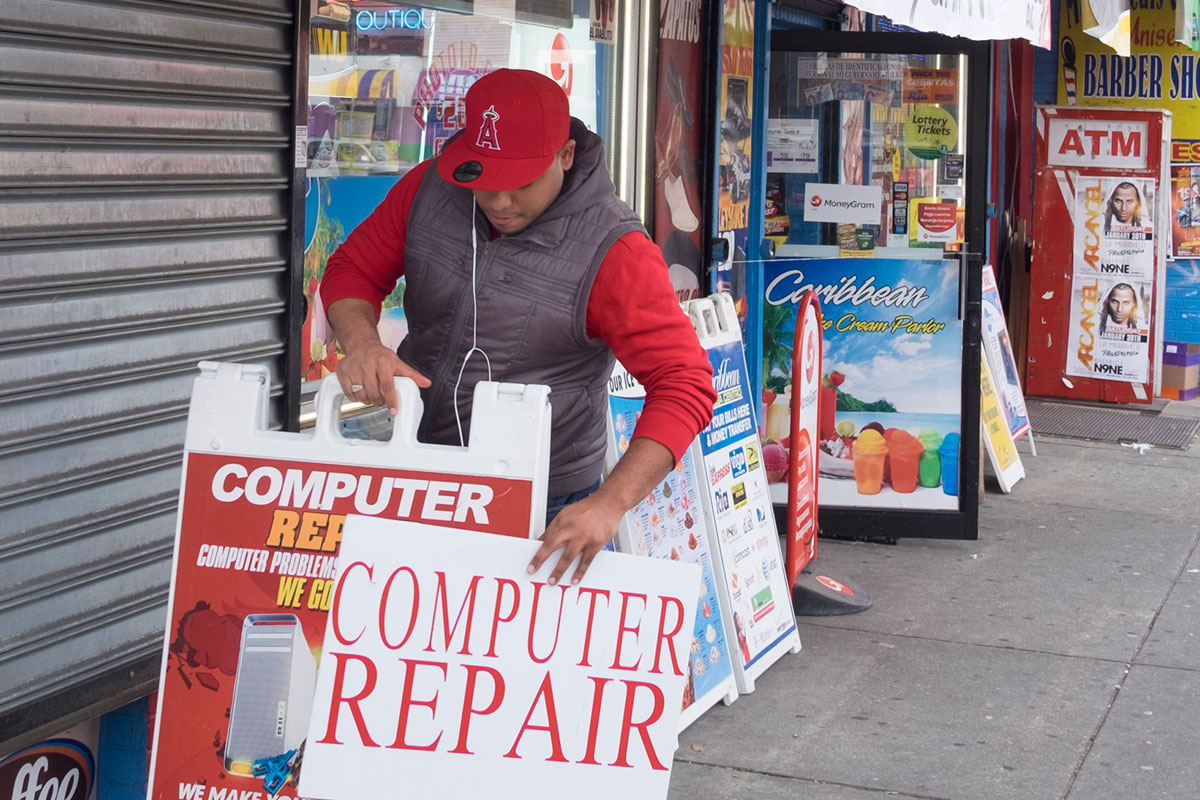 ED HILLE / Staff Photographer
Victor Lopez sets up a sign advertising computer repair at the Mega Center at 2488 Federal St.
A typical client: a Camden man from Mexico who filed taxes for money he was paid under the table by a Philadelphia restaurant, where he works as a cook. He is not entitled to tax credits for his child, or credit for programs he pays into, like Social Security. But he filed tax forms because he hopes to eventually apply for citizenship.
"I have customers who get W-2s and they don't want to pay their taxes," Herrera said. "I tell them, You may not want to report it, but you are already paying them."
Lamboy, the head of LAEDA, said small-business owners get little help from City Hall in the way of incentives, grants, or promotion. LAEDA has for years organized "Dine-Around Friday" events encouraging members of the Rutgers-Camden community to sample some of the restaurants outside of the downtown area.
If just a handful of the estimated threemillion annual visitors to the waterfront attractions took a two-mile detour for a meal at one of Federal Street's restaurants, for example, it could add thousands of dollars to the local economy, Lamboy said.
"There are people who are interested in that cultural tourism," he said. "But people need to know these things are there."
Camden Mayor Dana L. Redd said the city was looking at how to market its business corridors. One idea: giving new employers "welcome packages" with promotions for various restaurants.
"We want to see the small-business community thrive," she said.
JEFF FUSCO / Staff Photographer
Grisel Nunez, owner of Nyla's Flowers and Gifts, in her store in Camden.
Big corporations willing to set down roots in Camden, however, are getting more help than ever. Since 2013, the state has used the promise of generous tax incentives to lure companies to Camden, including Subaru, Holtec, and Lockheed Martin.
Longtime activists like Gonzalez-Torres doubt such companies will benefit residents, most of whom are unqualified for the jobs the businesses will bring. There is no agreement mandating that such companies make any significant investment in the city.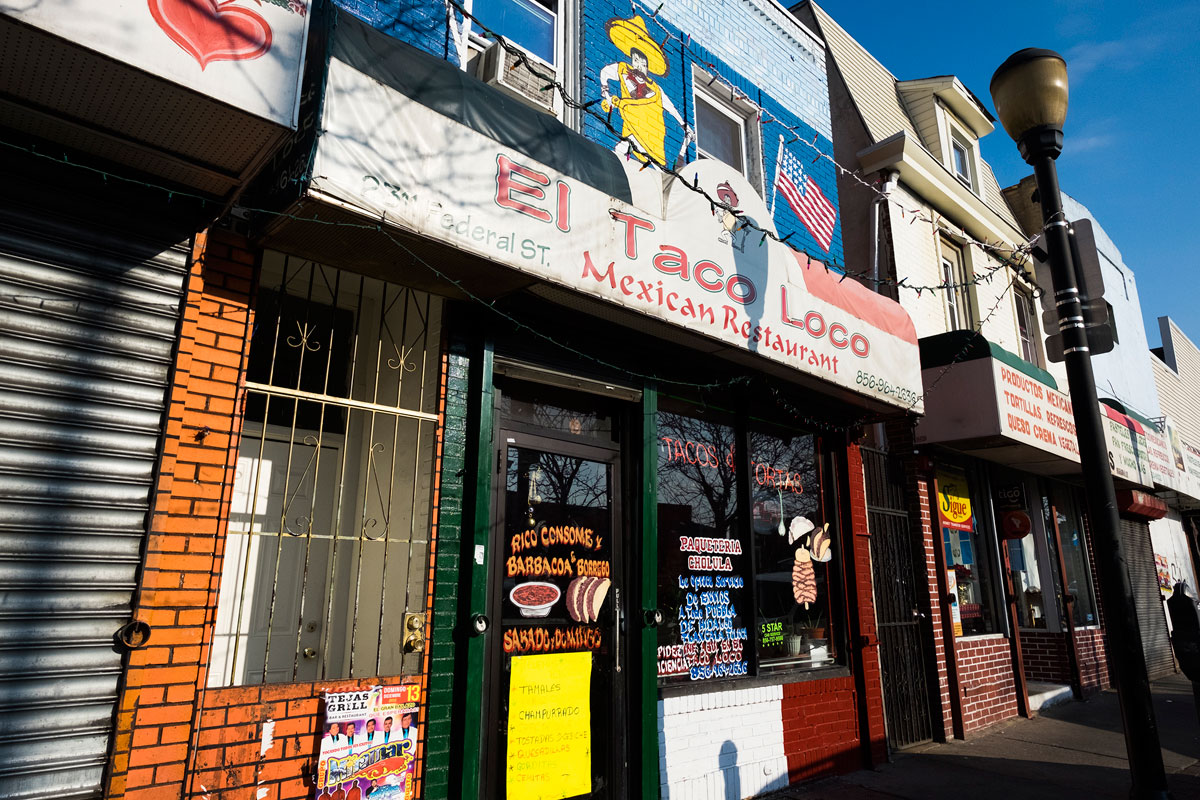 ED HILLE / Staff Photographer
This stretch of Federal Street is home to a dozen restaurants.
If the city provided modest grants toward reopening businesses on other commercial corridors, like Mount Ephraim and Haddon Avenues, she believes, it would reap greater benefits than offering millions to companies like Subaru.
"You could have hundreds of unemployed people going back to work, and it would cost the state a fraction of what they're spending," she said. "Do we have to wait for an influx of immigrants to come and see the value in these neighborhoods?"
Grisel Nunez, who opened Nyla's Flowers & Gifts in February, never thought she'd find herself back on Federal Street. Nunez, 51, owned a flower shop there years ago, but sold it in the early '90s when she moved to Atlantic City. When the economy there crashed, friends told her to take another look at Camden, and she set up shop with a loan from a friend.
Nunez did $5,000 in orders the first month, and $6,000 the next. On Mother's Day, she sold everything and closed early. She is booking parties. Her walk-in customers include residents and city employees. Last month, she filled between 60 and 70 orders in three days over Christmas week.
"People said I was crazy to come back here," she said with a laugh. "But I don't regret it yet."
asteele@phillynews.com 856-779-3876 @AESteele