Alexander Harris spends a significant amount of time on Facebook explaining to his neighbors why calling the cops on a black man could end badly.
The 29-year-old is one of the moderators of "West Willy," a neighborhood-based Facebook group with 8,800 members that serves as a platform for discussion about anything that happens between University City and City Avenue. Though Harris, who goes by "Dookie" online, spends a lot of time talking about race, he's come to terms with what most of the conversation on the forum revolves around.
"Usually, cats."
Not unlike any of the other dozens of community-based Facebook groups in the region, threads on West Willy are typically pretty innocuous, ranging from "I found this stray cat" to "Did anyone else hear that noise?" to "Hello, I would like you to come to my business."
But other times, the conversation taking place in these groups can feel more like a politically-driven cafeteria food fight, with discussions quickly devolving into racism, sexism and other unsavory -isms. And all those arguments are tamed by moderators who spend hours per week digitally babysitting their neighbors for free.
Although they're frequently banning bigots or reminding the one group member to please stop posting about his Shore house that's for sale, moderators say these Facebook groups — that range in name from "South Silly" to "East Falls Rant Your A$$ Off" — are a window into the conscience of the neighborhood, each with its own distinct personality.
Conversations in South Philadelphia are routinely about parking. In Port Richmond, threads about opioids — whether it's safe-injection sites or heroin encampments — generate heated discussion. In Collingswood, N.J., any post about a new Italian restaurant will probably elicit a whole bunch of "Ugh, another one?!" comments.

In changing neighborhoods, battle lines are drawn between old and new. Carolyn Fillmore, who moderates the East Falls rant page, said arguments are often about who is or isn't a "Fallser," a neighborhood native. Dave Scarpello, who runs the page "Roxborough Manayunk News," said any post about new construction is destined to start a fight about gentrification. In January, he shut off comments in the group altogether. They were getting too voluminous — and too angry — to control.
"It's basically the problems and complaints of 13,000 people," he said, "coming down on one person."
This dynamic was on full display last month when a popular Fishtown page aptly titled "Fishtown is AWESOME/ OLD/ NEW/ EVERYONE!" served as a platform for a thread so contentious, it generated nearly 1,000 comments before moderators had to shut the monster down.
It was about pizza.
The original post was straightforward:
Recommendations for a truly good organic pizza and don't tell me Slice… I'm from New York… that's not even edible. My husband and I each went. we ate a slice and left the rest of the pie there. Pizza Brain has a "decent" flavor however it's not organic.
In Fishtown, where you can throw a rock from anywhere and hit a pizza shop, them's fightin' words.
"Admittedly," moderator Jill Betters said, "it went off the rails really early."
It was the perfect storm of arguments: In addition to hipsters and their organic food versus neighborhood natives and their traditional pie, the New York versus Philly complex was there, too. Now that the post doesn't exist anymore, it's become something of a neighborhood-wide inside joke.
That conversation, though, was an anomaly. Betters, who founded the page in 2013, said she spends about an hour a day in total reading what her neighbors are posting to make sure they're following group rules: Don't lob personal attacks, don't "aggressively play devil's advocate for the hell of it" and "assume good faith on the part of others." Over a two-month period recently, group members contributed 800 posts and 15,000 comments.
Among the most active neighborhood groups in Philadelphia is South Silly, a private, 10,000-member group where South Philadelphians are very, well, South Philly. (The group's admins declined to be interviewed.) Reading through the page of memes, GIFs and photos of the neighborhood provides a glimpse into hundreds of conversations that have nothing to do with each other: "Where can I get my car fixed?" and "What is the difference between bisexual and pansexual?" and "My eyelid is torn! Where's urgent care?"
Its rules are pretty straightforward: "Be excellent to each other and post stuff relevant to South Philly. Report posts/comments that are mean/bad. Read the room and don't sh—post."
In neighborhood Facebook groups, breaking the rules often gets you a warning — or banned outright. Where that line sits is different for every moderator. Joseph Russell, who moderates the 6,100-member "In The Wood, Collingswood" group, said he doesn't mind contentious conversation.
"But if we can be adults about it, that would be great," he said, adding that he doesn't want members being "horrible to people you might see at the farmers' market."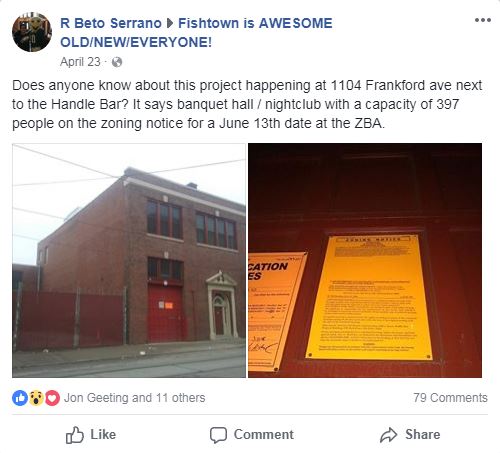 Being a moderator sometimes means playing whack-a-mole with trolls. It also requires that you develop strategies to keep members in line as much as possible. Most groups have rules of some sort that include a variation of "no hate speech." Harris, of West Willy, often publicly warns members in the comments and explains why a post might have been intolerant. In Fishtown, Betters developed "Marketing Mondays," a curated thread of businesses and services meant to tamp down on constant self-promotion.
Anne Rubin moderates "Elkins Park Happenings!" and said her biggest concern is ensuring information being spread is accurate, and any negativity in the group doesn't give off the wrong vibe to outsiders. Donna Galas, who moderates the "Eyes and Ears of Port Richmond" group, agreed, saying "there's been arguments that I can't even fathom why people are arguing over this stuff."
"We don't want to hide the bad things," she said, "but we don't want it to be constant negativity because the good stuff gets buried."
Not every group feels like a boxing match. Liz Scott, who sits at the controls of the "Southwest Center City Philadelphia" page, said the group is largely self-sustaining and takes very little refereeing. Most of the posts are surprisingly "mundane," she said, though she did recently remove a member for making transphobic comments. In the last year, Brendan Stewart had to shut off comments on a thread only once in "The Springfield Delco Community Group" after a post about parking became heated.
But even in those groups that sometimes feel like "Negadelphia" realized on social media, most moderators say they're glad they've cultivated online communities that in many ways strengthen neighborhood bonds.
"It's better to have a community full of passionate people than not having that," Russell, of Collingswood, said, "because then your town's dead."
What's in a name?
Each Philadelphia-area neighborhood Facebook page has its own distinct personalty. Here's an incomplete guide to the quirks and controversies of some of the bigger groups.
Stats: The page was founded about three years ago, and has 549 members.
Common discussion topics: Per the About section: "Bar crashing, photography collabs, food and booze reviews and all things fun in the center," plus "funny happenings, odd circumstances, weird news and all things quirky north of south, south of market, river to river."
One distinct thing: This group is one of the smaller ones, as several neighborhoods within "Center City" have their own pages.
Stats: Carolyn Fillmore started the page several years ago as an answer to the neighborhood's more "newsy" Facebook page. She wanted the "rant page" to serve as a space where people can "yak, yak, yak." It now has 1,885 members.
Common discussion topics: Construction, crime, parking, old vs. new turf wars, and lost/ found pets.
One distinct thing: This page's admins have a pretty high tolerance for contention. Fillmore said members can battle all they want — but hate speech and threats "will get you bumped."
Stats: The group was created about eight years ago, and has 6,436 members.
Common discussion topics: Schools, event listings, local business recommendations, questions about how to resolve issues and wildlife sightings.
One distinct thing: Moderator Anne Rubin said she's proud that most of the posts are informational and neutral. If members want to share opinions, moderators are fine with that, but should be "delivered in a nice way."
Stats: The page was created about five years ago, and has 6,375 members.
Common discussion topics: Opioids, housing, parks, community centers and, according to a moderator, "food wars."
One distinct thing: Moderator Donna Galas said most of the conversations about opioid use in the neighborhood amounts to "ranting." She said when it comes to policy prescriptions like safe-injection sites, "there's not many middle people. There are maybe, but they don't speak out as much."
Stats: The page appears to be one of the oldest in Philadelphia, with some members having been in the group for nearly a decade. It has 3,310 members.
Common discussion topics: Business recommendations, event listings, crime, and lost pets.
One distinct thing: This page is chock-full of old photos and neighborhood lore, and it's a goldmine of area history. For more, check out the page "Northeast Philly in Old Photos."
Stats: The page was founded in 2013, and has 8,923 members.
Common discussion topics: Local businesses, new construction/gentrification, neighborhood food and drink, parking and lost/found items.
One distinct thing: Admin Jill Betters founded the group in 2013, largely as the Facebook answer to Fishtown.us, a longtime neighborhood message board. She did so in the midst of major neighborhood change, hence the group name. She said she wanted it to be a space where neighbors could find common ground on issues like streets, schools and crime.
Stats: The group was created about six years ago, and has 6,178 members.
Common discussion topics: Schools, new restaurants, local politics, and transportation.
One distinct thing: Moderator Joseph Russell said the most contentious issue recently was a school bond issue that was discussed "ad nauseum." Plus, he said, there are frequently posts about new Italian restaurants, and even though there seem to be many, "none of them ever close."
Stats: The page was created about seven years ago, and has 4,357 members.
Common discussion topics: Event listings, business recommendations, lost/found pets, and general neighborhood news.
One distinct thing: The page was once the place to post if you saw a fox running around the neighborhood.
Stats: The page was founded in 2008, and now has 25,917 members.
Common discussion topics: Weather, schools, event listings, and business recommendations.
One distinct thing: The name is unique, but not to Facebook. Residents know: The town's slogan is that Media is "everybody's hometown."
Stats: The group was created about eight years ago, and has 3,878 members.
Common discussion topics: Local business recommendations, upcoming events, and a whole bunch of lost/ found pets.
One distinct thing: Unlike a lot of neighborhood groups, members of Mt. Airy Community frequently post about for-sale items, as well as available housing in the area.
Stats: The group was created in 2014, and it now has 2,436 members.
Common discussion topics: This page is almost entirely event listings, many of which are related to the arts.
One distinct thing: Like West Willy and Center Cilly, North Nilly was created after South Silly, though it has a distinctively different feel.
Stats: The page was created about 10 years ago, and now has 4,826 members.
Common discussion topics: General neighborhood news and business recommendations. Advertising and event promotions aren't allowed.
One distinct thing: This page is a bit more official than others — it's run by the Northern Liberties Neighbors Association.
Stats: The page was founded about three years ago, and now has 13,128 members.
Common discussion topics: Most of the posts are neighborhood news and event listings.
One distinct thing: Comments on this page are entirely disabled after the admin decided earlier this year he could no longer keep track of the volume.
Stats: The current page was founded several years ago, though part of its URL is "southsilly2.0." It has 10,122 members.
Common discussion topics: Events, local businesses, new construction, parking wars, food and drink, plus seemingly random threads about topics often unrelated to neighborhood news and issues.
One distinct thing: A member is featured every day as the "Silly of the Day." The person introduces himself or herself, and then answers questions from other members in the comments.
Stats: The page was created about nine years ago, and it now has 5,657 members.
Common discussion topics: Neighborhood news and happenings
One distinct thing: This group has been mocked before in South Silly for being a little, well, "boring." According to founder Liz Scott, most of the conversation is pretty innocuous: "dog poop and trash posts."
Stats: The page is less than a year old, with 1,137 members.
Common discussion topics: Schools, food and drink, and recommendations for services.
One distinct thing: Founder Brendan Stewart doesn't actually live in Springfield. He lives in Upper Darby, but created the page for a friend who lives in the area. He said he may bring on more moderators as the group grows.
Stats: The page has 8,825 members.
Common discussion topics: Neighborhood news, goods and services recommendations, crime, and lots and lots of cats.
One distinct thing: The group has a pretty sophisticated set of rules that include "Keep posts relevant to West Philly" and "Don't make jokes about the MOVE bombing."
Stats: Created about five years ago, the page now has 9,853 members.
Common discussion topics: Restaurants, local businesses, and yard sales.
One distinct thing: The page has two moderators. They're married to each other.