Hunger in the First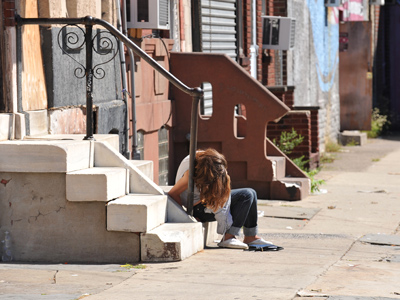 Offering employment where legitimate industry collapsed years ago, the hugely profitable narcotics trade endlessly engages police, dealers, and drug abusers in Kensington. The area is part of the First Congressional District, one of the poorest places in America.
A rallying cry that people heard
SHARON GEKOSKI-KIMMEL / Staff Photographer
Last in an occasional series
By Alfred Lubrano
INQUIRER STAFF WRITER
Imani Sullivan's friends threw her a housewarming party a couple of weeks ago in her new one-bedroom apartment in Feltonville. Months earlier, Sullivan had spoken in despair about the shame she felt not having enough food to feed her two young boys. She even contemplated suicide.
Yet here she was, approaching New Year's, in a place of her own, paying rent.
She had a job as a janitor cleaning offices that pays $14,600 a year, including vacation, insurance, and a 401(k) plan.
Her apartment has hardwood floors and clean, white walls. It's only two miles from her mother's apartment in North Philadelphia, where she used to live. But it feels like 1,000 miles and a lifetime away.
"I love it here so much," said Sullivan, 31. "On our first night here, my son De-Mire said, 'Everything looks fresh.'
Continue to read the story here.
More stories in the series
Disappearance of industry leaves a wake of discouraged' workers

Without jobs or the hope of finding any, legions of underground men and women - officially known as "the discouraged" - scramble to make money any legal way they can.
Eyeing a potato at Frederick Douglass Christian School in Chester one day in the fall, a first grader called it a "tomato." Another said he wasn't sure he'd ever seen one before. "How do you spell 'nasty?' " asked Ja'Niyah Van, 6, tasting a baked sweet potato for the first time. No one can blame the pupils for not recognizing or appreciating fresh food. There isn't a single supermarket in Chester. A person could travel end to end in the city of 30,000 people and find just two stores that sell potatoes or any other fresh foods.
To make a living in North Phila., many turn to dealing.

Offering employment where legitimate industry collapsed years ago, the hugely profitable narcotics trade endlessly engages police, dealers, and drug abusers in Kensington.
Ex-teacher writes cautionary tale for children after little girl is murdered.

She was a sweet little girl, the kind a preschool teacher always remembers. Even after 10 years, Iriana DeJesus lives shiny and smiling in former teacher C.J. Waddy's memory, glowing with a sort of pigtailed promise that announced she would rocket out of Hunting Park and be remarkable somewhere safer and bigger. But in the summer of 2000, Iriana was abducted, raped, and strangled at age 5.
A pastor's call led him from a comfortable Main Line church to serve a greater need in North Philadelphia.

Stepping past the hooded hustlers slinging drugs in North Philadelphia, members of a small Bible-study group gathered one night in a faded Presbyterian church on Norris Square.
Myra Young fits a nebulizer mask over her son Todd's face to beat back his chronic asthma. Inhaling vaporized medicine that keeps him breathing, the 4-year-old with large eyes leafs through a children's Bible to pass the time.
Cheap diets tend to be sugary, salty, fatty — raising obesity and diabetes risks.

Mold grows thick and black on the walls of Celeata Bailey's Norris Square bedroom.

Because most of the ceiling is missing, Bailey, 21, gets soaked in bed when it rains.
The anguish of families: "It makes me feel like less of a mom not to have food."

There's not enough food in Imani Sullivan's life.

At home, Sullivan, 31, often doesn't set a fork for herself at the table so that her sons, ages 3 and 10, can eat.

Naturally diminutive, Sullivan looks frail these days. She has dropped 15 pounds since losing her part-time janitor job during the summer.Each family meal feels like an obligation she cannot meet, a daily burden multiplied by three.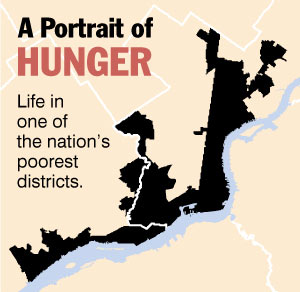 The grinding recession is taking its toll in neighborhoods across America as a record number of people plunge into poverty. A national poll reveals that Philadelphia's First Congressional District is the second-hungriest in the country.

In an occasional series, The Inquirer goes behind the scenes in the district to chronicle the struggles, hopes and challenges of the people who live hidden in plain sight in the heart of the country's sixth-largest city.

Find the entire series here.