It's an understatement to say that gun laws vary across the United States.
As the nation continues to reel from the December mass shooting in Newtown, Conn., and President Barack Obama is pushing for tougher gun control measures, McClatchy has created a useful graphic showing state-by-state differences in gun laws.
Here's how measures in Pennsylvania and New Jersey compare with the rest of the country:
New Jersey and five other states, plus D.C., ban large-capacity magazines. Pennsylvania does not.
New Jersey, six other states and D.C. ban semi-automatic weapons that allow rapid, accurate spray firing. Pennsylvania does not.
New Jersey and 10 other states, plus D.C., have a waiting period between purchasing a firearm and transferring the item to the gun owner. Pennsylvania does not.
Both Pennsylvania and New Jersey, along with 28 other states, require or authorize mental-health information to be reported to a federal database.
Pennsylvania and 33 other states allow the open carrying of handguns in public without a permit or license. New Jersey does not.
Pennsylvania and 25 other states have laws that permit deadly force in self-defense in a public place with no duty to retreat.
Overall, New Jersey's laws rank it in the second-strongest tier, with Connecticut, Massacusetts and New York, according to McClatchy's analysis. Only California's measures were considered stronger.
Pennsylvania ranked in the middle of the five tiers, as did Illinois, Maryland and Michigan.
Click the map to see the full graphic from McClatchy.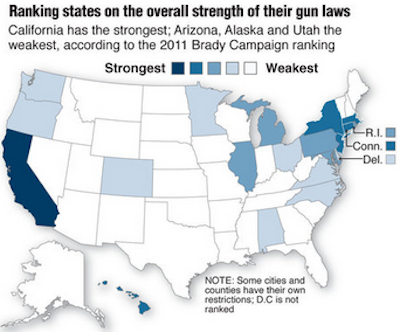 ---
Contact Emily Babay at 215-854-2153 or ebabay@philly.com. Follow @emilybabay on Twitter.
Contact the Breaking News Desk at 215-854-2443; BreakingNewsDesk@philly.com. Follow @phillynews on Twitter.