He bowed out of a re-election bid earlier this year, apologizing for the "embarrassment and shame" he brought to his office with a series of ethical and financial missteps. Now, Philadelphia District Attorney Seth Williams faces the most important campaign of his life: his defense against federal corruption charges that could send him to prison for up to 20 years. On Thursday, midway through his trial, Williams accepted a plea deal and was sent to jail as he awaits sentencing.
Who is Seth Williams? Williams is Philadelphia's top prosecutor. He was elected district attorney in 2009, with a campaign slogan of "A new day, a new DA" and was widely expected to have a bright future as a criminal justice reformer, but his tenure has been marred by an ever-growing number of scandals tied to his personal financial struggles, staffing decisions in his office and gifts he received and failed to report from wealthy benefactors. (READ MORE: For Seth Williams, a push for reform undone by penchant for the high life | The inevitable fall of Philadelphia District Attorney Seth Williams | Desperately seeking Seth)
What are his alleged crimes? Federal prosecutors have accused Williams of repeatedly misusing campaign cash and government property to live well beyond his means and selling the influence of his office to two wealthy benefactors who showered him with gifts including trips abroad, a $3,000 custom-built sofa and a used Jaguar convertible. He faces 29 corruption-related counts including bribery, extortion and honest services fraud. Williams has denied the allegations and accused FBI and IRS investigators of attempting to turn perfectly legal politicking under state law into federal crimes. (DOCUMENT: Read the indictment | READ MORE: D.A. Seth Williams indicted on corruption, bribery-related charges | Philly DA Williams faces more federal corruption charges)
What was the plea deal? Williams pleaded guilty to one count related to accepting a bribe from Bucks County businessman Mohammad Ali, and resigned his office "humbly, sincerely and effective immediately." The 28 remaining counts against Williams were dismissed, but he "admits that he committed all of the conduct in those 29 counts," Assistant U.S. Attorney Robert Zauzmer said. Despite pleas that he be allowed to remain free until his sentencing — his attorney argued Williams has no money to flee — U.S. District Judge Paul S. Diamond ordered him held, and U.S. Marshals led the DA out of court in handcuffs. Sentencing is set for Oct. 24. (READ MORE: Philly DA pleads guilty to corruption | What's next for Philly's District Attorney's Office?)
How did we get here? News of the FBI's interest in Seth Williams first broke in 2015, when investigators subpoenaed records from his campaign and the probe quickly heated up as investigators interviewed staffers in his office and requested records from a nonprofit he launched in 2011. As agents circled around him, Williams belatedly reported last year that he had received gifts worth more than $160,050 from wealthy supporters, which he had failed to report on his financial disclosure forms. The admission prompted a record fine from the city's Board of Ethics. Many of those gifts now lie at the heart of the federal case against him. READ MORE: Sources: D.A. Seth Williams' spending under federal probe | D.A. Williams belatedly reports $160,050 in gifts | U.S. probing Local 98 payment to send Seth Williams' daughters to summer camps abroad)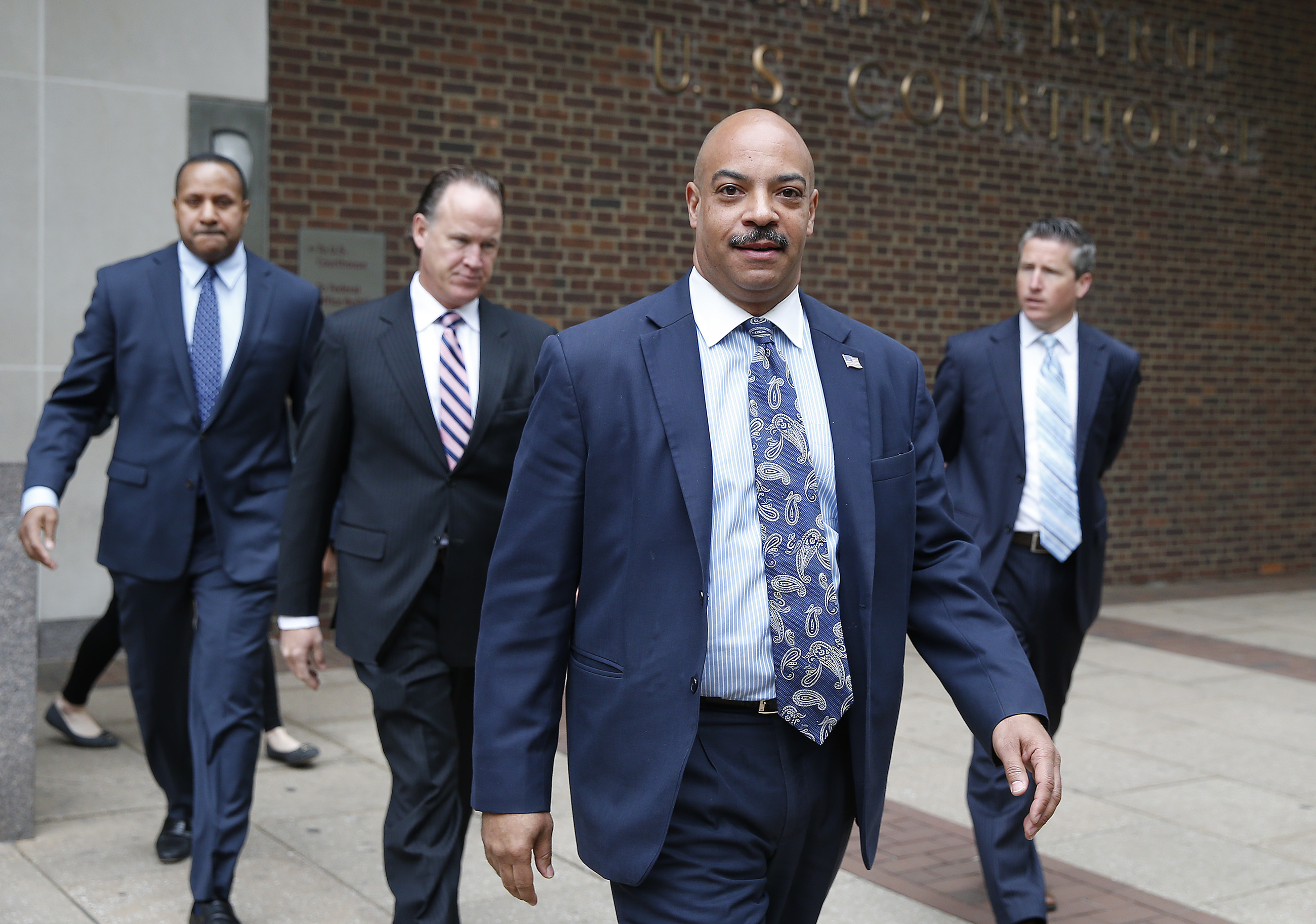 Why is the trial happening so quickly? U.S. District Judge Paul S. Diamond has set an unusually brisk schedule, ordering the case to trial three months after prosecutors filed their indictment. Typically, it can take a year or more for lawyers on both sides to prepare for document-heavy public corruption cases. However, Diamond rejected government pleas for more time to get ready, explaining he was "hard-pressed to think of a case where the public's right to a speedy trial is more pressing than it is here" given Williams' decision to stay on as district attorney even while fighting felony charges. (READ MORE: Judge wants DA Seth Williams' trial to start as soon as next month | Lawyers in Seth Williams' case: We need more time)
How long did Williams stay in office? The district attorney agreed to a temporary suspension of his law license days after he was indicted in March but vowed to remain in his post until he could be vindicated at trial. Because he is not currently an active lawyer, he had limited his role to that of an administrator and left all oversight of the thousands of criminal cases that flow through his office each year to his first assistant, Kathleen Martin. That did not stop Williams from continuing to collect his $175,572-a-year salary — or his critics from trying to boot him from his post anyway. But his removal did not come until Thursday, when he pleaded guilty. (READ MORE: What's next for Philly's District Attorney's Office? | Lawyer: Seth Williams plans to stay in office despite law license suspension | Lynne Abraham sues to have DA Seth Williams removed from office | Judge tosses Lynne Abraham's suit to boot DA Seth Williams from office)
What does the government case look like? Prosecutors expect to take two to three weeks to present their case, including a series of potentially damaging text messages Williams' allegedly sent to his benefactors seeking their financial largesse. In one, he described himself as "merely a thankful beggar." In a pretrial memorandum, government lawyers broke Williams' alleged wrongdoing into five separate schemes: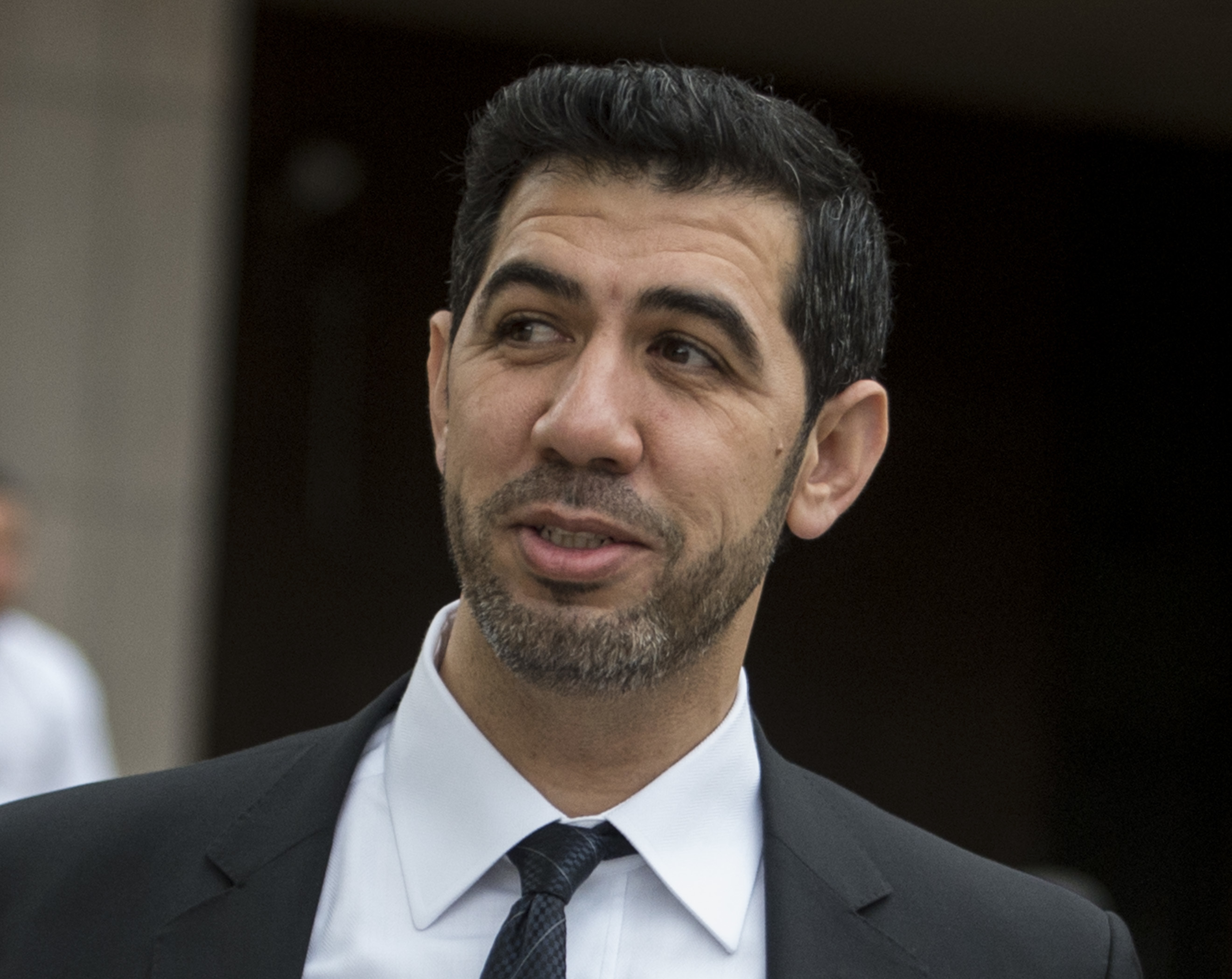 Accepting bribes from Feasterville businessman Mohammad N. Ali, 40, who prosecutors say gave thousands of dollars' worth of gifts to Williams between 2010 and 2015, including an all-expenses-paid Caribbean vacation and a $3,000 custom-built sofa. Although Ali has said he had a "personal relationship" with the top prosecutor, he also has admitted to asking Williams to help him bypass secondary security screening at Philadelphia International Airport and to intervene in a drug case against a disc jockey at a Center City nightclub that Ali patronized. (READ MORE: Who is Mohammad Ali, the businessman who took the DA to Punta Cana? | If benefactor tried to buy leniency, Seth Williams failed to deliver)
Accepting vacations and a used 1997 Jaguar XK-8 convertible from businessman Michael Weiss, owner of the Center City gay bar Woody's, for his help resolving regulatory problems involving the liquor license for Weiss' bar in California. (READ MORE: Owner of iconic gay bar central to case against Philly DA)
Fraud involving using $20,000 designated for his ailing mother's care in a nursing home for personal use. (READ MORE: DA Seth Williams' prime target – his mother's money, feds say)
Defrauding his political action committee, Friends of Seth Williams, by using more than $10,000 in contributions for personal expenses including expensive meals, massages, and facials at the Union League and the Sporting Club at the Bellevue. (READ MORE: Claiming 'Taco Bell' tastes, Philly DA Williams drew questions early on with elaborate campaign spending)
Defrauding a federal anti-crime program and the city of Philadelphia by using vehicles designated for law enforcement for his personal use. (READ MORE: Philly DA faces more federal corruption charges)
What did the defense say? Williams' lawyer has called the government's case "laughable and unprosecutable" and accused prosecutors of attempting to turn violations of city and state ethics laws for which Williams' has already paid into federal crimes. He will argue that the government's accusations of campaign expenditures that have drawn federal scrutiny were perfectly legal under Pennsylvania's lax campaign finance laws. The defense had said it would take less than a week to present its side, but Williams pleaded guilty before the prosecution even finished. (READ MORE: Lawyer blasts case against DA Seth Williams)
Who was expected to testify at trial? Aside from Ali and Weiss, the two men accused of paying Williams' bribes, the government's witness list contains a number of notable names. They include Williams' ex-girlfriend Stacey Cummings, who pleaded guilty last year to slashing the tires on two city-owned vehicles parked outside his house; Patricia Tobin, assistant general manager of the Union League; Williams' predecessor ex-District Attorney Lynne Abraham; First Assistant District Attorney Kathleen Martin; and Ed McCann, who previously held Martin's role before resigning last year. Other employees from the District Attorney's Office may also be called to the witness stand.
What did the jury look like? A jury of 10 women and two men, and four alternates, all women, was impaneled June 19. Just two of the main jurors are African American, but the panel — with jurors from as far away as Lancaster, Lehigh, and Northampton Counties — brings diverse life experiences to the mix. One woman said she worked as a chocolate taster at the Hershey plant. Another woman, a former retail jeweler, described once chasing down and beating a robber before setting him free. The panel includes a juvenile probation officer, a businessman from Chester County, and a Philadelphia cardiac nurse. (READ MORE: Jury selected, Philly DA Seth Williams' federal corruption trial opens Tuesday)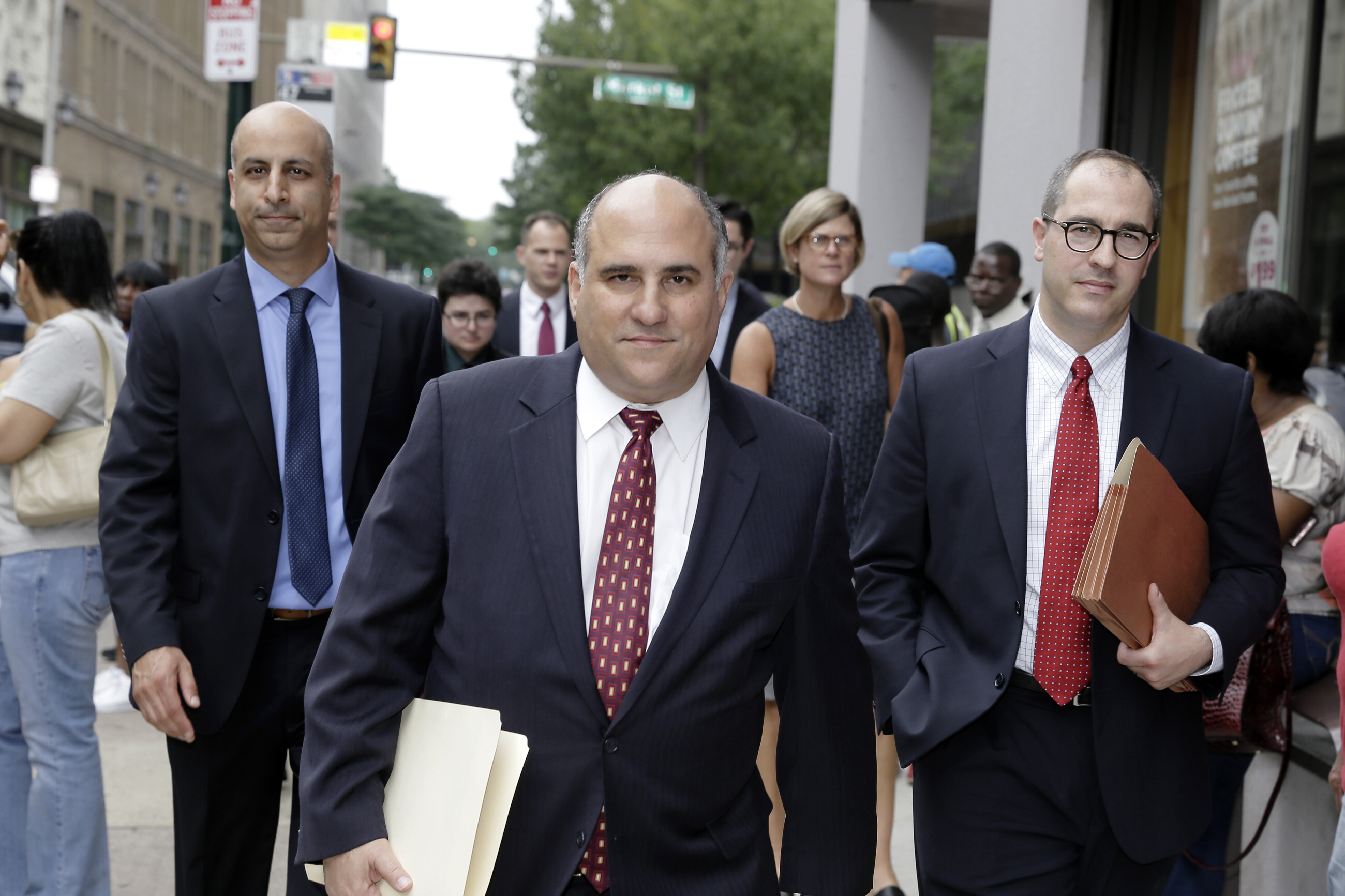 Who are the lawyers? The U.S. Attorney's Office for the District of New Jersey is officially handling the case after the Philadelphia office recused itself for potential conflicts of interest due to the number of cases it has collaborated closely upon with Williams' office and the number of federal prosecutors there who previously worked either for or with Williams at the District Attorney's Office. Still, two members of the prosecution team Robert A. Zauzmer and Vineet Gauri are based in the Philadelphia U.S. Attorney's Office. They are joined by co-counsel Eric Moran and lead FBI case agent Vicki Humphreys. Zauzmer and Humphreys previously led the corruption investigation that convicted state Sen. Vincent J. Fumo in 2009. Williams' lawyer, Thomas R. Burke, first met his client when they worked side-by-side in the District Attorney's Office under Abraham in the 1990s. Though he has primarily defended state-level criminal cases, he signed on to represent his former colleague after two earlier lawyers left the case over concerns about Williams' ability to pay their legal bills.
Who is the judge? U.S. District Judge Paul S. Diamond has had a 12-year career on the federal bench in which he has presided over several high-profile cases. Recently, that list has included a Green Party-backed legal fight for a recount of Pennsylvania's 2016 presidential votes and hundreds of civil cases stemming from the arrest of six Philadelphia narcotics officers accused and later acquitted of planting evidence and shaking down drug dealers. A George W. Bush appointee, Diamond worked in the District Attorney's Office in the late 1970s and early 1980s and served as the treasurer and lawyer for former U.S. Sen. Arlen Specter's failed 1996 presidential campaign.
Keep up with developments in Philadelphia District Attorney Seth Williams' case with our day-by-day recaps and our explainer on everything you need to know about the case.