Market Street collapse
Inquirer exclusive: Basciano under oath
'My dream was shattered'
JARED WHALEN / Staff
The scene of the collapse is now an empty lot. A park memorializing the six killed and 13 injured is planned for that spot.
Richard Basciano, facing a civil trial as the owner of the building that collapsed and killed six people, says he bears no blame. He says the fault lies with others — and with the Salvation Army.
Before June 5, 2013, before his name became linked to death, disaster and business callousness, before scores of people started suing him for all he's worth, Richard Basciano had a plan.
The makeover of Market Street between 21st and 23rd Streets would also be the makeover of the public reputation of Richard Basciano.
No longer would he be remembered as the real estate speculator the New York Times once dubbed that city's "King of Porn," and as one of Philadelphia's most notorious absentee landlords.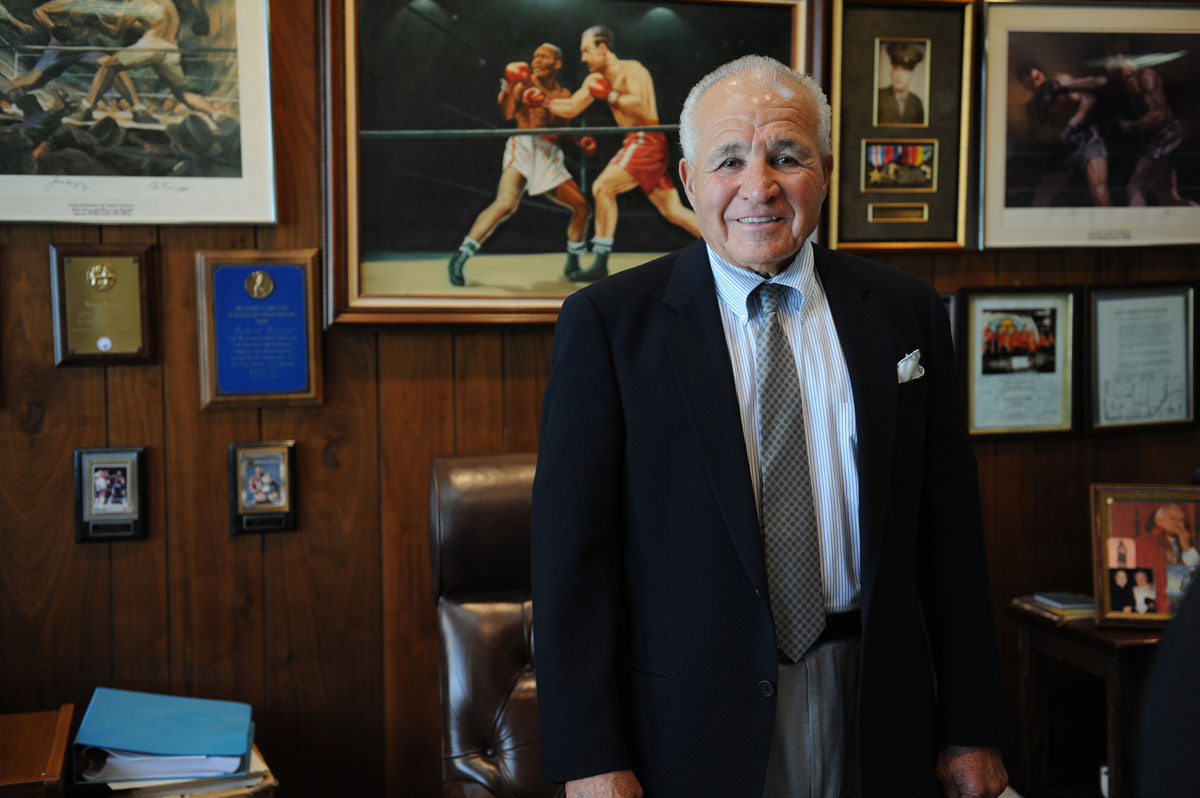 LINDA ROSIER / New York Daily News
Richard Basciano in his office above Show World and the Times Square Comedy Club in December 2012.
Finally, in his 80s, the up-from-nothing multimillionaire would be recognized as the man who, behind the scenes, cleared the path to the vibrant, shining Center City Philadelphia of the 21st century.
Then, an unsupported four-story wall — the last relic of a strip of Basciano buildings in the 2100 block of Market — toppled and crushed the adjacent Salvation Army thrift store, killing six people and injuring 13 others inside.
"My dream was shattered as a result of that terrible accident, where I have tears in my eyes to this day," Basciano said.
"My memory is tainted by the ordeal of all of these problems that's existing today as well as the medical problems. I fought in three major battles in World War II and I've got an impeccable record, but I am hurt by what has happened. I just want to make a point. I'm sorry."
MICHAEL BRYANT / Staff Photographer
An overhead shot of the scene of the 2013 building collapse at 22nd and Market.
That is the Richard Basciano who emerges from hundreds of pages of questioning under oath by lawyers for those killed or injured on June 5, 2013.
He is 90, emotional and rough-spoken, proud and combative, hard of hearing and beset by health problems that he says affect his memory, wealthy enough to own luxury residences in Manhattan, Center City and Florida, but complaining to top associates that he's on the brink of bankruptcy.
He insists he is anguished by the collapse that made many Philadelphians fear walking the sidewalks of Center City.
He is just as adamant that he bears no blame for what happened: "It was an accident."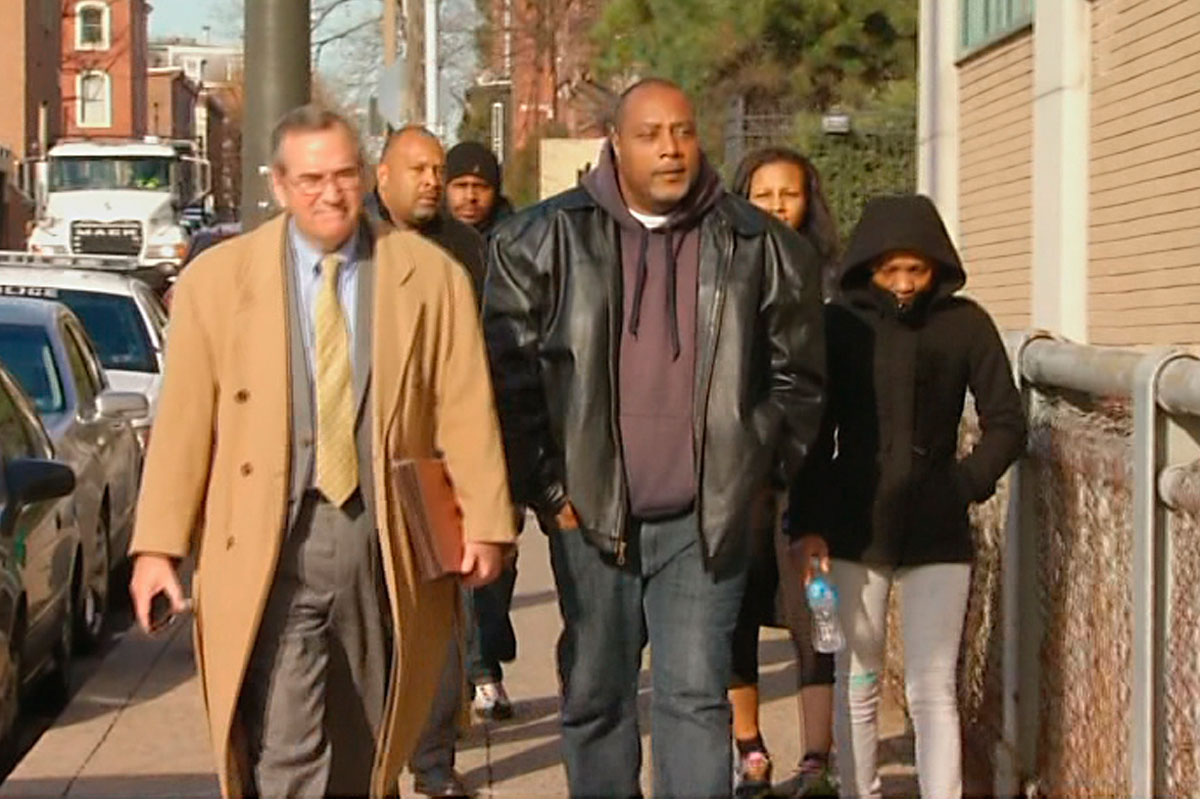 Courtesy of NBC10
Griffin T. Campbell, 49, of Philadelphia, was the contractor hired to raze the buildings.
If anyone is at fault, Basciano says, it is others: his long-time top aide Thomas Simmonds; Plato Marinakos Jr., the Center City architect Simmonds hired to oversee demolition of a series of decrepit Basciano buildings on Market; Griffin Campbell, the inexperienced demolition contractor Marinakos hired to raze the buildings; and, most of all, the Salvation Army.
Basciano said the Salvation Army's intransigent refusal to accept his swap of a building he owned in the 2200 block of Market for the thrift store, and its refusal to give Campbell's workers access to the store's roof, caused the catastrophe.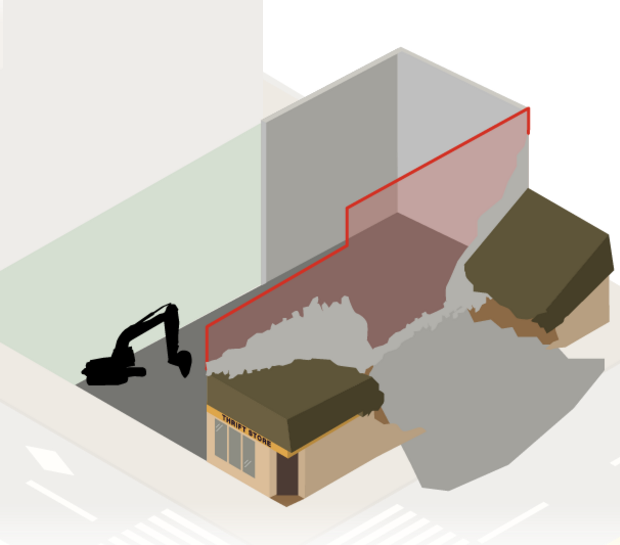 "You would assume, with the millions of dollars they do in retail, and the millions of dollars they made with their business acumen ... that they would take the deal," Basciano said in a deposition last Dec. 16. "If they had taken the deal from the beginning, it wouldn't have caused the terrible tragedy that happened as a result of their noncompliance to a very fair deal."
Depositions are pretrial conferences at which lawyers in civil litigation question potential witnesses under oath as they prepare for trial. They are usually held in law offices or neutral ground — the offices of a certified court-reporting service — and they are rarely public.
As soon as civil lawsuits were filed, lawyers for Basciano, the Salvation Army, and other defendants obtained the promise of all involved that nothing said in depositions would be disclosed to the public before the civil trial, set for Sept. 6 in Common Pleas Court.
"I fought in three major battles in World War II and I've got an impeccable record, but I am hurt by what has happened."
Richard Basciano
Transcripts of four days of Basciano's depositions in December, as well as transcripts of earlier depositions of Simmonds, Basciano's top lieutenant at STB Investments Corp., and former chief financial officer Frank Cresci only became public after they were filed as exhibits in post-trial motions by lawyer William D. Hobson in Campbell's criminal case.
Through one of his lawyers, Thomas A. Sprague, Basciano declined to be interviewed.
"We intend to try this case in the court and not in the press," Sprague said.
Sprague said Hobson's filing of the depositions "violated an agreement among all the attorneys and approved as an order of the court. That agreement was and is important to try to minimize pretrial publicity and to protect everyone's right to a fair trial."
Basciano is famously reclusive and has given few interviews. The depositions are a rare window into Basciano's thinking and the operation of a real estate empire he managed virtually alone.
Though about six to 10 people worked for Basciano in 2013, Cresci said the notion of a corporate structure was illusory: "It's a structure that's flat. There is no pyramid. It's Richard and ... everybody [else] is of equal importance."
It also provides hints at why — to the consternation of some — Basciano was not criminally charged in the deadly collapse. Despite having final say in all decisions affecting STB Investments, Basciano appears insulated from the consequences of his decisions.
At a Jan. 29 hearing, Hobson alleged that Philadelphia prosecutors and Basciano's legal team had reached a "secret deal" to keep Basciano from testifying at Campbell's criminal trial.
Prosecutors and Basciano's attorneys were adamant that there was no such agreement, and Hobson later withdrew the suggestion.
But during the hearing, Assistant District Attorney Jennifer Selber, who prosecuted Campbell with Edward Cameron, said Basciano was not criminally charged because the link between him and the collapse "was too attenuated."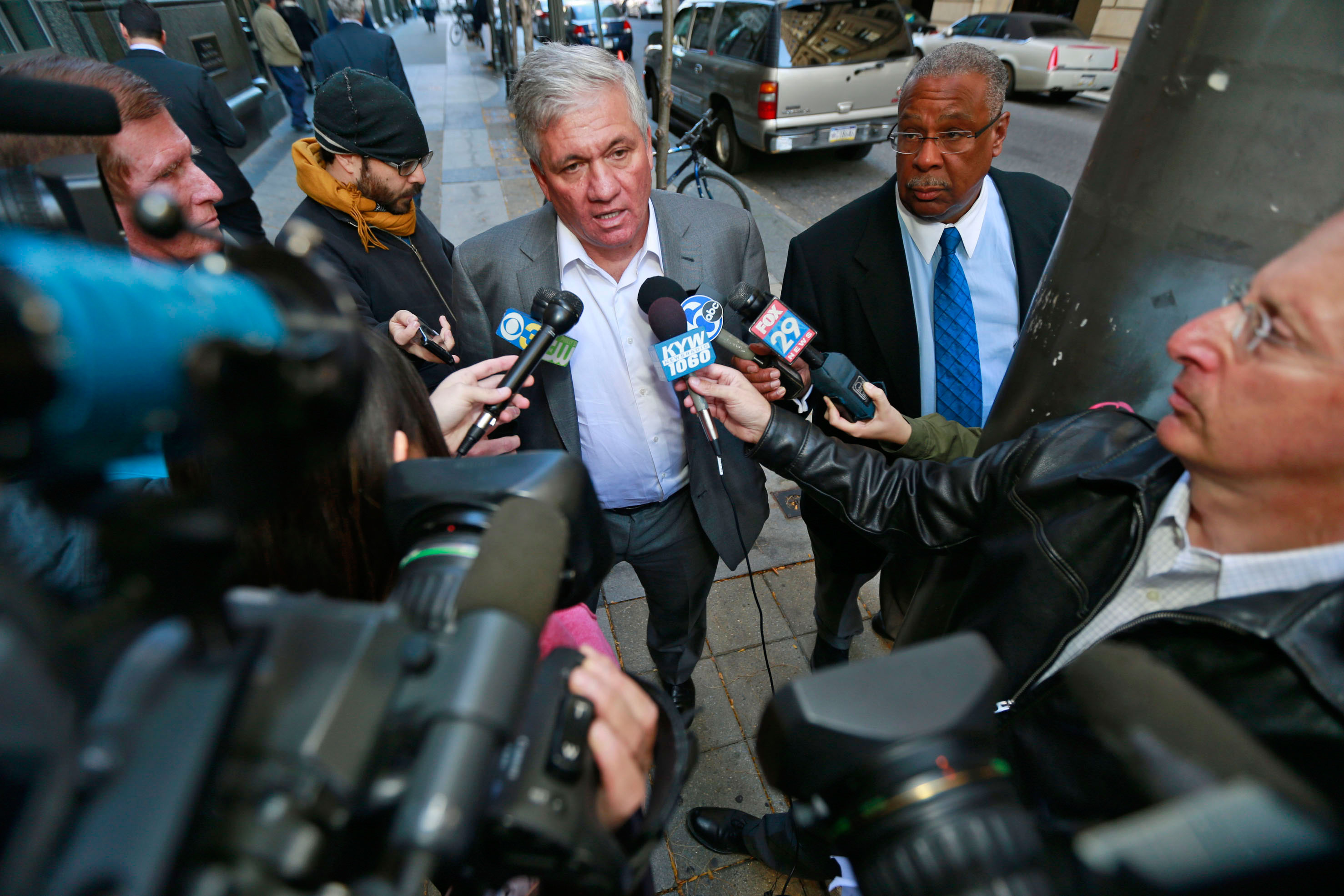 DAVID SWANSON / Staff Photographer
Civil Lawyer Robert Mongeluzzi, representing the families of Anne Bryan and Juanita Harmon, speaks with reporters outside of the Criminal Justice Center after Griffin Campbell was found guilty of involuntary manslaughter October 19, 2015.
Basciano bristled in his Dec. 15 deposition when lawyer Robert J. Mongeluzzi, representing the families of several of those killed, asked if he hired Campbell to demolish the Market Street buildings.
Basciano said Campbell was hired "through the recommendation of the architect," and added, "I approved it."
When Mongeluzzi pressed Basciano about how much he knew about Campbell before he was hired, Basciano retorted: "I want to make it clear, sir, that I relied on Thommy Simmonds, my property manager, that looked into this and he gave me the OK that everything was okay with the people that he selected with my approval."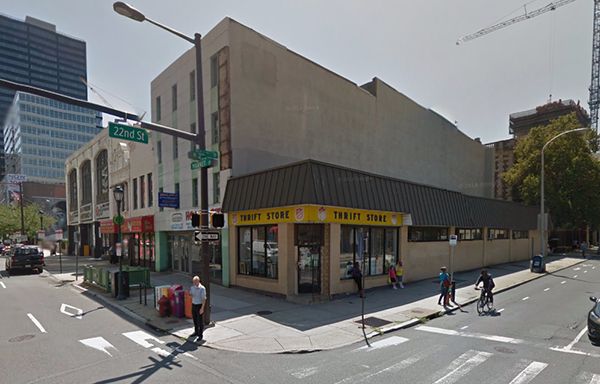 Tour of the scene
Explore the location of the building collapse above.
Click here
to see what the corner of 22nd and Market looked like in 2012 before the incident.
View the 2012 map >
The rationale for trying to blame Richard Basciano for the Salvation Army catastrophe is simple: He owned the properties, he signed off on all the contracts, he had the final say on all work — and he was there at the moment of the collapse.
At 10:41 a.m. on June 5, when the remains of what was once the Hoagie City building fell onto the thrift store, Basciano and his wife, Lois, were in the 2100 block of Market.
What Basciano saw — and he says he saw nothing — is the stuff lawsuits are made of.
The evidence against Basciano comes from Campbell, the inexperienced, small-time Hunting Park demolition contractor recruited by architect Marinakos to clear the 2100 block of a swath of Basciano's buildings.
Campbell, now serving from 15 to 30 years in prison on six counts of involuntary manslaughter and other charges, testified at trial in October that the Bascianos were talking to him as the walls collapsed in front of them.
Campbell said his back was to the demolition site as they spoke. He said he saw Lois Basciano's eyes grow wide with fear, and then she screamed as the wall fell behind him.
In his deposition, Richard Basciano insisted he did not see a thing because he was in the bathroom of his parking garage at 2130 Market when the wall fell.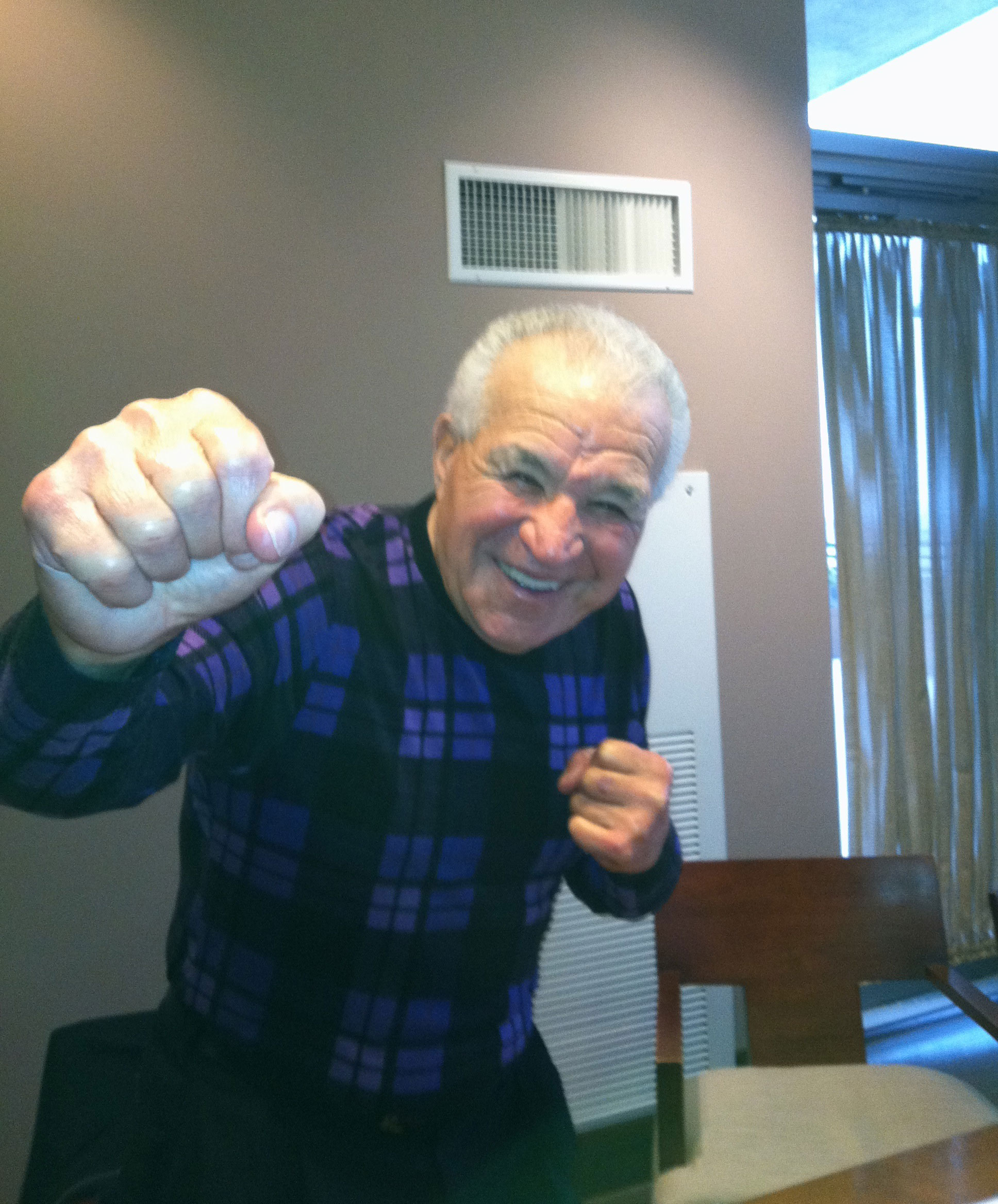 INQUIRER FILE PHOTO
Basciano shadow-boxing in December 2012.
Basciano recalled that on June 5, he awoke at 8 a.m. at his Philadelphia home, on the ninth floor of Symphony House on South Broad Street near the Kimmel Center. The one-time boxer said he "shadow-boxed" at home, and then he and his wife caught a cab about 10 a.m. that dropped them off at 22nd and Ludlow Streets, at the rear entrance of the thrift store.
The couple walked the half-block north and turned right on Market, where Basciano testified they encountered Campbell in front of the remains of the four-story wall.
"He obviously recognized me," Basciano testified. "I didn't recognize him."
Basciano, however, couldn't stay to chat. He testified that he had to find a bathroom and fast: "It was an emergency."
Basciano said he did not even glance at the three- to four-story wall as he walked past or the 36,000-pound yellow Caterpillar excavator that was reportedly picking away at a rear wall of the Hoagie City building.
Basciano told the lawyers he left his wife talking with Campbell, and went inside the garage and into the bathroom. While there, he testified, he did not hear the roar of the wall crushing the thrift store or feel any shaking.
It was only as he exited the garage that she gave him the news: "The building fell."
"I was incapacitated myself. I couldn't help myself rather than help somebody, which I would have loved to do."
Richard Basciano
Basciano testified that he did not look at the collapse site. Instead, the couple walked about six minutes to the Engine 43 firehouse at 2110 Market, where they sat down to rest.
"Did you go and try to help anybody?" asked Mongeluzzi, one of the plaintiffs' lawyers at the deposition.
"I was incapacitated myself," Basciano replied. "I couldn't help myself rather than help somebody, which I would have loved to do."
Basciano had been recovering from knee replacement surgery in February 2013. Complications following the operation kept him hospitalized for two months, and when he was released, he said, the surgery "left me a cripple."
His wife returned to the scene to observe what was happening, Basciano said. When she returned, Basciano said, they left to get to his appointment with an ophthalmologist.
In the Dec. 16 deposition, plaintiffs attorney Steven G. Wigrizer asked why Basciano did not go to see the site after the collapse, to see if Campbell and other demolition workers were OK.
"My wife was very cognizant of my medical problems and was very cognizant in regards to my health and she said, 'Come on, we got to go to the doctor's' and I listened to her," he responded.
In a separate deposition, Lois Basciano supported her husband's version of what happened.
"I remember Lois telling me that she got him out of there as quickly as possible."
Frank Cresci
Cresci later testified that "I remember Lois telling me that she got him out of there as quickly as possible."
Basciano later told plaintiffs lawyer Steven G. Wigrizer that he was under the continuing care of a neurologist because of "concern about the [knee] operation and how it possibly affected my memory, which it has."
Basciano insisted that no one told him that the demolition work had left the Salvation Army building in "imminent danger."
At Campbell's trial, Marinakos testified that when he visited the site the day before the collapse, he was shocked to see the unbraced wall looming above the thrift store. Marinakos said he called Campbell and told him the wall was "imminently dangerous" and had to be down by morning.
Marinakos, however, said he did not pass on his assessment to Basciano, city officials, or the Salvation Army.
"What would you have expected [Marinakos] to have done if he was aware that this wall was imminently dangerous, was crazy and could collapse?" asked Mongeluzzi in the Dec. 15 deposition.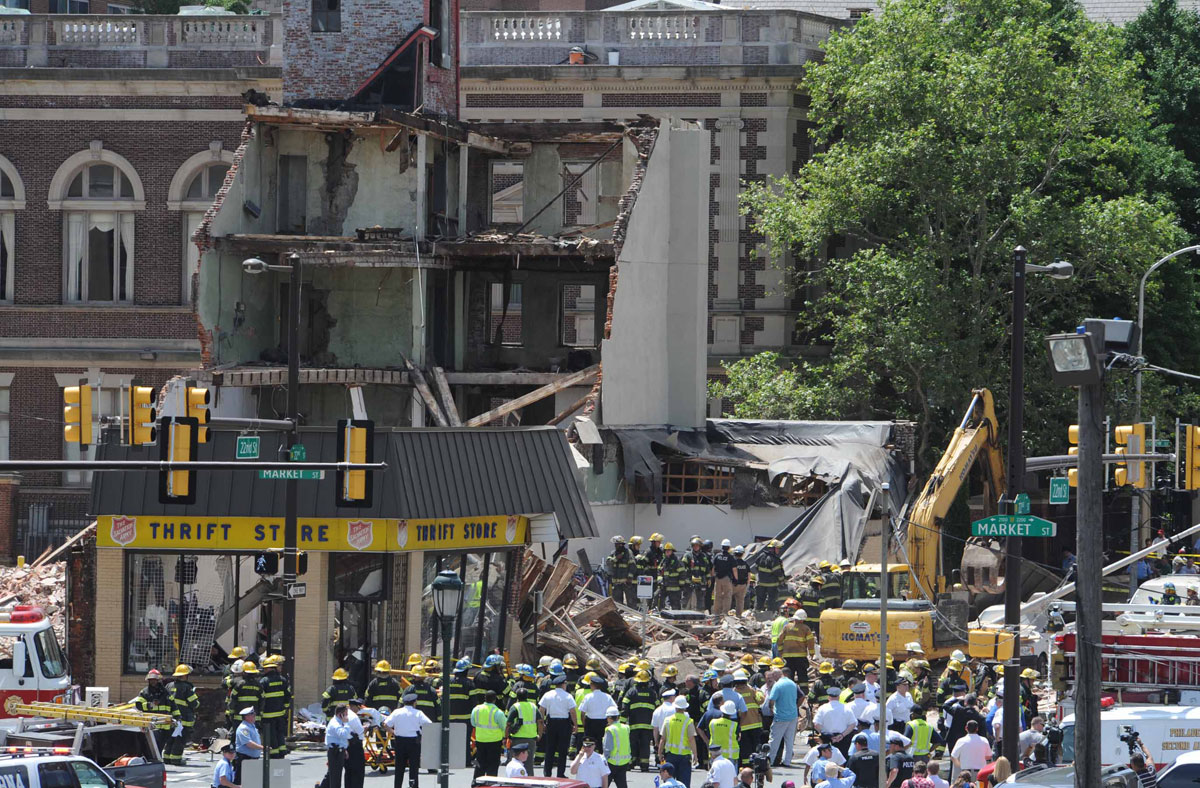 CLEM MURRAY / Staff Photographer
Firefighters and police at the scene.
"I would like for him to be sure that he brought that to my attention," Basciano replied, adding, "I would have been so concerned, if I saw that there was imminent danger, I would have stopped the job."
Basciano liked to keep tabs on his properties, which was likely a reason he and his wife bought the Symphony House apartment in 2009.
In his deposition, Basciano said he visited the Market Street demolition site about four times in the first half of 2013, before the collapse.
"Everything seemed to be going, but not as fast as I would have liked it," Basciano testified.
But the June 5 meeting between Campbell and the Bascianos was coincidence. According to depositions and trial testimony, Basciano rarely met or talked with anyone doing the actual work on his properties.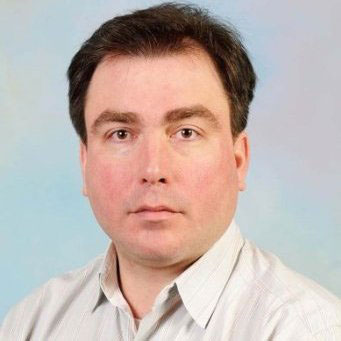 Architect Plato Marinakos.
"Did you ever talk to Plato Marinakos personally?" asked Wigrizer during the Dec. 16 deposition.
"If I did it was very seldom," replied Basciano, who said his architect would have reported to Simmonds.
Basciano said he was introduced to Marinakos by Alex Wolfington, his Philadelphia real estate agent, at an earlier project at Seventh Street and Market.
It was Simmonds whom Basciano regarded as his agent, who was the key link between him and those he needed to run his real estate empire.
But Simmonds was more than that. A native Philadelphian, Simmonds started working for a Basciano company here in 1983, helping to process payroll.
Simmonds, according to his Dec. 1 deposition, wanted to live and work in New York City, and within two years he was there, learning the ropes of property management on the job for Basciano.
"He was like a son to me," Basciano said in a Dec. 18 deposition.
"I know him since he was a kid. His father was a good friend of mine and he's like a part of my family."
The relationship was reminiscent of Basciano's own with the real estate speculator Sam Rappaport. Before his 1994 death, Rappaport was infamous in Philadelphia for buying up distressed properties at key sites on the cheap, and letting them molder until he could sell for a huge profit.
Unlike the relationship with Simmonds, however, Basciano and Rappaport were contemporaries; Basciano was actually older by five years.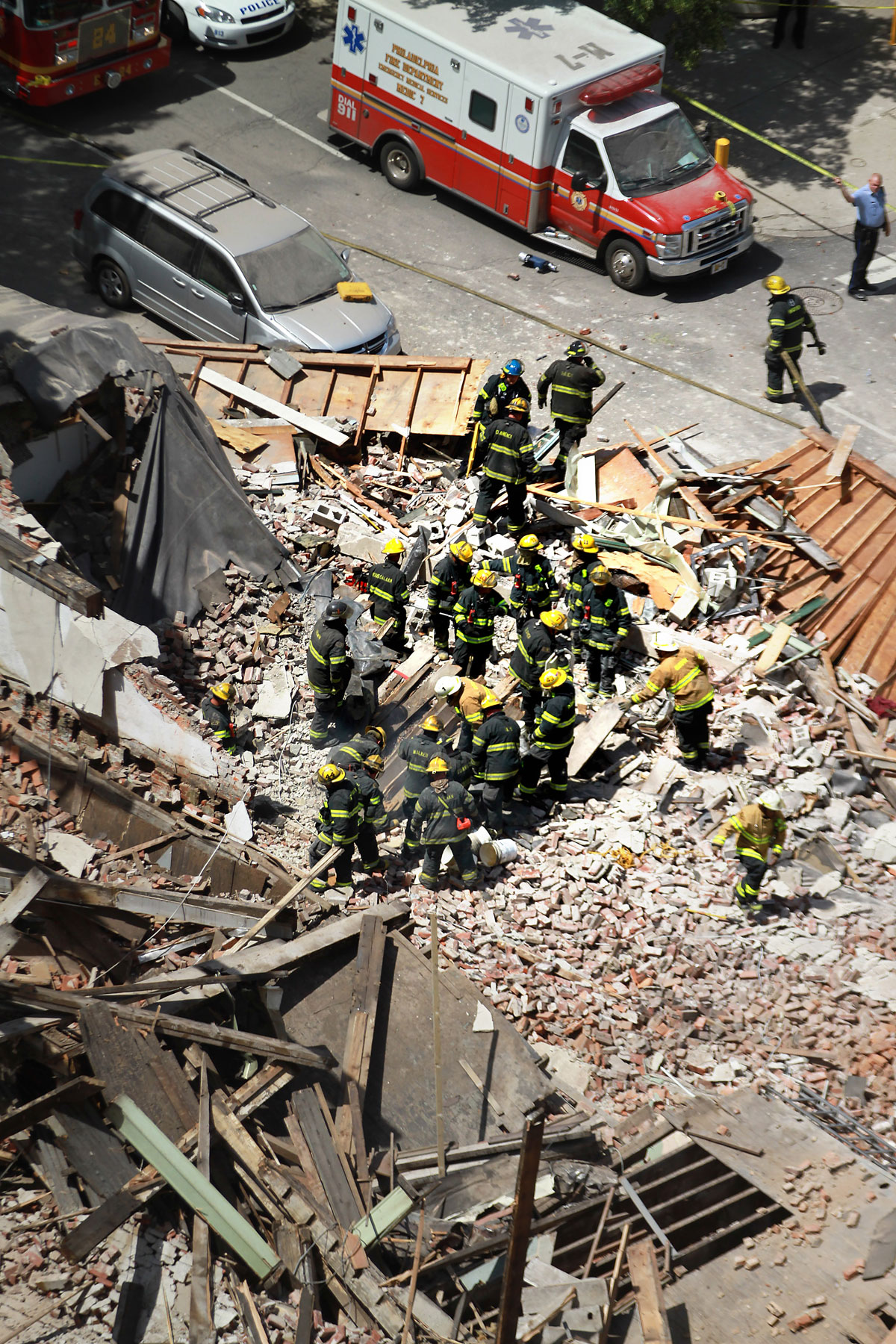 DAVID SWANSON / Staff Photographer
Firefighters remove debris by hand after the collapse.
The two men became business associates and close friends, so close that Rappaport's children referred to Basciano as "Uncle Richie."
When Rappaport died at age 64, his will named Basciano as executor of his estate, and Basciano suddenly became responsible for maintaining and disposing of 52 Rappaport properties in Center City.
Though Basciano's main home was in the tower above what was once his Show World "sex emporium" at 303 W. 42nd St. in Manhattan's Times Square, his role as executor, and his own properties along Market brought him more often to Philadelphia.
By 2013, Simmonds was clearly regarded as Basciano's right-hand man. He lived in an apartment down the hall on the same floor as Basciano's, and his office in Basciano's STB Properties was "around the corner," in a second wing of the same building that fronted on West 43rd Street.
In his deposition, however, Simmonds downplayed his reputation as Basciano's "right-hand man": "I've never used that word to describe myself.... I don't believe in attaching titles like that. I'm his property manager."
Others in Basciano's organization also understood Simmonds' role. In his March 12, 2015, deposition, Cresci told the lawyers, "Thom was clearly the point person in dealing with all the parties here."
If Basciano relied on Simmonds to investigate and vet those he recommended for hiring, Simmonds also appeared to insulate himself.
At his deposition, Simmonds said he recommended hiring Marinakos based solely on the recommendation of Wolfington.
"Perhaps you have the time and/or desire to 'deal' with [the Salvation Army's] idiotic behavior. I don't and I won't."
Thomas Simmonds
Marinakos' contract made him responsible for monitoring the progress of demolition and recommending payments for Campbell. And Campbell's contract, according to trial testimony, gave him sole responsibility for choosing the manner in which he took down the buildings and ensuring the safety of the public.
Regardless of what title others gave him, Simmonds clearly saw his role in the chain of command.
In his Dec. 14 deposition, Simmonds tried to explain a chain of emails to Wolfington in which Simmonds vented his frustration with the Salvation Army negotiations for roof access.
Simmonds called the Salvation Army a "half-baked charity" and wrote to Wolfington: "Perhaps you have the time and/or desire to 'deal' with their idiotic behavior. I don't and I won't. I have to look after the interest of the owners ... Richard and his daughters."
Basciano was a boxer, good enough that in 1988 he was given a special award by the Veteran Boxing Association's Ring 101 in Baltimore.
Baltimore is Basciano's hometown, and in the depositions he comes across as someone proud of his rough climb and sometimes-fractured syntax.
He told the lawyers that he fought in three major batttles in World War II.
After the war, Basciano testified, he took a bricklaying course on the GI Bill and worked in that trade for several years. Basciano said he built his own brick tool shed in Baltimore, and added a brick facade to his home there.
Basciano then got into roofing while working for a Maryland construction company.
"I was so diligent and a hard worker that they made me a foreman in a short period of time because of my ability to motivate men," Basciano said.
Basciano said he didn't buy his first commercial building until 1962, when he was 37. It was the first piece of an empire of 20 to 25 properties in Baltimore, Philadelphia, New York City, and Florida.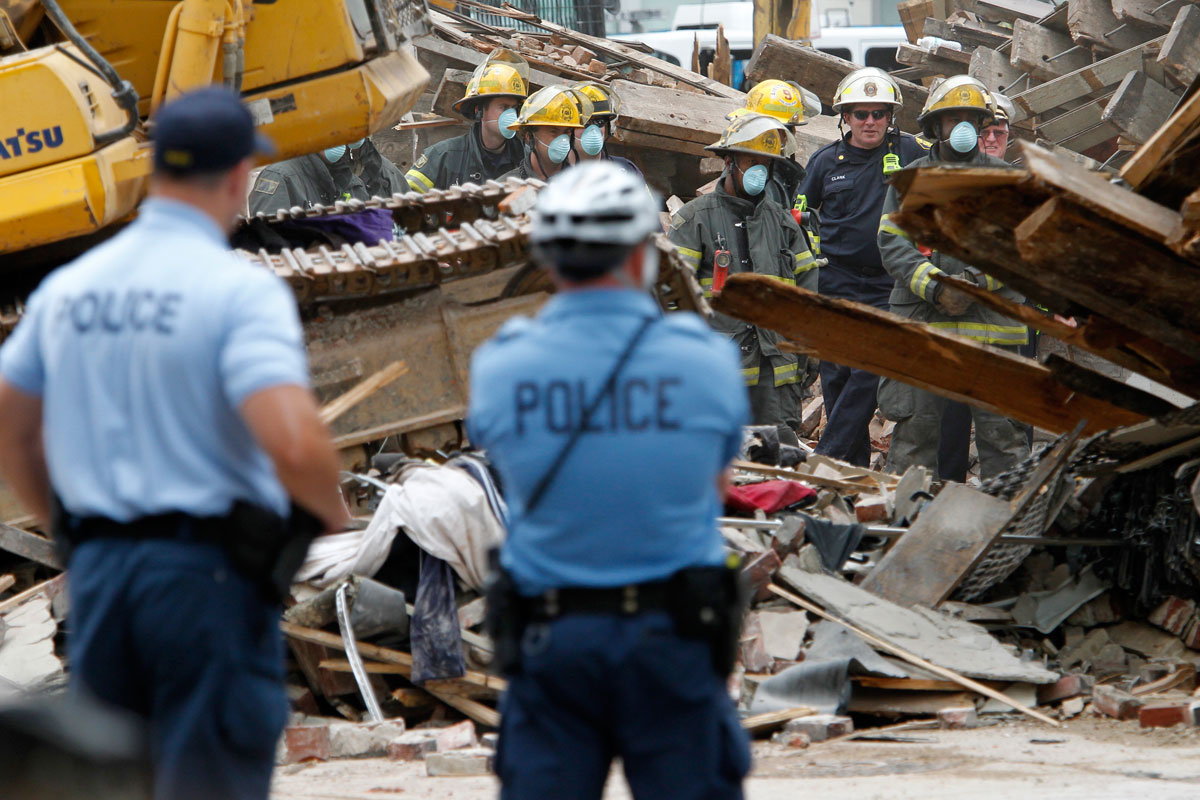 ALEJANDRO A. ALVAREZ / Staff Photographer
Philadelphia police officers watch as a backhoe removes debris from fallen building while firefighters monitor the removal of this debris.
Like Rappaport, Basciano was not a builder. He said he never bought land, only existing buildings that he would use or hold until market value rose enough that he could sell at a good profit.
The Hoagie City building, for example, may have displayed that sign, but it never had a tenant after Basciano bought it in April 1991 for $385,894.
In the early 1960s, Basciano was living in Glen Burnie, Md., with his wife and three daughters. He also dabbled in other businesses, including newspaper distribution in Baltimore.
It was also in the early '60s that Basciano began working in New York City, distributing pornographic magazines among the adult retailers who dominated Times Square.
The business would become the foundation of his fortune.
At some point, Basciano became a business partner of Robert DiBernardo, described in news accounts at the time as the major player in the Times Square pornography trade for almost two decades.
DiBernardo was also involved with organized crime in New York and in 1986 was shot to death, purportedly on orders of crime boss John Gotti.
In one of Basciano's rare interviews — with the New York Daily News in 2008 — he said he was surprised by his late partner's ties to organized crime.
DiBernardo's death left a vacuum that Basciano more than filled. He created Show World, the 16,700-square-foot "sex emporium." The place was deplored by Times Square reformers but earned the grudging respect of one city official for its efficiency and cleanliness: "the McDonald's of the whole sex industry."
Basciano also invested in valuable Manhattan real estate.
Basciano's move into Philadelphia's commercial real estate market appears to have coincided with the death of Rappaport in 1994, when Basciano was named executor and spent more time here settling the estate.
It wasn't easy, and eventually led to a falling out between him and Rappaport's family. The family sued in 2000, accusing Basciano of charging excessive fees for his services and holding back proceeds from some sales.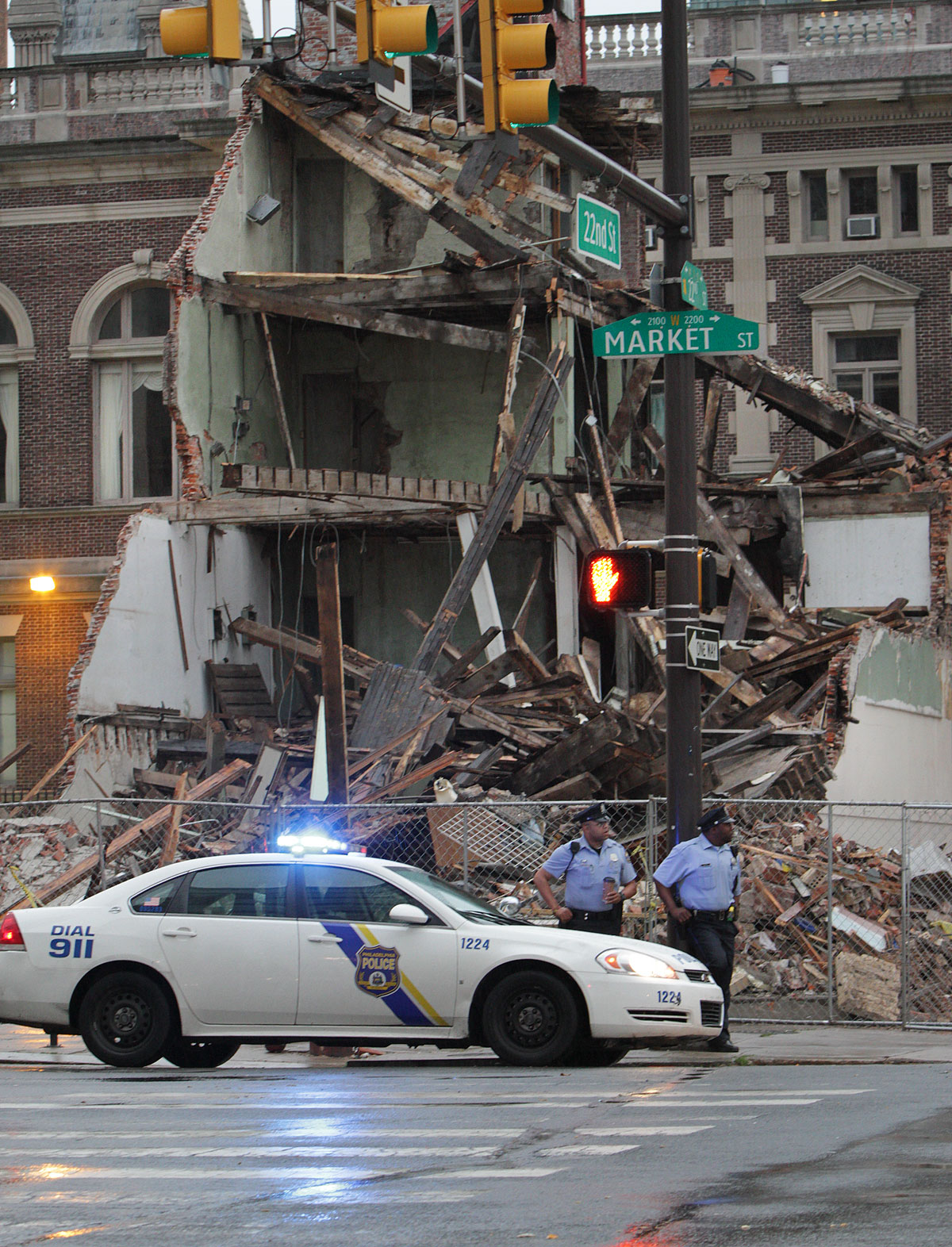 STEVEN M. FALK / Staff Photographer
The scene of the building collapse.
In 2010, a Bucks County judge ordered Basciano to reimburse Rappaport's heirs $10 million, but after three years of appeals, Basciano and his wife paid $571,000 to settle the case.
According to the depositions, the court fight involving Rappaport's estate was expensive and time-consuming for Basciano.
In New York City, the long municipal campaign to clean up Times Square had taken its toll on Basciano's porn empire. Show World stopped featuring live women in 1998, and in 2004 it was replaced by the family-friendly Times Scare, a mix of haunted house, virtual entertainment, live theater, and bars.
In December 2012, Basciano announced plans to raze his seedy strip of Market Street adult theaters, porn shops, and empty buildings, and try to partner with a developer to create a residential tower and complex of retail and commercial space.
Although no developer was named as Basciano's partner, demolition began and continued through June 5, 2013, when the last remaining wall of a Basciano building towered unbraced above the squat, one-story Salvation Army thrift shop.
Today, Basciano bemoans the destruction of his plans to remake his stretch of Market into "the gateway to Center City."
Basciano testified that city officials knew what he was up against with the Salvation Army and supported what he wanted to accomplish.
"I had a very good record with the city, what I had accomplished in the Rappaport estate, where I got rid of all of the blight that was left by Sam Rappaport," Basciano told the lawyers at the Dec. 18 deposition.
"They were very pleased in regards to the efforts of redeveloping that whole block," Basciano testified, referring to his Market Street holdings.
Basciano said he had several meetings with Alan Greenberger, a deputy mayor for redevelopment in the Nutter administration, to resolve the stalemate with the Salvation Army.
Simmonds, according to emails made part of the depositions, repeatedly complained to Greenberger about the Salvation Army.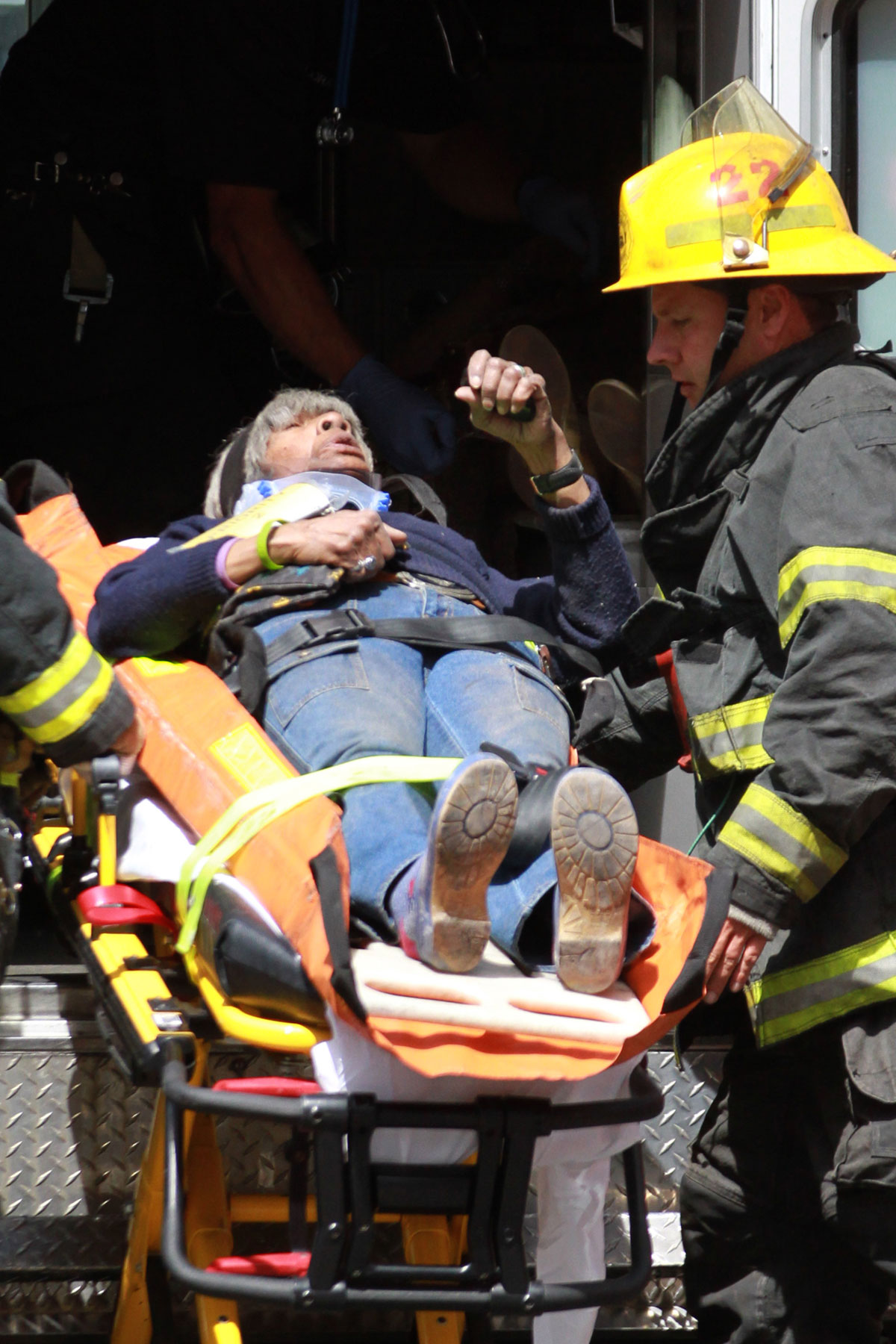 DAVID SWANSON / Staff Photographer
Firefighters carry away the injured from the collapse.
"Is there anything at all you can do to enable us to complete our demolition ... in a professional, legal manner without having to deal with such unprofessional — and clearly uncaring — people who claim to be on a charitable mission?" Simmonds asked in a May 22, 2013, email to Greenberger. "This nonsense must end before someone is seriously injured or worse: Those are headlines none of us want to read or see."
In his deposition, Simmonds maintained that he did not actually believe that the demolition impasse posed a life-threatening hazard. He said he was merely trying to get Greenberger to help.
Greenberger has said that he never acted on Simmonds email because, just 36 minutes later, he got another e-mail from Wolfington that he said reassured him that an agreement with the Salvation Army was close to resolution.
Basciano also said he counted former Gov. and Mayor Ed Rendell as a "good friend" who thanked him for "getting rid of all the blight."
"He made the statement, which I will take to my grave that I was so proud, 'You've done more for the city than any single individual and I just want to acknowledge that,'" Basciano testified. "I will never forget that."
In a brief telephone interview, Rendell chuckled and said, "That's a little bit of an exaggeration."
However, he praised Basciano's work for charities in Philadelphia and New York, and his role in cleaning up and redeveloping those decrepit properties as executor of the Rappaport estate.
After the collapse, Basciano began selling his portfolio of Philadelphia properties. By last July, they were all gone, and Basciano was more than $41 million richer.
The site of the Hoagie City building, which Basciano sold for $16.6 million along with his other Market Street properties, is on its way to becoming a surface parking lot.
The plot where the Salvation Army thrift store stood will become a park memorializing the six killed and 13 injured.
jslobodzian@phillynews.com, 215-854-2985, @joeslobo, www.philly.com/crimeandpunishment
Special Reports
RecircHere