UPDATE: Tamira Horton, 5, was found unharmed, police said in an update shortly after 1 p.m. Sunday. Authorities also located the child's mother, Lakisha, and a friend of the babysitter in whose care Tamira was left before she was reported missing.
There was no word Sunday afternoon on whether charges would be filed. An investigation remained ongoing with Northwest Detectives.
ORIGINAL STORY: Police are looking for a 5-year-old girl reported missing after she was left with a friend of her babysitter in the Swampoodle section of North Philadelphia. Authorities are also searching for the child's mother, whom they've been unable to contact since the report was filed.
Officers were called to a second-floor apartment on the 2800 block of North 22nd Street shortly before 2 a.m. Sunday, police said.
They were met by the babysitter of Tamira Horton, 5, who told investigators she had last seen the child at the home around 2:30 p.m. Saturday.
The babysitter, 55, had gone to pick up school supplies and left the child with a friend, Kendra, she told police.
When the babysitter returned around 4 p.m., both Kendra and Tamira were gone, she said.
The babysitter tried unsuccessfully to find Kendra on the streets, police said. She also tried to get in touch with Tamira's mother, Lakisha Horton, 27, but was unable to contact her, according to investigators.
Police are looking for Tamira Horton, Lakisha Horton, and Kendra, whose last name was not disclosed.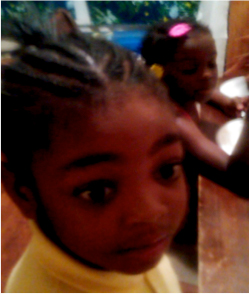 Tamira Horton, 5.
Tamira is about 4 feet tall and 45 to 52 pounds, with braided black hair worn high on her head in a white wrap. She goes by the nicknames "Momma" and "Amera" and was last seen wearing a pink shirt, light blue jeans with a flower on the pant leg, and brown sandals, police said.
Kendra is described as a 52-year-old black female, about 5 feet 1 and 129 pounds, with a gold tooth and gray and black hair worn parted in the front. She might live in the Olney area and she has a speech problem, police said. Kendra was last seen wearing a black-and-white #29 jersey with her stomach showing.
Anyone with information on the whereabouts of Tamira, Kendra, or Lakisha is urged to contact Northwest Detectives at 215-686-3352 or 3353, or to call 911.
---
Contact Alex Wigglesworth at 215-854-2305 or AWigglesworth@philly.com. Follow @phila_lex on Twitter.
Contact the Breaking News Desk at 215-854-2443 or BreakingNewsDesk@philly.com. Follow @phillydotcom on Twitter.