Yellow crime scene tape, evidence markers and dead bodies wrapped in sheets are constants in some of Philadelphia's neighborhoods — where families look for ways to escape and many children grow up believing their days are numbered. With the city in the middle of its deadliest year since 2007 — the murder rate is up 23 percent over this time last year — Daily News reporters Morgan Zalot and Phillip Lucas explore the insidious effect that homicides have on families and communities, and detail the police department's struggle to deal with the root causes of the violence that has claimed a life every 24 hours and 10 minutes, on average, this year.
"Young men talk about not expecting to live past 25, and it shapes their behavior in all kinds of damaging ways."
2012 shaping up to be Philadelphia's deadliest in years
In a city with a murder rate up 23 percent over 2011, it's everyone's problem. Police say the violence in the neighborhoods is so commonplace, residents are too desensitized to take a stand. In a one-square mile area of Grays Ferry, three people - including an innocent mother of 3 - have been killed, and seven others - including a pregnant woman- have been injured in shootings this year. They've put the neighborhood on constant edge.
"I hope that I can get myself up out of here and get on with my life."
Prisoner to the grief of son's slaying
A Germantown mother and grandmother still watch their front door, hoping that their slain son/grandson will walk through. The city's murder epidemic has taken a rough toll on famillies in the city.
DEADLY NEIGHBORHOOD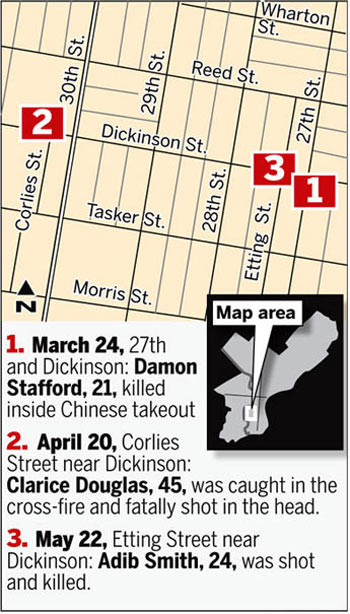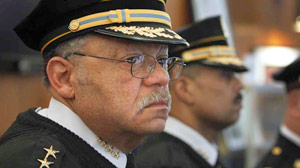 "This isn't 'What's the new strategy that's gonna somehow turn it around?' Hell, if we knew that, we'd have done it already...."
Commissioner Charles Ramsey
Police at a loss to explain violence spike
The police have run out of reasons for why the city's murder rate is up nearly 24 percent this year. What they're doing to try to put an end to the madness.
No easy solutions
What needs to be done to stop the murder epidemic? Bullet point tips from community members, experts, and police.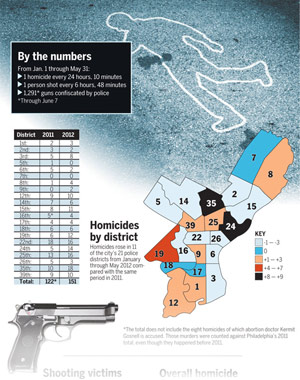 Since Jan. 1, 2012, there has been 1 homicide every 24 hours, 10 minutes. Here's more figures from a violent 2012 in Philadelphia.
ENLARGE