UPDATE: OCT. 3, 2012
"When you have these vehicles running around in here, it not only ruins it for the park visitors, but it degrades the ecosystem...."
Off-road to ruin at city park
Dirt bikes and ATVs are destroying Philadelphia's Tacony Creek Park. Visit on a weekend and you hear the roar of dozens of the vehicles.
A $10M park for ATVers
Officials in Northumberland County in upstate Pennsylvania are rolling out a 6,500-acre, boulder-strewn welcome mat for off-road enthusiasts. See video below.
More arrests vowed
Cops say ATV raid on Sunday was taste of the future.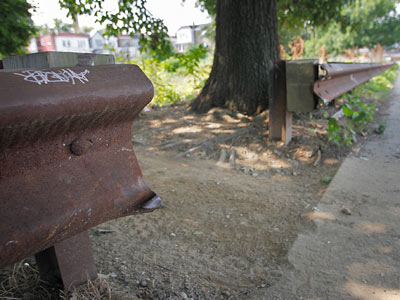 One industrious rider sawed an ATV-wide hole in a guardrail to gain entry to Tacony Creek Park. Click to see
more photos
. (Alejandro A. Alvarez / Staff Photographer)