Philly cop booted from force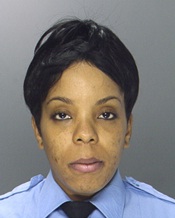 Philly Police Officer Robbi Huff, who was arrested in Cheltenham Township last week, was dismissed on Monday, a police official said.
Philly cop booted from force

Robbi Huff, a veteran Philadelphia police officer who was locked up in Cheltenham Township last week, was suspended with the intent to dismiss on Monday.
Police spokesman Lt. John Stanford confirmed Huff's dismissal today.
The Daily News reported on Saturday that Huff, 35, was arrested March 13 when Cheltenham Township cops were called to her boyfriend's house on Abroretum Road near Rock Creek Drive for a reported domestic dispute.
Cheltenham Township Police Chief John Norris said Huff was "out of control" at the scene, and that her boyfriend had "visible injuries to his face."
She was charged with simple assault and resisting arrest, and is expected to face a preliminary hearing in Montgomery County District Court next week, Norris said.
Huff was arrested at the same location in the 2012, following another alleged domestic dispute.
She was expected to face a hearing before the Police Board of Inquiry on Monday because of the 2012 arrest.
Huff was previously assigned to Highway Patrol, where she served as Richard DeCoatsworth's partner. DeCoatsworth is facing serious legal troubles of his own.