The Perseid meteor shower is one of stargazers' most trusted annual events, a light show that rarely disappoints and is very visible.
And early Wednesday morning, those ambitious enough and rested enough to head out at 2 a.m. to a dark field or backyard will be treated to fiery rocks streaming across the sky.
(Update: In the greater Philadelphia area, weather forecasts are currently deeming it nearly certain that stormy weather will block out the Perseids from our view Wednesday morning.)
NASA estimates the best viewing time for people across the United States will be 3 to 4 a.m. (whatever your time zone). But the way to truly appreciate the atmospheric marvel is to get to a dark spot — away from city lights, in particular — and give your eyes 45 minutes to get used to the darkness.
For night owls who won't be able to get outside, NASA will provide a view of the action with live-stream video of the skies over Marshall Space Flight Center in Huntsville, Ala., at its website here.
"Despite a bright moon, there should still be a good show from this prolific shower. Projected peak rates are 30-40 meteors/hour," NASA said on its website. "Those with sharp eyes will see that the meteors radiate from the direction of the constellation Perseus."
This is a view of how the meteor shower spread across the sky in 2012: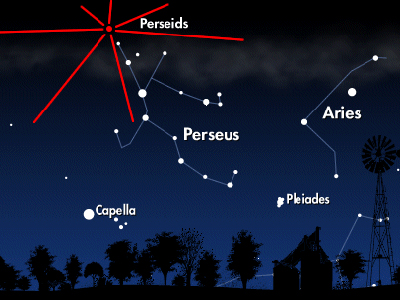 ---
Contact Brian X. McCrone at 215-854-2267 or bmccrone@philly.com. Follow @brianxmccrone on Twitter.
Contact the Breaking News Desk at 215-854-2443; BreakingNewsDesk@philly.com. Follow @phillynews on Twitter.