CAPTURED
The final days

of the Poconos manhunt
AP Photo / Pennsylvania State Police, STEVEN M. FALK / Staff Photographer
After seven weeks as a fugitive, alleged cop-killer Eric Frein has been arrested. A community that was feeling stressed as the search dragged on can now return to normal -- starting with Halloween.
It felt like the trail had gone cold in the Pocono Mountains, and the townspeople were starting to grumble.
Nearly seven weeks into the massive manhunt for alleged cop-killer Eric Frein, state and federal law-enforcement in northeastern Pennsylvania were conducting roving patrols in four townships spanning 134 square miles — roughly the size of Philadelphia.
Everyone had a theory about Frein's whereabouts, from the local bar-stool fixture to your cable guy.
Maybe he's in an underground bunker. Or he's dead. A friend picked him up. He's heading south on the Appalachian Trail. He's in a bear den. Or an abandoned ski lodge.
"You run through all the scenarios in your head, but it's anybody's guess right now. That's what makes it frustrating," a state trooper said during a woods patrol in Paradise Township Monday afternoon. "But we have to keep at it now. Can't let up."
Three days later — and only three miles away — Frein was taken into custody for allegedly murdering Cpl. Bryon Dickson and seriously wounding Trooper Alex Douglass on Sept. 12 with a .308-caliber sniper rifle outside the Blooming Grove State Police barracks.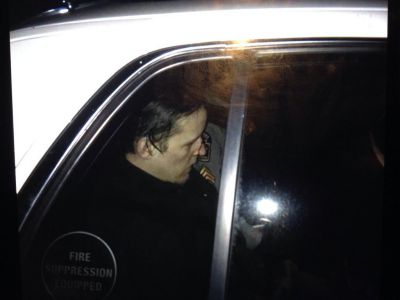 Eric Frein, in custody. (Photo: Twitter)
U.S. marshals finally snagged him yesterday near an abandoned airplane hangar. He was reportedly unarmed at the time.
"He did not just give up because he was tired," state police Commissioner Frank Noonan said. "He gave up because he was caught."
Prosecutors will seek the death penalty, authorities said.
One of the first photos to surface showed him sitting in the back of a cruiser with a bloody gash over the bridge of his nose.
It's a deeply satisfying photo.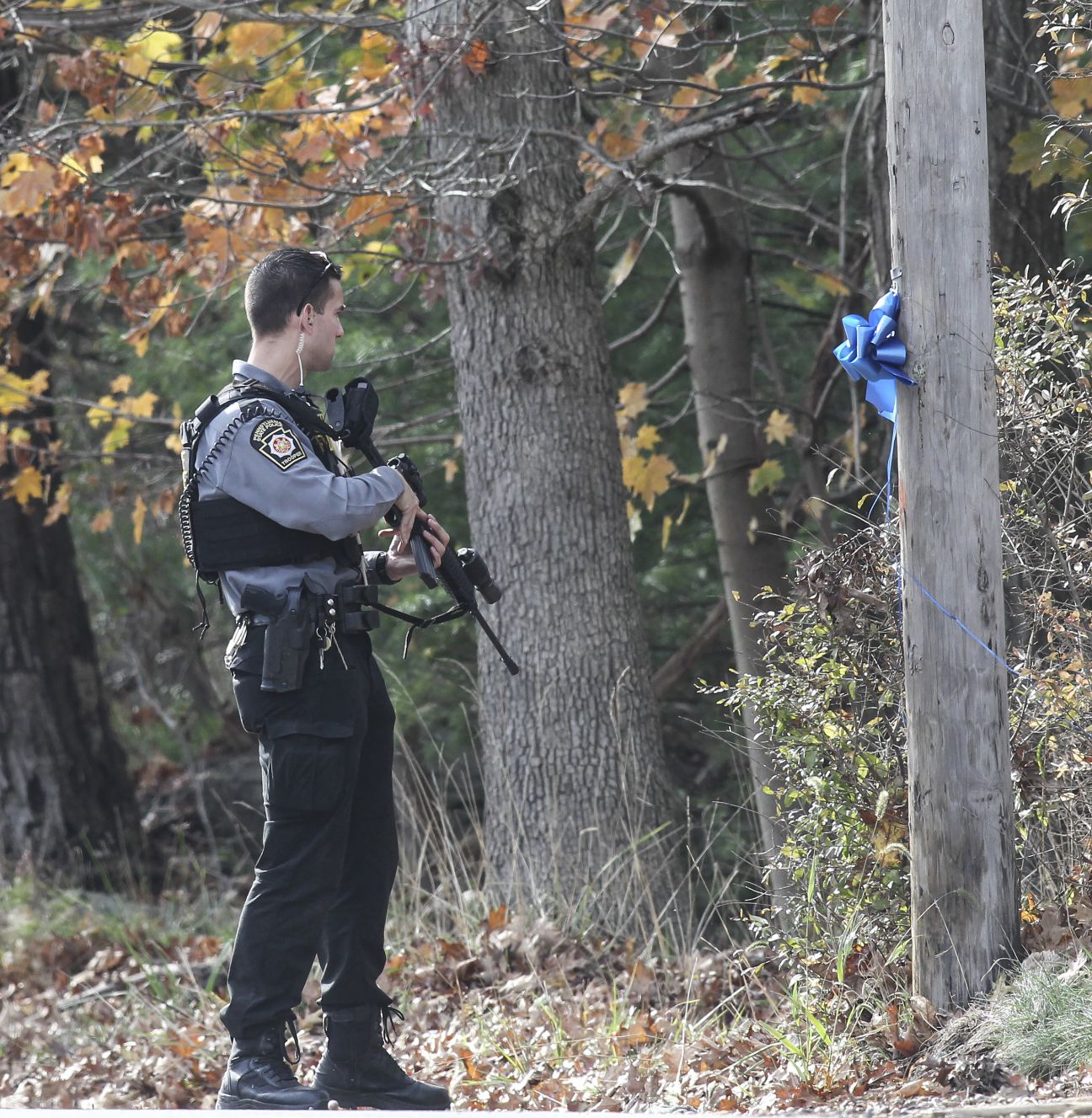 STEVEN M. FALK / Staff Photographer
A trooper stands near a Blue Ribbon, a show of support for law enforcement.
Frein, 31, is a chain-smoking survivalist from Canadensis with a highly punchable face like Eli Manning's. But, unlike the New York Giants quarterback, no one had been able to get his hands on the guy until last night.
He'd landed on the FBI's Top Ten Most Wanted list within a week of the ambush at the police barracks and had managed to elude a search team that, at its peak, involved about 1,000 law-enforcement officers.
The FBI, U.S. Marshals, Bureau of Alcohol, Tobacco, Firearms and Explosives, U.S. Customs and Border Protection, and a small army of local cops and state police from Pennsylvania, New Jersey, New York and Connecticut were all called in.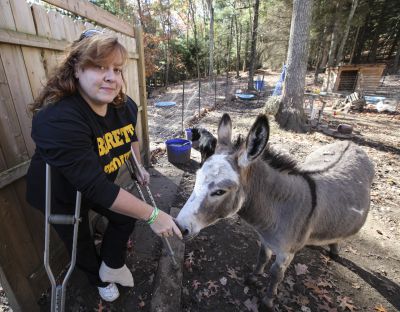 Joyce Aleckna (STEVEN M. FALK / Staff Photographer)
They used helicopters, surveillance planes, armored personnel carriers, thermal imaging cameras, a tethered balloon and a 6-ton tactical vehicle with robotic video cameras called The Rook. Even K-9 units from the Philadelphia Police Department, SEPTA Transit Police and Temple University had joined in the search.
"He's pretty sharp," a state trooper admitted on Monday. "He's a coward, but he's intelligent."
After 48 days, they finally got him.
"Thank God. We can go back to life without having to look over your shoulder," said Joyce Aleckna, a school-bus driver and former corrections officer who lives near Frein's parents' home in Canadensis. "They gotta fry the f----r."
Aleckna, 46, had seen so many cops searching around her property that she put a porta-potty on her front lawn. The sign at the base of her driveway says "LEO potty," for law-enforcement officers. They'd pull up in the middle of the night with their car lights off to take a leak.
"It was 48 days of ridiculous," she said.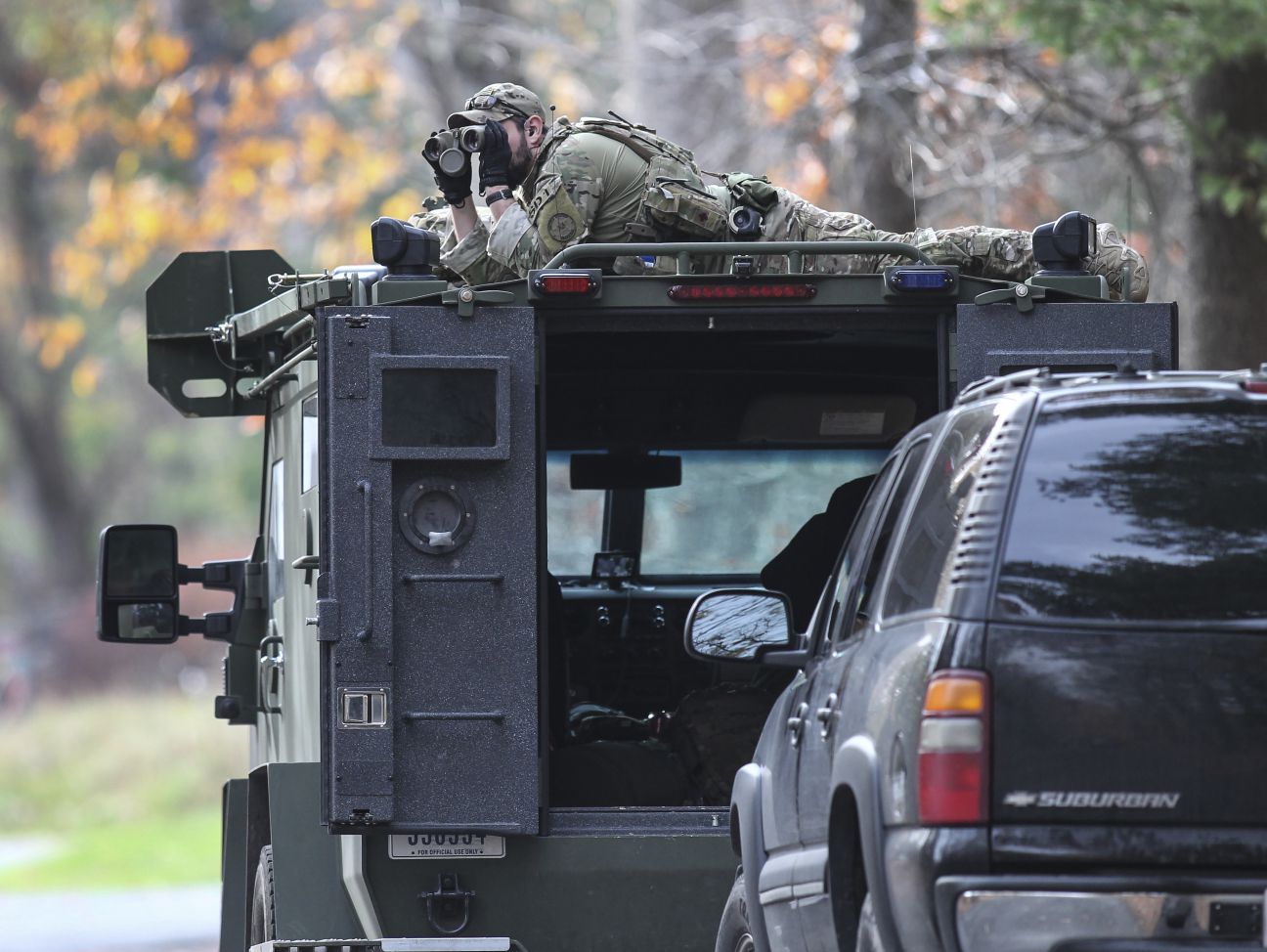 STEVEN M. FALK / Staff Photographer
A US Marshal scans the woods in the area of State Road 390 in Barrett Township.
Frein's arrest came as some Poconos residents were reaching their breaking point.
Schools had been closed intermittently. Home football games became away games. Practices were moved off-site.
The shelter-in-place restrictions had been lifted and the checkpoints were gone, but so was Halloween — they thought. Barrett Township's 50th annual Halloween parade was canceled. It had been scheduled for last Sunday and normally draws thousands of people.
Trick-or-treating had also been banned while Frein was on the loose, but Barrett Township supervisors began spreading the word last night that Halloween had been saved as a result of his arrest.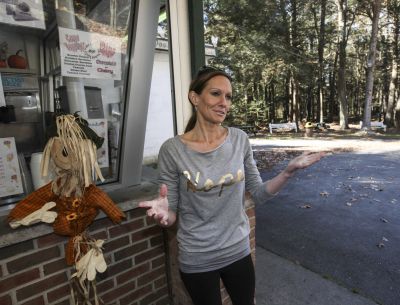 Michele Hooey (STEVEN M. FALK / Staff Photographer)
People were calling him all different names. Coward. The kid. Waldo Frein. The wilderness ninja. "Diaper sniper" made the rounds after cops found used diapers in the woods.
"If he grew up in the woods and planned this for a while, I guess he can outsmart them," Michele Hooey, owner of Maryann's Dairy Bar, said on Monday.
Business has been down at Hooey's roadside stand in Analomink, where out-of-town leaf peepers eat ice-cream cones on benches surrounded by thick mats of fallen pine needles. This year, though, foliage-season tourists were spooked by Frein — and the cops who were chasing him.
"It was like a war zone. They were all over, guns drawn, vests on," Hooey said, recalling the state and federal officers who descended on her parking lot earlier in the search. "There are so many of them here."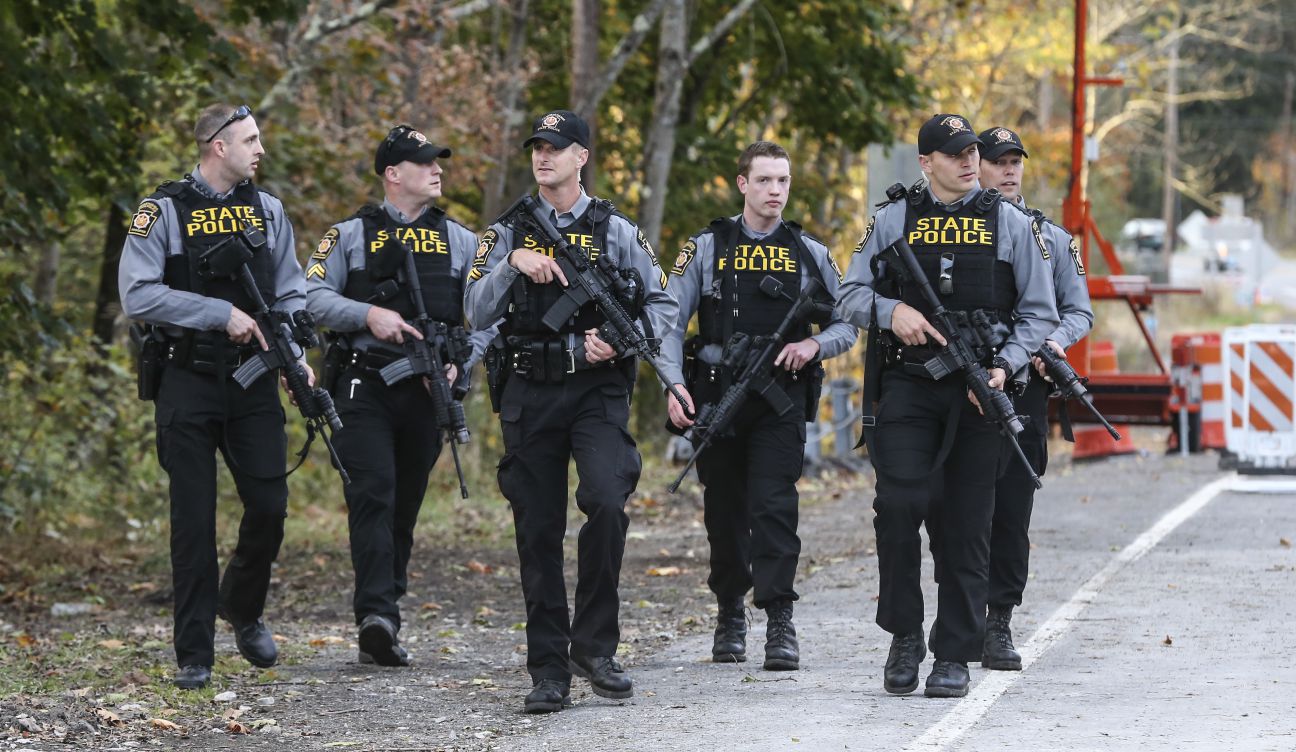 STEVEN M. FALK / Staff Photographer
Some members of Philadelphia Troop K search around Paradise Creek on Route 191.
Police had resorted to some unusual measures in their attempt to find Frein, including a white Mylar balloon that was sent into the sky above the Alpine Mountain Ski & Ride Center on Monday morning. Slightly misshapen, it resembled a giant molar tethered by dental floss. Or a shapely butt. Or a "Peanuts" character.
The Ohio Department of Transportation had donated the "experimental device" to assist in the search, said Trooper Tom Kelly. Deployed from a trailer-mounted box, it's similar to a weather balloon, but outfitted with cameras that can spot a person up to three miles away.
"We are utilizing many types of technology in this search for Eric Frein," Kelly said in an email.
Aerial reconnaissance had officially come full circle in America, with the Frein manhunt employing a modern-day version of a battlefield surveillance technique that can be traced back to the Civil War. The French were using military balloons even earlier.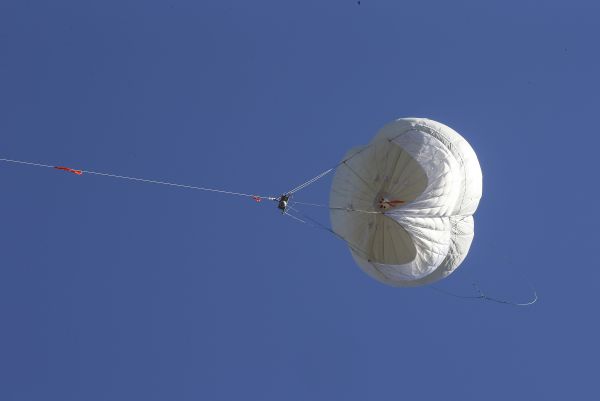 STEVEN M. FALK / Staff Photographer
Cops on the ground didn't know what to make of the $180,000 molar/butt/balloon hovering overhead.
"We call it Snoopy One," a state trooper deadpanned, as he waited for a search crew to return from a roving patrol in the woods.
By Tuesday, the "blimp in a box" was packed up and headed back to Ohio.
"Due to the tree canopy and rugged terrain of our search area the balloon was not as helpful as everyone hoped it would be," Kelly said.
When the leaves are turning, people drive up here from Philly just to look around. Wild turkeys cross winding roads. Hunting cabins and trailers are tucked into vivid forests. Everything is far away and there are unlimited places to hide.
People who don't understand how one man dodged hundreds of law-enforcement officers don't know the terrain, said Fred Winkler, a Delaware County native who has been hunting the woods of Pike and Monroe counties since he was a kid.
Rock ledges, dense plant life, bear dens, swamps that will steal your boot. Long-distance shooting is nearly impossible.
"It kicks your ass. You're fighting your way all the way through. Believe me, it's real easy to go in there and get lost."
Fred Winkler
"It kicks your ass. You're fighting your way all the way through," said Winkler, 54, a painter who now lives in Newfoundland, about 10 miles north of Canadensis. "Believe me, it's real easy to go in there and get lost."
Winkler said he's gone hunting with friends and they've been unable to spot each other 15 yards away.
"We'll talk to each other, but we can't see each other. That's how thick it is there," he said. "Then you step on something, put all your weight on it, next thing you know you're down to your knee in a swamp."

STEVEN M. FALK / Staff Photographer
State police search the area of State Road 390 in Barrett Township.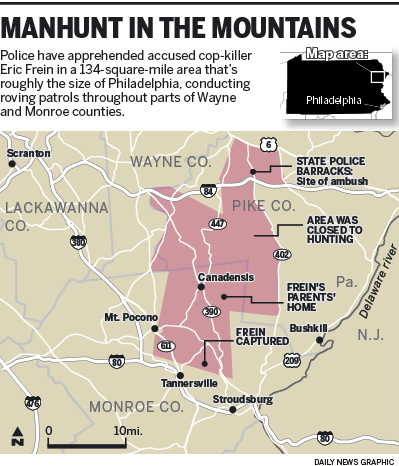 At 1:37 p.m. Tuesday, a U.S. Marshal was taking cover behind an SUV, aiming a rifle equipped with a suppressor into the woods behind Route 390. They were yelling at residents to stay inside their homes as they combed the area for Frein, based on a tip that a "dark silhouette of a man" was spotted in the woods.
In nearby Buck Hill Falls, a posh development near a crumbling abandoned inn, a Temple University police cruiser went roaring up the road. Two university K-9 dogs — a Malinois named Baron and a Labrador Retriever named Jarvis — were sniffing around as a large chopper from U.S. Customs and Border Protection circled the area.
A woman behind the wheel of her SUV looked utterly disinterested as she came to a stop on the tree-lined road and surveyed the scene. Police in camouflaged military fatigues and bulletproof vests were swarming about 150 yards ahead, holding AR-15 rifles, handguns and the leashes of tracking dogs as they peered into the woods.
"Guess I gotta turn around," she sighed.
Her eyes were glazed over, like she was stuck in a rerun of a war movie that was bad the first time around, some godawful mashup of "Rambo" and "Groundhog Day."
"If it was me that got shot," she says, "they would have looked for a week."
A lot of people seemed to be thinking that in the Poconos in the final days of the search. Frein hadn't targeted civilians as, say, the Washington, D.C., sniper or the Olympic Park bomber did. His gripe seemed to be with police. As a result, some residents felt as if they were collateral damage in someone else's war.
They wanted to see this thing come to a conclusion, whether Frein was captured or not.
"I haven't had a customer yet today," said Roger Smith, owner of Smitty's Sporting Goods, just across the street from a digital sign informing drivers that hunting is banned in the area. It was Tuesday around lunchtime.
Monroe County businesses that rely on tourists have taken a beating as a result of the Frein search. Restaurants are getting by, Smith said, but he couldn't even give a crossbow away due to the hunting ban during archery season.
"People eat food," he said. "They don't eat sporting goods."
Yesterday's arrest is great news for hunters. Deer will probably not fare so well as bowhunters return to the woods. Deer season opens to rifle hunters on the Monday after Thanksgiving.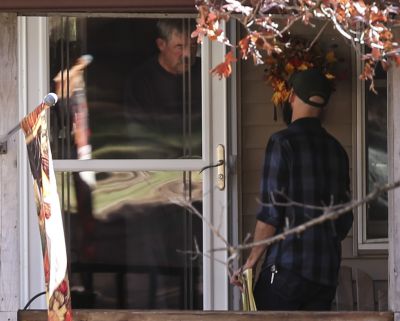 Eric Frein's father (left), speaking to Daily News reporter William Bender (STEVEN M. FALK / Staff Photographer)
Eric Frein's parents, Eugene Michael Frein, a retired U.S. Army major, and Deborah Frein, a dental hygienist, have not been granting interviews. That didn't change Monday when a Daily News reporter arrived at 308 Seneca Lane in Canadensis.
"I don't want to hear it," a man who identified himself as Mr. Frein said before shutting the front door — then the garage door.
Eugene Frein has told police that he taught his son how to shoot and that Eric "doesn't miss." At Pocono Mountain High School, the younger Frein competed on the rifle team. He later developed an interest in the Serbian military and participated in military re-enactments.
Most of the country hadn't heard of Canadensis, where cell phone service is spotty and Google Street View isn't always an option, before Frein allegedly pulled the trigger seven weeks ago. Most of Canadensis seems to have preferred it that way.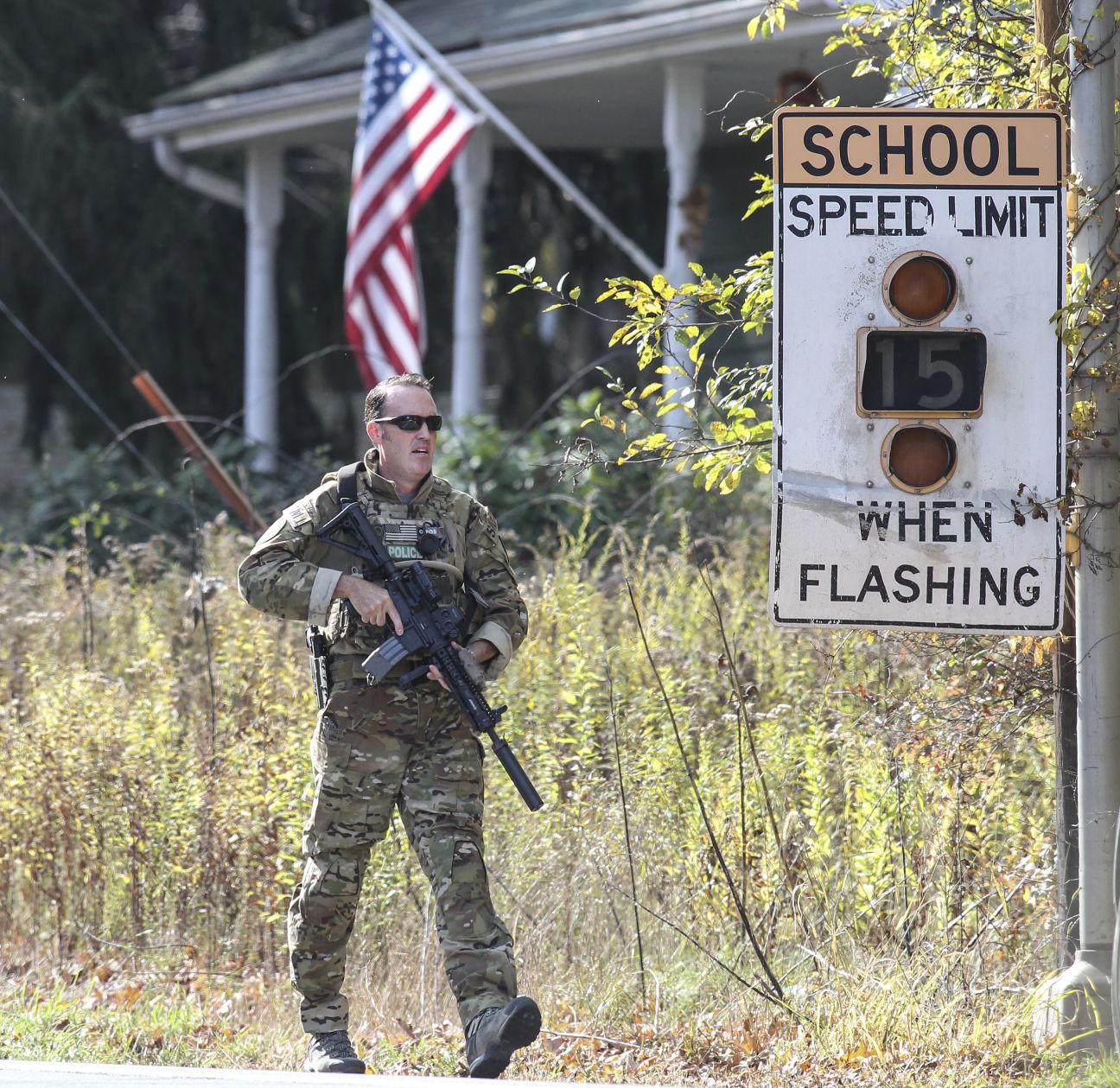 STEVEN M. FALK / Staff Photographer
A US Marshall searches in Barrett Township.
Tracking Frein was expensive, but officials have not provided an official estimate. State police Lt. Col. George Bivens said at a news conference earlier this month that "several million dollars" had been spent on the manhunt so far. He said that he'd have "firm numbers" down the line.
The Morning Call of Allentown estimated in mid-October that the search had been costing about $1.4 million in labor per week, not including local police officers and troopers from other states, or the cost of transportation, housing and food.
State Sen. Lisa Baker has called for public hearings on the operation, but cost concerns are likely to dissipate in the wake of Frein's capture.
"If you attack troopers, and a civilized society, the Pennsylvania State Police will bring you to justice," Pennsylvania State Troopers Association president Joseph Kovel said in a statement. "Eric Frein is a coward. Cpl. Bryon K. Dickson II and Trooper Alex T. Douglass are true heroes. We will continue to pray for Corporal Dickson and Trooper Douglass and support their loved ones."
Aleckna, who made sure her husband and children were armed while outside during the seven-week ordeal, said she would have preferred to see Frein carried out of the airport hangar in a body bag, not Dickson's handcuffs.
A couple bullets are a lot cheaper than a full-scale prosecution and potentially years of appeals.
"He's a scumbag, they should have just taken him out," Aleckna said last night. "It would've saved us a lot of money."
— Daily News staff writers Vinny Vella and Morgan Zalot contributed to this report.
William Bender can be reached at benderw@phillynews.com, 215-854-5255 or @wbender99