---
As 6-year-old Mahaj "Haji" Brown lay in his bed at St. Christopher's Hospital for Children, his tiny body ravaged by 10 stray bullets from an AK-47, he asked his grandmother:
Why?
---
"He wanted to know why these men would hurt him," Esther Davis said. "He wanted to know if God was more powerful than the men who caused him pain. We had to reassure him of that, because we teach him that angels watch over him, and he wanted to know: Where were the angels that were supposed to protect him?"
If those angels exist, they were not in Philadelphia this summer. In the five weeks from July 28 to Aug. 30, four children were hit by stray bullets from other people's gunfights - the youngest such victims in the city this year. Three girls and a boy - Haji - were left with wounds, fears, nightmares.
Scott Charles, Temple University Hospital's trauma outreach coordinator, said the meager attention paid to the four children was alarming.
"We have to own the child who was shot as much as that kid who got up there and sang for the pope," he said. "If we're not, we should be ashamed of ourselves."
Milan Chase
---
Injured by one bullet on July 28, 2016
Milan Chase is familiar with the sound of gunfire, but all the loud bangs sound different now - piercing, closer, scarier - since she was shot.
"Now if I hear big booms . . . even if it's the garbage truck, I still get on the floor," she said. "I'm paranoid."
For Milan, the terror started just after she and her grandmother Susan Purnell had returned from running errands and parked across from Purnell's house on the narrow 3100 block of North Rosewood Street, just west of Broad Street below Allegheny Avenue.
Purnell crossed the street, but Milan froze in fear because, she said, she saw her cousin Antoine Hall arguing with her neighbor Richard Holmes.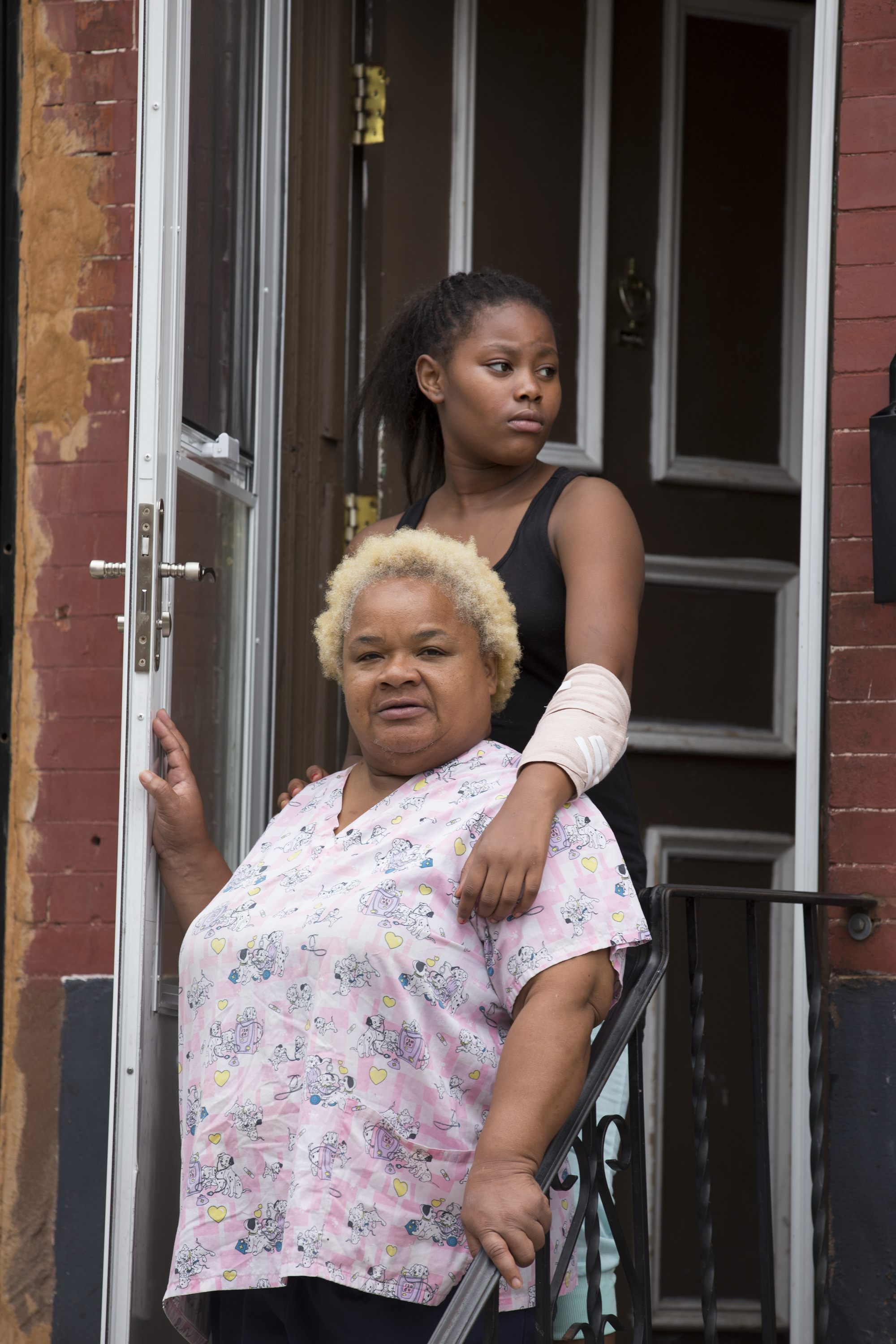 JESSICA GRIFFIN / Staff Photographer
Susan Purnell with her granddaughter Milan Chase at her home, in Philadelphia. Milan Chase was hit in her left arm by a stray bullet as she and her grandmother crossed the street to her grandmother's home.
As Milan crossed the street, a third man - police and Milan's family identified him as Stephen Kearney - allegedly began firing a gun at Hall from his second-floor apartment, above where Milan and her mother live. Frightened, Milan began running back and forth in the street. Holmes got a gun from a car and began shooting at Hall, both Purnell and Milan said.
Milan and her grandmother said that as soon as the gunfire started, Hall jumped into a car and drove off. As Holmes allegedly fired at the fleeing vehicle, one bullet hit Milan in her left forearm. She screamed for Purnell.
"I was like, 'Mom-Mom! Mom-Mom! I'm shot! I'm shot! I'm shot!' " Milan recalled.
Purnell said she turned to Holmes, who has known Milan since she was a toddler.
"You shot my granddaughter!" Purnell said she said to him. "He said, 'I don't give a f-. This is my block.' "
As Holmes fled, Milan looked down and saw blood pouring from her arm.
"At first, I thought all of it was a dream," she said. "Then I seen my hand covered in blood, and that's when I really start knowing that I got shot."
Milan's 30-year-old mother - who asked not to be identified - said she heard the gunshots and came running out of her apartment on the block.
"I couldn't believe what the hell was going on," she said. "That's a shocker, when you see your child bleeding. My 10-year-old shouldn't know how to dodge bullets."
Purnell called 911 and police took Milan to the hospital.
" 'I'm going to die! I'm going to die!' " Milan screamed in the patrol car, she said. "That's when I said, 'Please, Nana, don't let me die. Please, Nana, don't let me die.' "
"Nana" was Milan's great-grandmother and best friend, Gladys Purnell, who died last year.
The officers took Milan to Temple University Hospital, then she was transferred to St. Christopher's, in North Philadelphia. There, doctors decided to leave the bullet in her arm and let her body push it to the surface.
For two months, Milan lived with a bullet in her body. It was surgically removed Monday.
"It's not over, though. She got shot," said Purnell, 53. "It's never going to be over for a 10-year-old child."
Arrest warrants have been issued for Holmes, 23, and Kearney, 29. Hall, 41, has been arrested and charged with attempted murder, aggravated assault, and firearms violations. Purnell and Milan maintain that Hall did not have a gun that day but Capt. Malachi Jones, whose Northwest Detective Division is handling the investigation, said police believe otherwise.
Meanwhile, Purnell, Milan, and Milan's mother all live in fear that the alleged shooters will return and seek revenge on them for speaking up.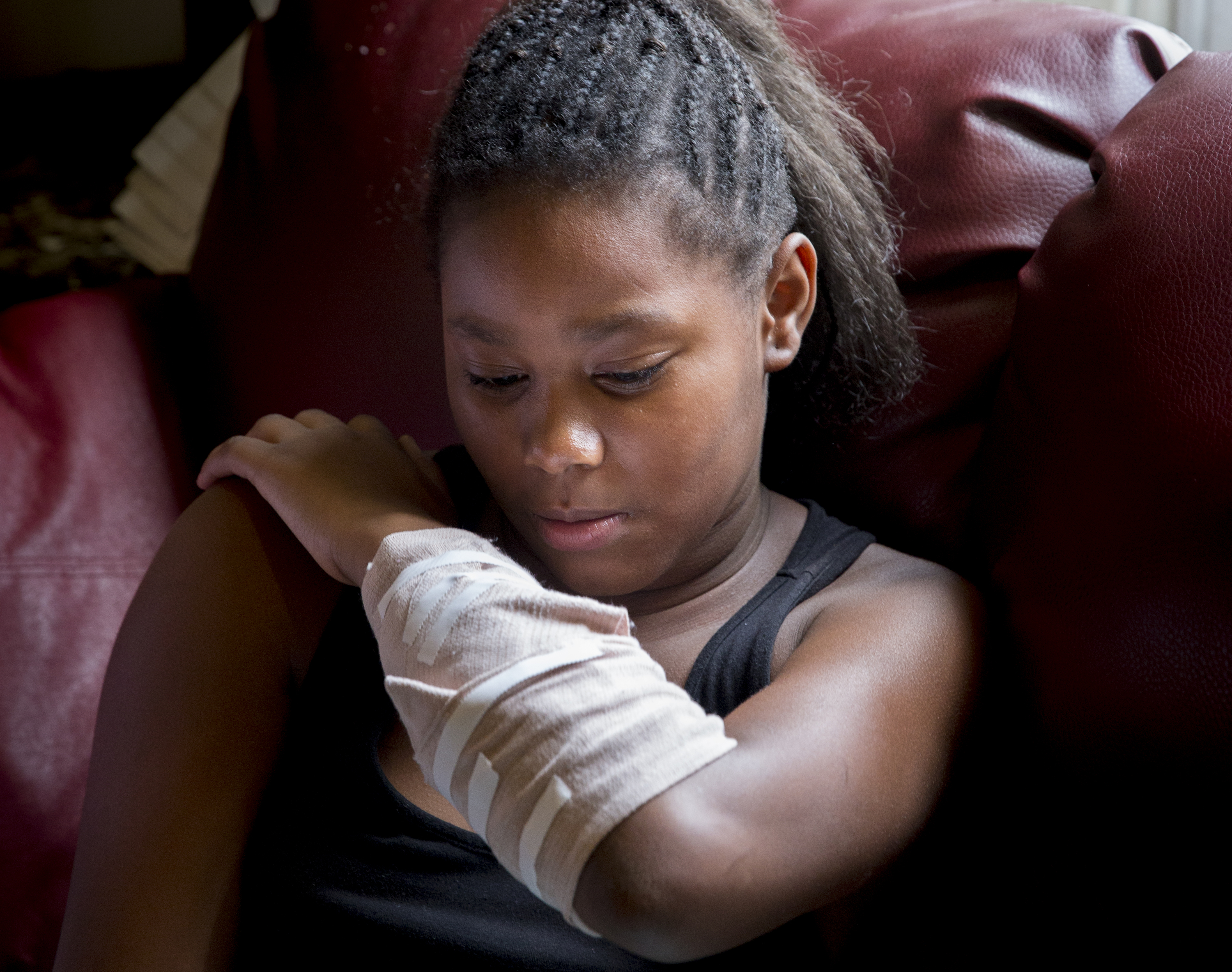 JESSICA GRIFFIN / Staff Photographer
Milan Chase, shown here with a bandage covering her injury, at her grandmother's house in Philadelphia. Milan Chase was hit in her left arm by a stray bullet as she and her grandmother crossed the street to her grandmother's home.
"I want them to go to jail," said Milan, who turned 11 in September. "I want them locked up, but I don't know if they're going to come back and try and shoot up my door or sneak in the window."
Said Purnell: "They want people to speak out, but what are you all going to do to help the people that do speak out? That's why people don't tell. That's why they take it to the streets. If you say something, they still ain't got your back."
Jones, of Northwest Detectives, said police cannot provide 24-hour protection to victims and witnesses who do come forward.
"Obviously, I am aware of the potential risk of them still living there," Jones said. "We need them to come forward, but we can't guarantee they will be totally safe. In fact, that's why a lot of people haven't been coming forward."
"I woke up crying the other night and I told Mom-Mom about my dream," Milan said. "There were two men, a Puerto Rican man and a black man, arguing, and we was all at the Save-a-Lot, and that's when the black man pulled out a gun and looked at me and shot me multiple times."
Anila Garrick
---
Injured by one bullet on August 9, 2016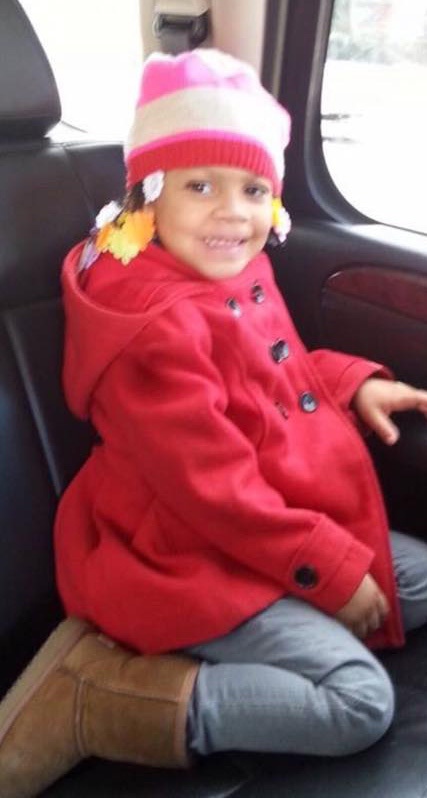 File photo
6-year-old Anila Garrick
It was a warm Tuesday on the 6300 block of North Woodstock Street, where Anila Garrick was hit by gunfire. She was playing on the front steps of her aunt's house around 7 p.m. when someone fired 21 shots at a man running down the block, police said.
A bullet hit Anila in her left shoulder.
"The girl was out sitting on her steps at the time, and because of the misdeeds of others and their mess, a stray bullet strikes her," said Jones, of Northwest Detectives.
Anila was taken to Einstein Medical Center, then transferred to St. Christopher's, from which she was released.
Anila's family has not spoken publicly about her shooting and did not respond to requests for comment.
Mahaj "Haji" Brown
---
Injured by 10 bullets on August 11, 2016
Mahaj "Haji" Brown was shot less than a mile and a half from where Anila had been hit just two days earlier.
"We were shocked," said Jones. "As you can imagine, just one is too many, and two within two days is unbelievable."
An only child, Haji is a Ninja Turtle Power Ranger Warrior who has mastered the art of make-believe and loves to play with plastic swords and light sabers.
Haji's mom, Laprea, works nights in the University of Pennsylvania cafeteria, so he usually spends the night with his grandmother Esther Davis at her East Germantown home.
But on this day, Haji's godfather picked him up from her house around 11:20 p.m. because she had a job interview the next morning. Davis kissed her grandson goodbye and watched him get into the front passenger seat.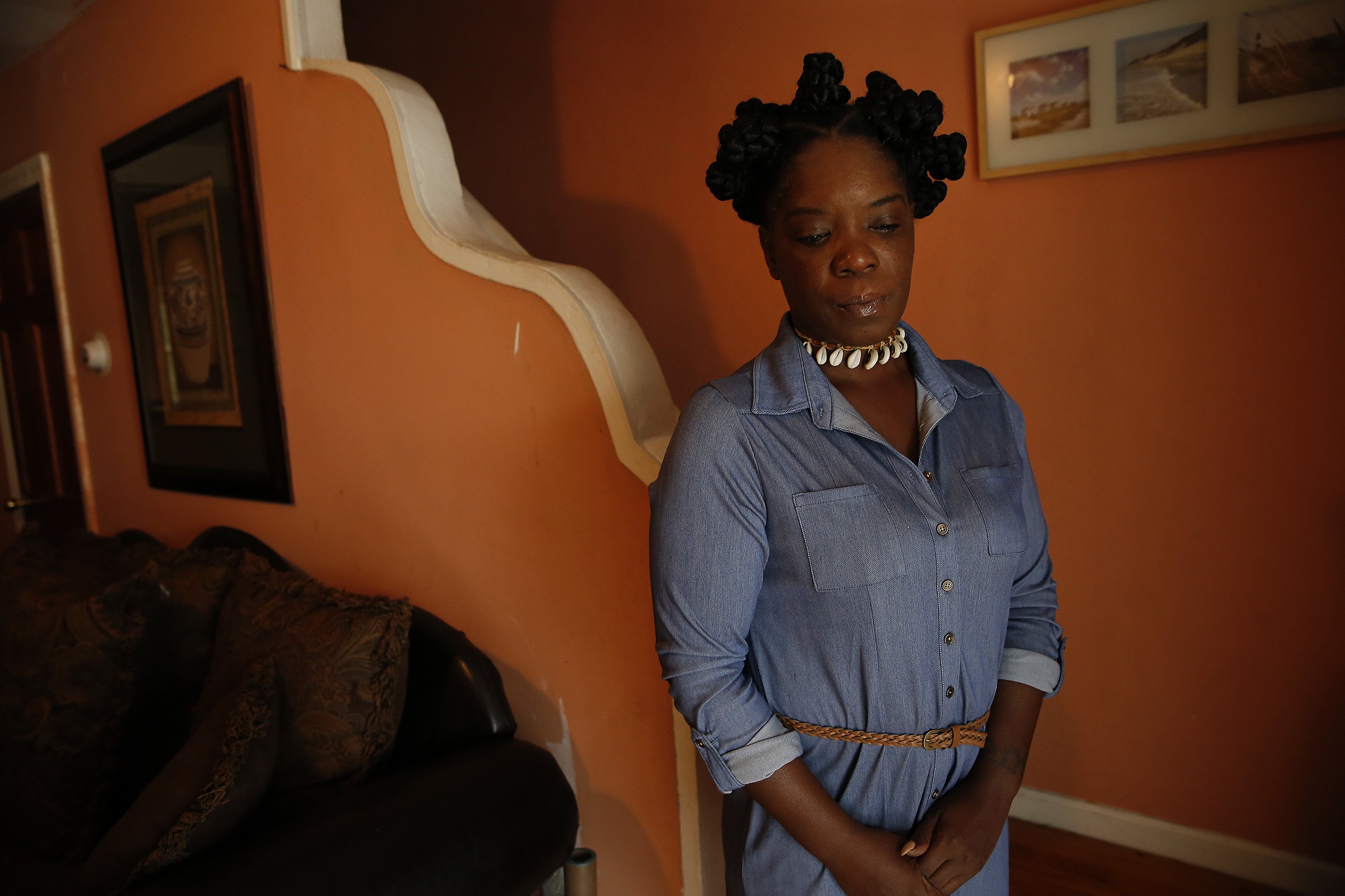 DAVID MAIALETTI / Staff Photographer
Esther Davis, whose grandson, 6-year-old Mahaj Brown, survived 10 bullets wounds from an AK-47 this summer. Davis is pictured in her home in Philadelphia, PA on September 26, 2016.
Haji's godfather was driving on Clarkson Avenue near Ashmead Street when he heard gunshots and tried to back his car up, said Jones.
"They literally ride into a gun battle. He tried to take evasive action and they were struck with multiple rounds from a high-powered AK-47," Jones said. "They were totally innocent and unintended targets."
In her kitchen, Davis heard gunshots so close she thought they were coming through her window. She turned off the lights and fell to the floor.
When the gunfire stopped, Davis called Haji's godfather on his cellphone.
"All I could hear - and I can still hear this ringing in my ear - was, 'We're hit! We're both hit!' " Davis said. "I can remember him saying, 'I'm losing consciousness,' and I'm panicking and screaming and we're running around the neighborhood."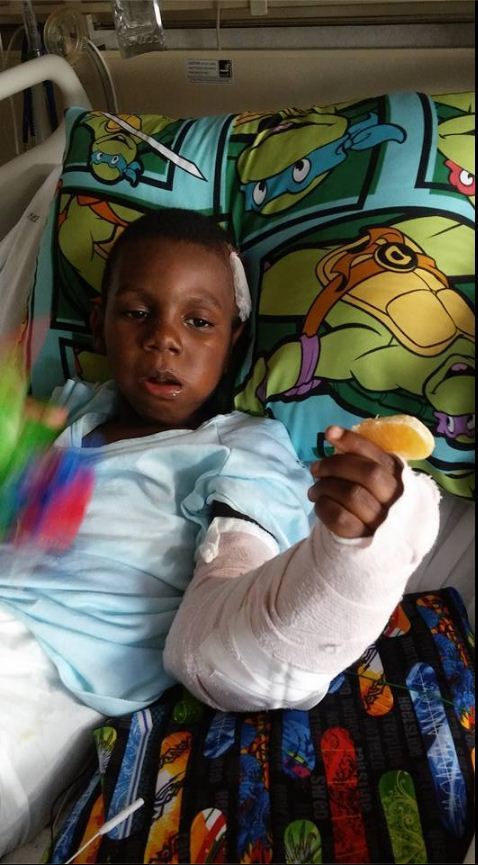 Courtesy of Esther Davis
Mahaj Brown, 6, in his bed at St. Christopher's Hospital for Children, where he stayed for weeks after being shot 10 times by stray bullets from an AK-47 in August.
Davis found the car - empty and covered in bullet holes - in the middle of a nearby street.
"And all I see is Haji's baby flip-flops that I put on his little feet when he left and all this blood on his seat," she said.
One of the first officers to arrive took Haji and his godfather to Albert Einstein Medical Center. Haji was then transferred to St. Christopher's.
Initially, doctors told Davis and Haji's mother that they believed he'd been shot twice by an AK-47.
"Then, after they started doing surgery, there was more. The count kept going up and up and up," Davis said. "By the last time we heard, it was 10 bullets."
Four people were injured in the shooting, including Haji's godfather, 32, who was shot in both arms and received a graze wound to his head trying to shield Haji.
The assault rifle's bullets tore through Haji's intestine and his colon. They ripped through his left arm and his right leg, his groin, his side, and a finger.
He underwent nearly eight hours of surgery that first night. He remained at St. Christopher's for weeks, then was transferred to a rehab hospital for several more weeks.
Haji has undergone 15 surgeries and 13 blood transfusions.
Forty-three days after he was shot, Haji went home. On Monday, he was readmitted to inpatient rehab due to complications. He has plates and pins everywhere and casts on his left arm and right leg.
"He can't walk and he can't write, but his spirit is still the same. They didn't break his spirit, that's what I'm grateful for," Davis said. "In the midst of all this, he's bringing family members and friends that haven't been talking together. He's mending relationships and building bridges for us and he doesn't even know he's doing it."
But for Haji and his family, the work has only just begun.
"It's hard. The crowd is starting to die down, the support is starting to die down, and at the end of the day, when the dust falls, it's still going to be me and his mom, that's it," said Davis, 50.
Judelly "JuJu" Sanchez
---
Injured by two bullets on August 30, 2016
Judelly "JuJu" Sanchez knows not to venture past a tree on her street, three houses down from her own. The drug dealers in her neighborhood can't be trusted not to hurt kids.
But it was a beautiful summer day just before school was to start, and JuJu and her best friend had a couple of dollars to spend. So they walked a bit farther down her block, to the bright-green market at Sheridan and Marshall Streets.
Shortly before 6:30 p.m., the girls went into the store to buy chips and juice. At the same time, a gunman opened fire nearby, and two bullets came through the door and lodged in her thigh.
When her mother heard the gunshots, she came running out of the house.
"I saw all the kids running and she's crying hysterically," said her mother, Elizabeth Sanchez, 38. "Her best friend had blood on her face from a glass shatter, and I looked at JuJu and she had blood on her pants."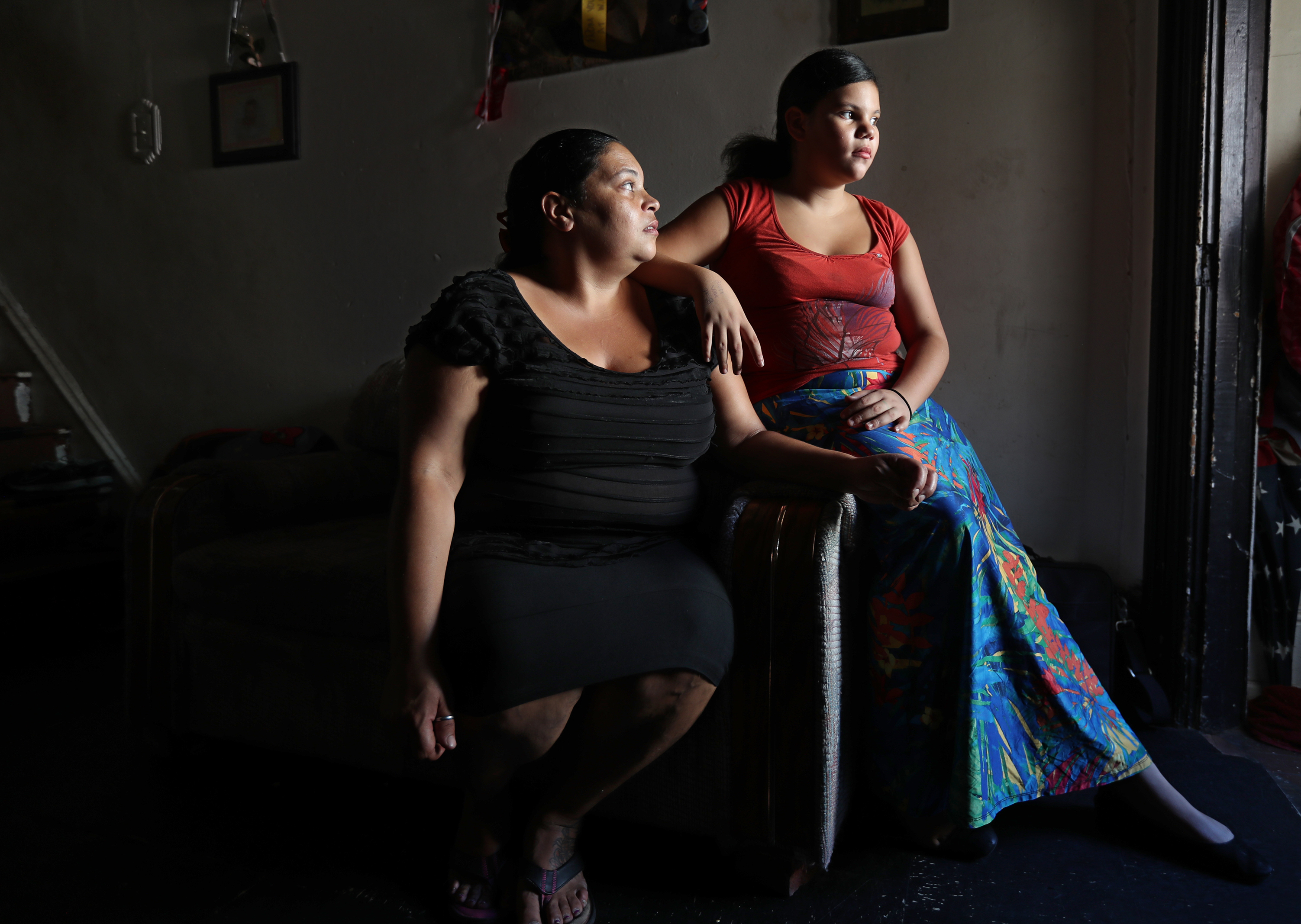 MICHAEL BRYANT / Staff Photographer
Elizabeth Sanchez (left) and her daughter, Judelly "JuJu" Sanchez, 12, who was shot twice in her right leg by stray bullets, sit for a portrait. Judelly was shot two times in her thigh by stray bullets as she visited a corner store on her block on Aug. 30.
Sanchez called to her fiance, John Santiago, who ripped JuJu's pants and applied pressure to the wounds. A responding officer took JuJu and Santiago to St. Christopher's.
As the doctors evaluated JuJu, Santiago stood by and watched.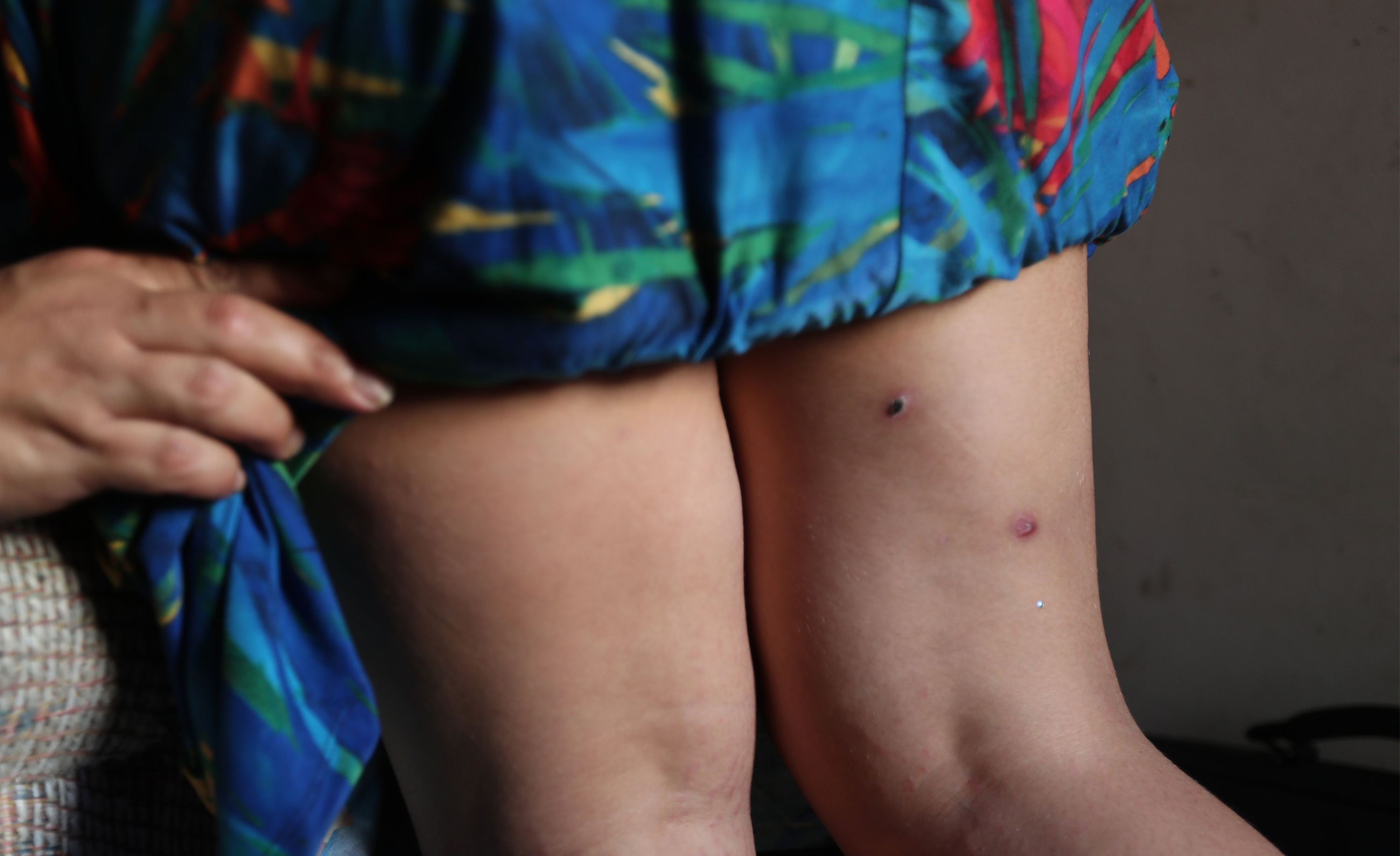 MICHAEL BRYANT / Staff Photographer
Elizabeth Sanchez holds back her daughter's skirt to show the two bullet scars on the back of Judelly Sanchez's right leg.
"A lot of prayers were going through my mind," he said.
The doctors opted to leave the bullets in JuJu's leg, in the hope that they will push themselves out, Sanchez said. JuJu was released from the hospital the next morning.
"She still gets nightmares - every night - but she's praying on that," said Sanchez.
JuJu was able to start school on time but has not yet been able to resume her favorite activity - spiritual dancing at her church.
"She can't dance yet," her mother said. "But eventually, God will let her do it again."
Including the four stray-bullet shootings, at least nine children age 12 and under have been shot in Philadelphia this year. Children also have been accidentally killed or injured during gunplay.
Last year, 15 kids age 12 and under were shot in Philadelphia, according to city statistics.
"Every time I see it happen, I think, 'How awful it is for this child now to have been involved in this at such a young age,' " said L. Grier Arthur III, trauma medical director at St. Christopher's. "We are saddened by the fact that this is such a prevalent problem in our country and our communities, and there's nothing I can do about it, really, aside from trying to take care of those patients. It's almost to the point where it's not even news anymore, and that's sad."
Despite $10,000 rewards for information leading to the arrests and convictions of the people who shot Mahaj and Anila, all four cases remain unresolved. Jones, the police captain whose division is probing three of the four shootouts, said police are still "aggressively investigating" the cases.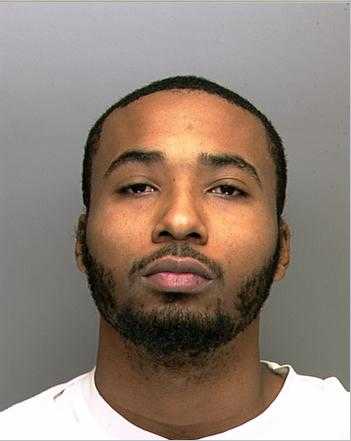 Stephen Kearney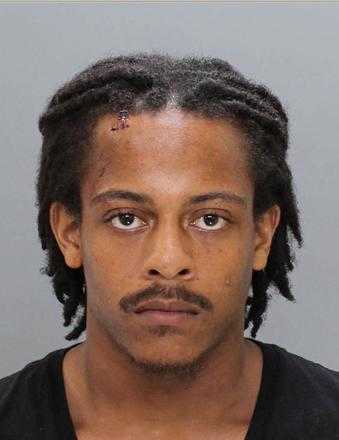 Richard Holmes
Richard Holmes and Stephen Kearney are wanted in the shooting of Milan Chase.
Meanwhile, Purnell, Milan's grandmother, lamented that men once honored a street code by which they told women and children to get inside before shooting.
"Nowadays, they don't care," she said.
Charles, the trauma outreach coordinator at Temple, agreed. He said mass incarceration has led to imprisonment of the "old heads" who taught that message.
"The old head lost his status, and now it's like Lord of the Flies," he said. "You have young men writing their own social codes that are very much based on impulse and desire."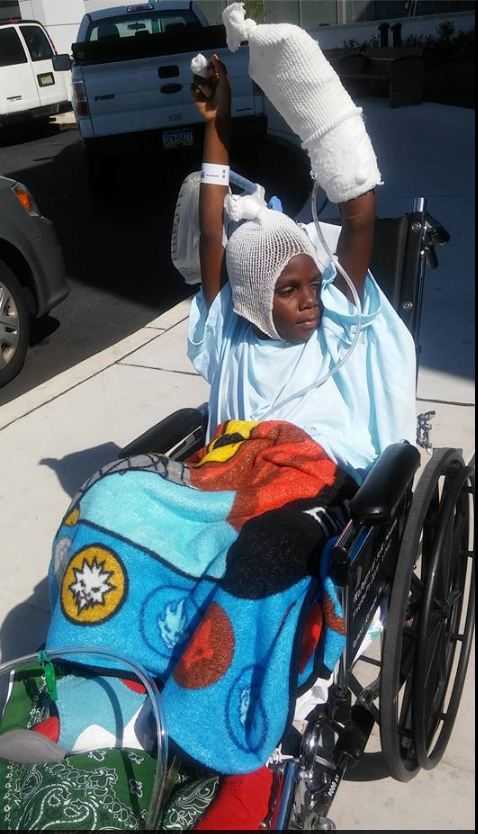 Courtesy of Esther Davis
Mahaj Brown, 6, enjoys some fresh air while recovering at St. Christopher's Hospital for Children, where he was treated for wounds he suffered when he was hit by stray bullets from an AK-47 in August.
Davis, Haji's grandmother, said the young folks on her block used to treat her with "the greatest respect," but that has changed since her grandson was shot.
"Certain neighbors speak, but the young people don't speak to me anymore," she said. "They don't look at me anymore. They don't say hello anymore. They walk past me."
Despite the long and arduous road ahead, Davis said she still considers Haji her little superhero.
She hopes that one day he will be able to speak to other young people about gun violence.
"He's going to pull his shirt up and he's going to show all them holes, and him being cut from chest to stomach, and him showing bullet wounds everywhere, and it's going to make people think.
"I pray that he makes somebody reconsider, the next time they think about going to shoot up a neighborhood."
ROBERT MORAN / Staff Photographer