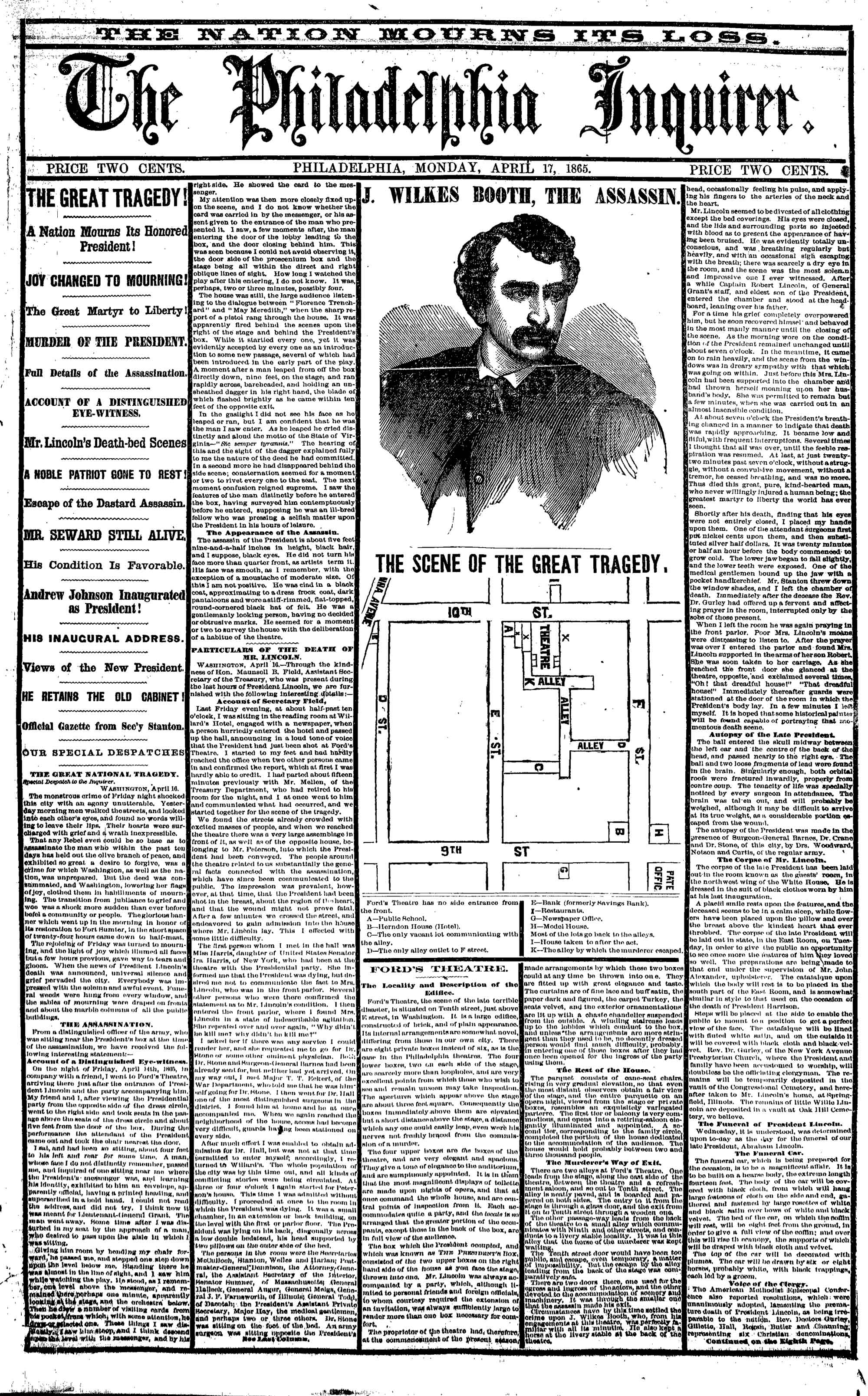 The Inquirer's coverage of Lincoln's death
Shortly after 10 p.m. on Friday, April 14, 1865, as President Abraham Lincoln and first lady Mary Todd Lincoln were watching a play at Ford's Theatre in Washington, John Wilkes Booth stepped into the presidential box and fired his derringer at the back of Lincoln's head.
Lincoln was carried to a boardinghouse across the street. He died at 7:22 the next morning.
News of the shooting started reaching newspaper offices after midnight on April 15. The Inquirer printed a preliminary account of Lincoln's death later that day.
The Inquirer did not publish on Sundays in 1865, so the complete report on the assassination, set off by heavy dark lines of mourning, was published on Monday, April 17. During the Civil War, The Inquirer was one of the most ambitious papers in the country in its use of illustrations and diagrams. The technology to publish photographs in a newspaper was still decades away, so the image of Booth at the top of the page was a woodcut engraving.
Page 2 of that day's edition chronicled Philadelphia's reaction to the tragedy:
"Thousands flocked around the newspaper's offices [at 304 Chestnut St.], with the faint hope that some later intelligence might contradict the sad news, and when the report of the assassination and its fatal termination was confirmed without doubt, old men bowed their heads in sorrow and wept like children. Untold grief was depicted in the countenances of everyone, and notwithstanding the immense throng in our streets, great quiet and order prevailed, such as is not witnessed in ordinary times of excitement.
"All business was immediately suspended; stores and workshops were closed and draping in mourning. The sight along Third and Chestnut streets, as far up as Thirteenth, was really sorrowful. The whole street, as far as the eye could stretch, was wailing the loss of the Chief Magistrate of the nation. Besides, from every private dwelling were exhibited signs of lamentation. The bells throughout the whole city of Philadelphia were slowly and solemnly tolled for several hours. ..."