Grounds
for dispute
DAVID SWANSON / Staff Photographer
Holy Sepulchre Cemetery.
The Bucks County company running local Catholic cemeteries denies families' allegations of high-pressure sales tactics.
On her late husband's birthday in March, Bette Dalton visited his grave at Holy Sepulchre Cemetery in Cheltenham Township and found a chipped headstone and muddy tire tracks.
She trekked to the cemetery office to complain, and was surprised to get a sales pitch: A worker asked Dalton, 76, to consider buying her own casket.
After Denise Caramenico inquired about a plot at Conshohocken's Calvary Cemetery, she got e-mails for months from a man who said he was from the Archdiocese of Philadelphia and Catholic Cemeteries. Then a salesman tracked her down at work and called.
"I've never experienced that," said Caramenico, of East Norriton. "Not even with purchasing a car."
For decades, area Catholics have buried their dead at one of the 13 cemeteries owned by the archdiocese.
But since the church leased them last year to StoneMor, a Bucks County company, some people say they have noticed drastic changes in the handling of a sacred Catholic responsibility.
In two dozen interviews with families and funeral directors, similar themes emerged: Complaints that StoneMor had harassed and misled mourners and customers, upsetting or bewildering some when they may be most fragile.
StoneMor officials vigorously deny the allegations and say local funeral directors have for months tried to smear their company because both sell many of the same products.
DAVID SWANSON / Staff Photographer
Bette Dalton at her husband's grave in Holy Sepulchre Cemetery.
"Their attacks have been relentless," said Larry Miller, the company's chief executive.
Jonathan Ger, a StoneMor regional sales executive, said, "We do not and will not employ people who have an aggressive sales approach."
Both sides have waged a public relations war, with dueling ads on radio and in newspapers. The funeral directors also are pushing legislation they say will protect customers of funeral homes and cemeteries.
As the battle rages, widows like Dalton have been caught in the middle.
The day before Easter, she said, she returned to Holy Sepulchre to discuss her husband's new gravestone, which StoneMor had agreed to replace at no charge.
Again, a sales representative asked Dalton whether she was interested in making arrangements for her own burial. He told her there was a special 20-percent discount available, but said she had to act fast — it would expire the next day.
StoneMor, based in Levittown, is one of the largest death-services companies in the country.
Publicly traded since 2004, it now owns more than 300 cemeteries and 90 funeral homes in 28 states, and specializes in selling funeral-related products, such as burial vaults and caskets, on both a "pre-need" basis and after a death.
Its growth has not been without bumps.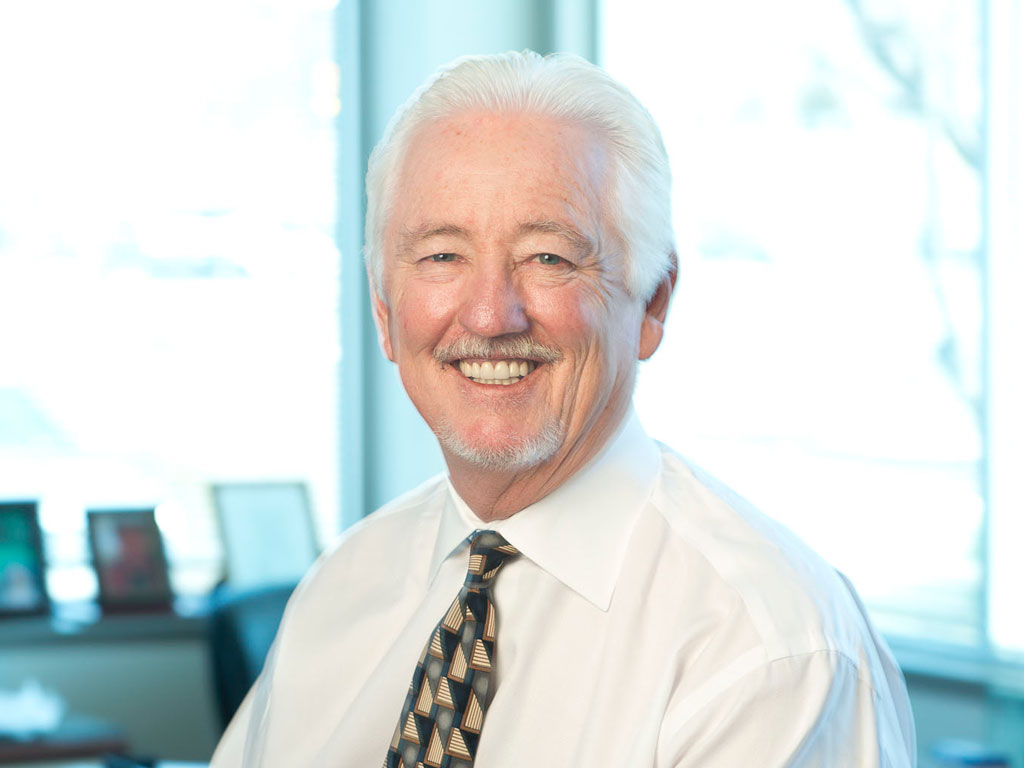 StoneMor CEO Lawerence Miller.
In 2010, StoneMor entered an agreement with the Detroit Archdiocese to operate its three cemeteries. Less than two years later, church officials in Detroit ended the deal.
The Rev. Timothy Babcock, cemetery liaison for the Detroit archdiocese, said it ultimately disagreed with StoneMor about management practices, though he would not elaborate.
"It was just simply a philosophical difference of how Catholic church cemeteries should be operated," Babcock said.
Miller said those disagreements were over logistical questions, such as how to arrange grave sites. Sales philosophies were not an issue, he said.
In interviews this month, Detroit-area funeral directors said they heard complaints similar to those expressed around Philadelphia about cold calls and unsolicited sales pitches to mourning families. But they say they never received an official explanation of why the church terminated the agreement.
"Nobody asked a lot of questions," said Pat Lynch of Lynch & Sons Funeral Directors.
Miller said it was because the archdiocese had recovered financially and no longer needed the deal with StoneMor.
Church officials in Philadelphia said they spoke with their Detroit counterparts before signing the deal with StoneMor.
Finalized last May, the lease cost the company $53 million up front, plus $36 million in future payments.
"I've never experienced that [level of sales pressure]. Not even with purchasing a car."
Denise Caramenico of East Norriton, who inquired about a plot at Conshohocken's Calvary Cemetery
The archdiocese said that the transaction could help with its financial problems and that a large chunk of the initial payment was to be put toward an $80 million shortfall in its trust and loan fund.
In return, StoneMor will manage and maintain the 13 cemeteries for 60 years.
Those properties, in Philadelphia and its four surrounding Pennsylvania counties, cover 2,375 acres, enough room for 3.5 million traditional, side-by-side graves.
It was not clear how much space was already used, though Miller said some cemeteries were more crowded than others. One in Newtown, Bucks County, he said, is virtually unused.
When it managed the properties, the archdiocese had three salespeople on staff. StoneMor, which also secured the right to sell its products to church members, has hired 60, Miller said.
That change is where much of the tension with funeral homes has developed.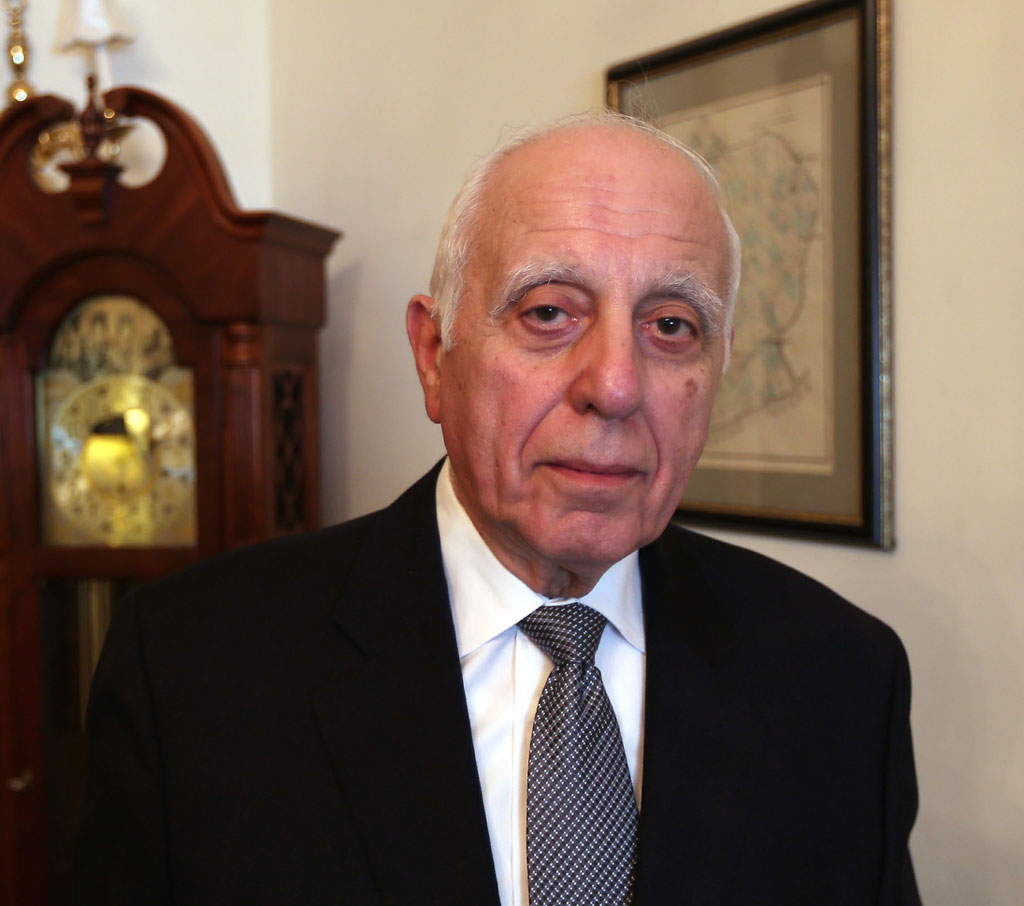 Frank Galante has run a funeral home in Northeast Philadelphia for five decades.
Funeral directors, who, like StoneMor, sell caskets and vaults, have accused the company of misleading customers.
They say the company's sales force has falsely cast itself as representatives of the church and has been overly aggressive in trying to close deals.
"My main concern is the misleading and misrepresentation of who is running the cemetery," said David Peake, who runs Robert L. Mannal Funeral Home in Mayfair and is president of the Philadelphia Funeral Directors Association.
Others say they've received complaints from families about high-pressure home visits, unclear pricing, and a mandate to meet a sales representative at the grave before a burial.
"They're educating the consumer to their satisfaction, to their benefit," said Frank Galante, who has run a funeral home in Northeast Philadelphia for five decades. "They're not educating the consumer with all of the facts."
State Sen. Tommy Tomlinson (R., Bucks), a funeral director by trade who represents the district where StoneMor is headquartered, said the company had "turned a very peaceful and solemn place into an economic battleground."
Catholic Cemeteries Under Lease

SOURCE: Archdiocese of Philadelphia
MIKE PLACENTRA / The Philadelphia Inquirer
Miller denies the funeral directors' complaints, saying they stem from fear of competition.
"It's all about vaults and caskets," he said.
Miller said that StoneMor sales representatives were trained to build trust with customers above all else, and that many of their interactions — such as pre-burial visits — were guided by established procedures that reduce the likelihood of an unwelcome approach.
Pressuring families would not be an effective sales tactic, he said, particularly with a 60-year lease in a close-knit community.
"The message is loud and clear," Miller said. "We are there to provide service."
LAURENCE KESTERSON / For the Inquirer
Vicky Stackhouse and her husband, Steve, with a photo of Vicky's father, Thomas Barrett, who died Feb. 28.
Vicky Stackhouse said the service was lacking.
Over the winter, Stackhouse's father asked a StoneMor representative to leave his house after feeling uncomfortable during a sales visit, she said.
A few weeks later, he died in a freak accident.
"They're educating the consumer to their satisfaction, to their benefit."
Frank Galante, who has run a funeral home in Northeast Philadelphia for five decades
He was buried at SS. Peter and Paul Cemetery in Springfield, Delaware County.
Two days later, Stackhouse, who lives in Norwood, received a call from a salesman asking whether she had bought a grave marker, she said.
Miller said he did not believe that call came from one of his employees. He said he had heard about similar calls to SS. Peter and Paul families from a monument seller in the area.
Stackhouse said she did not know who was on the other end of the line. She just told him not to call back.
"I just buried my dad … and you got someone calling, trying to push me into doing something that I wasn't ready to do," she said. "I was mad."
Ken Gavin, spokesman for the Archdiocese of Philadelphia, said that the church had received sporadic complaints about cemeteries since StoneMor took over, but that most related to the properties' condition. Similar calls came in when the church managed the properties, Gavin said.
Miller said not one Catholic family in the area had complained to him about his company's sales force. He also said StoneMor had signed 3,500 contracts with parishioners since the deal took effect.
"From the community's perspective, it's been great," he said.
John Eirkson, president of the Pennsylvania Funeral Directors Association, a Harrisburg group that lobbies for its members, said he believed the company was focused on driving quick sales, not helping consumers.
The state legislation he and others hope to get introduced would regulate how cemetery companies entrust their funds and would require them to provide customers with clear price sheets — as funeral homes must.
Some customers, including Dalton, had no clue about the ongoing clash between the cemetery operators and funeral home directors.
When she went to complain about the condition of her husband's grave site at Holy Sepulchre and got the unexpected sales pitch, she said, she dismissed it with a simple message: "I just said, 'Let me know when the stone comes.'"
Then she left.
cpalmer@phillynews.com 609-217-8305 @cs_palmer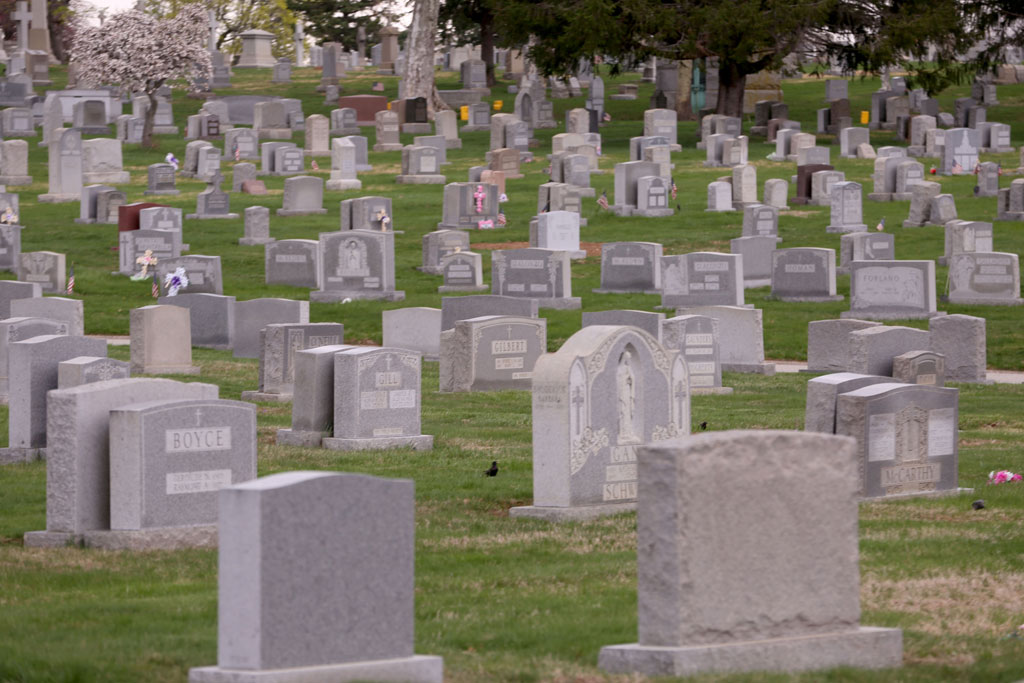 DAVID SWANSON / Staff Photographer
Holy Sepulchre Cemetery.