A Breakdown in DUI Enforcement in Philadelphia
While Pennsylvania does not do as good a job as most other states in keeping repeatedly drunk drivers off the road, the problem is particularly severe in Philadelphia.
Part of the blame goes to a heavier city caseload, which sometimes causes a driver's string of offenses to be bundled together for trial. That is compounded by a state Supreme Court ruling mandating that drivers with multiple DUI arrests be treated repeatedly as first-time offenders.
In the city, the use of "interlock" devices, which prevent offenders from driving their cars while drunk, is far lower. Court officials attribute the lower figure for interlock licenses in part to the city's higher poverty level, saying many low-income Philadelphians can't afford the devices and instead choose not to drive.
And for years, Philadelphia has failed to convict and jail many of those stopped for driving on licenses that were already suspended for DUI convictions.
Phila. DUI cases get less jail time
Short jail terms for "bundled" cases are far more likely in Philadelphia …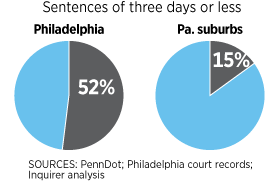 … and terms of a month or more are far more likely in the suburbs.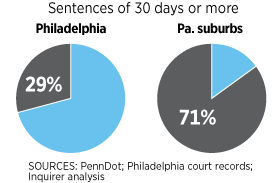 Ignition interlock rarely used in Philadelphia
Under state law, drivers convicted of DUI for the second time must use an interlock device for a year. Pennsylvania does not mandate the device for first-time offenders. This chart shows interlock licenses as a share of total DUI arrests, including first-time arrests. Philadelphia issues interlock licenses at the lowest rate in Pennsylvania.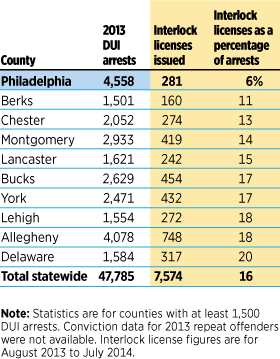 Half of prosecutions fail
Nearly a third of the motorists who were ticketed for driving in Philadelphia on a DUI-suspended license between 2006 and 2012 currently are fugitives. The ticket carries a 60-day jail term upon conviction, but fewer than one in five tickets results in jail time.