NO MATTER WHICH way you're driving on Interstate 95, you can't miss the billboard at exit 1.
On the south side of the sign, TNT Fireworks announces the grand opening of its new super-center in Delaware County, just off the Chichester Avenue exit. Northbound drivers get the sales pitch from competitor Spartan Fireworks: "We've got the good stuff."
But if you live in Pennsylvania, you might as well keep driving: That stuff's not for you.
Under state law, the three consumer-grade fireworks stores in southern Delaware County - a fourth has been proposed in Marcus Hook - cannot sell to Pennsylvania residents.
Instead, the stores set up near the border, peddling jumbo fountains, reloadable mortar kits and multishot finale cakes to residents of New Jersey, Delaware and Maryland who can't buy fireworks in their home states.
With Independence Day 10 days away, the fireworks industry and its rapidly growing customer base remain subject to a confusing patchwork of laws under which fireworks can be legal to purchase in the same state in which they're illegal to ignite or possess.
"The whole thing's odd," said John Steinberg, a National Council on Fireworks Safety board member who has been hired to set off fireworks at events in Pottstown, York and elsewhere.
Pennsylvania and Maryland, for instance, essentially export the danger of amateur fireworks to each other, while still benefiting from the jobs and tax revenue that the stores generate. Both states prohibit their citizens from buying or possessing most fireworks without a permit, but allow licensed vendors such as TNT and Spartan to sell them to anyone from out of state.
As a result, fireworks purchasers from Maryland can make the short drive to Pennsylvania, and Pennsylvanians can stock up in Maryland.
In Delaware and New Jersey, the sale of fireworks is illegal, but several shops are waiting on the other side of the border with crowd-pleasers such as the Aerial Rampage Shell Kit, 33-shot Pyro Pulverizer and 500-gram Mass Detonation.
'It's kind of stupid'
The laws are largely ineffective and send a mixed message to Fourth of July revelers - enabling any adult with a car to legally purchase fireworks, while at the same time criminalizing backyard displays.
"I can't think of one other consumer commodity that is federally regulated that is treated the way fireworks are," said Julie Heckman, executive director of the American Pyrotechnics Association, a trade group for the nearly $1 billion-a-year fireworks industry.
"It's kind of stupid," Delaware County Detective Scott Bireley said of the conflicting state laws.
Bireley, who investigates arsons and crimes involving explosives, said most of the serious fireworks-related injuries that are reported to his office around Independence Day are caused by bootleg M-80s, quarter sticks and other illegal explosives that aren't sold in stores.
Nationally, the use of backyard fireworks, most of which are imported from China, has doubled since 2000, Heckman said, while the number of reported fireworks-related injuries has decreased slightly. About 9,800 injuries were reported by hospitals in 2007, down from a high of 11,000 in 2000, according to the U.S. Consumer Product Safety Commission.
Given the widespread availability of fireworks, Heckman said, strict laws can be counterproductive if they force people to ignite them in a hurry to avoid being arrested or fined. Those consumers are less likely to take precautions, such as wearing safety glasses and setting up in an open, level field, Heckman said.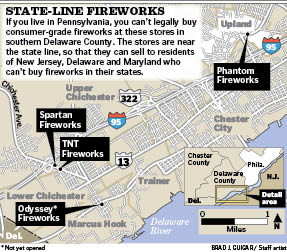 "In the areas that have a complete prohibition or ban on consumer fireworks, there is no effort by the state or community to put out a public-safety message," Heckman said.
Some states have loosened their restrictions in recent years, but New Jersey, for one, isn't budging from its hard-line approach, which has included staking out Pennsylvania fireworks dealers with undercover officers and busting border-hopping residents when they return to the Garden State.
"It's illegal for a reason," said New Jersey State Police spokesman Sgt. Stephen Jones. "The Fourth of July is a time when the emergency rooms are usually full of people who disobey those laws."
In 2006, then-New Jersey Attorney General Zulima Farber sued four retailers in Pennsylvania who sell fireworks to out-of-state residents. The suit was settled the following year when the companies agreed to include a paragraph in their ads and brochures stating that New Jersey law prohibits the transportation, possession and use of fireworks without a permit.
Yet business is still booming, as evidenced by the Jersey license plates that abound on the parking lots of Pennsylvania and Maryland stores.
"We will be watching for that activity this year," Jones warned.
Education stressed
Consumer fireworks - they're smaller than professional fireworks, but some pack quite a punch - can by dangerous when misused, Steinberg said, recalling an incident in Ohio in which a 3-year-old girl was severely burned when an aerial tube fell over. But he and other industry officials say that states would be better off teaching consumers how to avoid fires and injuries, rather than prosecuting amateur fireworks enthusiasts.
"Hopefully, there comes a day when we can sell to our own residents and educate people on fireworks safety and using them in a proper way," said Erik Gaughran, assistant manager of Phantom Fireworks, the 12,000-square-foot outlet that opened two months ago in Upland, Delaware County.
For several years, Michael Ianieri, 29, a Havertown carpenter, helped to run an under-the-radar amateur fireworks show that attracted more than 100 people to Havertown's Glendale Field on the Fourth of July. They never had an injury.
"You're dealing with explosives, and you've got to have respect for that," said Ianieri, who used to buy his goods in Maryland.
But, Ianieri said, Pennsylvania's law seems nonsensical. If consumer fireworks are so dangerous, he asked, why does the state permit vendors to sell them to the rest of the country?
"There is a hypocrisy there," he said, "but that's just how things are."
Steinberg said it's ironic that the laws are enforced primarily on a holiday when Americans are "celebrating how free they are."
"Remember," he said, "you are always free to do exactly what the government feels is appropriate for you to do - when, where and how they feel it's appropriate to do it."