By Dana DiFilippo
Kermit Gosnell's abortion clinic has become a ghoulish attraction since it was raided by federal authorities and shut down in February 2010.
Some visitors hunt for answers about the atrocities alleged to have happened inside, while others indulge their anger - about Gosnell's alleged crimes, or just abortion itself - via vandalism.
Such macabre tourism has sprung up around many of Philly's most murderous addresses, and residents and neighbors have handled the properties' horrific histories in differing ways.
Some try to erase the past by physically demolishing and rebuilding. Others have moved on, downplaying the oddity of their properties' gruesome pasts in a city with more than 300 murders a year.
Here's a look at some of the most notorious murder scenes in Philly's history. Click on each photo for more on each case, and then slide the DN logo to see before and after photos..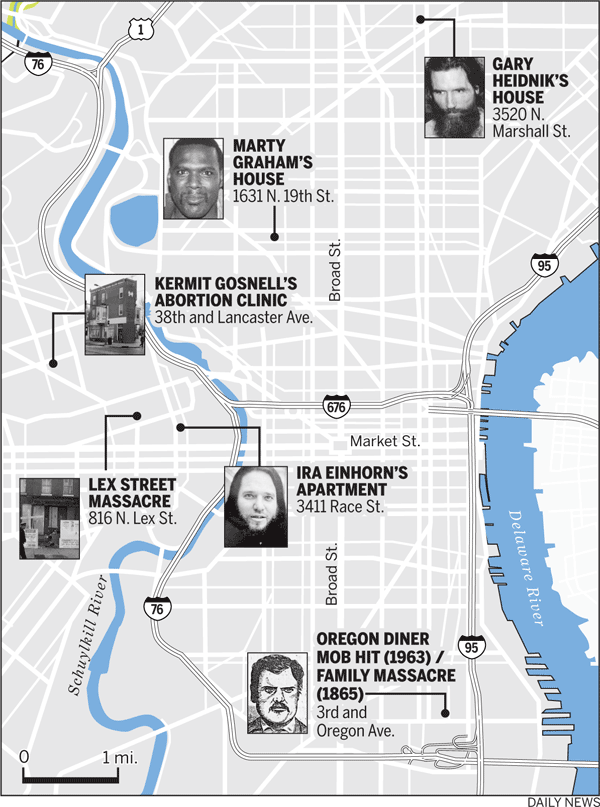 Produced by Michele Tranquilli/Daily News
Kermit Gosnell's abortion clinic (38th and Lancaster Avenue)
Authorities raided it in early 2010, thinking Gosnell was running a pill mill. Instead, they found bleeding, incoherent women and scores of fetal remains; investigators later determined Gosnell allegedly performed illegal late-term abortions - and killed the babies he occasionally birthed live, as well as at least one woman who was given a fatal dose of medication.
Gosnell's clinic remains in legal limbo. With the disgraced doctor's trial set for March, the shuttered clinic is considered both evidence and asset, and cannot be disturbed until the criminal case ends.
Neighbors who knew nothing of the barbarity inside the clinic now frequently eye the silent structure cautiously.
"There's so much vandalism - maybe once a month, there's something new. I'm worried it could grow into more than minor vandalism," said Dawn Mazzola, 21, a Drexel University junior who lives next door.
Maura Kennedy, spokeswoman for the city's licenses and inspections department, said her office has no record of complaints or code violations at the clinic.
"We will be going out to inspect, though," she added.
LEFT: Gosnell and his employees allegedly stuffed the remains of dead fetuses into the freezer of the abortion clinic on Lancaster Avenue at 38th Street.
RIGHT: Gosnell clinic now. Kermit Gosnell's clinic still stands as his court case works its way through the justice system.
Gary Heidnik's house (3520 N. Marshall St.)
Heidnik kidnapped, tortured and raped six women, killing two, in his home on a working-class block on Marshall Street near Tioga in North Philly.
He kept his captives in a dirt pit in his basement and dismembered one victim, cooked her body, mixed it with dog food and fed it to his other victims. He was arrested in March 1987 after one captive escaped and alerted police. The house remains a residential property; its owner couldn't be reached for comment.
But neighbor Debbie Hensman-Ramirez, 40, a lifelong resident who knew Heidnik, said people still occasionally come by to stare. "Right after, everybody was coming by; we had crowds. Cops were there for months. Now they (gawkers) come only once in a blue moon," she said.
"I guess people are curious. I lived here and knew him, and I never knew about it. I understand them being curious."
The home, when Heidnik lived there, was three stories; a subsequent owner removed the third story, Hensman-Ramirez said. Also gone are the money-covered walls - Heidnik had shellacked pennies and one - and five-dollar bills onto the kitchen and bedroom walls, she added. "The cops took the walls," she said.
LEFT: Heidnik house, 1987
RIGHT: Heidnik house now.
Lex Street massacre (816 N. Lex St.)
In one of the deadliest mass murders in Philly's history, 10 people were shot, seven fatally, on Dec. 28, 2000, in a crackhouse on Lex Street near Brown in West Philly.
Then, the gritty strip of rowhouses on that block was among the city's most blighted and drug-infested. Now, the block looks plucked from suburbia: The Philadelphia Housing Authority razed the crumbling homes and built new ones complete with white picket fences in 2007.
"People still sometimes drive through (to gawk), but it's a whole new block now," Lex Street resident Terrell Roby, 20, said.
LEFT: The house on Lex Street after the house where 10 people were shot, seven fatally, was boarded up.
RIGHT: The houses on Lex Street were torn down after the massacre and replaced with new homes by the Philadelphia Housing Authority.
Harrison "Marty" Graham's house (1631 N. 19th St.)
Graham was a mentally challenged drug addict who strangled seven women, including a former girlfriend and other addicts, in the third-floor apartment he rented on 19th Street near Nicholas in North Philly.
Graham was caught in August 1987 after his landlord evicted him and he nailed the door shut, claiming he would return later for his belongings. Instead, a few weeks later, neighbors reported a stench, and police who broke in found skeletons and badly decomposing bodies inside.
The "Corpse Collector," as he later came to be known, confessed he strangled the women during or after sex. The rowhome still stands on a block that has been much-improved. A woman who lives there now wouldn't speak to the Daily News: "I know what you're here for. I don't want me and my family involved in that."
LEFT: Marty Graham house, 1987. A worker removes trash from a house at 1631 N. 19th St., where seven bodies were uncovered in August 1987.
RIGHT: Marty Graham house, now.
Ira Einhorn's apartment (3411 Race St.)
Hippie activist Einhorn killed his former girlfriend Holly Maddux in 1977 and hid her body for months in a trunk in the closet of his second-floor apartment on Race Street near 34th in West Philly.
Days before his murder trial in 1981, he fled to Europe, and authorities found him, married and living in the French countryside, in 1997. He was extradited in 2001. The stately old house where Einhorn killed Maddux now houses mostly college students in nine apartments. Residents have the usual complaints about student housings, and didn't know — or much worry — about the building's criminal past. "As long as it's close to campus," said Abe Shamasunder, 22, a recent Drexel University graduate.
Nick Ross, 21, a Drexel junior who lives on the second floor, agreed: "I would like to maybe know more, if I'm living in an apartment that had a dead body in the closet - that's sorta creepy. But not so creepy I would move."
LEFT: Ira Einhorn house, 1979. A trunk said to have contained the body of Helen "Holly" Maddux is carried from an apartment house at 3407 Race Street in West Philly.
RIGHT: Ira Einhorn house, now. The apartment now houses mostly college students in nine apartments.
Oregon Diner (3rd Street and Oregon Avenue)
Sure, there was a mob hit at this diner at 3rd and Oregon in South Philly. Nicodemo Scarfo stabbed a longshoreman to death there in 1963. But that's peanuts compared to its ancient history: It was the scene of Philly's first mass murder.
Before the diner was built, the Dearing family ran a cattle farm on the property, according to newspaper accounts at the time. In 1865, Christopher Dearing fired his do-nothing farmhand Anton Probst, a German immigrant and Union Army deserter. Probst spent a few months plotting his revenge and in April 1866, used an ax to kill Dearing, his wife, four of his children, a family friend and another farmhand.
LEFT: A Philadelphia Inquirer illustration from 1866 of the Dearing farm in South Philadelphia.
RIGHT: The Oregon Diner now stands on the location of the Dearing farm, at 3rd Street and Oregon Avenue.