ATVs: Illegal and dangerous on the streets
ATVs: Illegal and dangerous on the streets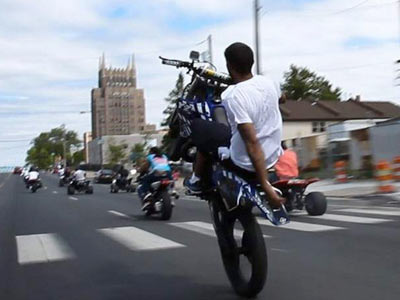 "When you have these vehicles running around in here, it not only ruins it for the park visitors, but it degrades the ecosystem...."
Off-road to ruin at city park

Dirt bikes and ATVs are destroying Philadelphia's Tacony Creek Park. Visit on a weekend and you hear the roar of dozens of the vehicles.
A $10M park for ATVers

Officials in Northumberland County in upstate Pennsylvania are rolling out a 6,500-acre, boulder-strewn welcome mat for off-road enthusiasts. See video below.
More arrests vowed

Cops say ATV raid on Sunday was taste of the future.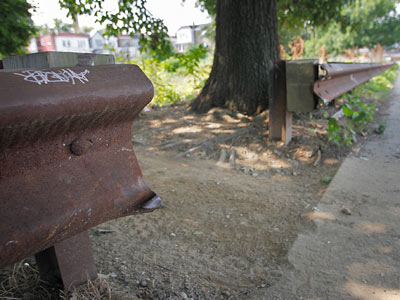 One industrious rider sawed an ATV-wide hole in a guardrail to gain entry to Tacony Creek Park. Click to see
more photos
. (Alejandro A. Alvarez / Staff Photographer)
Riding quads and dirt bikes on the streets of Philadelphia is illegal, and punishable by traffic citation and confiscation. Yet hundreds of people — kids, women, teenagers, men old enough to have grandchildren — do it every weekend, and they love it. The danger posed by renegade riders is among city residents' top complaints, but the dirt bikers say it keeps them honest.
As plentiful as dirt-bikers and four-wheelers are in Philly, their critics are even more abundant. At community meetings with police, the noise, destruction and dangerous maneuvers of dirt bikes and quads top the list of citizens' concerns in warmer months, authorities say. But police have a no-pursuit policy,
Put Jay-Z on a Yamaha YZ-250, Kanye on a Kawasaki KX-125, and they've got nothing on Meek Mill, a Philly hip hop artist who's risen from local mixtape legend to next-big-thing, chasing his dreams to the top on one wheel.