We're happy you're here

Welcome to Philadelphia

There's plenty to do, see, and explore

Voloshky Ukrainian Dance Ensemble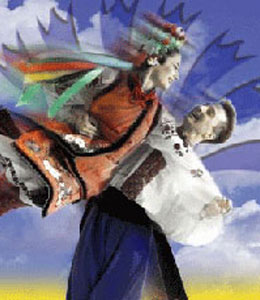 The Experience
Across the fabled lands cradled by the Carpathian and Ural mountains of Ukraine, Cossack and Tatar invaders left their untamed spirit. It survives in the storied folk and classical dance traditions that evoke those times. Many of the Bolshoi's and Kirov's greatest dancers were born and trained in this heritage.
In Philadelphia, Voloshky's artistic director, Taras Lewyckyj, updates those traditions. Modern athletic training techniques allow his 35 to 40 dancers to surpass their forebears' skills. In the highly acrobatic Cossack dance Povzunets, dancers are eliminated if they leave the squatting position. A new dance, Eve of Ivana Kupalo, harks back to a pre-Christian ritual where young girls throw wreaths into water hoping their future husbands will appear. "But it's a new looking dance," Lewyckyj says. "Since Ukraine became an independent country again, we've been liberated as artists too. We no longer need merely to preserve. We can create new traditions, influenced by ballet, modern and even breakdancing."
Taras Lewyckyj, artistic director since 1995, came to Voloshky as a dancer in 1974 just two years after its founding by Zoia Hraur Korsun. In that time Lewyckyj has striven to achieve a balance between authenticity and originality and now travels to Ukraine to exchange modernizing concepts with dance troupes there.
DANCE
Voloshky Ukrainian Dance Ensemble
700 Cedar Road Ukrainian Educational and Cultural Center Jenkintown, PA 19046
(215) 643 - 4397

---