The Franklin Institute Science Museum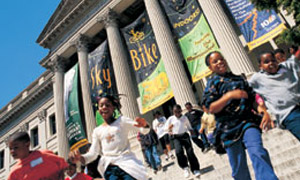 An innovator in designing hands-on exhibits before "interactive" became a buzzword, the Franklin Institute is as clever as its namesake. Its eminently touchable attractions explore science in disciplines ranging from sports to space. Highlights include The Sports Challenge, which uses virtual-reality technology to illustrate the physics of sports; The Train Factory's climb-aboard steam engine; Space Command's simulated earth-orbit research station; a fully equipped weather station; and exhibits on electricity.
PLACES TO STAY
The Franklin Institute Science Museum
222 North 20th Street Philadelphia, PA 19103
(215) 448-1200

Upcoming events

Sunday, March 29, 2015
Explore the functionality of the human brain and why it is always changing through the Franklin Institute's new exhibit.

Sunday, March 29, 2015
Step foot in the Franklin Institute's latest exhibit, the Art of the Brick, and discover amazing creations all from the popular toy, LEGO.
---