We're happy you're here

Welcome to Philadelphia

There's plenty to do, see, and explore

The Franklin Institute Science Museum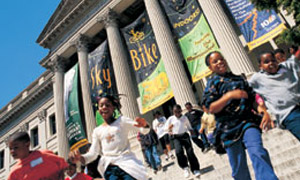 An innovator in designing hands-on exhibits before "interactive" became a buzzword, the Franklin Institute is as clever as its namesake. Its eminently touchable attractions explore science in disciplines ranging from sports to space. Highlights include The Sports Challenge, which uses virtual-reality technology to illustrate the physics of sports; The Train Factory's climb-aboard steam engine; Space Command's simulated earth-orbit research station; a fully equipped weather station; and exhibits on electricity.
PLACES TO STAY
The Franklin Institute Science Museum
222 North 20th Street Philadelphia, PA 19103
(215) 448-1200

Upcoming events

Monday, November 30, 2015
The Franklin Institute's newest exhibit highlights the Mongolian emperor, Genghis Khan. Discover why this warrior made such an effect on world politics and how he created an empire that led the world into an modern age.
---