The Barnes Foundation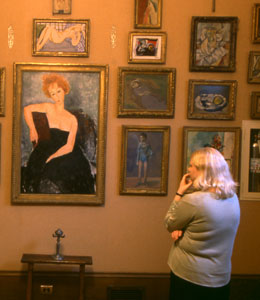 The Barnes Foundation was created in 1922, a school originating with Barnes' educational experimentation in his Argyrol (pharmaceutical) factory. Barnes and The Foundation's first director of education, John Dewey, were interested in fostering cognitive development through new approaches to education, and in heightening critical-thinking and problem-solving skills through the study of art. Barnes, like Dewey, was actively engaged in development of an intellectual framework and educational philosophies and practices with many of the best artists and thinkers of his day. In 2004, a court ruling granted permission for the Barnes Foundation's gallery art collection to move to a new building on the Benjamin Franklin Parkway in Center City Philadelphia. No date has been set for the move and, in the meantime, the galleries in Merion will continue to be open to the public.
GAY-FRIENDLY PHILADELPHIA
The Barnes Foundation
300 North Latches Lane,
Merion Station, PA 19066
(610) 667-0290
Neighborhood:
Merion Station
---
Conductor Pablo Heras-Casado leads the Orchestra through a concert of works by Tchaikovsky, Ravel and Stravinsky, with featured soloists to include violinist David Kim.
Thursday, December 12 • 8:00 PM •
Kimmel Center • Broad & Spruce Sts., Philadelphia, PA
Restaurants & Food
A group of Asbury Park entrepreneurs who plan to launch a hip restaurant district in Burlington City are also buying homes there. Some are relocating, including the group's architect, a head chef and a project manager. Future plans call for a culinary school or test kitchen in the Delaware River community.

» Read more