South Street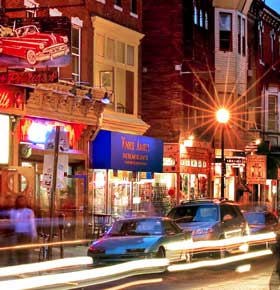 Along South Street, visitors and residents, teenagers and adults, preppies and punk rockers, artists and attorneys all mix seamlessly together. The street is always buzzing no matter if you visit on a Tuesday afternoon or a Friday night. Business people saunter down the block from nearby Washington Square West and Society Hill to mingle with their more Bohemian counterparts for lunch, while visitors flock to the area to savor their first Philly cheesesteak at Jim's and residents stop by The Chef's Market for some groceries. Mirroring this diverse mix of fun-to-watch pedestrians is a wonderfully eclectic lineup of over 300 shops and more than 60 eateries, cafes, and bars. Most stores are independently owned and similar minded labels. The area's restaurant menus largely reflect the various ethnic flavors of nearby South Philadelphia's residential neighborhoods. There are also several performance venues featuring fringe theater and live music.
SHOPPING
South Street
South Street., (Between Front and 8th) Philadelphia, PA 19147

Upcoming events

Saturday, October 11, 2014
From Broad to 18th Street, South Street will be filled with vendors featuring food, shopping, entertainment, and beer during its sixth annual Bloktoberfest.
---